Abstract
Saccharomyces boulardii was used for antimicrobial peptides production. Separation process of produced antimicrobial peptides was conducted using ultrafiltration technique through dialysis membranes with porous 10 (MWCO) kDa. The inhibition activity was determined against four bacterial isolates. As a result, higher inhibition zone against Bacillus cereus were 26, 29 and 33 mm after adding 50, 75 and 100 µL of concentrated peptide, respectively. After that, peptide passed through the Sephadex G-50 column to achieve purified peptide using gel filtration. The high activity of purified peptide was confirmed based on the second peak reaching to 37 mm of bacterial inhibition zone while other peaks did not show any inhibition against tested bacteria. Some of the important characteristics of purified bioactive peptide were applied. Antimicrobial peptides stability was studied and found to be stable at pH range from 5 to 7 values studied in addition to its inhibition activity reached to 100%. Regarding thermal stability, it was observed that the peptide was fully activity at a both 60–80 °C for 30 min. Moreover, molecular weight of a peptide was identified using electrophoresis technique with SDS measured at 5792 Dalton.
This is a preview of subscription content, log in to check access.
Access options
Buy single article
Instant access to the full article PDF.
US$ 39.95
Tax calculation will be finalised during checkout.
Subscribe to journal
Immediate online access to all issues from 2019. Subscription will auto renew annually.
US$ 99
Tax calculation will be finalised during checkout.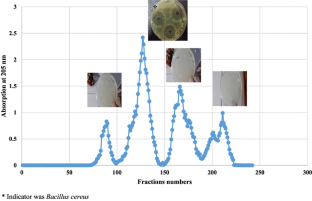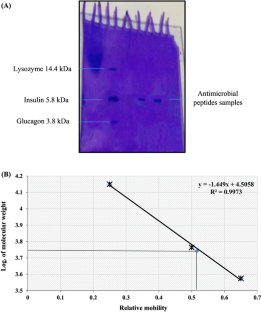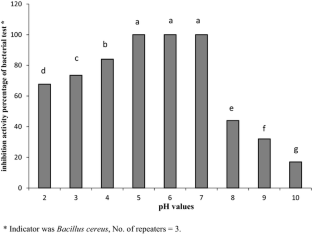 References
Agyei D, Danquah MK (2011) Industrial-scale manufacturing of pharmaceutical-grade bioactive peptides. Biotechnol Adv 29(3):272–277

Ali MAE, Abdel-Fatah OM, Janson JC, Elshafei AM (2012) Antimicrobial potential of Saccharomyces boulardii extracts and fractions. J Appl Sci Res 8(8):4537–4543

Bahar AA, Ren D (2013) Antimicrobial Peptides Pharmaceuticals. 6(12):1543–1575. doi:10.3390/ph6121543

Berni Canani R, Cucchiara S, Cuomo R, Pace F, Papale F (2011) Saccharomyces boulardii: a summary of the evidence for gastroenterology clinical practice in adults and children. Eur Rev Med Pharmacol Sci 15(7):809–822

Bhunia AK, Johnson MC, Ray B (1988) Purification, characterization and antimicrobial spectrum of a bacteriocin produced by Pediococcus acidilactici. J Appl Microbiol 65(4):261–268

Biswas SR, Ray P, Johnson MC, Ray B (1991) Influence of growth conditions on the production of a bacteriocin pediocin AcH, by Pediococcus acidilactici H. Appl Environ Microbiol 57:1265-1 267

Bussey H (1991) K1 killer toxin, a pore forming protein from yeast. Mol Microbiol 5(10):2339–2343

Buts J-P, Dekeyser N, Stilmant C, Delem E, Smets F, Sokal E (2006) Saccharomyces boulardii produces in rat small intestine a novel protein phosphatase that inhibits Escherichia coli endotoxin by dephosphorylation. Pediatric Res, 60:24–29. doi:10.1203/01.pdr.0000220322.31940.29

Buyuksirit T, Kuleasan H (2014) Antimicrobial agents produced by yeasts. Int J Biol Biomol Agric Food Biotechnol Eng 8(10):1114–1117

Dean A, Voss D (1999) Design and analysis of experiments, Springer, New York, p 740

Demain AL, Phaff HJ, Kurtzman CP (1998) The industrial and agricultural significance of yeasts. In: Kurtzman CP, Fell JW (eds) The yeasts, a taxonomic study, 4th edn., Elsevier Science, Amsterdam

Ge J, Sun Y, Xin X, Wang Y, Ping W (2016) Purification and partial characterization of a novel bacteriocin synthesized by Lactobacillus paracasei HD1-7 isolated from Chinese sauerkraut juice. Scientific reports, p 6

Hatoum R, Labrie S, Fliss I (2012) Antimicrobial and probiotic properties of yeasts: from fundamental to novel applications. Front Microbiol 3:421. doi:10.3389/fmicb.2012.00421

He R, Alashi A, Malomo SA, Girgih AT, Chao D, Ju X, Aluko RE (2013) Antihypertensive and free radical scavenging properties of enzymatic rapeseed protein hydrolysates. Food Chem 141:153–159. doi:10.1016/j.foodchem.2013.02.087

Hedstrom L (2002) Serine protease mechanism and specificity. Chem Rev 102:4501–4524. doi:10.1021/cr000033x

Jin Z, Shinde PL, Yang YX, Choi JY, Yoon SY, Hahn T-W, Lim HT, Park YK, Hahm KS, Joo JW (2009) Use of refined potato (Solanum tuberosum L. cv. Gogu valley) protein as an alternative to antibiotics in weanling pigs. Livestock Sci 124:26–32. doi:10.1016/j.livsci.2008.12.003

Kelesidis T, Pothoulakis C (2012) Efficacy and safety of the probiotic Saccharomyces boulardii for the prevention and therapy of gastrointestinal disorders. Therapeutic Adv Gastroenterol 5(2):111–125. doi:10.1177/1756283X11428502

Lee JK, Gopal R, Seo CH, Cheong HS, Park YK (2012) Isolation and purification of a novel deca-antifungal peptide from potato (Solanum tuberosum L. cv. Jopung) against. Int J Mol Sci 13:4021–4032. doi:10.3390/ijms13044021

Magaña MD, Segura-Campos M, Dávila-Ortiz G, Betancur-Ancona D, Chel-Guerrero L (2015) ACE-I inhibitory properties of hydrolysates from germinated and ungerminated Phaseolus lunatus proteins. Food Sci Technol (Campinas) 35(1):167–174

Minh NP (2015) Alcalase and protamex hydrolysis of bioactive peptides from soybean. Bull Environ Pharmacol Life Sci 4(7):132–143

Murzyn A, Krasowska A, Stefanowicz P, Dziadkowiec D, Łukaszewicz M (2010) Capric acid secreted by S. boulardii inhibits C. albicans filamentous growth, adhesion and biofilm formation. PLoS ONE 5(8):e12050. doi:10.1371/journal.pone.0012050

Niamah AK (2010) Production of pediocin like bacteriocin from a local isolate of Pediococcus acidilactici and using it as foods preservative. Ph.D. thesis, College of Agriculture, University of Basrah, 177p. doi:10.13140/RG.2.2.31314.35529

Niamah AK (2014) Determination, identification of bioactive compounds extracts from yellow banana peels and used in vitro as antimicrobial. Int J Phytomed 6(4):625–632

Niamah AK (2017) Physicochemical and microbial characteristics of yogurt added with Saccharomyces boulardii. Curr Res Nutr Food Sci. http://www.foodandnutritionjournal.org/?p=3942

Niamah AK, Al-Manhel AJA, Al-Shawi MJ (2017) Study of inhibitory spectrum of metabolic extract from Saccharomyces boulardii yeast against some food related bacteria. Pak J Food Sci 27(1):26–32

Palfree RG, Bussey H (1979) Yeast killer toxin: purification and characterisation of the protein toxin from Saccharomyces cerevisiae. Eur J Biochem 93(3):487–493

Pfeiffer P, Radler F (1982) Purification and characterization of extracellular and intracellular killer toxins of Saccharomyces cerevisiae- strain 28. J Gen Microbiol 128:2699–2706

Sah BNP (2016) Identification of bioactive peptides produced in synbiotic yogurt having anticancer properties. Ph.D. thesis, Victoria University, Melbourne, Australia

Sah BNP, Vasiljevic T, McKechnie S, Donkor ON (2016) Antibacterial and antiproliferative peptides in synbiotic yogurt—Release and stability during refrigerated storage. J Dairy Sci 99(6):4233–4242. doi:10.3168/jds.2015-10499

Smith BJ (1984) SDS poly acrylamide gel electrophoresis of proteins In: Walker JM (ed) Methods in molecular biology, The Humana press, New York, pp 41–55

Schved F, Lalazar A, Henis Y, Juven BJ (1993) Purification, partial characterization and plasmid-linkage of pediocin SJ-1, a bacteriocin produced by Pediococcus acidilactici. J Appl Microbiol 74(1):67–77

Yazawa K, Numata K (2014) Recent advances in chemoenzymatic peptide syntheses. Molecules, 19(9):13755–13774. doi:10.3390/molecules190913755

Zaouche A, Loukil C, De Lagausie P, Peuchmaur M, Macry J, Fitoussi F, Bernasconi P, Bingen E, Cezard J (2000) Effects of oral Saccharomyces boulardii on bacterial overgrowth, translocation, and intestinal adaptation after small-bowel resection in rats. Scand J Gastroenterol 35:160–165. doi:10.1080/003655200750024326
About this article
Cite this article
Naimah, A.K., Al-Manhel, A.J.A. & Al-Shawi, M.J. Isolation, Purification and Characterization of Antimicrobial Peptides Produced from Saccharomyces boulardii . Int J Pept Res Ther 24, 455–461 (2018). https://doi.org/10.1007/s10989-017-9632-2
Accepted:

Published:

Issue Date:
Keywords
Saccharomyces boulardii

Antimicrobial peptides

Ultrafiltration