Abstract
Fish scales-derived collagen peptides (CPs) are characterized by their specific amino acid composition with a high concentration of glycine, proline and hydroxyproline. These amino acids have been known to exert beneficial effects on human skin. The aim of the present study was to examine the effects of collagen peptides obtained from fish scales on changes in periorbital wrinkles, facial skin hydration, and skin elasticity in healthy women aged 30–60 years. In the present randomized, placebo-controlled, double-blind trial, 71 subjects consumed a 20 mL beverage containing 3000 mg of CPs or placebo once per day over 12 weeks. Significant decreases in periorbital wrinkles (p < 0.05) were observed in the treatment group after 12 weeks of CPs ingestion compared to the control group. This study also demonstrated a consistent trend of enhanced facial skin moisture (p < 0.001) and skin elasticity (p < 0.001) by dietary intake of CPs without any side effects or adverse events. These findings indicate that fish-derived CPs hold great promise as a natural supplement with cutaneous anti-aging properties.
Access options
Buy single article
Instant access to the full article PDF.
US$ 39.95
Tax calculation will be finalised during checkout.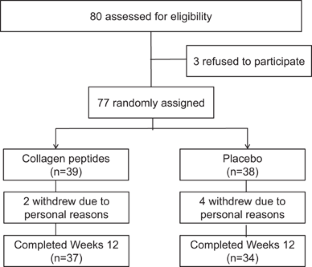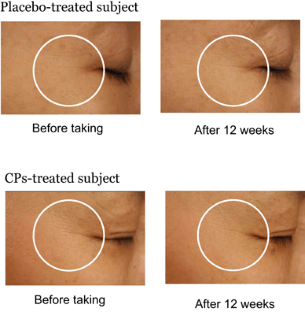 Abbreviations
ALT:

Alanine aminotransferase

AST:

Aspartate aminotransferase

CPs:

Collagen peptides

γ-GTP:

γ-Glutamyltransferase

Gly:

Glycine

Hyp:

Hydroxyproline

IRB:

Institutional review board

MCH:

Mean corpuscular hemoglobin

MCHC:

Mean corpuscular hemoglobin concentration

MCV:

Mean corpuscular volume

PP:

Per-protocol

Pro:

Proline

RBC:

Red blood cell

TEWL:

Transepidermal water loss

WBC:

White blood cell
References
Blanco M, Vázquez JA, Pérez-Martín RI, Sotelo CG (2017) Hydrolysates of fish skin collagen: an opportunity for valorizing fish industry byproducts. Mar Drugs 15:E131

Choi SY, Kim WG, Ko EJ, Lee YH, Kim BG, Shin HJ, Choi YS, Ahn JY, Kim BJ, Lee HJ (2014) Effect of high advanced-collagen tripeptide on wound healing and skin recovery after fractional photothermolysis treatment. Clin Exp Dermatol 39:874–880

Hu Z, Yang P, Zhou C, Li S, Hong P (2017) Marine collagen peptides from the skin of Nile tilapia (Oreochromis niloticus): characterization and wound healing evaluation. Mar Drugs 15:E102

Inoue N, Sugihara F, Wang X (2016) Ingestion of bioactive collagen hydrolysates enhance facial skin moisture and elasticity and reduce facial aging signs in a randomized double-blind placebo-controlled clinical study. J Sci Food Agric 96:4077–4081

Kim SK, Ngo DH, Vo TS (2012) Marine fish-derived bioactive peptides as potential antihypertensive agents. Adv Food Nutr Res 65:249–260

Liu D, Nikoo M, Boran G, Zhou P, Regenstein JM (2015) Collagen and gelatin. Annu Rev Food Sci Technol 6:527–557

Ohara H, Matsumoto H, Ito K, Iwai K, Sato K (2007) Comparison of quantity and structures of hydroxyproline-containing peptides in human blood after oral ingestion of gelatin hydrolysates from different sources. J Agric Food Chem 55:1532–1535

Ohara H, Ichikawa S, Matsumoto H, Akiyama M, Fujimoto N, Kobayashi T, Tajima S (2010) Collagen-derived dipeptide, proline-hydroxyproline, stimulates cell proliferation and hyaluronic acid synthesis in cultured human dermal fibroblasts. J Dermatol 37:330–338

Postlethwaite AE, Seyer JM, Kang AH (1978) Chemotactic attraction of human fibroblasts to type I, II, and III collagens and collagen-derived peptides. Proc Natl Acad Sci USA 75:871–875

Proksch E, Segger D, Degwert J, Schunck M, Zague V, Oesser S (2014a) Oral supplementation of specific collagen peptides has beneficial effects on human skin physiology: a double-blind, placebo-controlled study. Skin Pharmacol Physiol 27:47–55

Proksch E, Schunck M, Zague V, Segger D, Degwert J, Oesser S (2014b) Oral intake of specific bioactive collagen peptides reduces skin wrinkles and increases dermal matrix synthesis. Skin Pharmacol Physiol 27:113–119

Shin H-J, Park JI, Kwon C-J, Kim HY, Inoue N, Seiko K, Hwang JS (2016) The effect of collagen peptide intake on UVB-induced skin damage in hairless mice. J Korea Acad Ind Coop Soc 17:611–621

Squire JM, Parry DA (2017) Fibrous protein structures: hierarchy, history and heroes. Subcell Biochem 82:1–33

Sugihara F (2015) Clinical effects of ingesting collagen hydrolysate on facial skin properties. Jpn Pharmacol Ther 43:67–70

Sugihara F, Inoue N (2012) Clinical effects of collagen hydrolysates ingestion on UV-induced pigmented spots of human skin: a preliminary study. Health Sci 28:2

Sugihara F, Inoue N, Kuwamori M, Taniguchi M (2012) Quantification of hydroxyprolyl-glycine (Hyp-Gly) in human blood after ingestion of collagen hydrolysate. J Biosci Bioeng 113:202–203
Acknowledgements
We thank Dr. Tae Kee Moon from the clinical trial center of Ellead for conducting this clinical trial.
Funding
This study was funded by Ju Yeong NS Co. LTD. and Nitta Gelatin Inc. The sponsor had no access to the data, and data collection, study design, interpretation, and analyses were carried out independently by the clinical trial center of Ellead.
Ethics declarations
Conflict of interest
All authors declare that they have no conflict of interest.
Ethical approval
All procedures performed in this study involving human participants were in accordance with the ethical standards of the institutional and/or national research committee (IRB Number: EL-150113018A002) and with the 1964 Helsinki declaration and its later amendments or comparable ethical standards.
About this article
Cite this article
Koizumi, S., Inoue, N., Shimizu, M. et al. Effects of Dietary Supplementation with Fish Scales-Derived Collagen Peptides on Skin Parameters and Condition: A Randomized, Placebo-Controlled, Double-Blind Study. Int J Pept Res Ther 24, 397–402 (2018). https://doi.org/10.1007/s10989-017-9626-0
Accepted:

Published:

Issue Date:
Keywords
Collagen hydrolysate

Periorbital wrinkle

Skin hydration

Skin elasticity