Abstract
In this paper is presented a novel and simple synthetic pathway for obtaining new protected and unprotected N-glucosyl amino acids from 2,3,4,6-tetra-O-acetyl-β-d-glucopyranosyl amine and Fmoc-l-amino acids. Three methodologies were evaluated, using the coupling reagents: N,N,N′,N′-Tetramethyl-O-(benzotriazol-1-yl)uronium tetrafluoroborate, diisopropylcarbodiimide and propylphosphonic acid cyclic anhydride. The obtained products using propylphosphonic acid cyclic anhydride showed less undesired species, easy purification and higher yields than the other two methodologies. Deprotection strategies widely used in solid phase peptide synthesis were applied to develop the synthetic pathway reported and achieve the final products. The protected and unprotected N-glucosyl amino acids were purified using solid phase extraction chromatography and characterized by high performance liquid Chromatography and nuclear magnetic resonance spectroscopy. Different amino acids (Fmoc-l-Asp(OtBu)OH, Fmoc-l-Phe(OH) and Fmoc-l-Lys(Boc)-OH) have been employed to demonstrate the simple and reproducible coupling methodology using propylphosphonic acid cyclic anhydride. The results showed that new protected and unprotected N-glucosyl amino acids can be obtained with high purity and the methodology could be used with any Fmoc-amino acid. The methodology developed could be considered as a synthetic tool for obtaining building blocks for glycopeptide synthesis and potential drugs candidates based on glycoconjugates.
Access options
Buy single article
Instant access to the full article PDF.
US$ 39.95
Tax calculation will be finalised during checkout.
Subscribe to journal
Immediate online access to all issues from 2019. Subscription will auto renew annually.
US$ 79
Tax calculation will be finalised during checkout.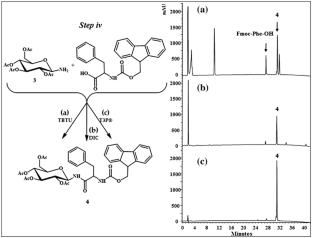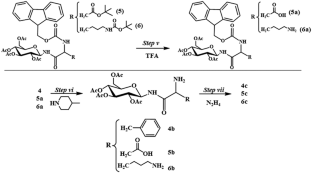 References
Arsequell G, Valencia G (1997) O-glycosyl α-amino acids as building blocks for glycopeptide synthesis. Tetrahedron 8:2839–2876

Basavaprabhu T, Vishwanatha TM, Panguluri NR, Sureshbabu VV (2013) Propanephosphonic acid anhydride (T3P)—A benign reagent for diverse applications inclusive of large-scale synthesis. Synthesis 45:1569–1601

Bejugam M, Flitsch SL (2004) An efficient synthetic route to glycoamino acid building blocks for glycopeptide synthesis. Org Lett 6:4001–4004

Blondelle SE, Houghten RA (1993) Comparison of 55% TFA/CH2Cl2 and 100% TFA for Boc group removal during solid-phase peptide synthesis. I J Pept Pro Res 41:522–527

Chakraborty TS, Srinivasu P, Tapadar S, Mohan BK (2005) Sugar amino acids in designing new molecules. Glycoconj J 22:83–93

Fritz JS, Schenk GH (1959) Acid-catalyzed acetylation of organic hydroxyl groups. Anal Chem 31:1808–1812

Karlsson KA (1999) Bacterium-host protein-carbohydrate interactions and pathogenicity. Biochem Soc T 27:471–474

Kato K, Ishiwa A (2015) The role of carbohydrates in infection strategies of enteric pathogens. Trop Med Health 43:41–52

Khan R, Konowicz P, Gardossi L, Matulová M, de Gennaro S (1996) Regioselective deacetylation of fully acetylated mono- and disaccharides with hydrazine hydrate. Aust J Chem 49:293–298

Kornhauser A, Keglević D (1969) Glycosyl esters of amino acids. Carbohyd Res 11:407–411

Kröger L, Henkensmeier D, Schäfer A, Thiem J (2004) Novel O-glycosyl amino acid mimetics as building blocks for O-glycopeptides act as inhibitors of galactosidases. Bioorg Med Chem Lett 14:73–75

Levitz S.M, Huang H, Ostroff GF, Specht CA (2015) Exploiting fungal cell wall components in vaccines. Sem Immunopathol 37:199–207

Monsigny M, Quétard C, Bourgerie S, Delay S, Pichon D, Midoux P, Mayer R, Roche AC (1998) Glycotargeting: the preparation of glyco-amino acids and derivatives from unprotected reducing sugars. Biochimie 80:99–108

Mukhopadhyay B, Russell DA, Field RA (2005) One-pot acetalation–acetylation of sugar derivatives employing perchloric acid immobilised on silica. Carbohyd Res 340:1075–1080

Osanya A, Song EH, Metz K, Shimak RM, Boggiato PM, Huffman E, Johnson C, Hostetter JM, Pohl NL, Petersen CA (2011) Pathogen-derived oligosaccharides improve innate immune response to intracellular parasite infection. Am J Pathol 179:1329–1337

Paolini I, Nuti F, de la Cruz Pozo-Carrero M, Barbetti F, Kolesinska B, Kaminski ZJ, Chelli M, Papini AM (2007) A convenient microwave-assisted synthesis of N-glycosyl amino acids. Tetrahedron Lett 48:2901–2904

Pizarro-Cerda J, Cossart P (2006) Bacterial adhesion and entry into host cells. Cell 124:715–727

Real-Fernández F, Nuti F, Bonache MA, Boccalini M, Chimichi S, Chelli M, Papini AM (2010) Microwave-assisted reaction of glycosylamine with aspartic acid. Amino Acids 39:599–604

Sharon N, Ofek I (2001) Safe as mother's milk: carbohydrates as future anti-adhesion drugs for bacterial disease. Glycoconj J 17:659–664

Soli E, Manoso A, Patterson M, DeShong P (1999) Azide and cyanide displacements via hypervalent silicate intermediates. J Org Chem 64:3171–3177

Tripathi R, Upadhyaya K, Singh K, Tiwati NK (2015) Recent developments on carbohydrate-based anti-infective agents. Trends Carbohydr Res 7:1–21

Valentekovic S, Keglević D (1976) Syntheses and rearrangements of D-glucosyl esters of aspartic acid linked through the l- or 4-carboxyl group. Carbohyd Res 47:35–48

Van Ameijde J, Albada HB, Liskamp RJ (2002) A convenient preparation of several N-linked glycoamino acid building blocks for efficient solid-phase synthesis of glycopeptides. J Chem Soc 8:1042–1049

Varki A (1993) Biological roles of oligosaccharides: all of the theories are correct. Glycobiology 3:97–130

Vergel C, Rivera Z, Rosas J, García J (2014) Efficient synthesis of peptides with 4-methylpiperidine as Fmoc removal reagent by solid phase synthesis. J Mex Chem Soc 58:386–392

Waghmare AA, Hindupur RM, Pati HM (2014) Propylphosphonic anhydride (T3P®): an expedient reagent for organic synthesis. Rev J Chem 4:53–131

Wang LF, Kong LQ, Fan L, Yang DC (2010) Facile synthesis of chiral N-glycosylated amino acids. Res Chem Intermediat 36:237–243

Wehrstedt KD, Wandrey PA, Heitkamp D (2005) Explosive properties of 1-hydroxybenzotriazoles. J Hazard Mater 126:1–7

Yao N, Fung G, Malekan H, Ye L, Kurth MJ, Lam KS (2010) Facile synthesis of glycosylated Fmoc amino acid building blocks assisted by microwave irradiation. Carbohyd Res 345:2277–2281
Acknowledgements
This research was conducted with the financial support of División de Investigación y Extensión sede Bogotá (DIEB), Universidad Nacional de Colombia through the Project code 34828 "Diseño y síntesis química de péptidos y glicoconjugados y evaluación de la actividad antibacteriana contra Escherichia coli ATCC 25922."
Ethics declarations
Conflict of interest
The authors declares that they have no conflict of interest.
Ethical Approval
This article does not contain any studies with animals performed by any of the authors.
About this article
Cite this article
Pinzón Martín, S.M., Medina, R.F., Iregui Castro, C.A. et al. Novel Synthesis of N-Glycosyl Amino Acids Using T3P®: Propylphosphonic Acid Cyclic Anhydride as Coupling Reagent. Int J Pept Res Ther 24, 291–298 (2018). https://doi.org/10.1007/s10989-017-9614-4
Accepted:

Published:

Issue Date:
Keywords
Glycoconjugate

N-glucosyl amino acids

Glycosidic bond

Propylphosphonic acid cyclic anhydride