Abstract
Insulin-like growth factor II (IGF-II) is a protein with high structural and sequence similarity to insulin. Unlike insulin, it binds both the type 1 IGF receptor and the exon 11- isoform of the insulin receptor with high affinity. The overexpression and up regulation of IGF-II has been associated with the progression of various forms of cancer. The exact binding mechanism of IGF-II to its high affinity receptors is still not completely understood. Herein we describe the successful synthesis of a novel fluorescent IGF-II protein (F19Cou IGF-II), where residue 19 (phenylalanine) has been replaced by a fluorescent chromophore (coumaryl glycine). This novel coumaryl IGF-II analogue will be a useful tool for analysing the receptor interaction mechanisms in future studies.
Access options
Buy single article
Instant access to the full article PDF.
USD 39.95
Price excludes VAT (USA)
Tax calculation will be finalised during checkout.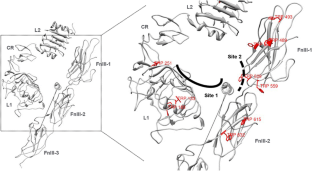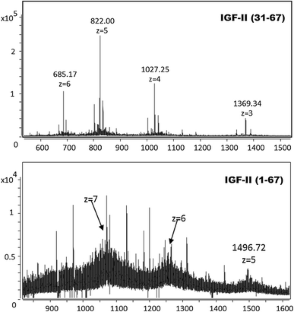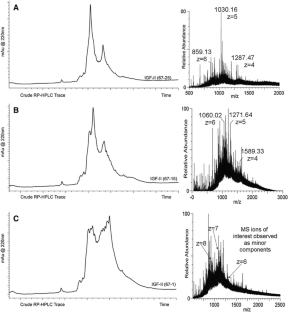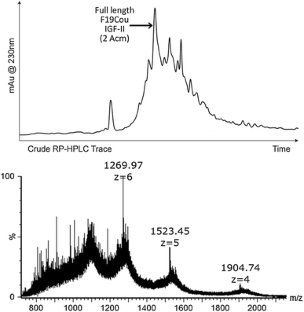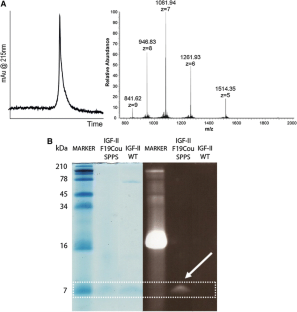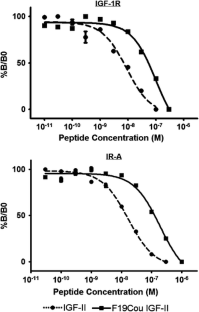 References
Alvino CL, McNeil KA, Ong SC et al (2009) A novel approach to identify two distinct receptor binding surfaces of insulin-like growth factor II. J Biol Chem 284(12):7656–7664. doi:10.1074/jbc.M808061200

Atherton E, Fox H, Harkiss D, Logan CJ, Sheppard RC, Williams BJ (1978) A mild procedure for solid phase peptide synthesis: use of fluorenylmethoxycarbonylamino-acids. J Chem Soc, Chem Commun 13:537–539

Belfiore A, Malaguarnera R (2011) Insulin receptor and cancer. Endocr Relat Cancer 18(4):R125–R147. doi:10.1530/erc-11-0074

Brown J, Jones EY, Forbes BE (2009) Chapter 25 Interactions of IGF-II with the IGF2R/Cation-independent mannose-6-phosphate receptor: mechanism and biological outcomes. In: Gerald L (ed) Vitamins and hormones, vol 80. Academic Press, London, pp 699–719

Brun M-P, Bischoff L, Garbay C (2004) A very short route to enantiomerically pure coumarin-bearing fluorescent amino acids. Angew Chem Int Ed Engl 43(26):3432–3436

Chan WC, White PD (2000) Fmoc solid phase peptide synthesis: a practical approach. Oxford University Press, Oxford

Coïc Y-M, Lan CL, Neumann J-M, Jamin N, Baleux F (2010) Slightly modifying pseudoproline dipeptides incorporation strategy enables solid phase synthesis of a 54 AA fragment of caveolin-1 encompassing the intramembrane domain. J Pept Sci 16(2):98–104. doi:10.1002/psc.1203

Coin I, Beyermann M, Bienert M (2007) Solid-phase peptide synthesis: from standard procedures to the synthesis of difficult sequences. Nat Protocols 2(12):3247–3256

Delaine C, Alvino CL, McNeil KA et al (2007) A novel binding site for the human insulin-like growth factor-II (IGF-II)/mannose 6-phosphate receptor on IGF-II. J Biol Chem 282(26):18886–18894. doi:10.1074/jbc.M700531200

Denley A, Bonython ER, Booker GW, Cosgrove LJ, Forbes BE, Ward CW, Wallace JC (2004) Structural determinants for high-affinity binding of insulin-like growth factor II to insulin receptor (IR)-A, the exon 11 minus isoform of the IR. Mol Endocrinol 18(10):2502–2512. doi:10.1210/me.2004-0183

Denley A, Cosgrove LJ, Booker GW, Wallace JC, Forbes BE (2005) Molecular interactions of the IGF system. Cytokine Growth Factor Rev 16(4–5):421–439. doi:10.1016/j.cytogfr.2005.04.004

El-Shewy HM, Luttrell LM (2009) Chapter 24 insulin-like growth factor-2/mannose-6 phosphate receptors. In: Gerald L (ed) Vitamins and hormones, vol 80. Academic Press, London, pp 667–697

Gallagher EJ, LeRoith D (2011) Minireview: IGF, insulin, and cancer. Endocrinology 152(7):2546–2551. doi:10.1210/en.2011-0231

Gao J, Chang YS, Jallal B, Viner J (2012) Targeting the insulin-like growth factor axis for the development of novel therapeutics in oncology. Cancer Res 72(1):3–12. doi:10.1158/0008-5472.can-11-0550

Hancock WS, Battersby JE (1976) A new micro-test for the detection of incomplete coupling reactions in solid-phase peptide synthesis using 2,4,6-trinitrobenzene-sulphonic acid. Anal Biochem 71(1):260–264. doi:10.1016/0003-2697(76)90034-8

Harris LK, Westwood M (2012) Biology and significance of signalling pathways activated by IGF-II. Growth Factors 30(1):1–12. doi:10.3109/08977194.2011.640325

Hober S, Lundström Ljung J, Uhlén M, Nilsson B (1999) Insulin-like growth factors I and II are unable to form and maintain their native disulfides under in vivo redox conditions. FEBS Lett 443(3):271–276. doi:10.1016/s0014-5793(98)01737-2

Li CH, Yamashiro D, Glenn Hammonds R Jr, Westphal M (1985) Synthetic insulin-like growth factor II. Biochem Biophys Res Commun 127(2):420–424. doi:10.1016/s0006-291x(85)80177-7

Lloyd-Williams P, Albericio F, Giralt E (1997) Chemical approaches to the synthesis of peptides and proteins. CRC Press, Boca Raton, FL

Oh YM, Muller HL, Zhang HP, Ling N, Rosenfeld RG (1993) Synthesis and characterisation of IGF-II analogs—applications in the evaluation of IGF receptor function and IGF- independent actions of IGFBPs. In: LeRoith D, Raizada MK (eds) Current directions in insulin-like growth factor research. Advances in experimental medicine and biology, vol 343. Plenum Press Div Plenum Publishing Corp, New York, pp 41–54

Pollak M (2012) The insulin receptor/insulin-like growth factor receptor family as a therapeutic target in oncology. Clin Cancer Res 18(1):40–50. doi:10.1158/1078-0432.ccr-11-0998

Sheppard R (2003) The fluorenylmethoxycarbonyl group in solid phase synthesis. J Pept Sci 9(9):545–552. doi:10.1002/psc.479

Van Obberghen E (1994) Signalling through the insulin receptor and the insulin-like growth factor-I receptor. Diabetologia 37:S125–S134

Wang J, Xie J, Schultz PG (2006) A genetically encoded fluorescent amino acid. J Am Chem Soc 128(27):8738–8739. doi:10.1021/ja062666k

Ward CW, Lawrence MC (2012) Similar but different: ligand-induced activation of the insulin and epidermal growth factor receptor families. Curr Opin Struct Biol 22(3):360–366. doi:10.1016/j.sbi.2012.03.014

Ward C, Lawrence M, Streltsov V et al (2008) Structural insights into ligand-induced activation of the insulin receptor. Acta Physiol 192(1):3–9. doi:10.1111/j.1748-1716.2007.01781.x

Wohr T, Wahl F, Netzi A et al (1996) Pseudo-prolines as a solubilizing, structure-disrupting protection technique in peptide synthesis. J Am Chem Soc 118 (null):9218

Yamashiro D, Li CH (1985) Chemical synthesis of insulin-like growth factor II. Int J Pept Protein Res 26(3):299–304. doi:10.1111/j.1399-3011.1985.tb03208.x

Zhang S, Lin F, Hossain M, Shabanpoor F, Tregear G, Wade J (2008) Simultaneous post-cysteine(S-Acm) group removal quenching of iodine and isolation of peptide by one step ether precipitation. Int J Pept Res Ther 14(4):301–305. doi:10.1007/s10989-008-9148-x
Acknowledgments
The authors would like to acknowledge Clair Alvino for helpful discussions and assistance with competitive binding assays and the Australian Research Council (ARC) for funding.
About this article
Cite this article
Cottam, J.M., Scanlon, D.B., Karas, J.A. et al. Chemical Synthesis of a Fluorescent IGF-II Analogue. Int J Pept Res Ther 19, 61–69 (2013). https://doi.org/10.1007/s10989-012-9339-3
Accepted:

Published:

Issue Date:

DOI: https://doi.org/10.1007/s10989-012-9339-3
Keywords