Abstract
Lactoferrin (Lf), as a therapeutic protein drug, has attracted much interest due to its many important roles in human and animal health and development. Oral delivery offers the most convenient way for supplementing Lf. However, the bioavailability of orally administered Lf is limited by a number of barriers associated with protein absorption. During the past decade, several oral delivery systems have been developed to preserve Lf stability in order to enhance gastric residence time and improve its bioavailability. This review summarizes various pharmaceutical strategies currently under investigation including: PEGylation, absorption enhancers, enzymatic inhibitors and advanced drug carrier systems.
Access options
Buy single article
Instant access to the full article PDF.
USD 39.95
Price excludes VAT (USA)
Tax calculation will be finalised during checkout.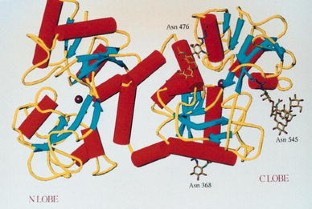 References
Acero-Lopez A, Schell P, Corredig M, Alexander M (2010) Characterization of lactoferrin oil in water emulsions and their stability in recombined milk. J Dairy Res 77:445–451

Appelmelk BJ, An YQ, Geerts M, Thijs BG, de Boer HA, MacLaren DM, de Graaff J, Nuijens JH (1994) Lactoferrin is a lipid A-binding protein. Infect Immun 62:2628–2632

Attwood D, Mallon C, Ktistis G, Taylor CJ (1992) A study on factors influencing the droplet size in nonionic oil-in-water microemulsions. Int J Pharm 88:417–422

Balthasar S, Michaelis K, Dinauer N, Von BH, Kreuter J, Langer K (2005) Preparation and characterisation of antibody modified gelatin nanoparticles as drug carrier system for uptake in lymphocytes. Biomaterials 26:2723–2732

Berkhout B, Floris R, Recio I, Visser S (2004) The antiviral activity of the milk protein lactoferrin against the human immunodeficiency virus type 1. Biometals 17:291–294

Bernkop-Schnurch A (1998) The use of inhibitory agents to overcome the enzymatic barrier to perorally administered therapeutic peptides and proteins. J Control Release 52:1–16

Bernkop-Schnurch A, Clausen A (2002) Biomembrane permeability of peptides: strategies to improve their mucosal uptake. Mini Rev Med Chem 2:295–305

Bernkop-Schnurch A, Krajicek ME (1998) Mucoadhesive polymers as platforms for peroral peptide delivery and absorption: synthesis and evaluation of different chitosan-EDTA conjugates. J Control Release 50:215–223

Bernkop-Schnurch A, Schmitz T (2007) Presystemic metabolism of orally administered peptide drugs and strategies to overcome it. Curr Drug Metab 8:509–517

Bernkop-Schnurch A, Paikl C, Valenta C (1997) Novel bioadhesive chitosan-EDTA conjugate protects leucine enkephalin form degradation by aminopeptidase N. Pharm Res 14(7):917–922

Bernkop-Schurch A, Hoffer MH, Kafedjiiski K (2004) Thiomers for oral delivery of hydrophilic macromolecular drugs. Expert Opin Drug Deliv 1(1):87–98

Borchard RT (1999) Optimising oral absorption of peptides using prodrug strategies. J Control Release 62:231–238

Brock JH, Arzabe F, Lampreave F, Pineiro A (1976) The effect of trypsin on bovine transferrin and lactoferrin. Biochim Biophys Acta 446:214–225

Cho YW, Flynn M (1989) Oral delivery of insulin. Lancet 2:1518–1519

Cilek A, Celebi N, Tirnaksiz F, Tay A (2005) A lecithin-based microemulsion of rh-insulin with aprotinin for oral administration: investigation of hypoglycemic effects in non-diabetic and STZ-induced diabetic rats. Int J Pharm 298:176–185

Colonna C, Genta I, Perugini P (2006) 5-Methyl-pyrrolidinone chitosan films as carriers for buccal administration of proteins. AAPS Pharm Sci Tech 7(3):107–113

Constantinides PP, Scalart JP, Lancaster C, Marcello J, Marks G, Ellens H, Smith PL (1994) Formulation and intestinal absorption enhancement evaluation of water-in-oil microemulsions incorporating medium-chain glycerides. Pharm Res 11:1385–1390

Cornish J, Palmano K, Callon KE, Watson M, Lin JM, Valenti P, Naot D, Grey AB, Reid IR (2006) Lactoferrin and bone: structure-activity relationships. Biochem Cell Biol 84:297–302

Cui F, Zhang L, Zheng J, Kawashima Y (2004) A study of insulin-chitosan complex nanoparticles used for oral administration. STP Pharma 14(6):435–439

Danielsson I, Lindman B (1981) The definition of microemulsion. Colloids Surf 3:391–392

Ekwuribe NN, Ramaswamy M, Radhakrishnan B, Allaudeen HSS (2001) US20016191105

Eliassen LT, Berge G, Sveinbjornsson B, Svendsen JS, Vorland LH, Rekdal O (2002) Evidence for a direct antitumor mechanism of action of bovine lactoferricin. Anticancer Res 22:2703–2710

Ellison RT, Giehl TJ (1991) Killing of gram-negative bacteria by lactoferrin and lysozyme. J Clin Invest 88:1080–1091

El-Shabouri MH (2002) Positively charged nanoparticles for improving the oral bioavailability of cyclosporin A. Int J Pharm 249:101–108

Figueiras A, Hombach J, Veiga F, Bernkop-Schnurch A (2008) In vitro enhancing effect of 1-dodecylazacycloheptan-2-evaluation of natural and methylated cyclodextrins as buccal permeation enhancing system for omeprazole delivery. Eur J Pharm Biopharm 72(3):561–566

Fisher R, Debbabi H, Blais A, Dubarry M, Rautureau M, Boyaka PN, Tome D (2007) Uptake of ingested bovine lactoferrin and its accumulation in adult mouse tissue. Int Immunopharmacol 7:1387–1393

Fujii S, Yokoyama T, Ikegaya K, Sato F, Yokoo N (1985) Promoting effect of the new chymotrypsin inhibitor FK-448 on the intestinal absorption of insulin in rats and dogs. J Pharm Pharmacol 37:545–549

Fukunga M, Miller MM, Deftos LJ (1991) Liposome-entrapped calcitonin and parathyroid hormone are orally effective in rats. Horm Metab Res 23:166–167

Galindo-Rodriguez SA, Allemann E, Fessi H, Doelker E (2005) Polymeric nanoparticles for oral delivery of drugs and vaccines: a critical evaluation of in vivo studies. Crit Rev Ther Drug Carr Syst 22:419–464

Gan ZH, Yu DH, Zhong ZY, Liang QZ, Jing XB (1999) Enzymatic degradation of poly(epsilon-caprolactone)/poly(d,l-lactide) blends in phosphate buffer solution. Polymer 40:2859–2862

Gao ZG, Choi HG, Shin HJ, Park KM, Lim SD, Hwang KJ, Kim CK (1998) Physicochemical characterization and evaluation of a microemulsion system for oral delivery of cyclosporin A. Int J Pharm 161:75–86

Garcia-Fuentes M, Prego C, Torres D, Alonso MJ (2005) A comparative study of the potential of solid triglyceride nanostructures coated with chitosan or poly (ethylene glycol) as carriers for oral calcitonin delivery. Eur J Pharm Sci 25:133–143

Gentilucci L, Marco RD, Cerisoli L (2010) Chemical modifications designed to improve peptide stability: incorporation of non-natural amino acids, pseudo-peptide bonds, and cyclization. Curr Pharm Des 16:3185–3203

Hayashida K, Kaneko T, Takeuchi T, Shimizu H, Ando K, Harada E (2004) Oral administration of lactoferrin inhibits inflammation and nociception in rat adjuvant-induced arthritis. J Vet Med Sci 66:149–154

Hejazi R, Amiji M (2003) Chitosan-based gastrointestinal delivery systems. J Control Release 89:151–165

Hoogstraate AJ, Senel S, Cullander C (1996) Effects of bile salts on transport rates and routes of FTIC-labelled compounds across porcine buccal epithelium in vitro. J Control Release 40:211–221

Hu K, Li JW, Shen YH, Lu W, Gao XL, Zhang QZ, Jiang XG (2009) Lactoferrin-conjugated PEG-PLA nanoparticles with improved brain delivery: in vitro and in vivo evaluations. J Control Release 134:55–61

Huang SW, Satue-Gracia MT, Frankel EN, German JB (1999) Effect of lactoferrin on oxidative stability of corn oil emulsions and liposomes. J Agric Food Chem 47(4):1356–1361

Huang RQ, Ke WL, Liu Y, Jiang Y, Jiang C, Pei YY (2008) The use of lactoferrin as a ligand for targeting the polyamidoamine based gene delivery system to the brain. Biomaterials 29:238–246

Huang RQ, Ke WL, Han L, Liu Y, Shao K, Ye LY, Lou JN, Jiang C, Pei YY (2009) Brain-targeting mechanisms of lactoferrin-modified DNA-loaded nanoparticles. J Cerebral Blood Fow Metab 19:1914–1923

Huang RQ, Ke WL, Han L, Liu Y, Shao K, Jiang C, Pei YY (2010) Lactoferrin modified nanoparticles could mediate efficient gene delivery to the brain in vivo. Brain Res Bull 81:600–604

IIIum L (1998) Chitosan and its use as a pharmaceutical excipient. Pharm Res 15:1326–1331

Ishikado A, Imanaka H, Tekeuchi T, Harada E, Makino T (2005) Liposomalization of lactoferrin enhanced it's anti-inflammatory effects via oral administration. Biol Pharm Bull 28:1717–1772

Ishikado A, Uesaki S, Suido H, Nomura Y, Sumikawa K (2010) Human trial of liposomal lactoferrin supplementation for periodontal. Biol Pharm Bull 33:1758–1762

Johansson BG (1960) Isolation of an iron containing red protein from human milk. Acta Chem Scand 14:510–512

Junginger HE, Verhoef JC (1998) Macromolecules as safe penetration enhancers for hydrophilic drugs—a fiction. Pharm Sci Tech Today 1:370–376

Karthikeyan S, Paramasivam M, Yadav S, Srinivasan A, Singh TP (1999) Structure of buffalo lactoferrin at 2.5 Å resolution using crystals grown at 303 K shows different orientations of the N and C lobes. Acta Crystallogr D Biol Crystallogr 55:1805–1813

Kato K, Tamaki N, Saito Y, Fujimoto T, Sato A (2010) Amino group PEGylation of bovine lactoferrin by linear polyethylene glycol-p-nitrophenyl active ester. Biol Pharm Bull 33(7):1253–1255

Khan JA, Kumar P, Paramasivam M, Yadav RS, Sahani MS, Sharma S, Srinivasan A, Singh TP (2001) Camel lactoferrin, a transferrin-cum-lactoferrin: crystal structure of camel apolactoferrin at 2.6 Å resolution and structural basis of its dual role. J Mol Biol 309:751–761

Kimura T, Sato K, Sugimoto K, Tao R, Murakami T, Kurosaki Y, Nakayama T (1996) Oral administration of insulin as poly (vinyl alcohol)-gel spheres in diabetic rats. Biol Pharm Bull 19:897–900

Kraeling ME, Ritschel WA (1992) Development of a colonic release capsule dosage form and the absorption of insulin. Methods Find Exp Clin Pharmacol 14:199–209

Kreuter J (1994) Nanoparticles. In: Kreuter J (ed) Colloidal drug delivery systems. Marcel Dekker Inc., New York, pp 219–242

Kuwata H, Yamauchi K, Teraguchi S, Ushida Y, Shimokawa Y, Toida T, Hayasawa H (2001) Functional fragments of ingested lactoferrin are resistant to proteolytic degradation in the gastrointestinal tract of adult rats. J Nutr 131:2121–2127

Langguth P, Bohner V, Biber J, Merkle HP (1994) Metabolism and transport of the pentapeptide metkephamid by brush-border membrane vesicles of rat intestine. J Pharm Pharmacol 46:34–40

Langoth N, Bernkop-Scnhurch A, Kurka P (2005) In vitro evaluation of various buccal permeation enhancing systems for PACAP (pituitary adenylate cyclase-activating polypeptide). Pharm Res 22:2045–2050

Lee VHL, Traver RD, Taub ME (1991) Enzymatic barriers to peptide and protein drug delivery. In: Lee VHL (ed) Peptide and protein drug delivery. Marcel Dekker Inc., New York, pp 303–358

Leroueil-Le VM, Fluckiger L, Kim YI, Hoffman M, Maincent P (1998) Preparation and characterization of nanoparticles containing an antihypertensive agent. Eur J Pharm Biopharm 46:137–143

Lesme U, Baudot P, McClements DJ (2010) Impact of interfacial composition on physical stability and in vitro lipase digestibility of triacylglycerol oil droplets coated with lactoferrin and/or caseinate. J Agric Food Chem 58:7962–7969

Lian DH, Xing T, Fu DC (2004) Solid lipid nanoparticles to improve oral bioavailability of poorly soluble drugs. J Pharm Pharmacol 56:1527–1535

Lueben HL, De Leeuw BJ, Langemeyer MWE, De Boer AG, Verhoef JC, Junginger HE (1996) Mucoadhesive polymers in peroral peptide drug delivery. VI. Carbomer and chitosan improve the intestinal absorption of the peptide drug buserelin in vivo. Pharm Res 13:1668–1672

Mahato RI, Narang AS, Thoma L (2003) Emerging trends in oral delivery of peptide and protein drugs. Crit Rev Ther Drug Carrier Syst 20:153–214

Maitani Y, Hazama M, Tojo Y, Shimoda N, Nagai T (1996) Oral administration of recombinant human erythropoietin in liposomes in rats: influence of lipid composition and size of liposomes on bioavailability. J Pharm Sci 85:440–445

Marchetti M, Superti F, Ammendolia MG, Rossi P, Valenti P, Seganti L (1999) Inhibition of poliovirus type 1 infection by iron-, manganese- and zinc-saturated lactoferrin. Med Microbiol Immunol 187:199–204

McClellan JB, Garner CW (1998) Purification and properties of human intestine alanine aminopeptidase. Biochim Biophys Acta 613:60–167

Melmed RN, El-Aaser AA, Holt SJ (1976) Hypertrophy and hyperplasia of the neonatal rat exocrine pancreas induced by orally administered soybean trypsin inhibitor. Biochim Biophys Acta 421(2):280–288

Mikogami T, Heyman M, Spik G, Desjeux JF (1994) Apical-to-basolateral transepithelial transport of human lactoferrin in the intestinal cell line HT-29cl.19A. Am J Physiol 267:308–315

Moore SA, Anderson BF, Groom CR, Harides M, Baker EN (1997) Three-dimensional structure of diferric bovine lactoferrin at 2.8 Å resolution. J Mol Bio 274:222–236

Morel S, Ugazio E, Cavalli R, Gaosco MR (1996) Thymopentin in solid lipid nanoparticles. Int J Pharm 132:259–261

Muller RH, Runge S, Ravelli V, Mehnert W, Thunemannc AF, Souto EB (2006) Oral bioavailability of cyclosporine: solid lipid nanoparticles (SLN®) versus drug nanocrystals. Int J Pharm 317:82–89

Murphy ME, Kariwa H, Mizutani T, Tanabe H, Yoshimatsu K, Arikawa J, Takashima I (2001) Characterization of in vitro and in vivo antiviral activity of lactoferrin and ribavirin upon hantavirus. J Vet Med Sci 63:637–645

Naicker SA, Yatscoff RW, Foster RT (2006) US20067060672

Narang AS, Delmarre D, Gao D (2007) Stable drug encapsulation in micelles and microemulsions. Int J Pharm 345:9–25

Nielsen NS, Petersen A, Meyer AS, Timm-Heinrich M, Jacobsen C (2004) Effects of lactoferrin, phytic acid, and EDTA on oxidation in two food emulsions enriched with long-chain polyunsaturated fatty acids. J Agric Food Chem 52(25):7690–7699

Nishihata T, Kim S, Morishita S (1983) Adjuvant effects of glyceryl esters of acetoacetic acid on rectal absorption of insulin and inulin in rabbits. J Pharm Sci 72:280–285

Noh GJ, Lee EH, Lee SH, Park DY, Ki KH, Lee EK, Lee DH (2008) Physicochemical properties, pharmacokinetics, and pharmacodynamics of a reformulated microemulsion propofol in rats. Anaesthesiology 109:436–447

Nojima Y, Suzuki Y, Iguchi K, Shiga T, Iwata A, Fujimoto T, Yoshida K, Shimizu H, Takeuchi T, Sato A (2008) Development of PEG conjugated lactoferrin for oral administration. Bioconjugate Chem 19:2253–2259

Nojima Y, Suzuki Y, Yoshida K, Abe F, Shiga T, Takeuchi T, Sugiyama A, Shimizu H, Sato A (2009) Lactoferrin conjugated with 40-kDA branched PEG has and improved circulating half-life. Pharm Res 26:2125–2132

Norris DA, Puri N, Sinko PJ (1998) The effect of physical barriers and properties on the oral absorption of particulates. Adv Drug Deliv Rev 34:135–154

Onishi H, Machida Y, Koyama K (2007) Preparation and in vitro characteristics of lactoferrin loaded chitosan microparticles. Drug Dev Ind Pharm 33:641–647

Onishi H, Koyama K, Sakata O, Machida Y (2009) Preparation and in vitro evaluation of chitosan-coated alginate/calcium complex microparticles loaded with fluorescein-labeled lactoferrin. Yakugaku Zasshi 129(12):1507–1514

Onishi H, Koyama K, Sakata O, Machida Y (2010) Preparation of chitosan/alginate/calcium complex microparticles loaded with lactoferrin and their efficacy on carrageenan-induced edema in rats. Drug Dev Ind Pharm 36(8):879–884

Oosegi T, Onishi H, Machida Y (2008) Novel preparation of enteric-coated chitosan-prednisolone conjugate microspheres and in vitro evaluation of their potential as a colonic delivery system. Eur J Phram Biopharm 68(2):260–266

Owen AJ, Yiv SH (1997) US5646109

Pan Y, Li YJ, Zhao HY (2002) Bioadhesive polysaccharide in protein delivery system: chitosan nanoparticles improve the intestinal absorption of insulin in vivo. Int J Pharm 249:139–147

Penkler L, Muller RH, Runger SA, Ravelli V (1999) Pharmaceutical cyclosporin formulation with improved biopharmaceutical properties, improved physical quality and greater stability, and method for producing said formulation. PCT-application PCT/EP99/02892

Pierce A, Colavizza D, Benaissa M, Maes P, Tartar A, Montreuil J, Spik G (1991) Molecular cloning and sequence analysis of bovine lactotransferrin. Eur J Biochem 196:177–184

Portero A, Remunan-Lopez C, Nielsen HM (2002) The potential of chitosan in enhancing peptide and protein absorption across TR146 cell culture model-an in vitro model of the buccal epithelium. Pharm Res 19:169–174

Prego C, Torres D, Fernandez-Megia E, Novoa-Carballal R, Quinoa E, Alonso MJ (2006) Chitosan-PEG nanocapsules as new carriers for oral peptide delivery effect of chitosan pegylation degree. J Control Release 111:299–308

Raehs SC, Sandow J, Wirth K, Merkle HP (1988) The adjuvant effect of bacitracin on nasal absorption of gonadorelin and buserelin in rats. Pharm Res 5:689–693

Rejman J, Oberle V, Zuhorn IS, Hoekstra D (2004) Size-dependent internalization of particles via the pathways of clathrin- and caveolae-mediated endocytosis. Biochem J 377:159–169

Reseland JE, Holm H, Jacobsen MB, Jenssen TG, Hanssen LE (1996) Proteinase inhibitors induce selective stimulation of human trypsin and chymotrypsin secretion. Hum Clin Nutr 126:634–642

Ringe K, Walz CM, Sabel BA (2004) Nanoparticle drug delivery to the brain. In: Nalwa HS (ed) Encyclopedia of nanoscience and nanotechnology, vol 7. American Scientific Publishers, Stevenson Ranch, pp 91–104

Roberts MJ, Bentley MD, Harris JM (2002) Chemistry for peptide and protein PEGylation. Adv Drug Del Rev 54:459–476

Roseanu A, Florian PE, Moisei M, Sima LE, Evans RW, Trif ML (2010) Liposomalization of lactoferrin enhanced its anti-tumoral effects on melanoma cells. Biometals 23:485–492

Russel-Jones GJ (2001) The potential use of receptor-mediated endocytosis for oral drug delivery. Adv Drug Deliv Rev 46:59–73

Saffran M, Bedra C, Kumar GS, Neckers DC (1988) Vasopressin: a model for the study of effects of additives on the oral and rectal administration of peptide drugs. J Pharm Sci 77:33–38

Sakuma S, Suzuki H, Kikuchi H, Hiwatari KI, Arikawa K, Kishida A, Akashi M (1997) Oral peptide delivery using nanoparticles composed of novel graft copolymers having hydrophobic backbone and hydrophilic branches. Int J Pharm 149:93–106

Schryvers AB, Morris LJ (1988) Identification and characterization of the human lactoferrin-binding protein from Neisseria meningitidis. Infect Immun 56:1144–1149

Shantha Kuma TR, Soppomath K, Nachaegari SK (2006) Novel delivery technologies for protein and peptide therapeutic. Curr Pharm Biotechnol 7:261–276

Sharma AK, Karthikeyan S, Sharma S, Yadav S, Srinivasan A, Singh TP (1998) Structures of buffalo and mare lactoferrins. Similarities, differences, and flexibility. Adv Exp Med Biol 443:15–21

Sharma P, Chawla HPS, Panchagnula R (1999) The role of sorption promoters in increasing the bioavailability of drugs in oral preparations. Drugs Future 24:1221–1240

Shiota M, Uchida T, Oda T, Kawakami H (2006) Utilization of lactoferrin as an iron-stabilizer for soybean and fish oil. J Food Sci 71(3):C120–C123

Siegel IA, Gordon HP (1985) Effects of surfactants on the permeability of canine oral mucosa in vitro. Toxicol Lett 26:153–158

Soerensen M, Soerensen SPL (1939) The protein in whey. C R Trav Lab Carlsberg 23:55–99

Spangler RS (1990) Insulin administration via liposomes. Diabetes Care 13:911–922

Spernath A, Aserin A (2006) Microemulsions as carriers for drugs and nutraceuticals. Adv Colloid Interface Sci 128:47–64

Sudhakar Y, Kuotsu K, Bandyopadhyay AK (2006) Buccal bioadhesive drug delivery—a promising option for orally less efficient drug. J Control Release 114:15–40

Sugiyama A, Sato A, Takeuchi T (2009) PEGylated lactoferrin enhanced its hepatoprotective effects on acute liver injury induced by carbon tetrachloride in rats. Food Chem Toxicol 47(7):1453–1456

Sushama T, Adnan A, Farhan JA, Roop KK, Shadab AP, Zeenat IK (2008) Microemulsion: a novel approach to enhanced drug delivery. Rec Pat on Drug Deliv Formul 2:238–257

Takakura N, Wakabayashi H, Ishibashi H, Teraguchi S, Tamura Y, Yamaguchi H, Abe S (2003) Oral lactoferrin treatment of experimental oral candidiasis in mice. Antimicrob Agents Chemother 47:2619–2623

Takeuchi H, Yamamoto H, Niwa T, Hino T, Kawashima Y (1994) Mucoadhesion of polymer-coated liposomes to rat intestine in vitro. Chem Pharm Bull 42:1954–1956

Takeuchi H, Yamamoto H, Niwa T, Hino T, Kawashima Y (1996) Enteral absorption of insulin in rats. Pharm Res 13:896–901

Takeuchi H, Matsui Y, Yamamoto H, Kawashima Y (2003) Mucoadhesive properties of carbopol or chitosan-coated liposomes and their effectiveness in the oral administration of calcitonin to rats. J Control Release 86:235–242

Teraguchi S, Wakabayashi H, Kuwata H, Yamauchi K, Tamura Y (2004) Protection against infection by oral lactoferrin: evaluation in animal model. Bometals 17:231–234

Thanou M, Verhoef JC, Marbach P, Junginger HE (2000) Intestinal absorption of octreotide: N-trimethyl chitosan healing of chloride (TMC) ameliorates the permeability and absorption properties of the somatostatin analogue in vitro and in vivo. J Pharm Sci 89:951–957

Thirawong N, Thongborisute J, Takeuchi H, Sriamornsak P (2008) Improved intestinal absorption of calcitonin by mucoadhesive delivery of novel pectin–liposome nanocomplexes. J Control Release 125:236–245

Tomita M, Wakabayashi H, Yamauchi K, Teraguchi S, Hayasawa H (2002) Bovine lactoferrin and lactoferricin derived from milk: production and application. Biochem Cell Biol 80:109–112

Tomita M, Wakabayashi H, Shin K, Yamauchi K, Yaeshima T, Iwatsuki K (2009) Twenty-five years of research on bovine lactoferrin application. Biochimie 91:52–57

Troost FJ, Saris WHM, Brummer RJM (2002) Orally ingested human lactoferrin is digested and secreted in the upper gastrointestinal tract in vivo in women with ileostomies. J Nutr 132:2597–2600

Trull AK, Tan KK, Tan L, Alexander GJ, Jamieson NV (1995) Absorption of cyclosporin from conventional and new microemulsion oral formulations in liver transplant recipients with external biliary diversion. Br J Clin Pharmacol 39:627–631

Tsubery H, Mironchik M, Fridkin M, Shechter Y (2004) Prolong the action of protein and peptide drug by a novel approach of reversible polyethylene glycol modification. J Biol Chem 279:38118–38124

Tsuda H, Sekine K, Fujita K, Iigo M (2002) Cancer prevention by bovine lactoferrin and underlying mechanisms-a review of experimental and clinical studies. Biochem Cell Biol 80:131–136

Ushirogawa Y, Nakahigashi Y, Kiriyama A, Takada K (1992) Effect of organic acids, trypsin inhibitors and dietary protein on the pharmacological activity of recombinant human granulocyte colony-stimulating factor (rhG-CSF) in rats. Int J Pharm 81:133–141

Utoguchi N, Watanabe Y, Shida T, Matsumoto M (1998) Nitric oxide donors enhance rectal absorption of macromolecules in rabbits. Pharm Res 15:870–876

Weinberg ED (2007) Antibiotic properties and application of lactoferrin. Curr Pharma Des 13:801–811

Yamamoto A, Taniguchi T, Rikyuu K, Tsuji T, Fujita T, Murakami M, Muranishi S (1994) Effects of various protease inhibitors on the intestinal absorption and degradation of insulin in rats. Pharm Res 11:1496–1500

Yamano E, Miyauchi M, Furusya H, Kawazoe A, Ishikado A, Makino T, Tanne K, Tanaka E, Takata T (2010) Inhibitory effects of orally administrated liposomal bovine lactoferrin on the LPS-induced osteoclastogenesis. Lab Invest 90:1236–1246

Yamashita S, Saitoh H, Nakanishi K (1985) Characterization of enhanced intestinal permeability; electrophysiological study on the effects of diclofenac and ethylenediamine tetraacetic acid. J Pharm Pharmacol 37:512–513

Yuan JS, Ansari M, Samaan M (2008) Linker-based lecithin microemulsions for transdermal delivery of lidocaine. Int J Pharm 349(1–2):130–143

Zhang S, Uludag H (2009) Nanoparticulate systems for growth factor delivery. Pharm Res 26:1561–1580

Zhang N, Ping Q, Huang G, Xu W, Cheng Y, Han X (2006) Lectin modified solid lipid nanoparticles as carriers for oral administration of insulin. Int J Pharm 327:153–159
Acknowledgments
The present study was financially supported by a Faculty Research Development Fund (FRDF) from The University of Auckland's Faculty of Medical and Health Science.
About this article
Cite this article
Yao, X., Bunt, C., Cornish, J. et al. Oral Delivery of Lactoferrin: A Review. Int J Pept Res Ther 19, 125–134 (2013). https://doi.org/10.1007/s10989-012-9326-8
Accepted:

Published:

Issue Date:

DOI: https://doi.org/10.1007/s10989-012-9326-8
Keywords