Abstract
Educators are beginning to consider the physical learning environment as an additional resource in meeting learning outcomes in modern classrooms. In order to better utilise classroom space, schools have begun to eliminate desks and chairs and to replace 'traditional' furniture with 'flexible' furniture that is capable of multiple reconfigurations to facilitate teaching and learning. The impact of flexible furniture in elementary classrooms has had little exploration. We investigated the various impacts of flexible furniture paired with teacher professional development (PD) on the elementary classroom. A total of 10 classrooms were included in the study of 3rd and 4th graders (N = 206 students). Classrooms were observed biweekly for 8 weeks and assigned to one of two groups: Group A received PD and flexible furniture, whereas Group B maintained traditional furniture. During observations, three students were randomly selected from each classroom and continuously monitored throughout each observation (n = 30 students). First, a between-groups design and analysis of covariance (ANCOVA) was employed to assess the effect of the intervention using pre-intervention self-assessment results as the covariate. As predicted, students who experienced flexible furniture reported greater satisfaction with the learning environment than did peers with traditional furniture. Secondly, a series of independent samples t test demonstrated that classrooms with flexible furniture provided more opportunities for student autonomy and use of furniture for learning. Insight on flexible furniture, its impact in the elementary classroom, implications and future research are discussed.
Access options
Buy single article
Instant access to the full article PDF.
US$ 39.95
Tax calculation will be finalised during checkout.
Subscribe to journal
Immediate online access to all issues from 2019. Subscription will auto renew annually.
US$ 79
Tax calculation will be finalised during checkout.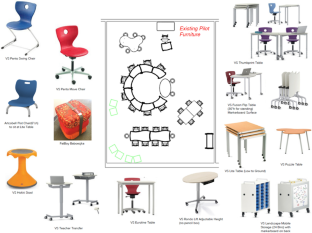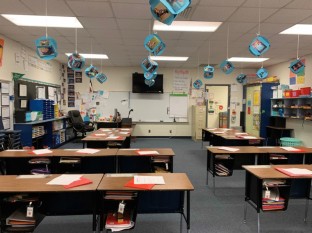 References
Baepler, P., Walker, J. D., & Driessen, M. (2014). It's not about seat time: Blending, flipping, and efficiency in active learning classrooms. Computers & Education, 78, 227–236. https://doi.org/10.1016/j.compedu.2014.06.006.

Bagatelli, N., Mirigliani, G., Patterson, C., Reyes, Y., & Test, L. (2010). Effectiveness of therapy ball chairs on classroom participation in children with autism spectrum disorders. American Journal of Occupational Therapy, 64, 895–903. https://doi.org/10.5014/ajot.2010.09149.

Barrett, P., Davies, F., Zhang, Y., & Barrett, L. (2015). The impact of classroom design on pupils' learning: Final results of a holistic, multi-level analysis. Building and Environment, 89, 118–133. https://doi.org/10.1016/j.buildenv.2015.02.013.

Barrett, P., Zhang, Y., Moffat, J., & Kobbacy, K. (2013). A holistic, multi-level analysis identifying the impact of classroom design on pupils' learning. Building and Environment, 59, 678–689. https://doi.org/10.1016/j.buildenv.2012.09.016.

Beichner, R.J. (2006). North Carolina State University: SCALE: UP. In D.G. Oblinger (Ed.), Learning spaces (pp. 29.1-29.6). Educause.

Beichner, R., Bernold, L., Burniston, E., Dail, P., Felder, R., Gastineau, J., et al. (1999). Case study of the physics component of an integrated curriculum. American Journal of Physics, 67(S1), S16–S24.

Beichner, R., Saul, J., Abbott, D., Morse, J., Deardorff, D., Allain, S., Bonham, M., Dancy, M., & Risley, J. (2007) The student-centered activities for large enrollment undergraduate programs (SCALE-UP) project. In E. F. Redish & P. J. Cooney (Eds.), Research-Based Reform of University Physics, American Association of Physics Teachers, Reviews in PER Vol. 1.

Blackmore, J., Bateman, D., Loughlin, J., O'Mara, J., & Aranda, G. (2011). Research into the connection between built learning spaces and student outcomes. Melbourne, VIC: Department of Education and Early Childhood Development.

Buckley, J., Schneider, M., & Shang, Y. (2005). Fix it and they might stay: School facility quality and teacher retention in Washington, DC. Teachers College Record, 107, 1107–1123.

Cleveland, B. (2011). Engaging spaces: Innovative learning environments, pedagogies and student engagement in the middle years of school. Unpublished PhD thesis, The University of Melbourne, Melbourne, AU.

Cleveland, B., & Fisher, K. (2014). The evaluation of physical learning environments: A critical review of the literature. Learning Environments Research, 17(1), 1–28.

Clinton, V., & Wilson, N. (2019). More than chalkboards: Classroom spaces and collaborative learning attitudes. Learning Environments Research, 19(3), 325–344.

Cornell, P. (2003). The impact of changes in teaching and learning on furniture and the learning environment. New Directions for Teaching and Learning, 92, 33–42.

Fisher, K. (2004). Revoicing classrooms: A spatial manifesto. Forum, 46(1), 36–38.

Fisher, K. (2005). Research into identifying effective learning environments. Retrieved from http://www.oecd.org/education/innovation-education/centreforeffectivelearningenvironmentscele/37905387.pdf. Accessed 10 June 2019.

Gifford, R. (2002). Environmental psychology: Principles and practice. Colville: Optimal Books.

Gundersen, P. E. (2019). How does the high school redesigned learning space influence collaboration, communication, creativity, and critical thinking. Seton Hall, University Dissertations and Theses (ETDs).

Hartnell-Young, E. (2006). Teachers' roles and professional learning in communities of practice supported by technology in schools. Journal of Technology and Teacher Education, 14, 461–480.

Heppell, S., Chapman, C., Millwood, R., Constable, M., & Furness, J. (2004). Building learning futures. Retrieved from http://www.buildingfutures.org.uk. Accessed 1 May 2019.

Higgins, S., Hall, E., Wall, K., Wooler, P., & McCaughey, C. (2005). The impact of school environments: A literature review. London: The Design Council.

Jamieson, P., Dane, J., & Lippman, P. (2005, May). Moving beyond the classroom: Accommodating the changing pedagogy of higher education. Paper presented at the Forum of the Australian Association for Institutional Research in San Diego, CA.

Jankowska, M., & Atlay, M. (2008). Use of creative space in enhancing students' engagement. Innovations in Education and Teaching International, 45(3), 271–279.

Kariippanon, K., Cliff, D., Lancaster, S., Okely, A., & Parrish, A. (2018). Perceived interplay between flexible learning spaces and teaching, learning and student wellbeing. Learning Environment Research, 21(3), 301–320. https://doi.org/10.1007/s1098-017-9254-9.

Lowther, D. L., Ross, S. M., & Morrison, G. M. (2003). When each one has one: The influences on teaching strategies and student achievement of using laptops in the classroom. Educational Technology Research and Development, 51(3), 23–44.

Matthews, K. E., Andrews, V., & Adams, P. (2011). Social learning spaces and student engagement. Higher Education Research and Development, 30(2), 105–120.

Merritt, J. M. (2014). Alternative seating for young children: Effects on learning. American Journal of Contemporary Research, 4(1), 12–18.

Parsons, C. S. (2017). Reforming the environment: The influence of the roundtable classroom design on interactive learning. Journal of Learning Spaces, 6(3), 23–33.

Pfeiffer, B., Henry, A., Miller, S., & Witherell, S. (2008). The effectiveness of Disc 'O' Sit cushions on attention to task in second-grade students with attention difficulties. American Journal of Occupational Therapy, 62, 274–281.

Rands, M. L., & Gansemer-Topf, A. M. (2017). The room itself is active: How classroom design impacts student engagement. Journal of Learning Spaces, 6(1), 26–33.

Schilling, D. L., & Schwartz, I. S. (2004). Alternative seating for young children with autism spectrum disorder: Effects on classroom behaviors. Journal of Autism Developmental Disorders, 34(4), 423–432. https://doi.org/10.1023/B:JADD.0000037418.48587.f4.

Stapp, A. (2018). Alternative seating and students' perceptions: Implications for the learning environment. Georgia Educational Researcher, 4(2), 36–47. https://doi.org/10.20429/ger.2018.140204.

Stern, N., & Etheridge, R. (2008). Flexible learning spaces: The integration of pedagogy, physical design, and instructional technology. Marketing Education Review, 18(1), 47–53. https://doi.org/10.1080/10528008.2008.11489024.

Talbert, R., & Mor-Avi, A. (2018, October). A space for learning: A review of research on active learning spaces. Retrieved from https://doi.org/10.31235/osf.io/vg2mx. Accessed 13 Mar 2019.

Taylor, A. (2009). Linking architecture and education: Sustainable design for learning environments. Albuquerque, NM: University of New Mexico Press.

Thomas, C., Pavlechko, G., & Cassady, J. (2018). An examination of the mediating role of learning space design on the relation between instructor effectiveness and student engagement. Learning Environments Research, 22, 117–131. https://doi.org/10.1007/s10984-0189270-4.

Yang, Z., Becerik-Gerber, B., & Mino, L. (2013). A study on student perceptions of higher education classrooms: Impact of classroom attributes on student satisfaction and performance. Building and Environment, 70, 171–188. https://doi.org/10.1016/j.buildenv.2013.08.030.
Acknowledgements
The authors disclose receipt of the following financial support for the research, authorship and/or publication of this article. This research was funded in partnership by Huckabee Inc., Education Service Center Region 12 (ESC Region 12), Midway ISD (MISD) and Baylor University. The opinions expressed are those of the authors and do not represent views of Huckabee Inc., ESC Region 12, MISD or Baylor University.
Additional information
Publisher's Note
Springer Nature remains neutral with regard to jurisdictional claims in published maps and institutional affiliations.
Shanna L. Attai has moved to Midway Independent School district.
About this article
Cite this article
Attai, S.L., Reyes, J.C., Davis, J.L. et al. Investigating the impact of flexible furniture in the elementary classroom. Learning Environ Res 24, 153–167 (2021). https://doi.org/10.1007/s10984-020-09322-1
Received:

Accepted:

Published:

Issue Date:
Keywords
Elementary-school students

Flexible furniture

Learning environment

Teacher professional development