Abstract
Case-based Learning (CBL) is perceived as an effective pedagogical approach to improving students' ability to transfer knowledge, concepts and skills learned in schools to real-life contexts This study offers a new instrument that captures students' perceptions of CBL skills and their ability to transfer the knowledge and skills that they acquire to their work environment and which exhibits evidence of reliability and validity. The measurement of self- and peer-assessment was also addressed in this study to examine this construct's potential effect on the above variables. Based on a deductive-inductive approach, the study included three steps. In Step 1, the conceptual definitions of CBL were surveyed and analysed. Experts' review and analysis of these descriptions led to item formulation. In Step 2, qualitative and quantitative data were gathered from 95 hydrotherapy students enrolled in a certificate program (Halliwick Foundation course). To examine the predictive evidence of validity of the CBL scale and assess the research hypotheses, Partial Least Squares-Structural Equation Modeling was deployed. In Step 3, the qualitative data were analysed to provide a more-complete understanding of the research models. The structural model implied that higher-order thinking skills and students' prior knowledge are the most effective factors that might directly enhance their perceived ability to transfer the knowledge and skills that students acquired to their work environment. Those constructs had also a mediating role in linking peer- and self-assessment to the perceived transfer ability.
Access options
Buy single article
Instant access to the full article PDF.
US$ 39.95
Tax calculation will be finalised during checkout.
Subscribe to journal
Immediate online access to all issues from 2019. Subscription will auto renew annually.
US$ 79
Tax calculation will be finalised during checkout.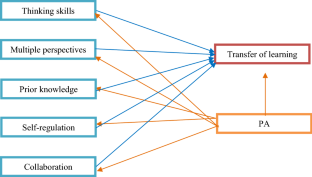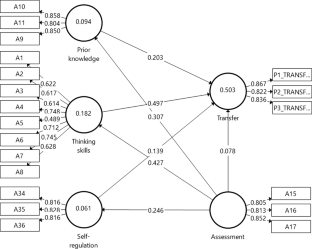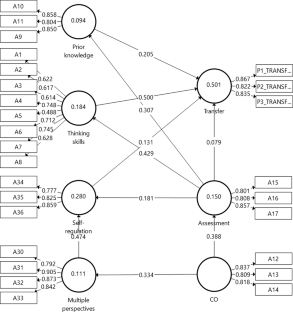 References
Ajzen, I. (1988). Attitudes, personality, and behavior. Chicago: Dorsey.

Ajzen, I. (1991). The theory of planned behavior. Organizational Behavior and Human Decision Processes,50, 179–211.

Ajzen, I., & Fishbein, M. (1980). Understanding attitudes and predicting social behavior. Englewood Cliffs, NJ: Prentice-Hall.

Ajzen, I., & Fishbein, M. (2005). The influence of attitudes on behavior. In D. Albarracin, B. T. Johnson, & M. P. Zanna (Eds.), The handbook of attitudes (pp. 173–221). Mahwah, NJ: Erlbaum.

Alt, D. (2014). The construction and validation of a new scale for measuring features of constructivist learning environments in higher education. Frontline Learning Research. https://doi.org/10.14786/flr.v2i2.68.

Alt, D. (2016). Students' perceived constructivist learning environment: Empirical examples of the comparison between facet theory with smallest space analysis and confirmatory factor analysis. European Journal of Psychological Assessment. https://doi.org/10.1027/1015-5759/a000358.

Alt, D., & Raichel, N. (2018). Lifelong citizenship: Lifelong learning as a lever for moral and democratic values. Leiden and Boston: Brill and Sense Publishers.

Baeten, M., Dochy, F., & Struyven, K. (2013). Enhancing students' approaches to learning: The added value of gradually implementing case-based learning. European Journal of Psychology of Education,28(2), 315–336.

Bagdasarov, Z., Harkrider, L. N., Johnson, J. F., MacDougall, A. E., Devenport, L. D., Connelly, S., et al. (2012). An investigation of case-based instructional strategies on learning, retention, and ethical decision-making. Journal of Empirical Research on Human Research Ethics,7(4), 79–86.

Bandura, A. (1986). Social foundations of thought and action: A social cognitive theory. Englewood Cliffs, NJ: Prentice-Hall.

Biggs, J. B., Kember, D., & Leung, D. Y. P. (2001). The revised two-factor study process questionnaire: R-SPQ-2F. British Journal of Educational Psychology,71, 133–149.

Blackmon, M., Hong, Y., & Choi, I. (2007). Case-based learning. In M. Orey (Ed.), Emerging perspectives on learning, teaching, and technology. Retrieved May 12, 2017 from https://projects.coe.uga.edu/epltt/.

Braithwaite, D. W., & Goldstone, R. L. (2015). Effects of variation and prior knowledge on abstract concept learning. Cognition & Instruction,33(3), 226–256.

Chi, M. T. H., & VanLehn, K. A. (2012). Seeing deep structure from the interactions of surface features. Educational Psychologist,47(3), 177–188.

Creswell, J. W. (2012). Educational research: Planning, conducting, and evaluating quantitative and qualitative research (4th ed.). Upper Saddle River, NJ: Merrill.

Daher, A. M., Singh, H. J., & Kutty, M. K. (2017). Differentiating case-based learning from problem-based learning after a two-day introductory workshop on case-based learning. Australasian Medical Journal (Online),10(12), 973–980.

Day, S. B., & Goldstone, R. L. (2012). The import of knowledge export: Connecting findings and theories of transfer of learning. Educational Psychologist,47, 153–176.

Dixon, R. A., & Brown, R. A. (2012). Transfer of learning: Connecting concepts during problem solving. Journal of Technology Education,24(1), 2–17.

Dupuis, R. E., & Persky, A. M. (2008). Use of case-based learning in a clinical pharmacokinetics course. American Journal of Pharmaceutical Education,72(2), 1–29.

Fons, K. B., Gresswell, A., Gutierrez-Bassas, M., Hadar-Frumer, M., Garcia, M. K., Maes, J. P., & Ní Mhuirí, A. (2010). The Halliwick concept 2010. https://www.halliwick.org/wp-content/uploads/2018/01/halliwick-concept-2010.pdf. Accessed 20 Mar 2017.

Garcia, M. K., Joares, E. C., Silva, M. A., Bissolotti, R. R., Oliveira, S., & Battistella, L. R. (2012). The Halliwick Concept, inclusion and participation through aquatic functional activities. Retrieved May 12, 2017 from www.halliwick.org.

Ha, H., & Lopez, T. (2014). Developing health literacy knowledge and skills through case-based learning. American Journal of Pharmaceutical Education,78, 1–7.

Hair, J. F., Hult, G. T. M., Ringle, C. M., & Sarstedt, M. (2017). A primer on partial least squares structural equation modeling (PLS-SEM) (2nd ed.). Thousand Oaks, CA: Sage.

Hemphill, M. A., Richards, K. A. R., Gaudreault, K. L., & Templin, T. (2015). Pre-service teacher perspectives of case-based learning in physical education teacher education. European Physical Education Review,21(4), 432–450.

Holyoak, K. J., & Koh, K. (1987). Surface and structural similarity in analogical transfer. Memory & Cognition,15, 323–340.

Huffaker, D. A., & Calvert, S. L. (2003). The new science of learning: Active learning, metacognition, and transfer of knowledge in e-learning applications. Journal of Educational Computing Research,29, 325–334.

Jhangiani, R. S. (2016). The impact of participating in a peer assessment activity on subsequent academic performance. Teaching of Psychology,43, 180–186.

Johnson, S. D., Dixon, R., Daugherty, J., & Lawanto, O. (2011). General versus specific intellectual competencies: The question of learning transfer. In M. Barak & M. Hacker (Eds.), Fostering human development through engineering and technology education (pp. 55–74). Leiden, Netherlands: Sense Publishers.

Keemink, Y., Custers, E., van Dijk, S., & ten Cate, O. (2018). Illness script development in pre-clinical education through case-based clinical reasoning training. International Journal of Medical Education,9, 35–41.

Kolodner, J. L., Cox, M. T., & González-Calero, P. A. (2005). Case-based reasoning-inspired approaches to education. The Knowledge Engineering Review,20(3), 299–303.

Kritikos, V. S., Woulfe, J., Sukkar, M. B., & Saini, B. (2011). Intergroup peer assessment in problem-based learning tutorials for undergraduate pharmacy students. American Journal of Pharmaceutical Education,75(4), 1–73.

Lam, R. (2010). A peer review training workshop: Coaching students to give and evaluate peer feedback. TESL Canada Journal,27(2), 114. https://doi.org/10.18806/tesl.v27i2.1052.

Latukefu, L. (2010). Peer assessment in tertiary level singing: Changing and shaping culture through social interaction. Research Studies in Music Education,32, 61–73.

Liu, N.-F., & Carless, D. (2006). Peer feedback: The learning element of peer assessment. Teaching in Higher Education,11(3), 279–290.

Liu, A., Zhou, L. L., Lam, A., & Dahlke, E. (2018). Case-based learning in dermatology. Journal of Cutaneous Medicine and Surgery,22, 273–279.

Lobato, J. (2003). How design experiments can inform a rethinking of transfer and vice versa. Edu-cational Researcher,32, 17–20.

Marton, F. (2006). Sameness and differences in transfer. The Journal of the Learning Sciences,15, 501–538.

McLean, S. F. (2016). Case-based learning and its application in medical and health-care fields: A review of worldwide literature. Journal of Medical Education and Curricular Development,3, 39–49.

Nkhoma, M., Sriratanaviriyakul, N., & Quang, H. L. (2017). Using case method to enrich students' learning outcomes. Active Learning in Higher Education,18(1), 37–50.

Panadero, E. (2016). Is it safe? Social, interpersonal, and human effects of peer assessment: A review and future directions. In G. T. L. Brown & L. R. Harris (Eds.), Handbook of social and human conditions in assessment (pp. 247–266). New York: Routledge.

Panadero, E., Jonsson, A., & Strijbos, J. W. (2016). Scaffolding self-regulated learning through self-assessment and peer assessment: Guidelines for classroom implementation. In D. Laveault & L. Allal (Eds.), Assessment for learning: Meeting the challenge of implementation (pp. 311–326). Boston, MA: Springer.

Papinczak, T., Young, L., & Groves, M. (2006). Peer assessment in problem-based learning: A qualitative study. Advances in Health Sciences Education. Theory and Practice,12, 169–186.

Reed, S. K. (1987). A structure-mapping model for word problems. Journal of Experimental Psychology: Learning, Memory, and Cognition,13, 124–139.

Ross, B. H. (1987). This is like that: The use of earlier problems and the separation of similarity effects. Journal of Experimental Psychology: Learning, Memory, and Cognition,13, 629–639.

Salomon, G., & Perkins, D. N. (1989). Rocky roads to transfer: Rethinking mechanisms of a ne-glected phe-nomenon. Educational Psychologist,24, 113–142.

Scott, B. L., Barker, B., Abraham, R., & Wickless, H. W. (2016). Integration of dermatology-focused physical diagnosis rounds and case-based learning within the internal medicine medical student clerkship. Journal of Medical Education and Curricular Development,3, 105–107.

Shulman, L. S. (1992). Toward a pedagogy of cases. In J. H. Shulman (Ed.), Case methods in teacher education (pp. 1–30). New York: Teachers College Press.

Singley, M. K., & Anderson, J. R. (1989). The transfer of cognitive skill. Cambridge, MA: Harvard University Press.

Speelman, C. P., Forbes, J. D., Giesen, K., Parkinson, M., & Johnson, L. (2016). The stability of old skills during transfer. SAGE Open,6, 1–13.

Srinivasan, M., Wilkes, M., Stevenson, F., Nguyen, T., & Slavin, S. (2007). Comparing problem-based learning with case-based learning: Effects of a major curricular shift at two institutions. Academic Medicine,82(1), 74–82.

Topping, K. J. (1998). Peer assessment between students in colleges and universities. Review of Educational Research,68(3), 249–276.

Walker, A., Leary, H., Hemlo-Silver, C. E., & Ertmer, P. A. (Eds.). (2015). Essential readings in problem-based learning: Exploring and extending the legacy of Howard S. Barrows. West Lafayette, IN: Purdue University Press.

Williams, B. (2005). Case based learning—a review of the literature: Is there scope for this educational paradigm in prehospital education. Emergency Medicine Journal,22, 577–581.
Additional information
Publisher's Note
Springer Nature remains neutral with regard to jurisdictional claims in published maps and institutional affiliations.
About this article
Cite this article
Alt, D., Alt, N. & Hadar-Frumer, M. Measuring Halliwick Foundation course students' perceptions of case-based learning, assessment and transfer of learning. Learning Environ Res 23, 59–85 (2020). https://doi.org/10.1007/s10984-019-09286-x
Received:

Accepted:

Published:

Issue Date:
Keywords
Case-based learning

Self- and peer-assessment

Transfer of learning