Abstract
The purpose of the current study was to estimate reliability, internal consistency and construct validity of the Measure of Instruction for Creative Engagement (MICE) instrument. The MICE uses an iterative process of evidence collection and scoring through teacher observations to determine instructional domain ratings and overall scores. The results demonstrated the sound inter-observer reliability, teacher stability and score validity of the MICE. We found (a) a low proportion of rater variance (0.14–5.99%), (b) moderate to highly correlated within-teacher ratings ranging from r(17) = 0.663, p < 0.01 to r(17) = 1.000, p < 0.01 and (c) a statistically-significant difference between classroom teachers and teaching artists, t(56) = 7.37, p = 0.000. These results relate to the development of classroom environment instruments and the substantive development of pedagogy that supports creative thinking and behaviours, both of which are a priority for enhancing teacher accountability and student learning.
Access options
Buy single article
Instant access to the full article PDF.
USD 39.95
Price includes VAT (USA)
Tax calculation will be finalised during checkout.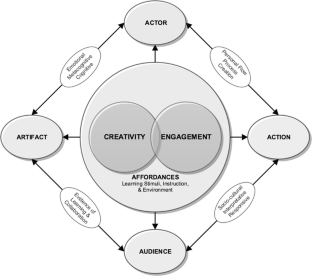 References
Beghetto, R. (2016). Creative learning: A fresh look. Journal of Cognitive Education and Psychology, 15(1), 6–23.

Beghetto, R., Kaufman, J., & Baer, J. (2015). Teaching for creativity in the common core classroom. New York: Teacher's College Press.

Brennan, R. L. (2001). Generalizability theory. New York: Springer.

Cohen, J. (1960). A coefficient for agreement of nominal scales. Educational and Psychological Measurement, 20(1), 37–46.

Danielson, C. (2013). The framework for teaching: Evaluation instrument. Princeton, NJ: The Danielson Group.

Darling-Hammond, L., Bae, S., Cook-Harvey, C. M., Lam, L., Mercer, C., Podolsky, A., et al. (2016). Pathways to new accountability through the Every Student Succeeds Act. Palo Alto, CA: Learning Policy Institute.

Davis, J. H. (2000). Metacognition and multiplicity: The arts as models and agents. Educational Psychology Review, 12(3), 339–359.

Fan, X., & Sun, S. (2014). Generalizability theory as a unifying framework of measurement reliability in adolescent research. Journal of Early Adolescence, 34(1), 38–65.

Faul, F., Erdfelder, E., Lang, A.-G., & Buchner, A. (2007). G*Power 3: A flexible statistical power analysis program for the social, behavioral, and biomedical sciences. Behavior Research Methods, 39, 175–191.

Fraser, B. (1998). Classroom environment instruments: Development, validity and applications. Learning Environments Research, 1, 7–33.

Geverdt, D. (2007). Remote towns and rural fringes: An overview of the NCES School Locale Framework. Washington, DC: U.S. Census Bureau. http://aasa.org/uploadedFiles/Policy_and_Advocacy/files/RemoteTownsRuralFringes.pdf.

Glăveanu, V. P. (2013). Rewriting the language of creativity: The Five A's framework. Review of General Psychology, 17(1), 69–81.

Glăveanu, V., & Beghetto, R. (2017). The difference that makes a 'creative' difference in education. In R. Beghetto & B. Sriraman (Eds.), Creative contradictions in education (pp. 37–54). Cham: Springer.

Hafen, C. A., Hamre, B. K., Allen, J. P., Bell, C. A., Gitomer, D. H., & Pianta, R. C. (2014). Teaching through interactions in secondary school classrooms: Revisiting the factor structure and practical application of the classroom assessment scoring system-secondary. Journal of Early Adolescence, 35(6), 650–680.

Hetland, L., Winner, E., Veenema, S., & Sheridan, K. (2014). Studio thinking 2: The real benefits of visual arts education. New York: Teachers College Press.

Ho, A. D., & Kane, T. J. (2013). The reliability of classroom observations by school personnel (Research Paper, MET Project). Seattle, WA: Bill & Melinda Gates Foundation.

Hong, E., Hartzell, S. A., & Greene, M. T. (2009). Fostering creativity in the classroom: Effects of teachers' epistemological beliefs, motivation, and goal orientation. The Journal of Creative Behavior, 43(3), 192–208.

Kane, T. J., & Staiger, D. O. (2012). Gathering feedback for teaching: Combining high-quality observations with student surveys and achievement gains (Research Paper, MET Project). Seattle, WA: Bill & Melinda Gates Foundation.

Landis, J., & Koch, G. G. (1977). The measurement of observer agreement for categorical data. Biometrics, 33, 159–174. doi:10.2307/2529310.

Lench, S., Fukuda, E., & Anderson, R. (2015). Essential skills and dispositions: Developmental frameworks for collaboration, creativity, communication, and self-direction. Lexington, KY: Center for Innovation in Education at the University of Kentucky.

Lucas, B., Claxton, G., & Spencer, E. (2013). Progression in student creativity in school: First steps towards new forms of formative assessments (OECD Education working Papers, No. 86). Paris: Organization for Economic Cooperation and Development/OECD Publishing.

Marcoulides, G. A. (1990). An alerternative method for estimating variance components in generalizability theory. Psychological Reports, 66, 102–109.

Pianta, R. C., Hamre, B. K., & Mintz, S. (2010). Classroom Assessment Scoring System—Secondary (CLASS—S). Charlottesville, VA: University of Virginia.

Putka, D. J., Le, H., McCloy, R. A., & Diaz, T. (2008). Ill-structured measurement designs in organizational research: Implications for estimating interrater reliability. Journal of Applied Psychology, 93, 959.

Runco, M. A. (2016). Commentary: Overview of developmental perspectives on creativity and the realization of potential. New Directions for Child and Adolescent Development, 151, 97–109. doi:10.1002/cad.20145.

Sawyer, R. K. (2006). Explaining creativity: The science of human innovation. New York: Oxford University Press.

Schacter, J., Thum, Y. M., & Zifkin, D. (2006). How much does creative teaching enhance elemtary school students' achievement? Journal of Creative Behavior, 40, 47–72.

Shrout, P. E., & Fleiss, J. L. (1979). Intraclass correlations: Uses in assessing rater reliability. Psychological Bulletin, 86, 420–428.

Smollkowski, K., & Gunn, B. (2012). Reliability and validity of the Classrooom Observation of Student–Teacher Interactions (COSTI) for kindergarten reading instruction. Early Childhood Research Quarterly, 27, 316–328.

Yi, X., Plucker, J. A., & Guo, J. (2015). Modeling influences on divergent thinking and artistic creativity. Thinking Skills and Creativity, 16, 62–68.
Acknowledgements
This research was supported by a grant from the U.S. Department of Education (PR/Award No. U351D140063).
About this article
Cite this article
Pitts, C., Anderson, R. & Haney, M. Measures of instruction for creative engagement: Making metacognition, modeling and creative thinking visible. Learning Environ Res 21, 43–59 (2018). https://doi.org/10.1007/s10984-017-9238-9
Received:

Accepted:

Published:

Issue Date:
Keywords
Creativity

Instructional practices

Inter-rater reliability

Teacher evaluation