Abstract
A resurgence in interest in classroom and school design has highlighted how little we know about the impact of learning environments on student and teacher performance. This is partly because of a lack of research methods capable of controlling the complex variables inherent to space and education. In a unique study that overcame such difficulties by using a single-subject research design in one Queensland school, open and flexible classroom arrangements, together with an infusion of one-on-one technologies, improved student perceptions of the quality of teaching and students' levels of engagement. Separate statistical analysis also indicated significant differences in these students' performance in mathematics when compared to like peers in more 'traditional' classrooms. The paper ends with a caution; on these measures, the classroom design is certainly one, but probably not the only, influence.
Access options
Buy single article
Instant access to the full article PDF.
US$ 39.95
Tax calculation will be finalised during checkout.
Subscribe to journal
Immediate online access to all issues from 2019. Subscription will auto renew annually.
US$ 79
Tax calculation will be finalised during checkout.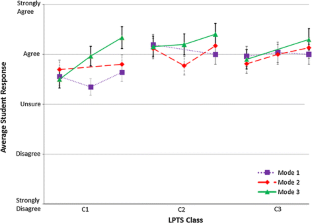 References
Abbassi, N., & Fisher, K. (2010). LEaRN working paper 01/version01: A research review of the impacts of learning environmnets. Melbourne: Learning Environments Applied Research Network, University of Melbourne.

Alterator, S., & Deed, C. (2013). Teacher adaptation to open learning spaces. Issues in Educational Research, 23(3), 315–330.

Baguley, T. (2009). Standardized or simple effect size: What should be reported? British Journal of Psychology, 100, 603–617. doi:10.1348/000712608X377117.

Baguley, T. (2012). Calculating and graphing within-subject confidence intervals for ANOVA. Behavior Research Methods, 44(1), 158–175.

Blackmore, J., Bateman, D., O'Mara, J., & Loughlin, J. (2011). Research into the connection between built learning spaces and student outcomes: Literature review. Melbourne: Victorian Department of Education and Early Childhood Development.

Bobrovitz, C. D., & Ottenbacher, K. J. (1998). Comparison of visual inspection and statistical analysis of single-subject data in rehabilitation research. American Journal of Physical Medicine and Rehabilitation, 77(2), 94–102.

Brooks, D. C. (2011). Space matters: The impact of formal learning environments on student learning. British Journal of Educational Technology, 42(5), 719–726.

Byiers, B. J., Reichle, J., & Symons, F. J. (2012). Single-subject experimental design for evidence-based practice. American Journal of Speech-Language Pathology, 21(4), 397–414. doi:10.1044/1058-0360(2012/11-0036).

Cakiroglu, O. (2012). Single subject research: Applications to special education. British Journal of Special Education, 39(1), 21–29.

Cleveland, B., & Fisher, K. (2014). The evaluation of physical learning environments: A critical review of the literature. Learning Environments Research, 17(1), 1–28.

Cumming, G. (2007). Inference by eye: Pictures of confidence intervals and thinking about levels of confidence. Teaching Statistics,. doi:10.1111/j.1467-9639.2007.00267.

Cumming, G. (2009). Inference by eye: Reading the overlap of independent confidence intervals. Statistics in Medicine, 28(2), 205–220. doi:10.1002/sim.3471.

Diggle, P., Heagerty, P., Liang, K. Y., & Zeger, S. (2002). Analysis of longitudinal data (2nd ed.). Oxford: Oxford University Press.

Fisher, K. (2003). Linking pedagogy and space. Melbourne: Department of Education and Early Childhood Development.

Fisher, K. (2006). The new learning environment: Hybrid designs for hybrid learning. In Education futures public #2. Melbourne: Woods Bagot. Retrieved May 30, 2016 from https://issuu.com/woods_bagot/docs/public_2_education_futures.

Fredricks, J. A., Blumenfeld, P. C., & Paris, A. H. (2004). School engagement: Potential of the concept, state of the evidence. Review of Educational Research, 74(1), 59–109.

Gliem, J. A., & Gliem, R. R. (2003) Calculating, interpreting, and reporting Cronbach's alpha reliability coefficient for Likert-type scales. Midwest Research-to-Practice Conference in Adult, Continuing, and Community Education, The Ohio State University, Columbus, pp. 82–88.

Gray, G. A., & Guppy, L. N. (2007). Successful surveys: Research methods and practice (4th ed.). Toronto: Harcourt Brace & Company.

Hattie, J. (2009). Visible learning: A synthesis of over 800 meta-analyses relating to achievement. New York: Routledge.

Horner, R. H., Carr, E. G., Halle, J., McGee, G., Odom, S., & Wolery, M. (2005). The use of single-subject research to identify evidence-based practice in special education. Exceptional Children, 71(2), 165–179.

Horner, R. H., Swaminathan, H. S., & George, S. K. (2012). Considerations for the systematic analysis and use of single-case research. Education and Treatment of Children, 35(2), 269–290.

Ivankova, N. V., Creswell, J. W., & Stick, S. L. (2006). Using mixed-methods sequential explanatory design: From theory to practice. Field Methods, 18(1), 3–20.

Lackney, J. A. (2008). Teacher environmental competence in elementary school environments. Children, Youth and Environments, 18(2), 133–159.

Lippman, P. C. (2013). Designing collaborative spaces for schools: Part 1. T.H.E. Journal, 2013 digital edition, 1–4. Retrieved May 30, 2016 from https://thejournal.com/articles/2013/02/13/designing-collaborative-spaces-for-schools.aspx.

Masson, M. E., & Loftus, G. R. (2003). Using confidence intervals for graphically based data interpretation. Canadian Journal of Experimental Psychology, 57(3), 203–220.

Monahan, T. (2002). Flexible space & built pedagogy: Emerging IT embodiments. Inventio, 4(1), 1–19.

Nourbakhsh, M. R., & Ottenbacher, K. J. (1994). The statistical analysis of single-subject data: A comparative examination. Physical Therapy, 74(8), 768–776.

Painter, S., Fournier, J., Grape, C., Grummon, P., Morelli, J., Whitmer, S., & Cevetello, J. (2013). Research on learning space design: Present state, future directions. Ann Arbor, MI: Society for College and University Planning.

Rindskopf, D. (2014). Nonlinear bayesian analysis for single case designs. Journal of School Psychology, 52(2), 179–189. doi:10.1016/j.jsp.2013.12.003.

Soja, E. (1996). Thirdspace: Expanding the geographical imagination. Cambridge: Blackwell.

State of Victoria (2007). The principles of learning and teaching. http://www.education.vic.gov.au/school/teachers/support/pages/principles12.aspx. Accessed June 2014.

Walker, J. D., Brooks, D. C., & Baepler, P. (2011). Pedagogy and space: Empirical research on new learning environments. Educause Quarterly, 34(4), 1–15.
Acknowledgments
This research was conducted with the assistance of a University of Melbourne, Melbourne Graduate School of Education Research Seed grant. The authors would like to express their appreciation for the professional support provided by the staff of Anglican Church Grammar School, Brisbane.
About this article
Cite this article
Imms, W., Byers, T. Impact of classroom design on teacher pedagogy and student engagement and performance in mathematics. Learning Environ Res 20, 139–152 (2017). https://doi.org/10.1007/s10984-016-9210-0
Received:

Accepted:

Published:

Issue Date:
Keywords
Evaluation methods

Learning environment

Student performance

Teacher performance