Abstract
Context
Landscape fragmentation carries the risk of habitat loss for many animal species. This may include wild boars, which are one of the main culprits of conflicts with humans, while isolated patches of forest (forest islands) scattered in the agricultural landscape may affect its ecology and the pressure on the crops.
Objectives
This study aimed to understand the importance of small forest islands located in a human-dominated agricultural landscape in the ecology of wild boar. It explores what features, both of the interior and exterior of the islands, influence their use.
Methods
The study area covered approximately 220,000 ha of northern Poland, where wild boar use of 200 islands distributed across the agricultural landscape was investigated. For this purpose, the method of counting pellet groups was applied on transects of a total length of 51.6 km. In order to compare the use of islands with compact forest complexes, 84 km of transects were made in the latter, divided into developmental stages and forest type.
Results
Among the features of the interior of the islands, increasing cover conditions and the main species of trees (pine, spruce and alder) had a positive influence on the wild boar use. The utilization also depended on the presence of human settlements, other islands, and the type of agricultural crop around the island. When comparing island use to compact forest complexes, islands were used more often than forest regeneration sites and mature stands, but less often than pre-thickets. For the 25% most frequently used by wild boar, islands were more attractive than virtually all stand development stages in compact forest complexes.
Conclusions
Due to the cover conditions provided, the occurrence of islands in the agricultural space enables wild boars to use areas more distant from compact forest complexes. This may cause the spread of damage caused by wild boars in the fields, but on the other hand it may reduce the pressure on agricultural areas in the immediate vicinity of compact forest complexes. Intensification of hunting pressure in the vicinity of islands with specific characteristics e.g. good cover conditions, considerable distance from human settlements) will increase the effectiveness of wild boar population control in the agricultural landscape and will have a limiting effect on the damage caused by this species in the fields.
This is a preview of subscription content,
to check access.
Access this article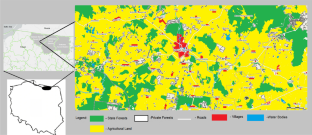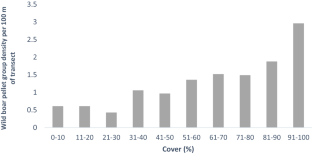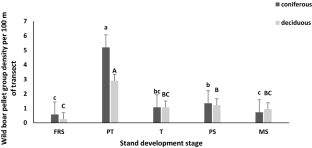 Similar content being viewed by others
Data availaibility
The datasets generated during and/or analysed during the current study are available from the corresponding author on reasonable request.
References
Amici A, Serrani F, Rossi CM, Primi R (2012) Increase in crop damage caused by wild boar (Sus scrofa L.): the "refuge effect." Agron Sustain Dev 32(3):683–692

Andrén H (1994) Effects of habitat fragmentation on birds and mammals in landscapes with different proportions of suitable habitat: a review. Oikos 71:355–366

Apollonio M, Belkin VV, Borkowski J, Borodin OI, Borowik T, Cagnacci F, Gaillard JM (2017) Challenges and science-based implications for modern management and conservation of European ungulate populations. Mamm Res 62(3):209–217

Ballari SA, Barrios-García MN (2014) A review of wild boar S us scrofa diet and factors affecting food selection in native and introduced ranges. Mamm Rev 44(2):124–134

Barefoot CR, Willson KG, Hart JL, Schweitzer CJ, Dey DC (2019) Effects of thinning and prescribed fire frequency on ground flora in mixed Pinus-hardwood stands. For Ecol Manage 432:729–740

Barrios-Garcia MN, Ballari SA (2012) Impact of wild boar (Sus scrofa) in its introduced and native range: a review. Biol Invasions 14(11):2283–2300

Baubet E, Ropert-Coudert Y, Brandt S (2003) Seasonal and annual variations in earthworm consumption by wild boar (Sus scrofa scrofa L.). Wildl Res 30:179–186

Bobek B, Furtek J, Wojciuch-Płoskonka M (2021) Using data from collective hunts to estimate the wild boar (Sus scrofa) population density in north-eastern Poland. Mamm Biol 101(6):933–940

Boitani L, Mattei L, Nonis D, Corst F (1994) Spatial and activity patterns of wild boars in Tuscany, Italy. J Mammal 75:600–612

Borkowski J (2004) Distribution and habitat use by red and roe deer following a large forest fire in South-western Poland. For Ecol Manage 201(2–3):287–293

Borkowski J, Ukalska J, Jurkiewicz J, Chećko E (2016) Living on the boundary of a post-disturbance forest area: the negative influence of security cover on red deer home range size. For Ecol Manage 381:247–257

Borkowski J, Ukalski K (2012) Bark stripping by red deer in a post-disturbance area: the importance of security cover. For Ecol Manage 263:17–23

Brivio F, Grignolio S, Brogi R, Benazzi M, Bertolucci C, Apollonio M (2017) An analysis of intrinsic and extrinsic factors affecting the activity of a nocturnal species: the wild boar. Mamm Biol 84:73–81

Brook RK, van Beest FM (2014) Feral wild boar distribution and perceptions of risk on the central Canadian prairies. Wildl Soc Bull 38:486–494

Bruinderink GWG, Hazebroek E (1995) Modelling carrying capacity for wild boar Sus scrofa scrofa in a forest/heathland ecosystem. Wildl Biol 1(1):81–87

Carey MP, Sanderson BL, Barnas KA, Olden JD (2012) Native invaders—challenges for science, management, policy, and society. Front Ecol Environ 10:373–381

Castillo-Contreras R, Carvalho J, Serrano E, Mentaberre G, Fernández-Aguilar X, Colom A, López-Olvera JR (2018) Urban wild boars prefer fragmented areas with food resources near natural corridors. Sci Total Environ 615:282–288

Courbin N, Fortin D, Dussault C, Courtois R (2009) Landscape management for woodland caribou: the protection of forest blocks influences wolf-caribou co-occurrence. Landscape Ecol 24(10):1375–1388

deCalesta DS (2013) Reliability and precision of pellet-group counts for estimating landscape-level deer density. Hum Wildl Interact 7(1):60–68

Dechen Quinn AC, Williams DM, Porter WF (2013) Landscape structure influences space use by white-tailed deer. J Mammal 94(2):398–407

Decocq G, Andrieu E, Brunet J, Chabrerie O, De Frenne P, De Smedt P, Wulf M (2016) Ecosystem services from small forest patches in agricultural landscapes. Curr for Rep 2(1):30–44

Fattebert J, Baubet E, Slotow R, Fischer C (2017) Landscape effects on wild boar home range size under contrasting harvest regimes in a human-dominated agro-ecosystem. Eur J Wildl Res 63:32

Ficetola GF, Bonardi A, Mairota P, Leronni V, Padoa-Schioppa E (2014) Predicting wild boar damages to croplands in a mosaic of agricultural and natural areas. Curr Zool 60(2):170–179

Fonseca C (2008) Winter habitat selection by wild boar Sus scrofa in southeastern Poland. Eur J Wildl Res 54(2):361

Fortin D, Beyer HL, Boyce MS, Smith DW, Duchesne T, Mao JS (2005) Wolves influence elkmovements: behavior shapes a trophic cascade in Yellowstone National Park. Ecology 86:1320–1330

Gentle M, Speed J, Marshall D (2015) Consumption of crops by feral pigs (Sus scrofa) in a fragmented agricultural landscape. Aust Mamm 37(2):194–200

Gervasi V, Sand H, Zimmermann B, Mattisson J, Wabakken P, Linnell JD (2013) Decomposing risk: landscape structure and wolf behavior generate different predation patterns in two sympatric ungulates. Ecol Appl 23(7):1722–1734

Gortázar C, Ferroglio E, Höfle U, Frölich K, Vicente J (2007) Diseases shared between wildlife and livestock: a European perspective. Eur J Wildl Res 53(4):241–256

Härkönen S, Heikkilä R (1999) Use of pellet group counts in determining density and habitat use of moose Alces alces in Finland. Wildl Biol 5(1):233–239

Hess SC, Jeffrey JJ, Pratt LW, Ball DL (2010) Effects of ungulate management on vegetation at Hakalau Forest national wildlife refuge, Hawai? I Island. Pac Conserv Biol 16(2):144–150

Hins C, Ouellet JP, Dussault C, St-Laurent MH (2009) Habitat selection by forest-dwelling caribou in managed boreal forest of eastern Canada: evidence of a landscape configuration effect. For Ecol Manage 257(2):636–643

Huynh T, Aarnink A, Verstegen M, Gerrits W, Heetkamp M, Kemp B, Canh T (2005) Effects of increasing temperatures on physiological changes in pigs at different relative humidities. J Anim Sci 83:1385–1396

Jiang G, Zhang M, Ma J (2008) Habitat use and separation between red deer Cervus elaphus xanthopygus and roe deer Capreolus pygargus bedfordi in relation to human disturbance in the Wandashan Mountains, northeastern China. Wildl Biol 14(1):92–100

Johann F, Handschuh M, Linderoth P, Dormann CF, Arnold J (2020) Adaptation of wild boar (Sus scrofa) activity in a human-dominated landscape. BMC Ecol 20(1):1–14

Jokimäki J, Huhta E, Itämies J, Rahko P (1998) Distribution of arthropods in relation to forest patch size, edge, and stand characteristics. Can J for Res 28:1068–1072

Keuling O, Baubet E, Duscher A, Ebert C, Fischer C, Monaco A, Podgórski T, Prevot C, Ronnenberg K, Sodeikat G, Stier N, Thurfjell H (2013) Mortality rates of wild boar Sus scorfa L. in central Europe. Eur J Wildl Res 59:805–814

Keuling O, Stier N, Roth M (2009) Commuting, shifting or remaining? Different spatial utilisation patterns of wild boar Sus scrofa L. in forest and field crops during summer. Mamm Biol 74(2):145–152

Keuling O, Stier N, Roth M (2008) How does hunting influence and spatial usage in wild boar Sus scrofa L. Eur J Wildl Res 54:729–737.

Larson CL, Reed SE, Merenlender AM, Crooks KR (2016) Effects of recreation on animals revealed as widespread through a global systematic review. PLoS ONE. https://doi.org/10.1371/journal.pone.0167259

Laundré JW (2010) Behavioral response races, predator–prey shell games, ecology of fear, and patch use of pumas and their ungulate prey. Ecology 91(10):2995–3007

Lemel J (1999) Populationstillväxt, dynamik och spridning hos vildsvinet, Sus scrofa, i mellersta Sverige. Svenska Jägareförbundet, Nyköping

Lemel J, Truve J, Soderberg B (2003) Variation in ranging and activity behavior of European wild boar Sus scrofa in Sweden. Wildl Biol 9:29–36.

Marchand P, Garel M, Bourgoin G, Dubray D, Maillard D, Loison A (2014) Impacts of tourism and hunting on a large herbivore's spatio-temporal behavior in and around a French protected area. Biol Conserv 177:1–11.

Massei G, Genov PV, Staines B, Gorman ML (1997) Factors influencing home range and activity of wild boar (Sus scrofa) in a Mediterranean costal area. J Zool (lond) 242:411–423

Massei G, Kindberg J, Licoppe A, Gačić D, Šprem N, Kamler J, Cellina S (2015) Wild boar populations up, numbers of hunters down? A review of trends and implications for Europe. Pest Manag Sci 71(4):492–500

Massei G, Roy S, Bunting R (2011) Toomany hogs? A review ofmethods to mitigate impact by wild boar and feral hogs. Hum Wildl Interact 5:79–99

Mayer J, Brisbin I (2009) Wild boars: biology, damage control techniques and management. Savannah River National Laboratory, University of Georgia, U.S Forest Service, Georgia

Merli E, Grignolio S, Marcon A, Apollonio M (2017) Wild boar under fire: the effect of spatial behaviour, habitat use and social class on hunting mortality. J Zool (lond) 303:155–164.

Mikulka O, Zeman J, Drimaj J, Plhal R, Adamec Z, Kamler J, Heroldová M (2018) The importance of natural food in wild boar (Sus scrofa) diet during autumn and winter. J Vertebr Biol 67(3–4):165–172

Morais TA, Rosa CAD, Azevedo CSD, Viana-Junior AB, Santos P, Passamani M (2019) Factors affecting space use by wild boars (Sus scrofa) in high-elevation tropical forests. Can J Zool 97(11):971–978

Morelle K, Fattebert J, Mengal C, Lejeune P (2016) Invading or recolonizing? Patterns and drivers of wild boar population expansion into Belgian agroecosystems. Agr Ecosyst Environ 222:267–275

Mysterud A, Langvatn R, Yoccoz NG, Stenseth NC (2002) Large-scale habitat variability, delayed density effects and red deer populations in Norway. J Anim Ecol 71(4):569–580

Mysterud A, Østbye E (1999) Cover as a habitat element for temperate ungulates: effects on habitat selection and demography. Wildl Soc Bull 1999:385–394

Neff DJ (1968) The pellet-group count technique for big game trend, census, and distribution: a review. J Wildl Manag 32:597–614

Ohashi H, Saito M, Horie R, Tsunoda H, Noba H, Ishii H, Kaji K (2013) Differences in the activity pattern of the wild boar Sus scrofa related to human disturbance. Eu J wildl Res 59:167–177

Oliver W, Brisbin I, Takahashi S (1993) The Eurasian Wild Boar, Sus scrofa. In: WLR Oliver (eds) Boars, peccaries, and hippos: status survey and conservation action plan. IUCN—The World Conservation Union, Gland, pp 112–121.

Plhal R, Kamler J, Homolka M (2014) Faecal pellet group counting as a promising method of wild boar population density estimation. Acta Theriol 59(4):561–569

Podgórski T, Báz G, Jedrzejeweska B, Sönnichsen L, Sniezko S, Jedrzejewski W, Okarma H (2013) Spatiotemporal behavioral plasticity of wild boar (Sus scrofa) under contrasting conditions of human pressure: primeval forest and metropolitan area. J Mamm 94:109–119

Rivrud IM, Loe LE, Mysterud A (2010) How does local weather predict red deer home range size at different temporal scales? J Anim Ecol 79:1280–1295

Rutten A, Cox K, Scheppers T, Broecke BV, Leirs H, Casaer J (2019a) Analysing the recolonisation of a highly fragmented landscape by wild boar using a landscape genetic approach. Wildl Biol. https://doi.org/10.2981/wlb.00542

Rutten A, Casaer J, Swinnen KR, Herremans M, Leirs H (2019b) Future distribution of wild boar in a highly anthropogenic landscape: models combining hunting bag and citizen science data. Ecol Model 411:108804

Schley L, Dufrêne M, Krier A, Frantz AC (2008) Patterns of crop damage by wild boar (Sus scrofa) in Luxembourg over a 10-year period. Eur J Wildl Res 54(4):589

Schley L, Roper TJ (2003) Diet of wild boar Sus scrofa in Western Europe, with particular reference to consumption of agricultural crops. Mamm Rev 33(1):43–56

Selier J, Slotow R, Di Minin E (2015) Large mammal distribution in a transfrontier landscape: trade-offs between resource availability and human disturbance. Biotropica 47:389–397

Simberloff D (2011) Native invaders. In: Simberloff D, Rejmanek M (eds) Encyclopedia of biological invasions. University of California Press, Berkeley, pp 472–475

Skarin A (2007) Habitat use by semi-domesticated reindeer, estimated with pellet-group counts. Rangifer 27(2):121–132

Stankowich T (2008) Ungulate flight responses to human disturbance: a review and meta-analysis. Biol Conserv. https://doi.org/10.1016/j.biocon.2008.06.026

Strong WL, Gates CC (2006) Herbicide-induced changes to ungulate forage habitat in western Alberta, Canada. For Ecol Manag 222(1–3):469–475

Thurfjell H, Ball JP, Åhlén PA, Kornacher P, Dettki H, Sjöberg K (2009) Habitat use and spatial patterns of wild boar Sus scrofa (L.): agricultural fields and edges. Eur J Wildl Res 55(5):517–523

Toigo C, Servanty S, Gaillard JM, Brandt S, Baubet E (2008) Disentangling natural from hunting mortality in an intensively hunted wild boar population. J Wildl Manage 72(7):1532–1539

Trdan S, Vidrih M (2008) Quantifying the damage of red deer (Cervus elaphus) grazing on grassland production in southeastern Slovenia. Eur J Wildl Res 54(1):138–141

Tsai HC, Chiang JM, McEwan RW, Lin TC (2018) Decadal effects of thinning on understory light environments and plant community structure in a subtropical forest. Ecosphere 9(10):e02464

Virgós E (2002) Factors affecting wild boar (Sus scrofa) occurrence in highly fragmented Mediterranean landscapes. Can J Zool 80:430–435

Welander J (2000) Spatial and temporal dynamics of wild boar (Sus scrofa) rooting in a mosaic landscape. J Zool 252(2):263–271
Funding
The project was financially supported by Górowo Iławeckie Forest District, Regional Directorate of State Forests in Olsztyn
Ethics declarations
Conflict of interest
The authors have no relevant financial or non-financial interests to disclose.
Additional information
Publisher's Note
Springer Nature remains neutral with regard to jurisdictional claims in published maps and institutional affiliations.
Rights and permissions
Springer Nature or its licensor (e.g. a society or other partner) holds exclusive rights to this article under a publishing agreement with the author(s) or other rightsholder(s); author self-archiving of the accepted manuscript version of this article is solely governed by the terms of such publishing agreement and applicable law.
About this article
Cite this article
Ferens, M., Załuski, D. & Borkowski, J. Looking for a magic island in the sea of agriculture: factors affecting forest patch attractiveness for wild boar in human-dominated landscape. Landsc Ecol 38, 1591–1604 (2023). https://doi.org/10.1007/s10980-023-01641-x
Received:

Accepted:

Published:

Issue Date:

DOI: https://doi.org/10.1007/s10980-023-01641-x
Keywords