Abstract
Context
A landscape is defined as a "system of ecosystems" and this is a model in which karst areas can easily be integrated. In karst areas, much of the connectivity between the units of the landscape is underground, with aquifers and caves forming a continuous layered tissue. However, underground environments are among the least studied landscapes on Earth because of limited accessibility and the difficulty of performing surveys.
Objectives
The aim of this paper is to provide a conceptual framework for applying principles of landscape ecology to research on karst environments.
Methods
By adapting the standard patch-corridor-matrix model to a 3d model, the main issues that need to be addressed were identified. These include identifying the main morphological (surface and underground) karst features; determining the landscape structure through its features, composition, and configuration; and developing adequate indices.
Results
The landscape spatial structure of different karst areas influences fundamental ecological functions and biodiversity patterns. Determining how structure, biodiversity, and functions relate reveals important insights into the functioning of karst systems. Emphasizing the provisioning of ecosystem services is essential in supporting the concept that karst regions are vital for human well-being because they host valuable resources and fundamental ecosystem processes. The paper discusses how this framework helps address anthropogenic impacts and conservation issues on karst.
Conclusions
The potential of applying a landscape approach to karst systems lies in developing models that provide ecological information relevant to understanding karst systems and understanding their implications for natural resources management.
Access options
Buy single article
Instant access to the full article PDF.
USD 39.95
Price includes VAT (USA)
Tax calculation will be finalised during checkout.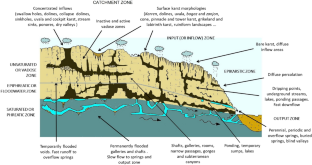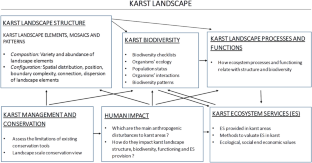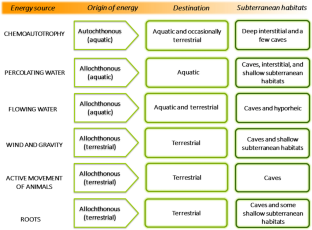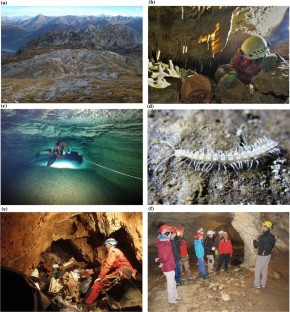 References
Algeo K (2004) Mammoth Cave and the making of place. Southeast Geogr 44(1):27–47

Allocca V, Marzano E, Tramontano M, Celico F (2018) Environmental impact of cattle grazing on a karst aquifer in the southern Apennines (Italy): quantification through the grey water footprint. Ecol Ind 93:830–837

Ba X, Li L, Wang J, Zhang W, Fang Z, Sun S, Liu Z, Xiong Y (2020) Near-surface site investigation and imaging of karst cave using comprehensive geophysical and laser scanning: a case study in Shandong, China. Environ Earth Sci 79(12):1–14

Balogh A, Dixon GB, Ngo L, Zigler KS (2020) Testing the caves-as-islands model in two cave-obligate invertebrates with a genomic approach. BioRxiv 2020.04.08.032789

Banerjee O, Cicowiez M, Malek Ž, Verburg PH, Vargas R, Goodwin S (2020) The value of biodiversity in economic decision making: applying the IEEM+ ESM approach to conservation strategies in Colombia.

Beaumont NJ, Mongruel R, Hooper T (2017) Practical application of the Ecosystem Service Approach (ESA): lessons learned and recommendations for the future. Int J Biodivers Sci Ecosyst Serv Manag 13(3):68–78

Bezák P, Mederly P, Izakovičová Z, Špulerová J, Schleyer C (2017) Divergence and conflicts in landscape planning across spatial scales in Slovakia: an opportunity for an ecosystem services-based approach? Int J Biodivers Sci Ecosyst Serv Manag 13(2):119–135

Blaschke T, Tiede D, Heurich M (2004) 3D landscape metrics to modelling forest structure and diversity based on laser scanning data. Int Arch Photogram Remote Sens Spatial Inf Sci 36(8/W2):129–132

Biswas J (2010) Kotumsar Cave biodiversity: a review of cavernicoles and their troglobiotic traits. Biodivers Conserv 19(1):275

Bonsall C, Mlekuž D, Bartosiewicz L, Pickard C (2016) Early farming adaptations of the northeast Adriatic Karst. In: The origins and spread of domestic animals in Southwest Asia and Europe. Routledge, London, pp 145–160

Bratman GN, Anderson CB, Berman MG, Cochran B, De Vries S, Flanders J, Folke C, Frumkin H, Gross JJ, Hartig T, Kahn PH, Kuo M, Lawler JJ, Levin PS, Lindhal T, Meyer-Linderberg A, Mitchell R, Ouyang Z, Roe J, Scarlett L, Smith JR, Van den Bosch M, Wheeler BW, White MP, Zheng H, Daily GC (2019) Nature and mental health: an ecosystem service perspective. Sci Adv 5(7):eaax0903

Brinkmann R, Parise M (2012) Karst environments: problems, management, human impacts, and sustainability. An introduction to the special issue. J Cave Karst Stud 74(2):135–136

Buffetrille K (1998) Reflections on pilgrimages to sacred mountains, lakes and caves. In: McKay A (ed) Pilgrimage in Tibet. Routledge, London, pp 18–34

Buhay JE, Crandall KA (2005) Subterranean phylogeography of freshwater crayfishes shows extensive gene flow and surprisingly large population sizes. Mol Ecol 14(14):4259–4273

Cadotte MW, Carscadden K, Mirotchnick N (2011) Beyond species: functional diversity and the maintenance of ecological processes and services. J Appl Ecol 48(5):1079–1087

Campbell Grant EH (2011) Structural complexity, movement bias, and metapopulation extinction risk in dendritic ecological networks. J N Am Benthol Soc 30(1):252–258

Cao J, Hu B, Groves C, Huang F, Yang H, Zhang C (2016) Karst dynamic system and the carbon cycle. Z Geomorpholog Suppl Issues 60(2):35–55

Cao JH, Wu X, Huang F, Hu B, Groves C, Yang H, Zhang CL (2018) Global significance of the carbon cycle in the karst dynamic system: evidence from geological and ecological processes. China Geology 1(1):17–27

Chiari Y, Van Der Meijden A, Mucedda M, Lourenco JM, Hochkirch A, Veith M (2012) Phylogeography of Sardinian cave salamanders (genus Hydromantes) is mainly determined by geomorphology. PLoS ONE 7(3):e32332

Christman MC, Culver DC (2001) The relationship between cave biodiversity and available habitat. J Biogeogr 28(3):367–380

Christman MC, Zagmajster M (2012) Mapping subterranean biodiversity. In Encyclopedia of caves. Academic Press, New York, pp 474–481

Coxon C (2011) Agriculture and karst. In Karst management. Springer, Dordrecht, pp 103–138

Cushman SA, Evans JS, McGarigal K (2010) Landscape ecology: past, present, and future. In Spatial complexity, informatics, and wildlife conservation. Springer, Tokyo, pp 65–82

Culver DC (1970) Analysis of simple cave communities I. Caves as islands. Evolution, 463–474.

Culver DC, Pipan T (2014) Shallow subterranean habitats: ecology, evolution, and conservation. Oxford University Press

Culver DC, Pipan T (2019) The biology of caves and other subterranean habitats. Oxford University Press

Culver DC, Deharveng L, Bedos A, Lewis J, Madden J, Reddell R, Sket B, Trontelj P, White D (2006) The mid-latitude biodiversity ridge in terrestrial cave fauna. Ecography 29(1):120–128

Déjeant-Pons M (2006) The European landscape convention. Landsc Res 31(4):363–384

Dorner B, Lertzman K, Fall J (2002) Landscape pattern in topographically complex landscapes: issues and techniques for analysis. Landsc Ecol 17:729–743. https://doi.org/10.1023/A:1022944019665

Doorne S (2000) Caves, cultures and crowds: carrying capacity meets consumer sovereignty. J Sustain Tour 8(2):116–130

Eme D, Zagmajster M, Fišer C, Galassi D, Marmonier P, Stoch F, Cornu JF, Oberdorff T, Malard F (2015) Multi-causality and spatial non-stationarity in the determinants of groundwater crustacean diversity in Europe. Ecography 38(5):531–540

Ferrario A, Tognini P (2016) Catasto Speleologico Lombardo (Progetto Tu.Pa.Ca.), Federazione Speleologica Lombarda

Fernandes CS, Batalha MA, Bichuette ME (2016) Does the cave environment reduce functional diversity? PLoS ONE 11(3):e0151958

Ficetola GF, Cagnetta M, Padoa-Schioppa E, Quas A, Razzetti E, Sindaco R, Bonardi A (2014) Sampling bias inverts eco-geographical relationships in island reptiles. Glob Ecol Biogeogr 23:1303–1313

Ficetola GF, Lunghi E, Canedoli C, Padoa-Schioppa E, Pennati R, Manenti R (2018) Differences between microhabitat and broad-scale patterns of niche evolution in terrestrial salamanders. Sci Rep 8(1):1–12

Ficetola GF, Canedoli C, Stoch F (2019) The Racovitzan impediment and the hidden biodiversity of unexplored environments. Conserv Biol 33(1):214–216

Ficetola GF, Lunghi E, Manenti R (2020) Microhabitat analyses support relationships between niche breadth and range size when spatial autocorrelation is strong. Ecography 43(5):724–734

Ford DC, Williams P (2007) Karst hydrogeology and geomorphology. Wiley, Chichester, p 562

Forman RT (1995a) Some general principles of landscape and regional ecology. Landsc Ecol 10(3):133–142

Forman RTT (1995b) Land mosaics: the ecology of landscapes and regions. Cambridge University Press, Cambridge

Furey NM, Racey PA (2016) Conservation ecology of cave bats. In Bats in the anthropocene: conservation of bats in a changing world. Springer, Cham, pp 463–500

Gibert J, Deharveng L (2002) Subterranean ecosystems: a truncated functional biodiversity. Bioscience 52(6):473–481

Gibert J (1986) Ecologie d'un systeme kartsique jurassien. Hydrogéologie, dérive animale, transits de matièrese, dynamique de la population de Niphargus (Crustacé Amphipode). Mémoire De Biospéleologie 13:1–379

Goldscheider N, Chen Z, Auler AS, Bakalowicz M, Broda S, Drew D, Hartmann J, Jiang G, Moosdorf N, Stevanovic Z, veni G (2020) Global distribution of carbonate rocks and karst water resources. Hydrogeol J 28:1661–1677

Griebler C, Avramov M (2015) Groundwater ecosystem services: a review. Freshwater Science 34:355–367

Groves C, Groves D, Hawkins W (2015) An education is not all derived from textbooks: a century of interactions between Mammoth Cave and Western Kentucky University.

Groves C, Webb CJ, Turner AB, Bledsoe LA, Toomey RS, Carson B, Algeo K (2018) How is mammoth cave national park doing? The 2018 MACA natural resource condition assessment. In: GSA annual meeting in Indianapolis, Indiana, USA-2018. GSA.

Guerra AJT, Fullen MA, Jorge MCO, Bezerra JR, Shokr MS (2017) Slope processes, mass movement and soil erosion: a review. Pedosphere 27:27–41

Haines-Young R, Potschin-Young M (2018) Revision of the common international classification for ecosystem services (CICES V5. 1): a policy brief. One Ecosyst 3:e27108

Heinz B, Birk S, Liedl R, Geyer T, Straub KL, Andresen J, Bester K, Kappler A (2009) Water quality deterioration at a karst spring (Gallusquelle, Germany) due to combined sewer overflow: evidence of bacterial and micro-pollutant contamination. Environ Geol 57(4):797–808

Helf KL, Olson RA (2017) Subsurface aquatic ecology of mammoth cave. In: Mammoth cave. Springer, Cham, pp 209–226

Herrando-Peâ S, Baratti M, Messana G (2008) Subterranean ecological research and multivariate statistics: a review (1945±2006). J Cave Karst Stud 70(2):120–128

Hoechstetter S, Thinh NX, Walz U (2006) 3D-indices for the analysis of spatial patterns of landscape structure. Proc InterCarto InterGIS 12:108–118

Hoechstetter S, Walz U, Thinh NX (2008) Effects of topography and surface roughness in analyses of landscape structure-a proposal to modify the existing set of landscape metrics. Landsc Online 3:1–14

Huang Q, Cai Y, Xing X (2008) Rocky desertification, antidesertification, and sustainable development in the karst mountain region of Southwest China. Ambio 37(5):390–392

Iannace G, Trematerra A (2014) The acoustics of the caves. Appl Acoust 86:42–46

Jeannin PY, Groves C, Häuselmann P (2007) Speleological investigations. In: Goldscheider N, Drew D (eds) Methods in karst hydrogeology. Taylor & Francis, New York, pp 25–44

Jianhua C, Daoxian Y, Groves C, Fen H, Hui Y, Qian L (2012) Carbon fluxes and sinks: the consumption of atmospheric and soil CO2 by carbonate rock dissolution. Acta Geol Sin Engl Edn 86(4):963–972

Jones WK (1997) Karst hydrology Atlas of West Virginia: Karst Waters Institute Special Publication 4, Charles Town, WV

Juan C, Guzik MT, Jaume D, Cooper SJ (2010) Evolution in caves: Darwin's "wrecks of ancient life" in the molecular era. Mol Ecol 19:3865–3880

Juberthie C, Delay B (1981) Ecological and biological implications of the existence of a "superficial underground compartment". In: Beck BF (ed) Proceedings of the 8th international congress of speleology, Bowling Green, KY, Georgia, USA 1, pp 203–206

Kambesis PN (2007) The importance of cave exploration to scientific research. J Cave Karst Stud 69(1):46–58

Kim SS, Kim M, Park J, Guo Y (2008) Cave tourism: tourists' characteristics, motivations to visit, and the segmentation of their behavior. Asia Pac J Tourism Res 13(3):299–318

Kunz TH, Braun de Torrez E, Bauer D, Lobova T, Fleming TH (2011) Ecosystem services provided by bats. Ann N Y Acad Sci 1223:1–38

Lane SB, Bishop MR, Dore MJ, Sasowsky ID (2018) Scott Hollow Cave. In Caves and Karst of the Greenbrier Valley in West Virginia. Springer, Cham, pp 339–357

Luck GW, Chan KM, Fay JP (2009) Protecting ecosystem services and biodiversity in the world's watersheds. Conserv Lett 2(4):179–188

Lunghi E, Manenti R, Ficetola GF (2014) Do cave features affect underground habitat exploitation by non-troglobite species? Acta Oecologica 55:29–35

Lunghi E, Manenti R, Ficetola GF (2017) Cave features, seasonality and subterranean distribution of non-obligate cave dwellers. PeerJ 5:e3169

Mace GM, Norris K, Fitter AH (2012) Biodiversity and ecosystem services: a multilayered relationship. Trends Ecol Evol 27(1):19–26

Magnabosco C, Lin LH, Dong H, Bomberg M, Ghiorse W, Stan-Lotter H, Pedersen K, Kieft TL, van Heerden E, Onstott TC (2018) The biomass and biodiversity of the continental subsurface. Nat Geosci 11:707

Malard F, Boutin C, Camacho AI, Ferreira D, Michel G, Sket B, Stoch F (2009) Diversity patterns of stygobiotic crustaceans across multiple spatial scales in Europe. Freshw Biol 54(4):756–776

Makhzoumi J, Egoz S, Pungetti G (2011) The right to landscape: contesting landscape and human rights. Ashgate Publishing Ltd, New York

Mammola S (2018) Finding answers in the dark: Caves as models in ecology fifty years after Poulson and White. Ecography 41:1–21

Mammola S, Isaia M, Arnedo MA (2015) Alpine endemic spiders shed light on the origin and evolution of subterranean species. PeerJ 3:e1384

Mammola S, Di Piazza S, Ziotti M, Badino G, Marco I (2017) Human-induced alterations of the mycobiota in an alpine show cave (Italy, SW-Alps). Acta Carsologica, 46(1).

Mammola S, Cardoso P, Culver DC, Deharveng L, Ferreira RL, Fišer C, Galassi DMP, Griebler C, hales S, Humphreys WF, Isaia M, Malard F, Martinez A, Moldovan OT, Niemiller ML, pavlek M, Reboleira ASPS, Souza-Silva M, Teeling EC, Wynne JJ, Zagmajster M (2019) Scientists' warning on the conservation of subterranean ecosystems. Bioscience 69(8):641–650

Manenti R, Pezzoli E (2019) Think of what lies below, not only of what is visible above, or: a comprehensive zoological study of invertebrate communities of spring habitats. Eur Zool J 86(1):272–279

McGarigal K (2014) Landscape pattern metrics. Wiley StatsRef: Statistics Reference Online

Millennium Ecosystem Assessment, MEA, (2005) Ecosystems and human well-being, vol 5. Island Press, Washington, DC

Medellín RA, Wiederholt R, Lopez-Hoffman L (2017) Conservation relevance of bat caves for biodiversity and ecosystem services. Biol Conserv 211:45–50

Mitchell MG, Schuster R, Jacob AL, Hanna DE, Dallaire CO, Raudsepp-Hearne C, Bennet EM, Lehner B, Chan KMA (2021) Identifying key ecosystem service providing areas to inform national-scale conservation planning. Environ Res Lett 16(1):014038

Mohr CE, Poulson TL (1966) The life of the cave. MacGraw-Hill, New York

Moretti M, Dias ATC, De Bello F, Altermatt F, Chown SL, Azacrate FM, Bell JR, Fournier B, Hedde M, Hortal J, Ibanez S, Ockinger E, Sousa JP, Ellers J, Berg M (2017) Rothamsted repository download. Funct Ecol 31:558–567

Mücke W, Hollaus M, Prinz M (2010) Derivation of 3D landscape metrics from airborne laser scanning data. In: Silvilaser 2010.

Müller F, de Groot R, Willemen L (2010) Ecosystem services at the landscape scale: the need for integrative approaches. Landsc Online 23:1–11

Naveh Z, Lieberman AS (2013) Landscape ecology: theory and application. Springer Science & Business Media, Berlin

Nguyen NH, Song Z, Bates ST, Branco S, Tedersoo L, Menke J, Schilling JS, Kennedy PG (2016) FUNGuild: an open annotation tool for parsing fungal community datasets by ecological guild. Fungal Ecol 20:241–248

Niemiller ML, Helf K, Toomey RS (2021) Mammoth cave: a hotspot of subterranean biodiversity in the United States. Diversity 13(8):373

Odum HT (1953) Fundamentals of Ecology. W.B. Saunders Company Ltd, Philadelphia

Palmer AN (2012) Passage growth and development. In: White WB, Culver DC (eds) Encyclopedia of caves, 2nd edn. Elsevier/Academic Press, Amsterdam, The Netherdlands, pp 598–603

Parise M (2011) Some considerations on show cave management issues in Southern Italy. In Karst management. Springer, Dordrecht, pp 159–167

Price L, (2014) Caves and Karst of Peninsular Malaysia: a register. In: Berliner Höhlenkundliche Berichte, vol 54. Publisher Speläoclub, Berlin

Pronk M, Goldscheider N, Zopfi J (2009) Microbial communities in karst groundwater and their potential use for biomonitoring. Hydrogeol J 17:37–48

Quine T, Guo D, Green SM, Tu C, Hartley I, Zhang X, Dungait J, Wen X, Song Z, Liu H, Buss H, Barrows T, Evershed R, Johnes P, Meersmans J (2017) Ecosystem service delivery in Karst landscapes: anthropogenic perturbation and recovery. Acta Geochim 36(3):416–420

Reboleira AS, Borges PAV, Gonçalves F, Serrano A, Oromí P (2011) The subterranean fauna of a biodiversity hotspot region - Portugal: an overview and its conservation. Int J Speleol 40(1):23–37

Riddle MR, Aspiras AC, Gaudenz K, Peuß R, Sung JY, Martineau B, Peavey M, Box AC, Tabin JA, McGaugh S, Borowsky R, Tabin Cj, Rohner N (2018) Insulin resistance in cavefish as an adaptation to a nutrient-limited environment. Nature 555(7698):647–651

Robert E (2017) The role of the cave in the expression of prehistoric societies. Quatern Int 432:59–65

Romero A (2009) Cave biology: life in darkness. Cambridge University Press, Cambridge

Rouch R (1977) Considérations sur l'écosystème karstique. Compte Rendu Acad Sci, Paris 284:1101–1103

Safarabadi A, Shahzeidi SS (2015) Tourism silence in geomorphosites: a case study of Ali-Sadr Cave (Hamadan, Iran). GeoJournal Tourism Geosites 21(1):49–60

Sarbu SM, Lascu C, Brad T (2019) Dobrogea: movile cave. In Cave and Karst systems of Romania. Springer, Cham, pp 429–436

Schneider K, Christman MC, Fagan WF (2011) The influence of resource subsidies on cave invertebrates: results from an ecosystem-level manipulation experiment. Ecology 92(3):765–776

Semeraro T, Radicchio B, Medagli P, Arzeni S, Turco A, Geneletti D (2021) Integration of ecosystem services in strategic environmental assessment of a Peri-urban development plan. Sustainability 13(1):122

Setälä H, Bardgett RD, Birkhofer K, Brady M, Byrne L, De Ruiter PC, de Vries FT, Gardi C, Hedlund K, hemerik L, Hotes S, Liiri M, Mortimer SR, Pavao-Zuckerman M, Pouyat R, tsiafouli M, van der Putter WH (2014) Urban and agricultural soils: conflicts and trade-offs in the optimization of ecosystem services. Urban Ecosyst 17(1):239–253

Shrestha M, Piman T, Grünbühel C (2021) Prioritizing key biodiversity areas for conservation based on threats and ecosystem services using participatory and GIS-based modeling in Chindwin River Basin, Myanmar. Ecosyst Serv 48:101244

Simon KS, Benfield EF (2001) Leaf and wood breakdown in cave streams. J N Am Benthol Soc 20(4):550–563

Simon KS, Pipan T, Culver DC (2007) A conceptual model of the flow and distribution of organic carbon in caves. J Cave Karst Stud 69(2):279–284

Siebert C, Rosenthal P, Möller P, Rödiger T, Meiler M (2012) The hydrochemical identification of groundwater flowing to the Bet She'an-Harod multiaquifer system (Lower Jordan Valley) by rare earth elements, yttrium, stable isotopes (H, O) and Tritium. Appl Geochem 27:703

Sket B, Paragamian K, Trontelj P (2004) A census of the obligate subterranean fauna of the Balkan Peninsula. In Balkan biodiversity. Springer, Dordrecht, pp 309–322

Smith D (2004) Beyond the cave: Lascaux and the prehistoric in post-war French culture. Fr Stud 58(2):219–232

Snowman CV, Zigler KS, Hedin M (2010) Caves as islands: mitochondrial phylogeography of the cave-obligate spider species Nesticus barri (Araneae: Nesticidae). J Arachnol 38(1):49–56

Soares D, Niemiller ML (2013) Sensory adaptations of fishes to subterranean environments. Bioscience 63:274–283

Song Y, Wang P, Li G, Zhou D (2014) Relationships between functional diversity and ecosystem functioning: a review. Acta Ecol Sin 34(2):85–91

Sono P, Nthaba B, Shemang EM, Kgosidintsi B, Seane T (2020) An integrated use of induced polarization and electrical resistivity imaging methods to delineate zones of potential gold mineralization in the Phitshane Molopo area. Southeast Botswana. J Afr Earth Sci 174:104060

Stokes T, Griffiths P, Ramsey C (2010) Karst geomorphology, hydrology, and management. Compend Forest Hydrol Geomorphol Br Columb 66:373

Stupariu MS, Pàtru-Stupariu IG, Cuculici R (2010) Geometric approaches to computing 3D-landscape metrics. Landsc Online 24:1–12

Tilman D (2001) Functional diversity. Encyclopedia Biodivers 3(1):109–120

Turner MG (1990) Spatial and temporal analysis of landscape patterns. Landsc Ecol 4(1):21–30

Turner MG, Gardner RH, O'neill RV, O'Neill RV (2001) Landscape ecology in theory and practice (Vol. 401). Springer New York.

Verhoeven JT, Beltman B, Janssen R, Soons MB (2017) Delineating landscape-scale processes of hydrology and plant dispersal for species-rich fen conservation: the Operational Landscape Unit approach. Wetlands Ecol Manage 25(6):761–774

Wang KL, Zhang CH, Chen HS, Yue YM, Zhang W, Zhang MY, Qi XK, Fu ZY (2019) Karst landscapes of China: patterns, ecosystem processes and services. Landsc Ecol 34:2743–2763

White WB (2019) Exploration of caves - general. In Encyclopedia of caves. Academic Press, New York, pp 407–413

White WB, Culver DC (2011) Encyclopedia of caves. Academic Press, New York

White HJ, León-Sánchez L, Burton VJ, Cameron EK, Caruso T, Cunha L, Dirilgen T, jutrburg SD, Kelly R, Kumaresan D, Ochoa-Hueso R, ordones A, Phillips HRP, Prieto I, Schimdt O, Caplat P (2020) Methods and approaches to advance soil macroecology. Glob Ecol Biogeogr 29(10):1674–1690

Williams P (2008) World heritage Caves and Karst: a thematic study. IUCN World Heritage Studies 2:50

Wu Q, Guo F, Li H, Kang J (2017) Measuring landscape pattern in three dimensional space. Landsc Urban Plan 167:49–59

Yang H, Lupi F, Zhang J, Liu J (2020) Hidden cost of conservation: a demonstration using losses from human-wildlife conflicts under a payments for ecosystem services program. Ecol Econ 169:106462

Yoshizawa M, Settle A, Hermosura M, Tuttle L, Centraro N, Passow CN, McGaugh SE (2018) The evolution of a series of behavioral traits is associated with autism-risk genes in cavefish. BMC Evol Biol 18:89

Young MA, Wedding LM, Carr MH (2017) Applying landscape ecology for the design and evaluation of marine protected area networks. Seasc Ecol, 429–462

Zagmajster M, Malard F, Eme D, Culver DC (2018) Subterranean biodiversity patterns from global to regional scales. In Cave ecology. Springer, Cham, pp 195–227

Zhang W, Chen HS, Wang KL (2007) The heterogeneity and its influencing factors of soil nutrients in peak-cluster depression areas of karst region. Agric Sci China 6:101–108

Zhang M, Wang K, Liu H, Wang J, Zhang C, Yue Y, Qi X (2016) Spatio-temporal variation and impact factors for vegetation carbon sequestration and oxygen production based on rocky desertification control in the karst region of southwest China. Remote Sens 8:102

Zonneveld IS (1989) The land unit A fundamental concept in landscape ecology, and its applications. Landsc Ecol 3:67–86. https://doi.org/10.1007/BF00131171

Žujo J, Marinšek M (2012) Ecosystem services evaluation in the Škocjan Caves Regional Park. Protected Areas for a Living Planet - Dinaric Arc Eco-region
Additional information
Publisher's Note
Springer Nature remains neutral with regard to jurisdictional claims in published maps and institutional affiliations.
About this article
Cite this article
Canedoli, C., Ficetola, G.F., Corengia, D. et al. Integrating landscape ecology and the assessment of ecosystem services in the study of karst areas. Landscape Ecol (2021). https://doi.org/10.1007/s10980-021-01351-2
Received:

Accepted:

Published:
Keywords
Subterranean biology

Subterranean habitats

Caves

Landscape pattern

Sustainability