Abstract
Context
Niche theory is frequently used as a framework to integrate environmental variables and species interactions to describe species geographic distribution. Yet, the scale at which species respond to the environment and other species is rarely considered in species distribution modeling. Here we examined the effect of spatial scale on species distribution modeling for a multi-species canid community across a complex landscape.
Objectives
We examined the relationships between the occurrence of three canid species and landcover variables at different spatial scales and tested the effect of intraguild co-occurrence of dominant species (coyote and red fox) on the distribution of the smallest and subordinate species (swift fox), a species of conservation concern in North America's grasslands.
Methods
We predicted the geographical distribution of the canid species and their responses to variation in the landscape by identifying how species associate with habitat and at what scales. We modeled occupancy of each species with a Bayesian approach and incorporating Bayesian Latent Indicator Scale Selection to identify 'scales of effect' independently by species and land cover type.
Results
We demonstrated that each species responded uniquely to the landcover features examined at different scales and expressed distinct habitat relationships. We obtained low detection rates for all canid species (0.10–0.14). Mean occupancy probabilities for both fox species were low (< 0.05), especially when compared to coyote (> 0.60).We found no evidence of intraguild co-occurrence affecting the subordinate species.
Conclusions
We demonstrate substantial variation in the spatial scales of the species-habitat relationships. The distribution of swift fox appears more limited by resource availability that is reflected by larger landscape attributes than the presence or absence of other guild members per se.
Access options
Buy single article
Instant access to the full article PDF.
USD 39.95
Price includes VAT (USA)
Tax calculation will be finalised during checkout.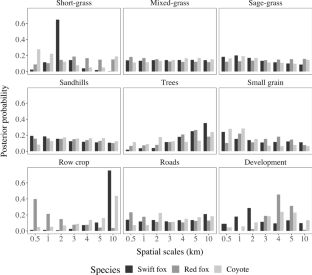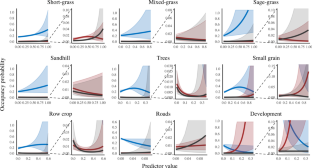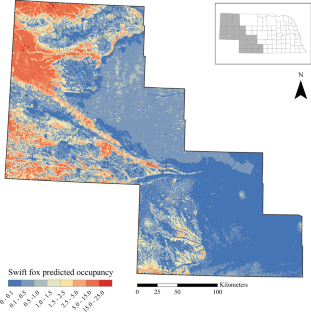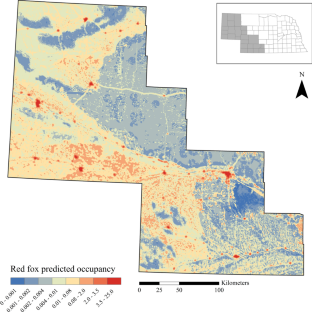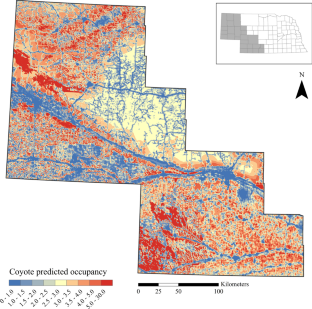 References
Allardyce D, Sovada MA (2003) A review of the ecology, distribution, and status of swift foxes in the United States. In: Sovada MA, Carbyn L (eds) The swift fox: ecology and conservation of swift foxes in a changing world. Canadian Plains Research Center, University of Regina, Regina Saskatchewan, Canada, pp 3–18

Allouche O, Tsoar A, Kadmon R (2006) Assessing the accuracy of species distribution models: Prevalence, kappa and the true skill statistic (TSS). J Appl Ecol 43(6):1223–1232

Andersen DE, Laurion TR, Cary JR, Sikes RS, McLeod MA, Gese EM (2003) Aspects of the swift fox ecology in southern Colorado. In: Sovada MA, Carbyn L (eds) The swift fox: ecology and conservation of swift foxes in a changing world. Canadian Plains Research Center, University of Regina, Regina Saskatchewan, Canada, pp 139–148

Ausband DE, Foresman KR (2007) Dispersal, survival, and reproduction of wild-born, yearling swift foxes in a reintroduced population. Can J Zool 85:185–189

Baker PJ, Harris S (2004) Red foxes: the behavioural ecology of red foxes in urban Bristol. In: Macdonald DW, Sillero-Zubiri C (eds) The biology and conservation of wild canids. Oxford University Press, Oxford, United Kingdom, pp 207–216

Ballard WB, Carbyn LN, Smith DW (2003) Wolf interactions with non-prey. In: Mech D, Boitani L (eds) Wolves: behavior, ecology, and conservation. University of Chicago Press, Chicago

Bekoff M, Gese EM (2003) Coyote (Canis latrans). In: Feldhamer GA, Thompson BC, Chapman JA (eds) Wild mammals of North America: biology, management, and conservation. Johns Hopkins University Press, Baltimore, Maryland, USA, pp 467–481

Benedict RA, Freeman PW, Genoways HH (1996) Prairie legacies–Mammals. In: Samson FB, Knopf FL (eds) Prairie conservation: preserving North America's most endangered ecosystem. Island Press, Washington, D.C.

Bishop A, Barenberg A, Volpe N, Reins J, Uttecht D, Grosse R (2016) Nebraska landcover development. Grand Island, Nebraska: Rainwater Basin Joint Venture Report

Bivand R, Lewin-Koh N (2013) Maptools: tools for reading and handling spatial objects. R package version 0.8–25. Available at: http:// CRAN.R-project.org/package=maptools. Last accessed 30 July 2013.

Bohner T, Diez J (2020) Extensive mismatches between species distributions and performance and their relationship to functional traits (T Coulson, Ed.). Ecol Lett 23:33–44

Boyce MS (2006) Scale for resource selection functions. Divers Distrib 12(3):269–276

Brown J (1984) On the relationship between abundance and distribution of species. Am Nat 124(2):255–279

Burton AC, Sam MK, Balangtaa C, Brashares JS (2012) Hierarchical multi-species modeling of carnivore responses to hunting, habitat and prey in a West African protected area. PLoS ONE 7(5):e38007

Chamberlain MJ, Lovell CD, Leopold BD (2000) Spatial-use patterns, movements, and interactions among adult coyotes in central Mississippi. Can J Zool 78:2087–2095

Chambers JM, Hastie TJ (1992) Statistical Models in S. Wadsworth & Brooks/Cole

Chase JM, Myers JA (2011) Disentangling the importance of ecological niches from stochastic processes across scales. Philos Trans R Soc Lond B Biol Sci 366(1576):2351–2363

Connell JH (1983) On the prevalence and relative importance of interspecific competition: evidence from field experiments. Am Nat 122:661–696

Covell DF (1992) Ecology of the swift fox (Vulpes velox) in southeastern Colorado. M.S. Thesis, University of Wisconsin, Madison.

Covell DF, Miller DS, Karasov WH (1996) Cost of locomotion and daily energy expenditure by free-living swift foxes (Vulpes velox): A seasonal comparison. Can J Zool 74(2):283–290

Cramer JS (2003) Logit models: from economics and other fields. Cambridge University Press

Cypher BL, Clark HO, Kelly PA, Van Horn JC, Warrick GD, Williams DF (2001) Interspecific interactions among wild canids: implications for the conservation of endangered San Joaquin kit foxes. Endangered Species Update 18(4):171–174

de Valpine P, Turek D, Paciorek CJ, Anderson-Bergman C, Lang DT, Bodik R (2017) Programming with models: writing statistical algorithms for general model structures with NIMBLE. J Comput Graph Stat 26:403–413

Dhondt AA (2012) Interspecific competition in birds. Oxford University Press, N.Y., USA

Dibner RR, Doak DF, Murphy M (2017) Discrepancies in occupancy and abundance approaches to identifying and protecting habitat for an at-risk species. Ecol Evol 7(15):5692–5702

Diop A, Diop A, Dupuy JF (2016) Simulation-based inference in a zero-inflated Bernoulli regression model. Commun Stat Simul Comput 45(10):3597–3614

Efford MG, Dawson DK (2012) Occupancy in Continuous Habitat Ecosphere 3:1–15

Egoscue HJ (1979) Vulpes Velox Mammalian Species 122:1–5

Elith J, Leathwick JR (2009) Species distribution models: ecological explanation and prediction across space and time. Annu Rev Ecol Evol Syst 40:677–697

Fahrig L (2003) Effects of habitat fragmentation on biodiversity. Annu Rev Ecol Evol Syst 34:487–515

Finley DJ (1999) Distribution of the swift fox (Vulpes velox) on the Eastern Plains of Colorado. Thesis, University of Northern Colorado, M.Sc

Finley DJ, White GC, Fitzgerald JP (2005) Estimation of swift fox population size and occupancy rates in eastern Colorado. J Wildl Manage 69(3):861–873

Fontaine JJ, Jorgensen CF, Stuber EF, Gruber LF, Bishop AA, Lusk JJ, Zach ES, Decker KL (2017) Species distributions models in wildlife planning: agricultural policy and wildlife management in the Great Plains. Wildl Soc Bull 41(2):194–204

Foster RJ, Harmsen BJ (2012) A critique of density estimation from camera-trap data. J Wildl Manage 76:224–236

Franklin J (2009) Mapping species distribution. Cambridge University Press, New York

Gause GF (1936) The struggle for existence. Williams and Wilkins, Baltimore

Gehrt SD, Riley SPD (2010) Coyotes (Canis latrans). In: Gehrt SD, Riley SPD, Cypher BL (eds) Urban carnivores: ecology, conflict, and conservation. Johns Hopkins University Press, Baltimore, Maryland, USA, pp 79–96

Gese EM, Rongstad OJ, Mytton WR (1988) Home range and habitat use of coyotes in southeastern Colorado. J Wildl Manage 52:640–646

Gese EM, Thompson CM (2014) Does habitat heterogeneity in multi-use landscape influence survival rates and density of a native mesocarnivore. PLoS ONE 9(6):e100500

Goijman AP, Conroy MJ, Bernardos JN, Zaccagnini ME (2015) Multi-season regional analysis of multi-species occupancy: implications for bird conservation in agricultural lands in east-central Argentina. PLoS ONE 10(6):e0130874

Gompper ME (2002) Top carnivores in the suburbs? Ecological and conservation issues raised by colonization of northeastern North America by coyotes. Bioscience 52:185–190

Greenberg S, Godin T (2012) Timelapse Image Analysis Manual. Technical Report 2012‐1028‐11. Calgary, AB, Canada: University of Calgary. Software available at http://grouplab.cpsc.ucalgary.ca/cookbook/index.php/Demos/TimelapseCoder.

Greenberg S, Godin T (2015) A tool supporting the extraction of angling effort data from remote camera image. Fisheries Magazine 40(6):276–287

Guisan A (2005) Thuiller W (2005) Predicting species distribution: offering more than simple habitat models. Ecol Lett 8:993–1009

Hairston NG (1980) An experimental test of an analysis of field distribution: competition in terrestrial salamanders. Ecology 61:817–826

Hardin G (1960) Competitive exclusion principle. Science 131:1292–1297

Harrison RL, Barr DJ, Dragoo JW (2002) A Comparison of population survey techniques for swift foxes (Vulpes velox) in New Mexico. Am Midl Nat 148(2):320–337

Harrison RL, Schmitt CG (2003) Current swift fox distribution and habitat selection within areas of historical occurrence in New Mexico. In: Sovada MA, Carbyn L (eds) The swift fox: ecology and conservation of swift foxes in a changing world. Canadian Plains Research Center, University of Regina, Regina Saskatchewan, Canada, pp 71–77

Harrison RL, Whitaker-Hoagland J (2003) A literature review of swift fox habitat and den-site selection. In: Sovada MA, Carbyn L (eds) The swift fox: ecology and conservation of swift foxes in a changing world. Canadian Plains Research Center, University of Regina, Regina Saskatchewan, Canada, pp 79–89

Hijmans RJ (2017) Raster package: Geographic Data Analysis and Modeling raster: Geographic Data Analysis and Modeling. R package version 2:6–7 https://CRAN.R-project.org/package=raster.

Hill EP, Sumner PW, Wooding JB (1987) Human influences on range expansion of coyotes in the Southeast. Wildl Soc Bull 15:521–524

Hilman CN, Sharps JC (1978) Return of swift fox to Northern Great Plains. Proc S Dak Acad Sci 57:154–162

Hines T (1980) An ecological study of Vulpes velox in Nebraska. Dissertation, University of Nebraska–Lincoln

Hines TD, Case RM (1991) Diet, home range, movements, and activity periods of swift fox in Nebraska. Prairie Naturalist 23:131–138

Hobbs NT, Hooten MB (2015) Bayesian models: a statistical primer for ecologists. Princenton University Press, United Kingdom

Hofmeester TR, Cromsigt JPGM, Odden J, Andrén H, Kindberg J, Linnell JDC (2019) Framing pictures: A conceptual framework to identify and correct for biases in detection probability of camera traps enabling multi-species comparison. Ecol Evol 9:2320–2336

Hutchinson GE (1957) Concluding remarks. Cold Spring Harb Symp Quant Biol 22:145–159

Inger RF, Greenberg B (1966) Ecological and competitive relations among three species of frogs (genus Rana). Ecology 47:746–759

Jackson VL, Choate JR (2000) Dens and den sites of the swift fox. Vulpes Velox the Southern Naturalist 45(2):212–220

Johnson DR (1969) Returns of the American Fur Company, 1835–1839. J Mammal 50:836–839

Jorgensen CF, Powell LA, Lusk JJ, Bishop AA, Fontaine JJ (2014) Assessing landscape constraints on species abundance: Does the neighborhood limit species response to local habitat conservation programs? PLoS ONE 9(6):e99339

Kahn R, Fox L, Horner P, Giddings B, Roy C (1997) Conservation assessment and conservation strategy for swift fox in the United States. Division of Wildlife, Fort Collins, CO

Kamler JF, Ballard WB, Gilliland RL, Lemons PR, Mote K (2003) Impacts of coyotes on swift foxes in Northwestern Texas. J Appl Ecol 67(2):317–323

Kamler JF, Ballard WB, Gese EM, Harrison RL, and Karki S.M. (2004) Dispersal characteristics of swift foxes. USDA National Wildlife Research Center - Staff Publications. 339. https://digitalcommons.unl.edu/icwdm_usdanwrc/339.

Karki SM, Gese EM, Klavetter ML (2007) Effects of coyote population reduction on swift fox demographics in Southeastern Colorado. J Wildl Manage 71(8):2707–2718

Kaufman DW, Kaufman GA (1990) Small mammals of wheat fields and fallow wheat fields in North-central Kansas. Trans Kans Acad Sci 93(1/2):28–37

Kays R, Gompper M, Ray J (2008) Landscape ecology of eastern coyotes based on large-scale estimates of abundance. Ecol Appl 18:1014–1027

Kéry M, Dorazio RM, Soldaat L, Van Strien A, Zuiderwijk A, Royle JA (2009) Trend estimation in populations with imperfect detection. J Appl Ecol 46(6):1163–1172

Kéry M, Schaub M (2012) Bayesian population analysis using WinBUGS. Elsevier, Amsterdam

Kitchen AM, Gese EM, Schauster ER (1999) Resource partitioning between coyotes and swift foxes: space, time, and diet. Can J Zool 77:1645–1656

Kolb A (2008) Habitat fragmentation reduces plant fitness by disturbing pollination and modifying response to herbivory. Biol Cons 141:2540–2549

Korpimaki E (1987) Dietary shifts, niche relationships and reproductive output of coexisting kestrels and long-eared owls. Oecologia 74:277–285

Knox L, Grenier M (2010) Evaluation of swift fox survey techniques, completion report. In: Orabona AC (ed) Threatened, endangered and nongame bird and mammal investigations. Lander WI, Wyoming Game and Fish Department Nongame Program, pp 205–212

Knox L, Grenier M (2011) Evaluation of swift fox survey techniques completion report. In: Bly K (ed) Swift Fox Conservation Team: Report for 2009–2010. Montana, US, World Wildlife Fund and Montana Department of Fish Wildlife and Parks, pp 33–36

Levin SA (1992) The problem of pattern and scale in ecology: the Robert H. MacArthur Award Lecture Ecology 73(6):1943–1967

Licht DS (1997) Ecology and economics of the Great Plains. University of Nebraska Press, Lincoln, NE, USA

Lindsey NR, Miller DAW, Robinson HS, McNutt JW, Kelly MJ (2016) Using camera trapping and hierarchical occupancy modelling to evaluate the spatial ecology of an African mammal community. J Appl Ecol 53:1225–1235

Liu C, Berry PM, Dawson TP, Pearson RG (2005) Selecting thresholds of occurrence in the prediction of species distributions. Ecography 28:385–393

Lovell CD, Leopold BD, Shropshire CC (1998) Trends in Mississippi predator populations, 1980–1995. Wildl Soc Bull 26:552–556

MacArthur RH, Levins R (1964) Competition, habitat selection, and character displacement in a patchy environment. Proc Nat Acad Sci 51:1207–1210

Macdonald DW, Sillero-Zubiri C (eds) (2004) The biology and conservation of wild canids. Oxford Unversity Press, Oxford, U.K.

MacKenzie DI, Nichols JD, Royle JA, Pollock KH, Bailey LL, Hines JE (2006) Occupancy estimation and modeling: inferring patterns and dynamics of species occurrence. Academic Press, Elsevier Inc, United States

MacKenzie DI, Nichols JD, Seamans ME, Gutierrez RJ (2009) Modeling species occurrence dynamics with multiple states and imperfect detection. Ecology 90(3):823–835

MacKenzie D, Nichols JD, Sutton N, Kawanishi K, Bailey L (2005) Improving inferences in population studies of rare species that are detected imperfectly. Ecology 86(5):1101–1113

Mac Nally RC (1983) On assessing the significance of interspecific competition to guild structure. Ecology 64:1646–1652

Martin DJ, White GC, Pusateri FM (2007) Occupancy rates by swift fox (Vulpes velox) in Eastern Colorado. Southwest Nat 52:541–551

Matlack RS, Gipson PS, Kaufman DW (2000) The swift fox in rangeland and cropland in Western Kansas: relative abundance, mortality, and body size. Southwest Nat 45(2):221–225

Meaney CA, Reed-Eckert M, Beauvais GP (2006) Kit Fox (Vulpes macrotis): a technical conservation assessment. [Online]. USDA Forest Service, Rocky Mountain Region. http://www.fs.fed.us/r2/projects/scp/assessments/kitfox.pdf.

Moehrenschlager A, Sovada M (2004) Swift fox Vulpes velox. In: Sillero-Zubiri C, Hoffmann M, Macdonald DW (eds) Canids: foxes, wolves, jackals and dogs. Cambridge, UK, IUCN/SSC Canid Specialist Group, pp 109–116

Moorcroft PR, Lewis MA, Crabtree RL (2006) Mechanistic home range models capture spatial patterns and dynamics of coyote territories in Yellowstone. Proc Biol Sci 273(1594):1651–1659

O'Connell AF, Talancy NW, Bailey LL, Sauer JR, Cook R, Gilbert AT (2006) Estimating site occupancy and detection probability parameters for meso- and large mammals in a coastal ecosystem. J Wildl Manage 70(6):1625–1633

Olson TL, Dieni JS, Lindzey FG, Anderson SH (2003) Swift fox detection probability using tracking plate transects in Southeast Wyoming. In: Sovada MA, Carbyn L (eds) The swift fox: ecology and conservation of swift foxes in a changing world. Canadian Plains Research Center, University of Regina, Regina Saskatchewan, pp 93–98

Palomares F, Caro TM (1999) Interspecific killing among mammalian carnivores. Am Nat 153(5):492–508

Person DK, Hirth DH (1991) Home range and habitat use of coyotes in a farm region of Vermont. J Wildl Manage 55:433–441

Plummer M (2003) JAGS: a program for analysis of Bayesian graphical models using Gibbs sampling. Proceedings of the 3rd international workshop on distributed statistical computing. pp 124–125

Plummer M (2013) rjags: Bayesian graphical models using MCMC. R package version 3.

Plummer M, Best N, Cowles K, Vines K (2006) CODA: convergence diagnosis and output analysis for MCMC. R News 6:7–11

Prange S, Gehrt S (2007) Responses of skunks to a simulated increased in coyote activity. J Mammal 88(4):1040–1049

Pruss SD (1999) Selection of natal dens by the swift fox (Vulpes velox) on the Canadian Prairies. Can J Zool 77(4):646–652

Ralls K, White PJ (1995) Predation on San Joaquin Kit foxes by larger canids. J Mammal 76(3):723–729

R Core Team (2018) R: A language and environment for statistical computing. R Foundation for Statistical Computing. Vienna, Austria. URL https://www.R-project.org/.

Reed DH, Frankham R (2003) Correlation between fitness and genetic diversity. Conserv Biol 17:230–237

Robertson PA, Woodburn MIA, Neutel W, Bealey CE (1993) Effects of land use on breeding pheasant density. J Appl Ecol 30:465–477

Roughton RD, Sweeny MW (1982) Refinements in scent-station methodology for assessing trends in carnivore populations. J Wildl Manage 46(1):217–229

Royle JA, Dorazio RM (2008) Hierarchical modeling and inference in ecology: the analysis of data from populations, metapopulations and communities. Academic Press, New York

Royle JA, Kéry M (2007) A Bayesian state-space formulation of dynamic occupancy models. Ecology 88(7):1813–1823

Royle JA, Nichols JD (2003) Estimating abundance from repeated presence-absence data or point counts. Ecology 84:777–790

Sampson F, Knopf F (1994) Prairie conservation in North America. Bioscience 44(6):418–421

Sandel B, Smith AB (2009) Scale as a lurking factor: incorporating scale-dependence in experimental ecology. Oikos 118(9):1284–2129

Sargeant GA, White PJ, Sovada MA, Cypher BL (2003) Scent-station survey techniques for swift and kit foxes. In: Sovada MA, Carbyn L (eds) The swift fox: ecology and conservation of swift foxes in a changing world. Canadian Plains Research Center, Canada, pp 99–105

Seamster M, Inscore C, Cobb DT (2016) Occupancy of large canids in Eastern North Carolina—A pilot study. Journal of the Southeastern Association of Fish and Wildlife Agencies 3:280–285

Schauster ER, Gese EM, Kitchen AM (2002) Population ecology of swift foxes (Vulpes velox) in southeaster Colorado. Can J Zool 80:307–319

Scheiner SM, Gurevitch J (2001) Design and analysis of ecological experiments, 2nd edn. Oxford University Press, Oxford

Schofield G, Hobson VJ, Martin LKS, Katselidis KA, Bishop CM, Brown P, Hays GC (2010) Inter-annual variability in the home range of breeding turtles: implications for current and future conservation management. Biol Conserv 13(3):722–730

Schwalm DL, Ballard WB, Fish EB, Whitlaw HA (2012) Distribution of the swift fox (Vulpes velox) in Texas. Southwest Nat 57(4):393–398

Scott JM, Heglund PJ, Morrison ML, Haufler JB, Raphael MG, Wall WA, Samson FB (2002) Predicting species occurrences: issues of accuracy and scale. Island Press, Covelo, CA

Sheldon JW (1992) Genus Vulpes. In: Sheldon JW. Wild Dogs, The Natural History of the Nondomestic Canidae. Academic Press, INC. pp 162-203

Sih A (1980) Optimal behavior: can foragers balance two conflicting demands? Science 210(4473):1041–1043

Sih A (2005) Predator-prey space use as an emergent outcome of a behavioral response race. In: Barbosa P, Castellanos I (eds) Ecology of Predator-Prey Interactions. Oxford University Press, New York, pp 240–255

Sillero-Zubiri C, Hoffmann M, Macdonald DW (2008) Canids: Foxes, Wolves, Jackals and Dogs. Status Survey and Conservation Action Plan. IUCN/SSC Canid Specialist Group. Gland, Switzerland and Cambridge, UK

Snedecor GW, Cochran WG (1968) Statistical Methods, 6th edn. The Iowa State University Press, Ames, Iowa

Sovada MA, Carbyn L (eds) (2003) The swift fox: ecology and conservation of swift foxes in a changing world. Canadian Plains Research Center, University of Regina, Regina, Saskatchewan, Canada

Sovada MA, Roy CC, Bright JB, Gillis JR (1998) Causes and rates of mortality of swift foxes in western Kansas. J Wildl Manage 62(4):1300–1306

Sovada MA, Ro W, Igl LD (2009) Historical range, current distribution, and conservation status of the swift fox, Vulpes velox. North America Canadian Field-Naturalist 123(4):346–367

Stevens DL, Olsen AR (2004) Spatially balanced sampling of natural resources. J Am Stat Assoc 99(465):262–278

Stratman M (2012) Monitoring swift fox using remote cameras in Eastern Colorado. Annual Report. Colorado Parks and Wildlife, Colorado

Stuber EF, Fontaine JJ (2018) Ecological neighborhoods as a framework for umbrella species selection. Biol Conserv 223:112–119

Stuber EF, Fontaine FF (2019) How characteristic is the species characteristic selection scale? Glob Ecol Biogeogr 28(12):1839–1854

Stuber EF, Gruber LF, Fontaine JJ (2017) A Bayesian method for assessing multi-scale species-habitat relationships. Landscape Ecol 32(12):2365–2381

Stuber EF, Gruber LF, Fontaine JJ (2018) Predicting species-habitat relationships: Does body size matter? Landscape Ecol 33:1049–1060

Swanson A, Arnold T, Kosmala M, Forester J, Packer C (2016) In the absence of a 'landscape of fear': How lions, hyenas, and cheetahs coexist. Ecol Evol 6:8534–8545

Theobald DM, Norman JB (2006) Spatially-balanced sampling using the reversed randomized quadrant-recursive raster algorithm: a user's guide for the RRQRR ArcGIS v9 tool. Available from http://www.nrel.colostate.edu/projects/starmap.

Thompson CM, Gese EM (2007) Food webs and intraguild predation: community interactions of a native mesocarnivore. Ecology 88(2):334–346

Thompson CM, Gese EM (2012) Swift foxes and ideal free distribution: relative influence of vegetation and rodent prey base on swift fox survival, density, and home range. ISRN Zoology 2012:1–8

Thompson WL (ed) (2004) Sampling rare or elusive species: Concepts, designs, and techniques for estimating population parameters. Island Press, Washington, DC, USA

Wilcove DS, Rothstein D, Dubow J, Phillips A, Losos E (1998) Quantifying threats to imperiled Species in the United States. Bioscience 48:607–615
Acknowledgements
Funding for this project was received from Federal aid in Wildlife Restoration (W-101-R-1), administered by the Nebraska Game and Parks Commission, the Nebraska Department of Roads (RHE-05), the Nebraska Environmental Trust, Prairie Biotic Research, and the U.S. Forest Service – Nebraska National Forest. Additional salary support for L.C. was made possible through the Arthur William Sampson Fellowship from the University of Nebraska. We want to thank K. Decker, S. Wilson, D. Shizuka, L. Powell, and M. Culver for their comments and support. Thanks to the landowners across western Nebraska for welcoming us into their lands and to all the technicians and field assistants who helped collect the data of this study. The Nebraska Cooperative Fish and Wildlife Research Unit is supported by a cooperative agreement among the U.S. Geological Survey, the Nebraska Game and Parks Commission, the University of Nebraska, the U.S. Fish and Wildlife Service, and the Wildlife Management Institute.
Additional information
Publisher's Note
Springer Nature remains neutral with regard to jurisdictional claims in published maps and institutional affiliations.
Supplementary Information
Below is the link to the electronic supplementary material.
About this article
Cite this article
Corral, L., Stuber, E.F., Frink, T.J. et al. Can scale-dependent landcover relationships explain canid community composition independent of intraguild occupancy?. Landscape Ecol (2021). https://doi.org/10.1007/s10980-021-01350-3
Received:

Accepted:

Published:
Keywords
Camera trap

Canids

Hierarchical Bayesian models

Multi-scale

Species habitat relationship

Species distribution models

Swift fox

Vulpes velox