Abstract
Context
Interactions between multiple threats are driving biodiversity loss. In human-modified landscapes, the extent to which fire regimes threaten species may depend on the configuration of native vegetation in relation to the matrix of other land uses. Despite crucial implications for fire management, interactions between spatial pattern in fire history and the matrix are unstudied.
Objectives
We used a multi-scale analysis to address two questions: do mammals respond to the landscape-context effect of the extent of older vegetation or growth-stage diversity? If so, are responses influenced by the presence of matrix?
Methods
Camera traps were used to survey mammals in the fragmented heathy woodland of southeast Australia. We quantified the percent of older vegetation, growth-stage diversity and matrix presence using 16 concentric circles centred on sites, and examined species' responses using generalised linear models.
Results
We modelled eight species and found the responses of five species to fire history were influenced by matrix availability. Four species (three macropods and the yellow-footed antechinus, Antechinus flavipes) responded positively to growth-stage diversity when matrix was absent and vice versa, indicating that species acquire different resources from multiple growth stages in the absence of matrix. Moreover, these results suggest that using prescribed fire to create a mosaic of growth stages at scales of 80–710 ha may have positive conservation outcomes for these species.
Conclusions
Our study highlights the importance of examining the consequences of interacting threats. Consideration of landscape context in fire management may lead to better conservation outcomes for mammals in human-modified landscapes.
Access options
Buy single article
Instant access to the full article PDF.
US$ 39.95
Tax calculation will be finalised during checkout.
Subscribe to journal
Immediate online access to all issues from 2019. Subscription will auto renew annually.
US$ 79
Tax calculation will be finalised during checkout.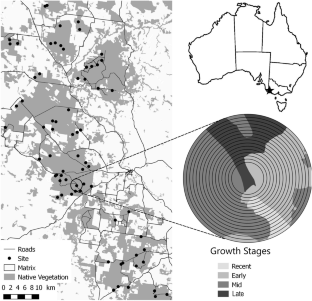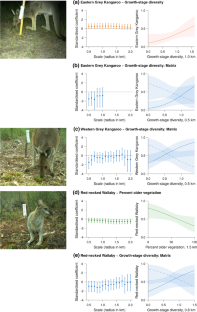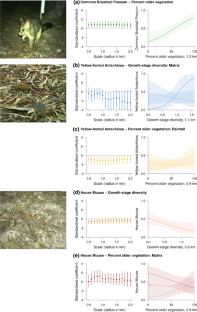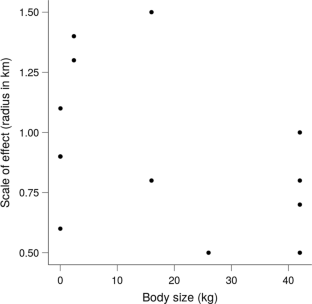 References
Brook BW, Sodhi NS, Bradshaw CJA (2008) Synergies among extinction drivers under global change. Trends Ecol Evol 23:453–460. https://doi.org/10.1016/j.tree.2008.03.011

Banks SC, Knight EJ, McBurney L, Blair D, Lindenmayer DB (2011) The effects of wildfire on mortality and resources for an arboreal marsupial: resilience to fire events but susceptibility to fire regime change. PLoS ONE. https://doi.org/10.1371/journal.pone.0022952

Bennett AF, Radford JQ, Haslem A (2006) Properties of land mosaics: Implications for nature conservation in agricultural environments. Biol Conserv 133:250–264. https://doi.org/10.1016/j.biocon.2006.06.008

Bergman KO, Jansson N, Claesson K, Palmer MW, Milberg P (2012) How much and at what scale? Multiscale analyses as decision support for conservation of saproxylic oak beetles. For Ecol Manag 265:133–141. https://doi.org/10.1016/j.foreco.2011.10.030

Bond WJ, Keeley JE (2005) Fire as a global "herbivore": the ecology and evolution of flammable ecosystems. Trends Ecol Evol 20:387–394. https://doi.org/10.1016/j.tree.2005.04.025

Bowman J, Jaeger JAG, Fahrig L (2002) Dispersal distance of mammals is proportional to home range size. Ecology 83:2049–2055. https://doi.org/10.1890/0012-9658(2002)083[2049:DDOMIP]2.0.CO;2

Bradstock RA, Bedward M, Gill AM, Cohn JS (2005) Which mosaic? A landscape ecological approach for evaluating interactions between fire regimes, habitat and animals. Wildl Res 32:409–423. https://doi.org/10.1071/wr02114

Briani DC, Palma ART, Vieira EM, Henriques RPB (2004) Post-fire succession of small mammals in the Cerrado of central Brazil. Biodivers Conserv 13:1023–1037. https://doi.org/10.1023/B:BIOC.0000014467.27138.0b

Bureau of Meteorology (2019) Climate Data Online. Bureau of Meteorology, Canberra, Australia http://www.bom.gov.au/climate/data

Burnham KP, Anderson DR (2002) Model selection and multimodel inference: a practical information-theoretic approach. Springer, New York

Cheal D (2010) Growth stages and tolerable fire intervals for Victoria's native vegetation data sets. Fire and adaptive management. Victorian Department of Sustainability and Environment, Melbourne

Chia EK, Bassett M, Leonard SWJ, Holland GJ, Ritchie EG, Clarke MF, Bennett AF (2016) Effects of the fire regime on mammal occurrence after wildfire: site effects vs landscape context in fire-prone forests. For Ecol Manag 363:130–139. https://doi.org/10.1016/j.foreco.2015.12.008

Coops NC, Catling PC (2002) Prediction of the spatial distribution and relative abundance of ground-dwelling mammals using remote sensing imagery and simulation models. Landsc Ecol 17:173–188. https://doi.org/10.1023/A:1016587816997

Cumming G, Finch S (2005) Inference by eye - confidence intervals and how to read pictures of data. Am Psychol 60:170–180. https://doi.org/10.1037/0003-066X.60.2.170

Cushman SA, McGarigal K (2004) Hierarchical analysis of forest bird species-environment relationships in the Oregon Coast Range. Ecol Appl 14:1090–1105. https://doi.org/10.1890/03-5131

del Castillo RF (2015) A conceptual framework to describe the ecology of fragmented landscapes and implications for conservation and management. Ecol Appl 25:1447–1455

Department of Agriculture, Water and the Environment (2020) EPBC act list of threatened fauna. Australian Government, Canberra

Dess T (2016) Fire operations plan 2017/18–2019/20 Barwon South West Region. Department of Environment, Land, Water and Planning, Melbourne

Di Stefano J, McCarthy MA, York A, Duff TJ, Slingo J, Christie F (2013) Defining vegetation age class distributions for multispecies conservation in fire-prone landscapes. Biol Conserv 166:111–117. https://doi.org/10.1016/j.biocon.2013.06.022

Dickman CR (1980) Ecological studies of Antechinus stuartii and Antechinus flavipes (Marsupialia: Dasyuridae) in open-forest and woodland habitats. Aust Zool 20:433–446

Dixon KM, Cary GJ, Renton M, Worboys GL, Gibbons P (2019) More long-unburnt forest will benefit mammals in Australian sub-alpine forests and woodlands. Austral Ecol 44:1150–1162. https://doi.org/10.1111/aec.12786

Doherty TS, Dickman CR, Nimmo DG, Ritchie EG (2015) Multiple threats, or multiplying the threats? Interactions between invasive predators and other ecological disturbances. Biol Conserv 190:60–68. https://doi.org/10.1016/j.biocon.2015.05.013

Dorph A, Swan M, Rochelmeyer E, Di Stefano J (2020) Complex habitat drives mammal communities in a flammable landscape. For Ecol Manag 462:117979. https://doi.org/10.1016/j.foreco.2020.117979

Driscoll DA, Lindenmayer DB, Bennett AF, Bode M, Bradstock RA, Cary GJ, Clarke MF, Dexter N, Fensham R, Friend G, Gill M, James S, Kay G, Keith DA, MacGregor C, Russell-Smith J, Salt D, Watson JEM, Williams RJ, York A (2010) Fire management for biodiversity conservation: key research questions and our capacity to answer them. Biol Conserv 143:1928–1939. https://doi.org/10.1016/j.biocon.2010.05.026

Driscoll DA, Banks SC, Barton PS, Lindenmayer DB, Smith AL (2013) Conceptual domain of the matrix in fragmented landscapes. Trends Ecol Evol 28:605–613. https://doi.org/10.1016/j.tree.2013.06.010

ESRI (2011) ArcGIS, version 10. Environmental Systems Research Institute, Inc, Redlands

Farnsworth LM, Nimmo DG, Kelly LT, Bennett AF, Clarke MF (2014) Does pyrodiversity beget alpha, beta or gamma diversity? A case study using reptiles from semi-arid Australia. Divers Distrib 20:663–673. https://doi.org/10.1111/ddi.12181

Fernandes PM, Davies GM, Ascoli D, Fernández C, Moreira F, Rigolot E, Stoof CR, Vega JA, Molina D (2013) Prescribed burning in southern Europe: developing fire management in a dynamic landscape. Front Ecol Environ 11:e4–e14. https://doi.org/10.1890/120298

Fiske IJ, Chandler RB (2011) Unmarked: an R package for fitting hierarchical models of wildlife occurrence and abundance. J Stat Softw 43:1–23. https://doi.org/10.18637/jss.v043.i10

Flanagan-Moodie AK, Holland GJ, Clarke MF, Bennett AF (2018) Prescribed burning reduces the abundance of den sites for a hollow-using mammal in a dry forest ecosystem. For Ecol Manag 429:233–243. https://doi.org/10.1016/j.foreco.2018.07.023

Fox BJ (1982) Fire and mammalian secondary succession in an Australian coastal heath. Ecology 63:1332–1341

Garnick S, Di Stefano J, Elgar MA, Coulson G (2014) Inter- and intraspecific effects of body size on habitat use among sexually-dimorphic macropodids. Oikos 123:984–992. https://doi.org/10.1111/oik.00861

Gill A (1975) Fire and the Australian Flora: a review. Aust For 38:4–25

Grooten M, Almond REA (2018) Living planet report – 2018: aiming higher. WWF, Gland

Harris DB, Gregory SD, Brook BW, Ritchie EG, Croft DB, Coulson G, Fordham DA (2014) The influence of non-climate predictors at local and landscape resolutions depends on the autecology of the species. Austral Ecol 39:710–721. https://doi.org/10.1111/aec.12134

Haslem A, Kelly LT, Nimmo DG, Watson SJ, Kenny SA, Taylor RS, Avitabile SC, Callister KE, Spence-Bailey LM, Clarke MF, Bennett AF (2011) Habitat or fuel? Implications of long-term, post-fire dynamics for the development of key resources for fauna and fire. J Appl Ecol 48:247–256. https://doi.org/10.1111/j.1365-2664.2010.01906.x

Hoffmann M, Belant JL, Chanson JS, Cox NA, Lamoreux J, Rodrigues ASL, Schipper J, Stuart SN (2011) The changing fates of the world's mammals. Philos Trans R Soc B Biol Sci 366:2598–2610. https://doi.org/10.1098/rstb.2011.0116

Hradsky BA, Mildwaters C, Ritchie EG, Christie F, Di Stefano J (2017) Responses of invasive predators and native prey to a prescribed forest fire. J Mammal 98:835–847. https://doi.org/10.1093/jmammal/gyx010

Hurlbert SH, Levine RA, Utts J (2019) Coup de Grâce for a tough old bull: "Statistically Significant" expires. Am Stat 73:352–357. https://doi.org/10.1080/00031305.2018.1543616

Jackson ND, Fahrig L (2014) Landscape context affects genetic diversity at a much larger spatial extent than population abundance. Ecology 95:871–881. https://doi.org/10.1890/13-0388.1

Jackson HB, Fahrig L (2015) Are ecologists conducting research at the optimal scale? Glob Ecol Biogeogr 24:52–63. https://doi.org/10.1111/geb.12233

Kelly LT, Nimmo DG, Spence-Bailey LM, Haslem A, Watson SJ, Clarke MF, Bennett AF (2011) Influence of fire history on small mammal distributions: insights from a 100-year post-fire chronosequence. Divers Distrib 17:462–473. https://doi.org/10.1111/j.1472-4642.2011.00754.x

Kelly LT, Nimmo DG, Spence-Bailey LM, Taylor RS, Watson SJ, Clarke MF, Bennett AF (2012) Managing fire mosaics for small mammal conservation: a landscape perspective. J Appl Ecol 49:412–421. https://doi.org/10.1111/j.1365-2664.2012.02124.x

Kelly LT, Dayman R, Nimmo DG, Clarke MF, Bennett AF (2013) Spatial and temporal drivers of small mammal distributions in a semi-arid environment: the role of rainfall, vegetation and life-history. Austral Ecol 38:786–797. https://doi.org/10.1111/aec.12018

Kelly LT, Brotons L, McCarthy MA (2017) Putting pyrodiversity to work for animal conservation. Conserv Biol 31:952–955. https://doi.org/10.1111/cobi.12861

Kleyer M, Biedermann R, Henle K, Obermaier E, Poethke H, Poschlod P, Schröder B, Settele J, Vetterlein D (2007) Mosaic cycles in agricultural landscapes of Northwest Europe. Basic Appl Ecol 8:295–309. https://doi.org/10.1016/j.baae.2007.02.002

Kupfer JA (2012) Landscape ecology and biogeography: rethinking landscape metrics in a post-FRAGSTATS landscape. Prog Phys Geogr 36:400–420. https://doi.org/10.1177/0309133312439594

Law BS, Dickman CR (1998) The use of habitat mosaics by terrestrial vertebrate fauna: implications for conservation and management. Biodivers Conserv 7:323–333. https://doi.org/10.1023/A:1008877611726

Le Mar K, McArthur C (2005) Habitat selection by common brushtail possums in a patchy Eucalypt-forestry environment. Aust Mammal 27:119–127. https://doi.org/10.1071/am05119

Maravalhas J, Vasconcelos HL (2014) Revisiting the pyrodiversity-biodiversity hypothesis: long-term fire regimes and the structure of ant communities in a Neotropical savanna hotspot. J Appl Ecol 51:1661–1668. https://doi.org/10.1111/1365-2664.12338

Marchesan D, Carthew SM (2008) Use of space by the yellow-footed antechinus, Antechinus flavipes, in a fragmented landscape in South Australia. Landsc Ecol 23:741–752. https://doi.org/10.1007/s10980-008-9234-7

Martin AE, Fahrig L (2012) Measuring and selecting scales of effect for landscape predictors in species-habitat models. Ecol Appl 22:2277–2292. https://doi.org/10.1890/11-2224.1

McGarigal K, Marks BJ (1994) FRAGSTATS spatial pattern analysis program for quantifying landscape structure. Forest Science Department, Oregon State University, Corvallis

Menkhorst P, Knight F (2004) A field guide to the mammals of Australia, 2nd edn. Oxford University Press, Melbourne

Metz MR, Varner JM, Frangioso KM, Meentemeyer RK, Rizzo DM (2013) Unexpected redwood mortality from synergies between wildfire and an emerging infectious disease. Ecology 94:2152–2159

Miguet P, Jackson HB, Jackson ND, Martin AE, Fahrig L (2016) What determines the spatial extent of landscape effects on species? Landsc Ecol 31:1177–1194. https://doi.org/10.1007/s10980-015-0314-1

Mittermeier RA, Wilson DE (2015) Handbook of the mammals of the world - volume 5 Monotremes and Marsupials. Lynx Edicions, Barcelona

Mortelliti A, Crane M, Okada S, Lindenmayer DB (2015) Marsupial response to matrix conversion: results of a large-scale long-term "natural experiment" in Australia. Biol Conserv 191:60–66. https://doi.org/10.1016/j.biocon.2015.06.015

Mutz J, Underwood N, Inouye BD (2017) Time since disturbance affects colonization dynamics in a metapopulation. J Anim Ecol 86:1065–1073. https://doi.org/10.1111/1365-2656.12689

Nelson J, Scroggie M (2009) Remote cameras as a mammal survey tool: survey design and practical considerations. Department of Sustainability and Environment, Heidelberg

Ordóñez-Gómez JD, Arroyo-Rodríguez V, Nicasio-Arzeta S, Cristóbal-Azkarate J (2015) Which is the appropriate scale to assess the impact of landscape spatial configuration on the diet and behavior of spider monkeys? Am J Primatol 77:56–65. https://doi.org/10.1002/ajp.22310

Parr CL, Andersen AN (2006) Patch mosaic burning for biodiversity conservation: a critique of the pyrodiversity paradigm. Conserv Biol 20:1610–1619. https://doi.org/10.1111/j.1523-1739.2006.00492.x

Pearson SM (1993) The spatial extent and relative influence of landscape-level factors on wintering bird populations. Landsc Ecol 8:3–18. https://doi.org/10.1007/BF00129863

Pringle RM, Kimuyu DM, Sensenig RL, Palmer TM, Riginos C, Veblen KE, Young TP (2015) Synergistic effects of fire and elephants on arboreal animals in an African savanna. J Anim Ecol 84:1637–1645. https://doi.org/10.1111/1365-2656.12404

R Core Team (2019) R: a language and environment for statistical computing. R Foundation for Statistical Computing, Vienna

Radford IJ, Gibson LA, Corey B, Carnes K, Fairman R (2015) Influence of fire mosaics, habitat characteristics and cattle disturbance on mammals in fire-prone savanna landscapes of the northern Kimberley. PLoS ONE 10:1–17. https://doi.org/10.1371/journal.pone.0130721

Rizopoulos D (2006) ltm: An R package for latent variable modeling and item response theory analyses. J Stat Softw 17:1–25

Roland J, Taylor PD (1997) Insect parasitoid species respond to forest structure at different spatial scales. Nature 386:710–713. https://doi.org/10.1038/386710a0

Rounsevell DE, Taylor RJ, Hocking GJ (1991) Distribution records of native terrestrial mammals in tasmania. Wildl Res 18:699–717. https://doi.org/10.1071/WR9910699

Sitters H, Di Stefano J (2020) Integrating functional connectivity and fire management for better conservation outcomes. Conserv Biol 34:550–560. https://doi.org/10.1111/cobi.13446

Sitters H, Di Stefano J, Wills T, Swan M, York A (2018) Survey design for precise fire management conservation targets. Ecol Appl 28:35–45. https://doi.org/10.1002/eap.1624

Southwell C (1987) Activity pattern of the eastern grey kangaroo Macropus giganteus. Mammalia 51:211–223

Sprent JA, McArthur C (2002) Diet and diet selection of two species in the macropod browser-grazer continuum: do they eat what they "should"? Aust J Zool 50:183–192

Swan M, Di Stefano J, Christie F, Steel E, York A (2014) Detecting mammals in heterogeneous landscapes: implications for biodiversity monitoring and management. Biodivers Conserv 23:343–355. https://doi.org/10.1007/s10531-013-0604-3

Swan M, Christie F, Sitters H, York A, Di Stefano J (2015) Predicting faunal fire responses in heterogeneous landscapes: the role of habitat structure. Ecol Appl 25:2293–2305. https://doi.org/10.1890/14-1533.1

Taylor RS, Watson SJ, Bennett AF, Clarke MF (2013) Which fire management strategies benefit biodiversity? A landscape-perspective case study using birds in mallee ecosystems of south-eastern Australia. Biol Conserv 159:248–256. https://doi.org/10.1016/j.biocon.2012.12.005

Tekin E, Diamant ES, Cruz-Loya M, Enriquez V, Singh N, Savage VM, Yeh PJ (2020) Using a newly introduced framework to measure ecological stressor interactions. Ecol Lett 23:1391–1403. https://doi.org/10.1111/ele.13533

Thornton DH, Fletcher RJ (2014) Body size and spatial scales in avian response to landscapes: a meta-analysis. Ecography 37:454–463. https://doi.org/10.1111/j.1600-0587.2013.00540.x

Tingley MW, Ruiz-Gutiérrez V, Wilkerson RL, Howell CA, Siegel RB (2016) Pyrodiversity promotes avian diversity over the decade following forest fire. Proc R Soc B Biol Sci 283:20161703. https://doi.org/10.1098/rspb.2016.1703

Tulloch AIT, Pichancourt JB, Gosper CR, Sanders A, Chadès I (2016) Fire management strategies to maintain species population processes in a fragmented landscape of fire-interval extremes. Ecol Appl 26:2175–2189. https://doi.org/10.1002/eap.1362

Ward M, Tulloch AIT, Radford JQ, Williams BA, Reside AE, Macdonald SL, Mayfield HJ, Maron M, Possingham HP, Vine SJ, O'Connor JL, Massingham EJ, Greenville AC, Woinarski JCZ, Garnett ST, Lintermans M, Scheele BC, Carwardine J, Nimmo DG, Lindenmayer DB, Kooyman RM, Simmonds JS, Sonter LJ, Watson JEM (2020) Impact of 2019–2020 mega-fires on Australian fauna habitat. Nat Ecol Evol. https://doi.org/10.1038/s41559-020-1251-1

Weier A, Radford IJ, Oliveira SLJ, Lawes MJ (2016) Recently but infrequently burnt breeding sites are favoured by threatened Gouldian finches (Erythrura gouldiae). Int J Wildland Fire 25:1281–1290. https://doi.org/10.1071/WF16105

Wickham H (2016) ggplot2: elegant graphics for data analysis. Springer, New York

Wickham H, François R, Henry L, Müller K (2019) dplyr: a grammar of data manipulation

Wiens JA (1989) Spatial scaling in ecology. Funct Ecol 3:385–397

Wiggins NL, Bowman DMJS (2011) Macropod habitat use and response to management interventions in an agricultural forest mosaic in north-eastern Tasmania as inferred by scat surveys. Wildl Res 38:103–113. https://doi.org/10.1071/WR10116

Winter JW (1976) The behaviour and social organisation of the brush-tail possum (Trichosurus vulpecula: Kerr). PhD Thesis, University of Queensland

Wintle BA, Elith J, Potts JM (2005) Fauna habitat modelling and mapping: a review and case study in the Lower Hunter Central Coast region of NSW. Austral Ecol 30:719–738. https://doi.org/10.1111/j.1442-9993.2005.01514.x

Woinarski JCZ, Burbidge AA, Harrison PL (2015) Ongoing unraveling of a continental fauna: decline and extinction of Australian mammals since European settlement. Proc Natl Acad Sci USA 112:4531–4540. https://doi.org/10.1073/pnas.1417301112

Zhang D (2018) rsq: R-Squared and Related Measures. R package version 1.1

Zuur AF, Ieno EN, Walker NJ, Saveliev AA, Smith GM (2009) Mixed effects models and extensions in ecology with R. Springer, New York
Acknowledgements
This work was part of an Australian Research Council Linkage Project, supported by Parks Victoria, SA Water, the South Australian Department for Environment and Water, and the Victorian Department of Environment, Land, Water and Planning. We acknowledge the Gunditjmara and Dja Dja Wurrung Peoples as the Traditional Owners of the lands on which we did our research and we are grateful to: Zahlia Payne for her contributions to fieldwork and photo processing; Sarah Mulhall and Annalie Dorph for assistance with site establishment; and Graeme Coulson, Sarah Garnick, Richard Hill and Peter Menkhorst for help with species identification. This research was carried out under a scientific research permit issued by the Department of Environment, Land, Water and Planning (permit number 10008227).
Additional information
Publisher's note
Springer Nature remains neutral with regard to jurisdictional claims in published maps and institutional affiliations.
Supplementary Information
Below is the link to the electronic supplementary material.
About this article
Cite this article
Delaney, L., Di Stefano, J. & Sitters, H. Mammal responses to spatial pattern in fire history depend on landscape context. Landscape Ecol 36, 897–914 (2021). https://doi.org/10.1007/s10980-020-01186-3
Received:

Accepted:

Published:

Issue Date:
Keywords
Landscape heterogeneity

Succession

Fire age class

Landscape structure

Scale dependency

Habitat composition

Habitat configuration

Planned burning