Abstract
Context
Urbanization and artificial light at night (ALAN) are major drivers of local biodiversity losses causing community alterations, disruption of predator-prey interactions, and ultimately, promotion of cascading effects. However, some species can colonize urban environments.
Objectives
We explore the role of ALAN as a driver of the colonization of urban environments by a nocturnal avian predator, the burrowing owl Athene cunicularia.
Methods
We studied in a suburban locality in La Pampa, Argentina: (1) prey availability with pitfall traps under streetlights and control sites; (2) diet by analyzing pellets; (3) space use by deploying GPS data-loggers to breeding owls; (4) nesting habitat selection by comparing environmental variables at nest and random locations; and (5) productivity by correlating environmental variables with the number of fledglings.
Results
First, streetlights altered the invertebrate availability, attracting them to illuminated areas. Second, the owl diet was more similar to the invertebrate taxa trapped at pitfall traps under streetlights than that in control traps. Third, owl space use was determined by streetlights. Owls spent more time around light sources, particularly during the nighttime. Fourth, the most important habitat feature influencing the nesting habitat selection was the distance to streetlight. Owls selected areas close to streetlights for nesting. Finally, productivity was not explained by any of our habitat variables.
Conclusions
We demonstrate that ALAN alters the availability of invertebrates and plays a role in the diet, space use, and occupation of urban burrowing owls. Streetlights increase foraging efficiency for owls due to the clumping of prey attracted to lights. This predator-prey relationship might be only supported in suburban environments where low urbanization levels let burrowing owls nest in bare ground areas, and invertebrates are attracted to ALAN from surrounding wilder areas.
Access options
Buy single article
Instant access to the full article PDF.
US$ 39.95
Tax calculation will be finalised during checkout.
Subscribe to journal
Immediate online access to all issues from 2019. Subscription will auto renew annually.
US$ 79
Tax calculation will be finalised during checkout.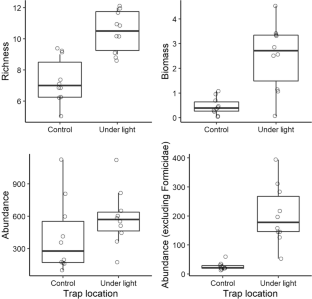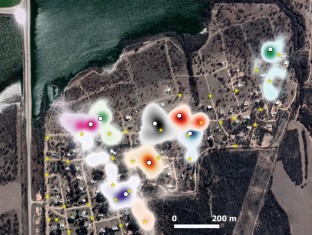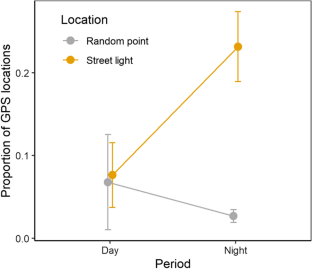 Data availability
All data analysed during this study are included in the article, its supplementary information files, and the Digital.CSIC repository (Rodríguez et al. 2020).
References
Almpanidou V, Tsapalou V, Tsavdaridou AI, Mazaris AD (2020) The dark side of raptors' distribution ranges under climate change. Landsc Ecol 35:1435–1443

Ayalon I, Barros Marangoni LF, Benichou JIC et al (2019) Red sea corals under artificial light pollution at night (ALAN) undergo oxidative stress and photosynthetic impairment. Glob Change Biol 25:4194–4207

Baladrón AV, Cavalli M, Isacch JP, Bó MS (2020) Burrowing owl nest distribution and density in relation to urban development. Ethol Ecol Evol 32:237–250

Baladrón AV, Isacch JP, Cavalli M, Bó MS (2016) Habitat selection by burrowing owls Athene cunicularia in the pampas of Argentina: a multiple-scale assessment. Acta Ornithol 51:137–150

Bennie J, Davies TW, Cruse D et al (2015) Cascading effects of artificial light at night: resource-mediated control of herbivores in a grassland ecosystem. Philos Trans R Soc Lond B 370:20140131

BirdLife International (2019) Species factsheet: Athene cunicularia. In: IUCN Red List birds. http://www.birdlife.org/. Accessed 25 Oct 2019

Bolton D, Mayer-Pinto M, Clark GF et al (2017) Coastal urban lighting has ecological consequences for multiple trophic levels under the sea. Sci Total Environ 576:1–9

Buij R, Gschweng M (2017) Nocturnal hunting by eleonora's falcons Falco eleonorae on their breeding and non-breeding grounds. Acta Ornithol 52:35–49

Burnham KP, Anderson DR, Huyvaert KP (2011) AIC model selection and multimodel inference in behavioral ecology: some background, observations, and comparisons. Behav Ecol Sociobiol 65:23–35

Canário F, Hespanhol Leitão A, Tomé R (2012) Predation attempts by short-eared and long-eared owls on migrating songbirds attracted to artificial lights. J Raptor Res 46:232–234

Carrete M, Tella JL (2010) Individual consistency in flight initiation distances in burrowing owls: a new hypothesis on disturbance induced habitat selection. Biol Lett 6:167–170

Cavalli M, Baladrón AV, Isacch JP et al (2014) Prey selection and food habits of breeding burrowing owls (Athene cunicularia) in natural and modified habitats of Argentine pampas. Emu 114:184–188

Cavalli M, Baladrón AV, Isacch JP et al (2016) Differential risk perception of rural and urban burrowing owls exposed to humans and dogs. Behav Processes 124:60–65

Clarke JA (1983) Moonlight's influence on predator/prey interactions between short-eared owls (Asio flammeus) and deermice (Peromyscus maniculatus). Behav Ecol Sociobiol 13:205–209

Davies TW, Bennie J, Gaston KJ (2012) Street lighting changes the composition of invertebrate communities. Biol Lett 8:764–767

Davies TW, Smyth T (2018) Why artificial light at night should be a focus for global change research in the 21st century. Glob Change Biol 24:872–882

DeCandido R, Allen D (2006) Nocturnal hunting by peregrine falcons at the empire state building, New York City. Wilson J Ornithol 118:53–58

Dominoni DM, Halfwerk W, Baird E et al (2020) Why conservation biology can benefit from sensory ecology. Nat Ecol Evol 4:502–511

Dominoni DM, Nelson RJ (2018) Artificial light at night as an environmental pollutant: an integrative approach across taxa, biological functions, and scientific disciplines. J Exp Zool Part A 329:387–393

Donners M, van Grunsven RHA, Groenendijk D et al (2018) Colors of attraction: modeling insect flight to light behavior. J Exp Zool Part A 329:434–440. https://doi.org/10.1002/jez.2188

Dwyer RG, Bearhop S, Campbell HA, Bryant DM (2013) Shedding light on light: benefits of anthropogenic illumination to a nocturnally foraging shorebird. J Anim Ecol 82:478–485

Falchi F, Cinzano P, Duriscoe D et al (2016) The new world atlas of artificial night sky brightness. Sci Adv 2:e1600377

Fenoglio MS, Rossetti MR, Videla M (2020) Negative effects of urbanization on terrestrial arthropod communities: a meta-analysis. Glob Ecol Biogeogr 29:1412–1429

Fleming PA, Bateman PW (2018) Novel predation opportunities in anthropogenic landscapes. Anim Behav 138:145–155

Fröhlich A, Ciach M (2019) Nocturnal noise and habitat homogeneity limit species richness of owls in an urban environment. Environ Sci Pollut Res 26:17284–17291

Gaston KJ, Davies TW, Bennie J, Hopkins J (2012) Reducing the ecological consequences of night-time light pollution: options and developments. J Appl Ecol 49:1256–1266

Gaston KJ, Davies TW, Nedelec SL, Holt LA (2017) Impacts of artificial light at night on biological timings. Annu Rev Ecol Evol Syst 48:49–68

Griffin E, Desmond M, VanLeeuwen D (2018) Juvenile burrowing owl nighttime space-use in Southern New Mexico. J Raptor Res 52:158–166

Grimm NB, Faeth SH, Golubiewski NE et al (2008) Global change and the ecology of cities. Science 319:756–760

Grubisic M, van Grunsven RHA, Kyba CCM et al (2018) Insect declines and agroecosystems: does light pollution matter? Ann Appl Biol 173:180–189

Guetté A, Godet L, Juigner M, Robin M (2018) Worldwide increase in artificial light at night around protected areas and within biodiversity hotspots. Biol Conserv 223:97–103

Isaksson C (2018) Impact of urbanization on birds. In: Tietze DT (ed) Bird Species: how they arise, modify and vanish. Springer International Publishing, Cham, pp 235–257

Kettel EF, Gentle LK, Quinn JL, Yarnell RW (2018) The breeding performance of raptors in urban landscapes: a review and meta-analysis. J Ornithol 159:1–18

Knop E, Zoller L, Ryser R et al (2017) Artificial light at night as a new threat to pollination. Nature 548:206–209

Kohn AJ, Riggs AC (1982) Sample size dependence in measures of proportional similarity. Mar Ecol Prog Ser 9:147–151

Komine H, Koike S, Schwarzkopf L (2020) Impacts of artificial light on food intake in invasive toads. Sci Rep 10:6527

Kyba CCM, Hänel A, Hölker F (2014) Redefining efficiency for outdoor lighting. Energy Environ Sci 7:1806

Kyba CCM, Kuester T, Sánchez de Miguel A et al (2017) Artificially lit surface of earth at night increasing in radiance and extent. Sci Adv 3:e1701528

Lebbin DJ, Harvey MG, Lenz TC et al (2007) Nocturnal migrants foraging at night by artificial light. Wilson J Ornithol 119:506–508

Levey DJ, Duncan RS, Levins CF (2004) Use of dung as a tool by burrowing owls. Nature 430:39

Longcore T, Rich C (2004) Ecological light pollution. Front Ecol Environ 2:191–198

Longcore T, Rodríguez A, Witherington B et al (2018) Rapid assessment of lamp spectrum to quantify ecological effects of light at night. J Exp Zool Part A 329:511–521. https://doi.org/10.1002/jez.2184

Marín-Gómez OH, García-Arroyo M, Sánchez-Sarria CE et al (2020) Nightlife in the city: drivers of the occurrence and vocal activity of a tropical owl. Avian Res 11:9

Martínez G, Baladrón AV, Cavalli M et al (2017) Microscale nest-site selection by the burrowing owl (Athene cunicularia) in the pampas of Argentina. Wilson J Ornithol 129:62–70

Mueller JC, Carrete M, Boerno S et al (2020) Genes acting in synapses and neuron projections are early targets of selection during urban colonization. Mol Ecol 29:3403–3412

Mueller JC, Kuhl H, Boerno S et al (2018) Evolution of genomic variation in the burrowing owl in response to recent colonization of urban areas. Proc R Soc B 285:20180206

Negro JJ, Bustamante J, Melguizo C et al (2000) Nocturnal activity of lesser kestrels under artificial lighting conditions in Seville, Spain. J Raptor Res 34:327–329

Owens ACS, Cochard P, Durrant J et al (2020) Light pollution is a driver of insect declines. Biol Conserv 241:108259

Perry G, Buchanan BW, Salmon M, Wise SE (2008) Effects of night lighting on urban reptiles and amphibians. In: Mitchell JC, Jung Brown RE, Bartholomew B (eds) Urban herpetology. Society for the Study of Amphibians and Reptiles, Salt Lake City, pp 239–256

Rebolo-Ifrán N, Tella JL, Carrete M (2017) Urban conservation hotspots: predation release allows the grassland-specialist burrowing owl to perform better in the city. Sci Rep 7:3527

Rodríguez A, Holmes ND, Ryan PG et al (2017) Seabird mortality induced by land-based artificial lights. Conserv Biol 31:986–1001

Rodríguez A, Orozco-Valor PM, Sarasola JH (2020) GPS tracks of burrowing owls in La Pampa, Argentina [Dataset]. In: Digital.CSIC. https://doi.org/10.20350/digitalCSIC/12634

Russ A, Lučeničová T, Klenke R (2017) Altered breeding biology of the European blackbird under artificial light at night. J Avian Biol 48:1114–1125

Rutz C (2006) Home range size, habitat use, activity patterns and hunting behaviour of urban-breeding Northern Goshawks Accipiter gentilis. Ardea 94:185–202

Sánchez KB, Malizia AI, Bó MS (2008) Trophic ecology of the burrowing owl (Athene cunicularia) in urban environments of Mar Chiquita biosphere reserve (Buenos Aires province, Argentina). Ornitol Neotrop 19:71–80

Sayol F, Sol D, Pigot AL (2020) Brain size and life history interact to predict urban tolerance in birds. Front Ecol Evol 8:58

Scobie C, Bayne E, Wellicome T (2014) Influence of anthropogenic features and traffic disturbance on burrowing owl diurnal roosting behavior. Endanger Species Res 24:73–83

Scobie CA, Bayne EM, Wellicome TI (2016) Influence of human footprint and sensory disturbances on night-time space use of an owl. Endanger Species Res 31:75–87

Seto KC, Güneralp B, Hutyra LR (2012) Global forecasts of urban expansion to 2030 and direct impacts on biodiversity and carbon pools. Proc Natl Acad Sci USA 109:16083–16088

Solaro C, Santillán MA, Costán AS, Reyes MM (2012) Ecología trófica de Athene cunicularia and Tyto alba en el Cerro Curru-Mahuida, ecotono Monte-Espinal, La Pampa, Argentina. Hornero 27:177–182

Stone EL, Harris S, Jones G (2015) Impacts of artificial lighting on bats: a review of challenges and solutions. Mamm Biol 80:213–219

Valdez-Gómez HE, Holroyd GL, Trefry HE, Contreras-Balderas AJ (2018) Home Ranges, habitats, and roosts of wintering burrowing owls in agricultural landscapes in Central Mexico. J Raptor Res 52:178–190

Zozaya SM, Alford RA, Schwarzkopf L (2015) Invasive house geckos are more willing to use artificial lights than are native geckos. Austral Ecol 40:982–987

Zuur AF, Ieno EN, Elphick CS (2010) A protocol for data exploration to avoid common statistical problems. Methods Ecol Evol 1:3–14

Zuur AF, Ieno EN, Walker N et al (2009) Mixed effects models and extensions in ecology with R. Springer, New York
Acknowledgements
We are in debt with landowners who allowed us to enter their properties to study owls. We thank our many friends and all Global Training fellows from University of the Basque Country for helping us during fieldwork. We also thank Mónica Pia for labwork and staff from the Museo Provincial de Historia Natural of La Pampa for invertebrate identification. Cami Sarasola and Jaime Potti improved the English grammar. Two anonymous reviewers provided useful comments. AR was supported by a Juan de la Cierva (Incorporación) contract, Spanish Ministry of Economy, Industry and Competitiveness (IJCI-2015-23913). This research was supported by the project 'Impacto de la contaminación lumínica en el comportamiento de un predador nocturno (Project ID: BS2017CSICS2017C00088903)' and funded by the program Becas Iberoamérica-Santander Investigación (Fundación Banco de Santander).
Ethics declarations
Conflict of interest
The authors declare that they have no conflict of interests.
Ethical approval
All procedures in this study were approved by Dirección de Recursos Naturales from Government of La Pampa province, Argentina. All procedures undertaken in this study were in accordance with approved guidelines.
Additional information
Publisher's Note
Springer Nature remains neutral with regard to jurisdictional claims in published maps and institutional affiliations.
Electronic supplementary material
Below is the link to the electronic supplementary material.
About this article
Cite this article
Rodríguez, A., Orozco-Valor, P.M. & Sarasola, J.H. Artificial light at night as a driver of urban colonization by an avian predator. Landscape Ecol 36, 17–27 (2021). https://doi.org/10.1007/s10980-020-01132-3
Received:

Accepted:

Published:

Issue Date:
Keywords
Artificial night lighting

Behavior

Cascading effects

Diet

Home range

Light pollution

Nocturnal raptor

Urban ecology