Abstract
Context
Landscape quality assessment provides a contextual basis for integrating cultural ecosystem services within landscape management and policy. However, measuring landscape visual quality remains a challenge; especially in the Balkans with its complex environmental and socio-cultural history.
Objectives
In response, we present a first assessment of landscape visual quality across Shar Planina, North Macedonia and test the transferability of a visual quality assessment method (VQI) originally developed to evaluate Northwest European landscapes.
Methods
This study includes remote (GIS) and field assessment. The latter produced quality measures which were summarized, scaled and weighted into an index (0–1.0) and served as a ground-truth dataset for subsequent GIS assessment. To assess how spatial scale affects the VQI and what scale is most appropriate to capture perceived landscape quality, the remote assessment was applied at scales ranging from 1 to 5 km2 and results were then correlated to field assessment results.
Results
Values for the field VQI range from 0.2 to 0.82 whilst the values from the remote assessment applied at 1 km2 range from 0.1 to 0.74 and increase to 0.77, 0.84 and 0.86 at 2 km2, 3 km2 and 5 km2 respectively. Strongest correlation between the GIS and the field assessment was observed at 2 km2, which captured detail whilst remaining appropriate to the perceived landscape.
Conclusions
Our research allows consideration of this cultural ecosystem service within the wider conservation efforts on Shar Planina and provides methodological guidelines for assessments of visual quality of mountainous landscapes elsewhere in the region.
Access options
Buy single article
Instant access to the full article PDF.
USD 39.95
Price excludes VAT (USA)
Tax calculation will be finalised during checkout.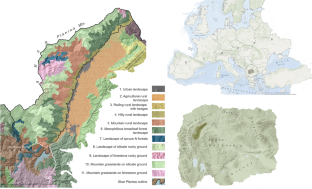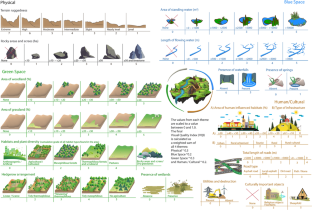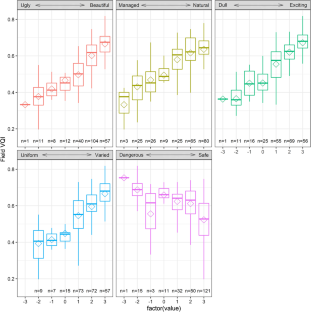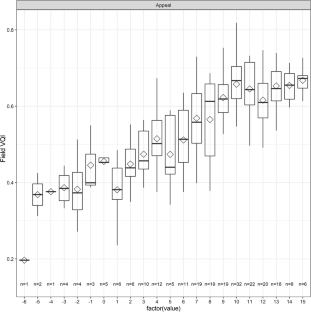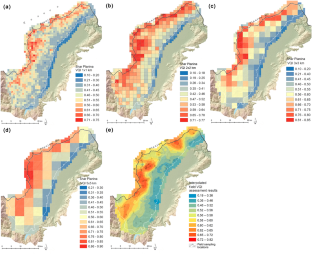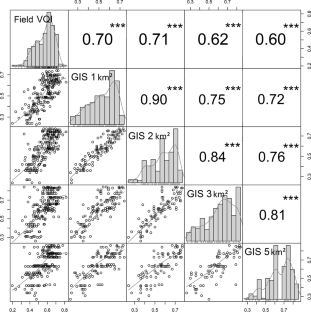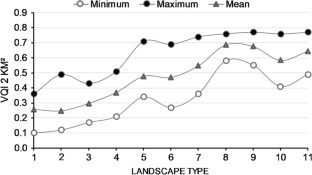 References
Acar C, Kurdoglu BC, Kurdoglu O, Acar H (2006) Public preferences for visual quality and management in the Kackar Mountains National Park (Turkey). Int J Sustain Dev World Ecol 13:499–512.

Arias-García J, Serrano-Montes JL, Gómez-Zotano J (2016) Fauna in wetland landscapes: a perception approach. Landsc Res 41:510–523.

Arriaza M, Cañas-Ortega JF, Cañas-Madueño JA, Ruiz-Aviles P (2004) Assessing the visual quality of rural landscapes. Landsc Urban Plan 69:115–125.

Boué A (1840) La Turquie d'Europe; observations sur la geographie, la géologie, l'histoire naturelle, la statistique, les moeurs, les coutumes, l'achéologie, l'agriculture, l'industrie, le commerce, les gouvernements divers, le clergé, l'histoire et l'etat de cet empire. Arthus Bertrand, Paris

Bulut Z, Karahan F (2010) Determining visual beauties of natural waterscapes: a case study for Tortum Valley (Erzurum/Turkey). Sci Res Essays 5:170–182

Council of Europe (1996) Pan-European biological and landscape diversity strategy

Council of Europe (2000) European landscape convention (European Treaty Series, no.176, Florence Convention). Strasbourg

Council of Europe (2006) Landscape and sustainable development: challenges of the European Landscape Convention. Council of Europe, Strasbourg

Dakin S (2003) There's more to landscape than meets the eye: towards inclusive landscape assessment in resource and environmental management. Can Geogr 47:185–200

Daniel TC (2001) Whither scenic beauty? Visual landscape quality assessment in the 21st century. Landsc Urban Plan 54:267–281

Daniel TC, Muhar A, Arnberger A, Aznar O, Boyd JW, Chan KMA, Costanza R, Elmqvist T, Flint CG, Gobster PH, Gret-Regamey A, Lave R, Muhar S, Penker M, Ribe RG, Schauppenlehner T, Sikor T, Soloviy I, Spierenburg M, Taczanowska K, Tam J, von der Dunk A (2012) Contributions of cultural services to the ecosystem services agenda. Proc Natl Acad Sci 109:8812–8819.

De Pablo CL, Roldán-Martín MJ, De Agar PM (2012) Magnitude and significance in landscape change. Landsc Res 37:571–589.

Despodovska A, Arsovska B, Melovski L, Hristovski S (2012) Land use changes on Galicica Mountain. In: Proceedings of the 4th congress of ecologists of Macedonia with international participation. Macedonian Ecological Society, Ohrid, pp 163–166

Díaz S, Demissew S, Joly C, Lonsdale WM, Larigauderie A (2015) A Rosetta stone for nature's benefits to people. PLoS Biol 13:e1002040.

Díaz S, Pascual U, Stenseke M, Martín-López B, Watson RT, Molnár Z, Hill R, Chan KMA, Baste IA, Brauman KA, Polasky S, Church A, Lonsdale M, Larigauderie A, Leadley PW, van Oudenhoven APE, van der Plaat F, Schröte M, Lavorel S, Aumeeruddy-Thomas ildiz, Bukvareva E, Davies K, Demissew S, Erpul G, Failler P, Guerra CA, Hewitt CL, Keune H, Lindley S, Shirayama Y, (2018) Assessing nature's contributions to people. Recognizing culture, and diverse sources of knowledge, can improve assessments. Science 359:270–272.

Doflein F (1921) Mazedonien: erlebnisse und beobachtungen eines naturforschers im gefolge des deutschen heeres. Gustav Fisher, Jena

Dramstad WE, Tveit MS, Fjellstad WJ, Fry GLA (2006) Relationships between visual landscape preferences and map-based indicators of landscape structure. Landsc Urban Plan 78:465–474.

EEA (2018) Corine Land Cover, 2018. In: Copernicus land monitoring service. https://land.copernicus.eu/pan-european/corine-land-cover. Date accessed 30/01/2019. https://land.copernicus.eu/pan-european/corine-land-cover. Accessed 30 Jan 2019

ESA Sentinel-2. In: European Space Agency. https://www.esa.int/Our_Activities/Observing_the_Earth/Copernicus/Sentinel-2. Accessed 30 Jan 2019

European Parliament (2019) European Parliament resolution of 29 November 2018 on the 2018 Commission Report on the former Yugoslav Republic of Macedonia (2018/2145(INI))

Falcucci A, Maiorano L, Boitani L (2006) Changes in land-use/land-cover patterns in Italy and their implications for biodiversity conservation. Landsc Ecol 22:617–631.

Fearon JD (2003) Ethnic and Cultural Diversity by Country. J Econ Growth 8:195–222

Feld CK, Martins da Silva P, Paulo Sousa J, de Bello F, Bugter R, Grandin U, Hering D, Lavorel S, Mountford O, Pardo I, Pärtel M, Römbke J, Sandin L, Bruce Jones K, Harrison P (2009) Indicators of biodiversity and ecosystem services: a synthesis across ecosystems and spatial scales. Oikos 118:1862–1871.

Ferrari C, Pezzi G, Diani L, Corazza M (2008) Evaluating landscape quality with vegetation naturalness maps: an index and some inferences. Appl Veg Sci 11:243–250.

Frank S, Fürst C, Koschke L, Witt A, Makeschin F (2013) Assessment of landscape aesthetics—validation of a landscape metrics-based assessment by visual estimation of the scenic beauty. Ecol Ind 32:222–231.

Fry G, Tveit MS, Ode A, Velarde MD (2009) The ecology of visual landscapes: Exploring the conceptual common ground of visual and ecological landscape indicators. Ecol Indicators 9:933–947.

García-Llorente M, Martín-López B, Iniesta-Arandia I, López-Santiago CA, Aguilera PA, Montes C (2012) The role of multi-functionality in social preferences toward semi-arid rural landscapes: an ecosystem service approach. Environ Sci Policy 19–20:136–146.

Garré S, Meeus S, Gulinck H (2009) The dual role of roads in the visual landscape: a case-study in the area around Mechelen (Belgium). Landsc Urban Plan 92:125–135.

Gobster PH, Nassauer JI, Daniel TC, Fry G (2007) The shared landscape: what does aesthetics have to do with ecology? Landsc Ecol 22:959–972.

Grêt-Regamey A, Bishop ID, Bebi P (2007) Predicting the scenic beauty value of mapped landscape changes in a mountainous region through the use of GIS. Environ Plan B 34:50–67.

Gulinck H, Múgica M, de Lucio JV, Atauri JA (2001) A framework for comparative landscape analysis and evaluation based on land cover data, with an application in the Madrid region (Spain). Landsc Urban Plan 55:257–270.

Hassan RM, Scholes RJ, Ash N (eds) (2005) Ecosystems and human well-being: current state and trends. Island Press, Washington, DC

Howley P (2011) Landscape aesthetics: assessing the general publics' preferences towards rural landscapes. Ecol Econ 72:161–169.

Howley P, Donoghue CO, Hynes S (2012) Exploring public preferences for traditional farming landscapes. Landsc Urban Plan 104:66–74.

Hunziker M, Felber P, Gehring K, Buchecker M, Bauer N, Kienast F (2008) Evaluation of landscape change by different social groups: results of two empirical studies in Switzerland. Mountain Res Dev 28:140–147.

Jepsen MR, Kuemmerle T, Müller D, Erb K, Verburg PH, Haberl H, Vesterager JP, Andrič M, Antrop M, Austrheim G, Björn I, Bondeau A, Bürgi M, Bryson J, Caspar G, Cassar LF, Conrad E, Chromý P, Daugirdas V, Van Eetvelde V, Elena-Rosselló R, Gimmi U, Izakovicova Z, Jančák V, Jansson U, Kladnik D, Kozak J, Konkoly-Gyuró E, Krausmann F, Mander Ü, McDonagh J, Pärn J, Niedertscheider M, Nikodemus O, Ostapowicz K, Pérez-Soba M, Pinto-Correia T, Ribokas G, Rounsevell M, Schistou D, Schmit C, Terkenli TS, Tretvik AM, Trzepacz P, Vadineanu A, Walz A, Zhllima E, Reenberg A (2015) Transitions in European land-management regimes between 1800 and 2010. Land Use Policy 49:53–64.

Jovanovska D (2019) Use of Sentinel-2 for land cover classification on Shar Planina, North Macedonia. Mendeley Data v1. https://doi.org/10.17632/3628s8bpff.1

Jovanovska D, Melovski L (2012) Land cover succession as a result of changing land use practises in Northeast Macedonia. In: Proceedings of the 4th congress of ecologists of Macedonia with international participation. Macedonian Ecological Society, Ohrid, pp 185–196

Kaplan A, Taşkın T, Önenç A (2006) Assessing the visual quality of rural and urban-fringed landscapes surrounding livestock farms. Biosyst Eng 95:437–448.

Krivokapić D (1969) Šar-planina - turističko-geografski prikaz predela i naroda. Turistička štampa, Beograd

Lambin EF, Turner BL, Geist HJ, Agbola SB, Angelsen A, Bruce JW, Coomes OT, Dirzo R, Fischer G, Folke C (2001) The causes of land-use and land-cover change: moving beyond the myths. Glob Environ Chang 11:261–269

Lazarevski A (1993) Climate in Macedonia. Kultura, Skopje

Lothian A (1999) Landscape and the philosophy of aesthetics: is landscape quality inherent in the landscape or in the eye of the beholder? Landsc Urban Plan 44:177–198

Meeus JHA, Wijermans MP, Vroom MJ (1990) Agricultural landscapes in Europe and their transformation. Landsc Urban Plan 18:289–352.

Melovski L, Hristovski S, Melovski D, Kolchakovski D, Velevski M, Angelova N, Levkov Z, Karadelev M (2010) Natural values of Shar Planina Mt. Macedonian Ecological Society, Skopje

Melovski L, Markoski B, Hristovski S, Jovanovska D, Anastasovski V, Klincharov S, Velevski M, Velkovski N, Trendafilov A, Matevski V, Kostadinovski M, Karadelev M, Levkov Z, Kolchakovski D (2013) Regional division of the Republic of Macedonia for the needs of biological databases. Macedonian J Ecol Environ 15:81–111

Melovski L, Jovanovska D, Hristovski S (2019) Landscape diversity in North Macedonia. Macedonian J Ecol Environ 21:35–64

Mücher CA, Klijn JA, Wascher DM, Schaminée JHJ (2010) A new European Landscape Classification (LANMAP): a transparent, flexible and user-oriented methodology to distinguish landscapes. Ecol Ind 10:87–103.

Ode Å, Miller D (2011) Analysing the relationship between indicators of landscape complexity and preference. Environ Plann B 38:24–40.

Ode Å, Tveit MS, Fry G (2008) Capturing landscape visual character using indicators: touching base with landscape aesthetic theory. Landsc Res 33:89–117.

Ode Å, Fry G, Tveit MS, Messager P, Miller D (2009) Indicators of perceived naturalness as drivers of landscape preference. J Environ Manag 90:375–383.

Ode Å, Hagerhall CM, Sang N (2010) Analysing visual landscape complexity: theory and application. Landsc Res 35:111–131.

Otero Pastor I, Casermeiro Martínez MA, Ezquerra Canalejoa A, Esparcia Mariño P (2007) Landscape evaluation: comparison of evaluation methods in a region of Spain. J Environ Manag 85:204–214.

Pecher C, Bacher M, Tasser E, Tappeiner U (2018) Agricultural landscapes between intensification and abandonment: the expectations of the public in a Central-Alpine cross-border region. Landsc Res 43:428–442.

Perko D, Ciglič R (2015) Slovenia as a European landscape hotspot. AGB 1:45–54.

Plieninger T, Dijks S, Oteros-Rozas E, Bieling C (2013) Assessing, mapping, and quantifying cultural ecosystem services at community level. Land Use Policy 33:118–129.

Price C (2013) Subjectivity and objectivity in landscape evaluation: an old topic revisited. In: van der Heide CM, Heijman WJM (eds) The economic value of landscapes, 1st edn. Routledge, London, pp 53–76

Purcell AT, Lamb RJ (1998) Preference and naturalness: an ecological approach. Landsc Urban Plann 42:57–66.

Ramos BM, Pastor IO (2012) Mapping the visual landscape quality in Europe using physical attributes. J Maps 8:56–61.

Rechtman O (2013) Visual perception of agricultural cultivated landscapes: key components as predictors for landscape preferences. Landsc Res 38:273–294.

Rogge E, Nevens F, Gulinck H (2007) Perception of rural landscapes in Flanders: looking beyond aesthetics. Landsc Urban Plann 82:159–174.

Sari D, Acar C (2016) Visual Landscape Assessment of the Alpine Rocky Habitats: A Case Study of Hatila Valley National Park, Artvin, Turkey. In: Efe R, Cürebal I, Gad A, Tóth B (eds) Environmental sustainability and landscape management. Kliment Ohridski University Press, Sofia St, pp 1–34

Satz D, Gould RK, Chan KMA, Guerry A, Norton B, Satterfield T, Halpern BS, Levine J, Woodside U, Hannahs N, Basurto X, Klain S (2013) The challenges of incorporating cultural ecosystem services into environmental assessment. Ambio 42:675–684.

Schirpke U, Tasser E, Tappeiner U (2013) Predicting scenic beauty of mountain regions. Landsc Urban Plann 111:1–12.

State Statistical Office of the Republic of Macedonia (2002) Census of population, households and dwellings in the Republic of Macedonia. Skopje

State Statistical Office of the Republic of Macedonia (2012) Regions in the Republic of Macedonia, 2012. Skopje

Swetnam RD, Tweed FS (2018) A tale of two landscapes: transferring landscape quality metrics from Wales to Iceland. Land Use Policy 76:565–576.

Swetnam RD, Harrison-Curran SK, Smith GR (2017) Quantifying visual landscape quality in rural Wales: a GIS-enabled method for extensive monitoring of a valued cultural ecosystem service. Ecosyst Serv 26:451–464.

Tengberg A, Fredholm S, Eliasson I, Knez I, Saltzman K, Wetterberg O (2012) Cultural ecosystem services provided by landscapes: assessment of heritage values and identity. Ecosyst Serv 2:14–26.

Tratalos JA, Haines-Young R, Potschin M, Fish R, Church A (2016) Cultural ecosystem services in the UK: lessons on designing indicators to inform management and policy. Ecol Ind 61:63–73.

Turner BL, Lambin EF, Reenberg A (2007) The emergence of land change science for global environmental change and sustainability. Proc Natl Acad Sci 104:20666–20671

Tveit M, Ode Å, Fry G (2006) Key concepts in a framework for analysing visual landscape character. Landsc Res 31:229–255.

Uzun O, Muuml H (2011) Visual landscape quality in landscape planning: examples of Kars and Ardahan cities in Turkey. Afr J Agric Res 6:1627–1638

van der Jagt APN, Craig T, Anable J, Brewer MJ, Pearson DG (2014) Unearthing the picturesque: the validity of the preference matrix as a measure of landscape aesthetics. Landsc Urban Plan 124:1–13.

Vizzari M (2011) Spatial modelling of potential landscape quality. Appl Geogr 31:108–118.
Acknowledgements
We would like to thank all friends and colleagues that supported the extensive fieldwork carried as part of this study and all the participants for taking time to contribute to the field visual quality assessment, particularly students from Biology Student Research Society from the Faculty of Natural Sciences and Mathematics in Skopje. We would like to extend our gratitude to the Macedonian Ecological Society for providing access to available digital data of Shar Planina and Metodija Velevski for his help in statistical data analysis.
Additional information
Publisher's Note
Springer Nature remains neutral with regard to jurisdictional claims in published maps and institutional affiliations.
Electronic supplementary material
Below is the link to the electronic supplementary material.
About this article
Cite this article
Jovanovska, D., Swetnam, R.D., Tweed, F.S. et al. Assessing the landscape visual quality of Shar Planina, North Macedonia. Landscape Ecol 35, 2805–2823 (2020). https://doi.org/10.1007/s10980-020-01122-5
Received:

Accepted:

Published:

Issue Date:

DOI: https://doi.org/10.1007/s10980-020-01122-5
Keywords