Abstract
Context
Habitat fragmentation can exacerbate the negative effects of habitat loss for some species. Mitigating fragmentation is difficult, however, because population responses depend on species-level traits (e.g., dispersal ability, edge sensitivity) and landscape context (e.g., habitat amount). Thus, conservation requires determining not only if, but also where and why, fragmentation matters.
Objectives
We aimed to determine if and where grassland fragmentation affects tallgrass prairie birds, which have declined precipitously due to land-use change. We surveyed four edge-sensitive species at 2250 sites (10,291 total surveys) across eastern Kansas, USA, over two breeding seasons. We assessed how the occurrence of each species varied with different levels of fragmentation in local landscapes comprising different grassland amounts.
Results
Fragmentation clearly mediated positive relationships between occurrence probability and grassland area for all four species. The direct effect of fragmentation was greater than that of grassland area for two species. Moreover, fragmentation reduced the occurrence of each species by at least half in some contexts. Fragmentation effects were most pronounced in landscapes comprising ~ 50–90% grassland, and less pronounced or absent in landscapes comprising < 50% grassland, which were occupied relatively infrequently.
Conclusions
Conservation efforts should minimize 'perforation' of large grasslands by woody vegetation and land development, which not only replace grassland, but also often create disproportionately large amounts of grassland edge. Identifying mechanisms responsible for edge effects could further inform species-level conservation. Our results counter assertions that fragmentation does not matter or only matters when habitat is scarce or for species that are dispersal limited.
Access options
Buy single article
Instant access to the full article PDF.
US$ 39.95
Tax calculation will be finalised during checkout.
Subscribe to journal
Immediate online access to all issues from 2019. Subscription will auto renew annually.
US$ 79
Tax calculation will be finalised during checkout.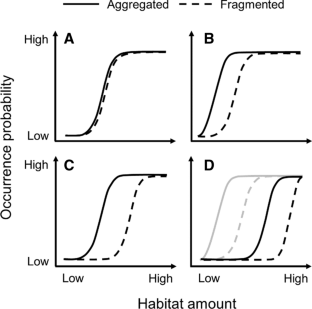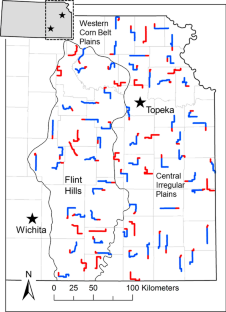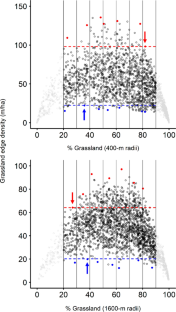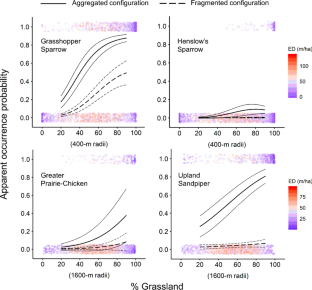 References
Abdi H (2004) Partial regression coefficients. In: Lewis-Beck M, Bryman A, Futing T (eds) Encyclopedia of social sciences research methods. Sage, Thousand Oaks, pp 1–4

Andrén H (1994) Effects of habitat fragmentation on birds and mammals in landscapes with different proportions of suitable habitat: a review. Oikos 71:355–366

Azpiroz AB, Isacch JP, Dias RA, Di Giacomo AS, Fontana CS, Palarea CM (2012) Ecology and conservation of grassland birds in southeastern South America: a review. J Field Ornithol 83:217–246

Barton K (2019) Package "MuMIn" - Multi-model inference version 1.43.6. http://CRAN.R-project.org/package=MuMIn

Bates D, Maechler M, Bolker B, Walker S, Bojesen RH, Singmann H, Dai B, Scheipl F, Grotherndieck G, Green P, Fox J (2019) lme4: Linear mixed-effects models using "Eigen" and S4 version 1.1–21, http://CRAN.R-project.org/package=lme4

BirdLife International (2016) Tympanuchus cupido. The IUCN Red List of Threatened Species 2016: e.T22679514A92817099. https://doi.org/10.2305/IUCN.UK.2016-3.RLTS.T22679514A92817099.en. Accessed 10 Mar 2020

Bjørnstad ON (2019) ncf: Spatial Covariance Functions version 1.2–8. http://CRAN.R-project.org/package=ncf

Boesing AL, Nichols E, Metzger JP (2018) Biodiversity extinction thresholds are modulated by matrix type. Ecography 41:1520–1533

Bolker BM, Brooks ME, Clark CJ, Geange SW, Poulsen JR, Stevens MHH, White JSS (2009) Generalized linear mixed models: a practical guide for ecology and evolution. Trends Ecol Evol 24:127–135

Brennan LA, Kuvlesky WP (2005) North American grassland birds: an unfolding conservation crisis? J Wildl Manag 69:1–13

Briggs JM, Knapp AK, Blair JM, Heisler JL, Hoch GA, Lett MS, McCarron JK (2005) An ecosystem in transition: causes and consequences of the conversion of mesic grassland to shrubland. Bioscience 55:243–254

Brodie JF, Giordano AJ, Ambu L (2015) Differential responses of large mammals to logging and edge effects. Mammal Biol 80:7–13

Burnham K, Anderson D (2002) Model selection and multimodel inference: a practical information-theoretic approach, 2nd edn. Springer, New York

Collinge SK (2009) Ecology of fragmented landscapes. John Hopkins University Press, Baltimore

Didham RK, Kapos V, Ewers RM (2012) Rethinking the conceptual foundations of habitat fragmentation research. Oikos 121:161–170

Ewers RM, Didham RK (2006) Confounding factors in the detection of species responses to habitat fragmentation. Biol Rev 81:117

Fahrig L (1997) Relative effects of habitat loss and fragmentation on population extinction. J Wildl Manag 61:603–610

Fahrig L (1998) When does fragmentation of breeding habitat affect population survival? Ecol Model 105:273–292

Fahrig L (2003) Effects of habitat fragmentation on biodiversity. Annu Rev Ecol Evol Syst 34:487–515

Fahrig L (2013) Rethinking patch size and isolation effects: the habitat amount hypothesis. J Biogeogr 40:1649–1663

Fahrig L (2017) Ecological responses to habitat fragmentation per se. Annu Rev Ecol Evol Syst 48:1–23

Fahrig L, Arroyo-Rodríguez V, Bennett JR, Boucher-Lalonde V, Cazetta E, Currie DJ, Eigenbrod F, Ford AT, Harrison SP, Jaeger JA, Koper N, Martin AE, Martin JL, Metzger JP, Morrison P, Rhodes RJ, Saunders DA, Simberloff D, Smith AC, Tischendorf L, Vellend M, Watling JI (2019) Is habitat fragmentation bad for biodiversity? Biol Conserv 230:179–186. https://doi.org/10.1016/j.biocon.2018.12.026

Fletcher RJ Jr, Reichert BE, Holmes K (2018a) The negative effects of habitat fragmentation operate at the scale of dispersal. Ecology 99:2176–2186

Fletcher RJ Jr, Didham RK, Banks-Leite C, Barlow J, Ewers RM, Rosindell J, Holt RD, Gonzalez A, Pardini R, Damschen EI, Melo FP (2018b) Is habitat fragmentation good for biodiversity? Biol Conserv 226:9–15

Fuhlendorf SD, Harrell WC, Engle DM, Hamilton RG, Davis CA Jr (2006) Should heterogeneity be the basis for conservation? Grassland bird response to fire and grazing. Ecol Appl 16:1706–1716

Fuhlendorf SD, Hovick TJ, Elmore RD, Tanner AM, Engle DM, Davis CA (2017) A hierarchical perspective to woody plant encroachment for conservation of prairie-chickens. Rangel Ecol Manag 70:9–14

Grand J, Wilsey C, Wu JX, Michel NL (2019) The future of North American grassland birds: incorporating persistent and emergent threats into full annual cycle conservation priorities. Conserv Sci Pract 1:e20

Haddad NM, Gonzalez A, Brudvig LA, Burt MA, Levey DJ, Damschen EI (2017) Experimental evidence does not support the habitat amount hypothesis. Ecography 40:48–55

Hadley AS, Betts MG (2016) Refocusing habitat fragmentation research using lessons from the last decade. Curr Landsc Ecol Rep 1:55–66

Hanski I (1998) Metapopulation dynamics. Nature 396:41–49

Hanski I (2015) Habitat fragmentation and species richness. J Biogeogr 42:989–993

Hanski I, Gaggiotti OE (2004) Metapopulation biology: past, present, and future. In: Hanski I, Gaggiotti OE (eds) Ecology, genetics, and evolution of metapopulations. Academic Press, San Diego, pp 3–22

Hargreaves A (2019) Lasting signature of forest fragmentation. Science 366:1196–1197

Hayes DB, Monfils MJ (2015) Occupancy modelling of bird point counts: implications of mobile animals. J Wildl Manag 79:1361–1368

Helzer CJ, Jelinski DE (1999) The relative importance of patch area and perimeter-area ratio to grassland breeding birds. Ecol Appl 9:1448

Herkert JR (1994) The effects of habitat fragmentation on Midwestern grassland bird communities. Ecol Appl 4:461–471

Herse MR, Estey ME, Moore PJ, Sandercock BK, Boyle WA (2017) Landscape context drives breeding habitat selection by an enigmatic grassland songbird. Landsc Ecol 32:2351–2364

Herse MR, With KA, Boyle WA (2018) The importance of core habitat for a threatened species in changing landscapes. J Appl Ecol 55:2241–2252

Hill JM, Sandercock BK, Renfrew RB (2019) Migration patterns of Upland Sandpipers in the Western Hemisphere. Front Ecol Evol 7:426

Hoekstra JM, Boucher TM, Ricketts TH, Roberts C (2005) Confronting a biome crisis: global disparities of habitat loss and protection. Ecol Lett 8:23–29

Houston C, Jackson C, Bowen Jr D (2011) Upland Sandpiper (Bartramia longicauda), version 2.0. In: Poole AF (ed) The Birds of North America Online. Cornell Lab of Ornithology, Ithaca. http://doi.org/10.2173/bna.580. Accessed 10 March 2020

Hovick TJ, Dahlgren DK, Papeş M, Elmore RD, Pitman JC (2015a) Predicting Greater Prairie-Chicken lek site suitability to inform conservation actions. PLoS ONE 10:e0137021

Hovick TJ, Elmore RD, Dahlgren DK, Fuhlendorf SD, Engle DM (2014) Evidence of negative effects of anthropogenic structures on wildlife: a review of grouse survival and behaviour. J Appl Ecol 51:1680–1689

Hovick TJ, Elmore RD, Fuhlendorf SD, Engle DM, Hamilton RG (2015b) Spatial heterogeneity increases diversity and stability in grassland bird communities. Ecol Appl 25:662–672

Intergovernmental Science-Policy Platform on Biodiversity and Ecosystem Services (IPBES) (2019) Global Assessment Summary for Policy Makers. IPBES Secretariat, Bonn

Jaster L, Jensen WE, Forbes AR (2013) Abundance, territory sizes, and pairing success of male Henslow's Sparrows in restored warm- and cool-season grasslands. J Field Ornithol 84:234–241

Johnson RG, Temple SA (1990) Nest predation and brood parasitism of tallgrass prairie birds. J Wildl Manag 54:106–111

King AW, With KA (2002) Dispersal success on spatially structured landscapes: when do spatial pattern and dispersal behavior really matter? Ecol Model 147:23–39

Klug PE, Jackrel SL, With KA (2010) Linking snake habitat use to nest predation risk in grassland birds: the dangers of shrub cover. Oecologia 162:803–813

Kulmatiski A, Beard KH (2013) Woody plant encroachment facilitated by increased precipitation intensity. Nat Clim Change 3:833–837

Levins R (1969) Some demographic and genetic consequences of environmental heterogeneity for biological control. Bull Entomol Soc Am 15:237–240

Lituma CM, Buehler DA (2016) Minimal bias in surveys of grassland birds from roadsides. Condor 118:715–727

Lockhart J, Koper N (2018) Northern prairie songbirds are more strongly influenced by grassland configuration than grassland amount. Landsc Ecol 33:1543–1558

MacArthur RH, Wilson EO (1967) The theory of island biogeography. Princeton University Press, Princeton

MacKenzie DI, Nichols JD, Hines JE, Knutson MG, Franklin AB (2003) Estimating site occupancy, colonization, and local extinction when a species is detected imperfectly. Ecology 84:2200–2207

MacKenzie DI, Nichols JD, Lachman GB, Droege S, Royle JA, Langtimm CA (2002) Estimating site occupancy rates when detection probabilities are less than one. Ecology 83:2248–2255

MacKenzie DI, Royle A (2005) Designing occupancy studies: general advice and allocating survey effort. J Appl Ecol 42:1105–1114

Martin CA (2018) An early synthesis of the habitat amount hypothesis. Landsc Ecol 33:1831–1835

Matthews TW, Tyre AJ, Taylor JS, Lusk JJ, Powell LA (2011) Habitat selection and brood survival of Greater Prairie-Chickens. In: Sandercock BK, Martin K, Segelbacher G (eds) Ecology, conservation, and management of grouse. Studies in Avian Biology (no. 39), University of California Press, Berkley, pp 179–191

Matthews TW, Tyre AJ, Taylor JS, Lusk JJ, Powell LA (2013) Greater prairie-chicken nest success and habitat selection in southeastern Nebraska. J Wildl Manag 77:1202–1212

McGarigal K, Cushman SA, Ene E (2012) FRAGSTATS v4: Spatial Pattern Analysis Program for Categorical and Continuous Maps. http://www.umass.edu/landeco/research/fragstats/fragstats.html

McGarigal K, Wan HY, Zeller KA, Timm BC, Cushman SA (2016) Multi-scale habitat selection modeling: a review and outlook. Landsc Ecol 31:1161–1175

McNew LB, Hunt LM, Gregory AJ, Wisely SM, Sandercock BK (2014) Effects of wind energy development on nesting ecology of Greater Prairie-Chickens in fragmented grasslands. Conserv Biol 28:1089–1099

Nakagawa S, Johnson PCD, Schielzeth H (2017) The coefficient of determination R2 and intra-class correlation coefficient from generalized linear mixed-effects models revisited and expanded. J R Soc B 14:20170213

North American Bird Conservation Initiative (NABCI) (2016) The State of North America's Birds 2016. Environment and Climate Change Canada, Ottawa

North American Bird Conservation Initiative (NABCI), U.S. Committee (2011) The State of the Birds 2011 Report on Public Lands and Waters. U.S. Department of Interior, Washington, DC

Omernik JM (1987) Ecoregions of the Conterminous United States. Ann Assoc Am Geogr 77:118–125

Patten MA, Pruett CL, Wolfe DH (2011) Home range size and movements of Greater Prairie-Chickens. In: Sandercock BK, Martin K, Segelbacher G (eds) Ecology, conservation, and management of grouse. Studies in Avian Biology (no. 39), University of California Press, Berkley, pp 51–62

Pérez-Rodríguez A, Khimoun A, Ollivier A, Eraud C, Faivre B, Garnier S (2018) Habitat fragmentation, not habitat loss, drives the prevalence of blood parasites in a Caribbean passerine. Ecography 41:1835–1849

Peterson D, Whistler J, Egbert E, Martinko E (2010) 2005 Kansas land cover patterns: Phase II Final Report. Open-file Report 167. Kansas Biological Survey, Lawrence, KS

R Core Team (2019) R: a language environment for statistical computing. R Foundation for Statistical Computing, Vienna

Rahmig CJ, Jensen WE, With KA (2009) Grassland bird responses to land management in the largest remaining tallgrass prairie. Conserv Biol 23:420–432

Ratajczak Z, Nippert JB, Briggs JM, Blair JM (2014) Fire dynamics distinguish grasslands, shrublands and woodlands as alternative attractors in the Central Great Plains of North America. J Ecol 102:1374–1385

Reinking DL (2005) Fire regimes and avian responses in the central tallgrass prairie. Stud Avian Biol 30:116–126

Renfrew RB, Ribic CA (2003) Grassland passerine nest predators near pasture edges identified on videotape. Auk 120:371–383

Renfrew RB, Ribic CA (2008) Multi-scale models of grassland passerine abundance in a fragmented system in Wisconsin. Landsc Ecol 23:181–193

Ribic CA, Koford RR, Herkert JR, Johnson DH, Niemuth ND, Naugle DE, Bakker KK, Sample DW, Renfrew RB (2009) Area sensitivity in North American grassland birds: patterns and processes. Auk 126:233–244

Ries L, Fletcher RJ Jr, Battin J, Sisk TD (2004) Ecological responses to habitat edges: mechanisms, models, and variability explained. Annu Rev Ecol Evol Syst 35:491–522

Rosenberg KV, Kennedy JA, Dettmers R, Ford RP, Reynolds D, Alexander JD, Beardmore CJ, Blancher PJ, Bogart RE, Butcher GS, Camfield AF (2016) Partners in Flight Landbird Conservation Plan: 2016 Revision for Canada and Continental United States. Partners in Flight Science Committee

Ruffell J, Banks-Leite C, Didham RK (2016) Accounting for the causal basis of collinearity when measuring the effects of habitat loss versus habitat fragmentation. Oikos 125:117–125

Samson F, Knopf F (1994) Prairie conservation in North America. Bioscience 44:418–421

Sandercock BK, Alfaro-Barrios M, Casey AE, Johnson TN, Mong TW, Odom KJ, Strum KM, Winder VL (2015) Effects of grazing and prescribed fire on resource selection and nest survival of upland sandpipers in an experimental landscape. Landsc Ecol 30:325–337

Sauer JR, Niven DK, Hines JE, Ziolkowski Jr DJ, Pardieck KL, Fallon JE, Link WA (2017) The North American Breeding Bird Survey, Results and Analysis 1966–2015. Version 2.07.2017. USGS Patuxtent Wildlife Research Center, Laurel, MA

Scholtz R, Polo JA, Tanner EP, Fuhlendorf SD (2018) Grassland fragmentation and its influence on woody plant cover in the southern Great Plains, USA. Landsc Ecol 33:1785–1797

Shaffer JA, Buhl DA (2016) Effects of wind-energy facilities on breeding grassland bird distributions. Conserv Biol 30:59–71

Suarez AV, Bolger DT, Case TJ (1998) Effects of fragmentation and invasion on native any communities in coastal southern California. Ecology 79:2041–2056

Swift TL, Hannon SJ (2010) Critical thresholds associated with habitat loss: a review of the concepts, evidence, and applications. Biol Rev 85:35–53

Tack JD, Quamen FR, Kelsey K, Naugle DE (2017) Doing more with less: removing trees in a prairie system improves value of grasslands for obligate bird species. J Environ Manag 198:163–169

Tscharntke T, Tylianakis JM, Rand TA, Didham RK, Fahrig L, Batáry P, Bengtsson J, Clough Y, Crist TO, Dormann CF, Ewers RM (2012) Landscape moderation of biodiversity patterns and processes-eight hypotheses. Biol Rev 87:661–685

Valente JJ, Betts MG (2019) Response to fragmentation by avian communities is mediated by species traits. Divers Distrib 25:48–60

Van Houtan KS, Pimm SL, Halley JM, Bierregaard RO, Lovejoy TE (2007) Dispersal of Amazonian birds in continuous and fragmented forest. Ecol Lett 10:219–229

Vickery PD (1996) Grasshopper Sparrow (Ammodramus savannarum), version 2.0. In: Poole AF, Gill FB (eds) The birds of North America online

Vickery PD, Hunter ML, Melvin SM (1994) Effects of habitat area on the distribution of grassland birds in Maine. Conserv Biol 8:1087–1097

Villard M-A, Metzger JP (2014) Beyond the fragmentation debate: a conceptual model to predict when habitat configuration really matters. J Appl Ecol 51:309–318

Williams EJ, Boyle WA (2018) Patterns and correlates of within-season breeding dispersal: a common strategy in a declining grassland songbird. Auk 135:1–14

Winder VL, McNew LB, Gregory AJ, Hunt LM, Wisely SM, Sandercock BK (2014) Space use by female Greater Prairie-Chickens in response to wind energy development. Ecosphere 5:3

Winter M, Johnson DH, Faaborg J (2000) Evidence for edge effects on multiple levels in tallgrass prairie. Condor 102:256–266

With KA (1994) The hazards of nesting near shrubs for a grassland bird, the McCown's Longspur. Condor 96:1009–1019

With KA (2016) Are landscapes more than the sum of their patches? Landsc Ecol 31:969–980

With KA, Crist TO (1995) Critical thresholds in species' responses to landscape structure. Ecology 76:2446–2459

With KA, King AW (1999) Extinction thresholds for species in fractal landscapes. Conserv Biol 13:314–326

With KA, King AW (2001) Analysis of landscape sources and sinks: the effect of spatial pattern on avian demography. Biol Conserv 100:75–88

With KA, King AW, Jensen WE (2008) Remaining large grasslands may not be sufficient to prevent grassland bird declines. Biol Conserv 141:3152–3167

With KA, Pavuk DM (2012) Direct versus indirect effects of habitat fragmentation on community patterns in experimental landscapes. Oecologia 170:517–528

Young AC (2017) Seasonal fecundity and post-fledging survival and habitat selection of Henslow's Sparrow (Ammodramus henslowii). MS Thesis, University of Nebraska

Zimmerman JL (1988) Breeding season habitat selection by the Henslow's Sparrow (Ammodramus henslowii) in Kansas. Wilson Bull 100:17–24
Acknowledgements
We thank our field crew, K. Courtois, P. Moore, L. Rhine, K. Scott, P. Turner, and E. Wilson, and laboratory assistant S. Replogle-Curnutt. M. Estey provided logistical support, and B. Meiwes and V. Cikanek of Kansas Department of Wildlife, Parks and Tourism provided accommodations at Fall River Wildlife Area. This project was funded by U.S. Fish and Wildlife Service and Eastern Tallgrass Prairie and Big Rivers Landscape Conservation Cooperative.
Additional information
Publisher's Note
Springer Nature remains neutral with regard to jurisdictional claims in published maps and institutional affiliations.
Electronic Supplementary Material
Below is the link to the electronic Supplementary Material.
About this article
Cite this article
Herse, M.R., With, K.A. & Boyle, W.A. Grassland fragmentation affects declining tallgrass prairie birds most where large amounts of grassland remain. Landscape Ecol 35, 2791–2804 (2020). https://doi.org/10.1007/s10980-020-01064-y
Received:

Accepted:

Published:

Issue Date:
Keywords
Edge effects

Flint Hills

Fragmentation per se

Grassland birds

Landscape change

Landscape pattern

Rangeland management

Spatial scale