Abstract
Context
Globally, the intensive use of peatlands contributes substantially to greenhouse gas emissions. The intensification of peatland use has led to increasing carbon (C) losses over the last centuries, but without historical emissions data, these increases and cumulative emissions are difficult to quantify.
Objectives
To understand the magnitude and development of soil C losses through peatland drainage in Switzerland through time, and to relate the situation of peatlands today to this historical development.
Methods
Historical records and a published estimate of the peatland extent are used to estimate peatlands' original extent and C stocks, and to understand trends in the historical use of peatlands. Land use-specific emission factors are applied to estimate the C emission through drainage over the last 300 years.
Results
Ca. 15 to 55 Mt C have been lost through peatland drainage in Switzerland. Despite a decrease in the area of organic soils, annual C emissions have increased considerably especially since the mid-twentieth century due to intensification of their use, particularly for agriculture. This C loss is a magnitude greater than that lost through extracted peat. Remaining C stocks approximate those lost over the last 300 years.
Conclusions
The rate of peatland surface loss in Switzerland is typical of European wetlands. Uncertainties in emission factors remain high and should be refined to justify any mitigation strategies. Although peat is no longer mined in Switzerland, future C emissions from peatlands will remain high as long as the effects of drainage networks and their current intensity of use persist.
Access options
Buy single article
Instant access to the full article PDF.
USD 39.95
Price excludes VAT (USA)
Tax calculation will be finalised during checkout.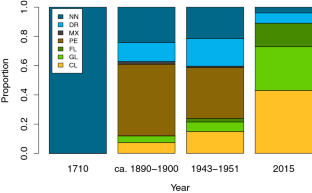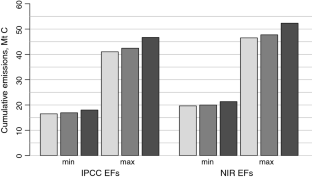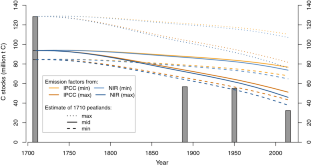 Notes
Federal order on the initiative 'zum Schutz der Moore - Rothenthurm-Initiative ', Art. 24sexies Abs. 5 and UeBest. BV; or Grünig (1994, pp 367–378) for English translation.

This value differs to that reported in the Methods, as modern sites where peat extraction has taken place were excluded from this calculation. This allowed the rate of peat thickness change due to drainage only to be calculated.
References
Anon (1987) Energiestatistik der Schweiz 1910–1985. Bundesamt für Energiewirtschaft/Schweizerisches Nationalkomitee der Weltenergiekonferenz, Bern

Anon (1996) Abklärung des Handlungsbedarfs bezüglich der Nutzung von organischen Böden im Kanton Zürich. Fachstelle Bodenschutz, Zurich

Bader C, Müller M, Schulin R, Leifeld J (2017) Amount and stability of recent and aged plant residues in degrading peatland soils. Soil Biol Biochem 109:167–175

Bader C, Müller M, Schulin R, Leifeld J (2018a) Peat decomposability in managed organic soils in relation to land use, organic matter composition and temperature. Biogeosciences 15:703–719

Bader C, Müller M, Szidat S, Schulin R, Leifeld J (2018b) Response of peat decomposition to corn straw addition in managed organic soils. Geoderma 309:75–83

Béguin J, Smola S (2010) Stand der Drainagen in der Schweiz, Bilanz der Umfrage 2008. Federal Office for Agriculture, Bern

Boscani-Leoni S (2017) Die Debatte um den Torfabbau im 18. Jahrhundert. Die Gebrüder Scheuchzer zwischen Johannes von Muralt und Johann J. Bernoulli. In: Boscani-Leoni S, Stuber M (eds) Wer das Gras wachsen hört. Wissensgeschichte(n) der pflanzlichen Ressourcen vom Mittelalter bis ins 20. Jahrhundert. StudienVerlag, Innsbruck, pp 116–139

Bragg O, Lindsay R, Risager M, Silvius M, Zingstra H (2013) Strategy and action plan for mire and peatland conservation in central Europe. Wetlands International, Wageningen

Byrne KA et al (2004) EU peatlands: current carbon stocks and trace gas fluxes. University of Lund/GeoBiosphere Science Centre, Lund

Charman DJ, Beilman DW, Blaauw M, Booth RK, Brewer S, Chambers FM, Christen JA, Gallego-Sala A, Harrison SP, Hughes PDM, Jackson ST, Korhola A, Mauquoy D, Mitchell FJG, Prentice IC, van der Linden M, De Vleeschouwer F, Yu ZC, Alm J, Bauer IE, Corish YMC, Garneau M, Hohl V, Huang Y, Karofeld E, Le Roux G, Loisel J, Moschen R, Nichols JE, Nieminen TM, MacDonald GM, Phadtare NR, Rausch N, Sillasoo Ü, Swindles GT, Tuittila ES, Ukonmaanaho L, Väliranta M, van Bellen S, van Geel B, Vitt DH, Zhao Y (2013) Climate-related changes in peatland carbon accumulation during the last millennium. Biogeosciences 10:929–944

Conedera M, Vassere S, Neff C, Meurer M, Krebs P (2007) Using toponomy to reconstruct past land use: a case study of 'brüsada' (burn) in southern Switzerland. J Hist Geogr 33:729–748

Davidson N (2014) How much wetland has the world lost? Long-term and recent trends in global wetland area. Mar Freshw Res 65:934–941

Derungs C, Wartmann F, Purves RS, Mark DM (2013) The meanings of the generic parts of toponyms: Use and limitations of gazetteers in studies of landscape terms. In: Tenbrink T, Stell J, Galton A, Wood Z (eds) Spatial information theory. COSIT 2013. Lecture notes in computer science. Springer, Cham, pp 261–278

Desaules A, Studer K (1993) Nationales Bodenbeobachtungsnetz: Messresultate 1985–1991. Bundesamt für Umwelt, Wald und Landschaft BUWAL, Bern

Donada JT (2009) Agrarian landscapes and the toponymy of Mediterranean Europe. Catalonia as a case study. In: Ahrens W, Embleton S, Lapierre A (eds) Proceedings of the 23rd international congress of onomastic sciences: names in multi-lingual, multi-cultural and multi-ethnic contact. York University, 2008. York University, Toronto, pp 976–988

Erkens G, van der Meulen MJ, Middelkoop H (2016) Double trouble: subsidence and CO2 respiration due to 1,000 years of Dutch coastal peatlands cultivation. Hydrogeol J 24:551–568

Ewald K, Klaus G (2010) Die ausgewechselte Landschaft, 2nd edn. Haupt, Bern

Fenner S (2007) Torfeigenschaften und Moorsackungsraten von landwirtschaftlich genutzten Böden im Gebiet Witzwil. Diploma Thesis, University of Zurich

FOEN (2017) Switzerland's greenhouse gas inventory 1990–2015: National inventory report 2017. Federal Office for the Environment, Bern

Früh J, Schröter C (1904) Die Moore der Schweiz mit Berücksichtigung der gesamten Moorfrage. Beiträge zur Geologie der Schweiz herausgegeben von der geologischen Kommission der Schweiz. naturforschenden Gesellschaft. A. Francke, Bern

Gimmi U, Lachat T, Bürgi M (2011) Reconstructing the collapse of wetland networks in the Swiss lowlands 1850–2000. Landsc Ecol 26:1071–1083

Grünig A (ed) (1994) Mires and man: mire conservation in a densely populated country: the Swiss experience. Swiss Federal Institute for Forest, Snow and Landscape Research, WSL, Birmensdorf

Grünig A, Vetterli L, Wildi O (1986) Die Hoch- und Übergangsmoore der Schweiz, vol 281. Eidgenössische Anstalt für das forstliche Versuchswesen, Birmensdorf

Gubler L (2009) Kohlenstoffverlust aus entwässerten Schweizer Hochmooren. Master's thesis, University of Bern

Hirt H (2007) Torfstechen im Seeland: Gewinnung des Rohstoffes Torf bei Energieversorgungslücken seit dem 18. Jahrhundert. Bern Z Gesch Heimatkunde 69:39–76

Hürlimann K (2016) Agrarintensivierung - aus Wald wird Feld und Wiese. In: Mathieu J, Backhaus N, Hürlimann K, Bürgi M (eds) Geschichte der Landschaft in der Schweiz: Von der Eiszeit bis zur Gegenwart. Orell Füssli, Zurich, pp 78–90

IPCC (2006) 2006 IPCC guidelines for national greenhouse gas inventories. Volume 4, agriculture, forestry and other land use. Chapter 10. Institute for Global Environmental Strategies IGES, Japan

IPCC (2014) 2013 Supplement to the 2006 IPCC guidelines for national greenhouse gas inventories (Chap. 2). Wetlands. IPCC, Switzerland

Joosten H, Clarke D (2002) Wise use of mires and peatlands. International Mire Conservation Group, Greifswald, Germany/International Peat Society, Jyväskylä

KIAA (1941) Bericht über die Erhebungen vom Herbst 1941 in den wichtigsten Moorgebieten der Schweiz, deren Torflager für die Torfverkohlung- Destillation- und Brikettierung in Betracht fallen können. Kriegs- Industrie- und Arbeitsamt, Sektion für Holz, Gruppe Torf, Bern. Swiss Federal Archives E7389_1000_1106_907

Klaus G (ed) (2007) Zustand und Entwicklung der Moore in der Schweiz. Federal Office for the Environment FOEN, Bern

Kluge B, Wessolek G, Facklam M, Lorenz M, Schwärzel K (2008) Long-term carbon loss and CO2–C release of drained peatland soils in northeast Germany. Eur J Soil Sci 59:1076–1086

Küchler M, Küchler H, Bergamini A, Bedolla A, Ecker K, Feldmeyer-Christe E, Graf U, Holderegger R (2018) Moore der Schweiz: Zustand, Entwicklung, Regeneration. Bristol-Stiftung, Zurich

Kuster A (1946) Die Torfproduktion während des zweiten Weltkrieges. Swiss For J 97:257–258

Leiber-Sauheitl K, Fuß R, Voigt C, Freibauer A (2014) High CO2 fluxes from grassland on histic Gleysol along soil carbon and drainage gradients. Biogeosciences 11:749–761

Leifeld J, Gubler L, Grünig A (2011a) Organic matter losses from temperate ombrotrophic peatlands: an evaluation of the ash residue method. Plant Soil 341:349–361

Leifeld J, Menichetti L (2018) The underappreciated potential of peatlands in global climate change mitigation strategies. Nat Commun 9:1–7

Leifeld J, Müller M, Fuhrer J (2011b) Peatland subsidence and carbon loss from drained temperate fens. Soil Use Manag 27:170–176

Leifeld J, Steffens M, Galego-Sala A (2012) Sensitivity of peatland carbon loss to organic matter quality. Geophys Res Lett 39:1–6

Lienert B (2013) Einfluss von Aufforstung auf Kohlenstoffverluste aus organischen Böden (Halbmooren) im Staatswald bei Witzwil (BE). Master's thesis, University of Zurich

Loisel J, Yu ZC, Beilman DW, Camill P, Alm J, Amesbury MJ, Anderson D, Andersson S, Bochicchio C, Barber K, Belyea LR, Bunbury J, Chambers FM, Charman DJ, De Vleeschouwer F, Fialkiewicz-Koziel B, Finkelstein SA, Galka M, Garneau M, Hammarlund D, Hinchcliffe W, Holmquist J, Hughes P, Jones MC, Klein ES, Kokfelt U, Korhola A, Kuhry P, Lamarre A, Lamentowicz M, Large D, Lavoie M, MacDonald G, Magnan G, Makila M, Mallon G, Mathijssen P, Mauquoy D, McCarroll J, Moore TR, Nichols J, O'Reilly B, Oksanen P, Packalen M, Peteet D, Richard PJH, Robinson S, Ronkainen T, Rundgren M, Sannel ABK, Tarnocai C, Thom T, Tuittila ES, Turetsky M, Valiranta M, van der Linden M, van Geel B, van Bellen S, Vitt D, Zhao Y, Zhou W (2014) A database and synthesis of northern peatland soil properties and Holocene carbon and nitrogen accumulation. Holocene 24:1028–1042

Lüdi W (1973) Moore der Schweiz, vol 1–10. Schweizerischer Bund für Naturschutz, Pro Natura, Basel

Mühlethaler E (1995) Nutzungsgeschichte der Hoch- und Übergangsmoore. In: Bressoud B et al (eds) Handbuch Moorschutz in der Schweiz 1 (Chap. 3.2.4), vol 1. Bundesamt für Umwelt, Wald und Landschaft BUWAL, Bern, pp 1–12

Pärn J, Verhoeven JTA, Butterbach-Bahl K, Dise NB, Ullah S, Aasa A, Egorov S, Espenberg M, Järveoja J, Jauhiainen J, Kasak K, Klemedtsson L, Kull A, Laggoun-Défarge F, Lapshina ED, Lohila A, Lõhmus K, Maddison M, Mitsch WJ, Müller C, Niinemets Ü, Osborne B, Pae T, Salm J-O, Sgouridis F, Sohar K, Soosaar K, Storey K, Teemusk A, Tenywa MM, Tournebize J, Truu J, Veber G, Villa JA, Zaw SS, Mander Ü (2018) Nitrogen-rich organic soils under warm well-drained conditions are global nitrous oxide emission hotspots. Nat Commun 9:1135

Presler J, Gysi C (1989) Organische Böden des schweizerischen Mittellandes. Nationales Forschungsprogramm, Liebefeld-Bern

Probst E, Schmidlin H, Zimmerli N (1923) Die Torfausbeutung in der Schweiz in den Jahren 1917 bis 1921, Vol 1 and 2. Eidgenössische Inspektion für Forstwesen, Jagd und Fischerei, Bern

SFSO (2004–2009) Swiss land use statistics (Arealstatistik 2004/09). Swiss Federal Statistical Office, Neuchâtel

Smith P, Martino D, Cai Z, Gwary D, Janzen H, Kumar P, McCarl B, Ogle S, O'Mara F, Rice C, Scholes B, Sirotenko O, Howden M, McAllister T, Pan G, Romanenkov V, Schneider U, Towprayoon S, Wattenbach M, Smith J (2008) Greenhouse gas mitigation in agriculture. Philos Trans R Soc B 363:789–813

Stamm A (1919) Die Torfausbeutung in der Schweiz. Schweiz Tech Ztg 27(28):137–141

Strüby A (1947) Das außerordendiche Meliorationsprogramm. Bericht über das Meliorationswesen der Schweiz 1940–1946. Eidgenösschiches Meliorationsamt, Bern

Stuber M, Bürgi M (2018) Vom "eroberten Land" zum Renaturierungsprojekt. Geschichte der Feuchtgebiete in der Schweiz seit 1700. Bristol-Stiftung, Zurich

Swisstopo (2017) SwissNAMES3D, 2016th edn. Federal Office of Topography, Bern

Thut W (1996) Drainröhren - ihre Entwicklung und Verbreitung : ein Beitrag zur Technikgeschichte der Landwirtschaft mit spezieller Berücksichtigung der Schweiz. Diploma thesis, University of Bern

Tiemeyer B, Albiac Borraz E, Augustin J, Bechtold M, Beetz S, Beyer C, Drösler M, Ebli M, Eickenscheidt T, Fiedler S, Förster C, Freibauer A, Giebels M, Glatzel S, Heinichen J, Hoffmann M, Höper H, Jurasinski G, Leiber-Sauheitl K, Peichl-Brak M, Roßkopf N, Sommer M, Zeitz J (2016) High emissions of greenhouse gases from grasslands on peat and other organic soils. Glob Chang Biol 22:4134–4149

von Knonau GM (1844) Gemälde der Schweiz. Der Kanton Zürich. Huber und Compagnie, St Gallen

Wilson D, Blain D, Couwenberg J, Evans CD, Murdiyarso D, Page SE, Renou-Wilson F, Rieley JO, Sirin A, Strack M, Tuittila E-S (2016) Greenhouse gas emission factors associated with rewetting of organic soils. Mires Peat 17:1–28

Wüst-Galley C, Grünig A, Leifeld J (2015) Locating organic soils for the Swiss greenhouse gas inventory. Agroscope Sci 26:1–100

Wüst-Galley C, Mössinger E, Leifeld J (2016) Loss of the soil carbon storage function of drained forested peatlands. Mires Peat 18:1–22

Zeitz J (1997) Zur Geochemie von Mooren. In: Matschullat T, Tobschall HJ, Voigt HJ (eds) Geochemie und Umwelt. Relevante Prozesse in Atmo-, Pedo- und Hydrosphäre. Springer, Berlin, pp 75–94

Zimmerli N (1944) Die Torfausbeutung in der Schweiz. Swiss For J 95:108–110
Acknowledgements
This work was part-funded by the Swiss Federal Office for the Environment.
Additional information
Publisher's Note
Springer Nature remains neutral with regard to jurisdictional claims in published maps and institutional affiliations.
Electronic supplementary material
Below is the link to the electronic supplementary material.
About this article
Cite this article
Wüst-Galley, C., Grünig, A. & Leifeld, J. Land use-driven historical soil carbon losses in Swiss peatlands. Landscape Ecol 35, 173–187 (2020). https://doi.org/10.1007/s10980-019-00941-5
Received:

Accepted:

Published:

Issue Date:

DOI: https://doi.org/10.1007/s10980-019-00941-5
Keywords
Carbon

Peatlands

Greenhouse gases

Landscape history