Abstract
Context
Many connectivity metrics have been used to measure the connectivity of a landscape and to evaluate the effects of land-use changes and potential mitigation measures. However, there are still gaps in our understanding of how to accurately quantify landscape connectivity.
Objectives
A number of metrics only measure between-patch connectivity, i.e. the connectivity between different habitat patches, which can produce misleading results. This paper demonstrates that the inclusion of within-patch connectivity is important for accurate results.
Methods
The behavior of two metrics is compared: the Connectance Index (CONNECT), which measures only between-patch connectivity, and the effective mesh size (meff), which includes both within-patch and between-patch connectivity. The connectivity values of both metrics were calculated on a set of simulated landscapes. Twenty cities were then added to these landscapes to calculate the resulting changes in connectivity.
Results
We found that when using CONNECT counter-intuitive results occurred due to not including within-patch connectivity, such as scenarios where connectivity increased with increasing habitat loss and fragmentation. These counter-intuitive results were resolved when using meff. For example, landscapes with low habitat amount may be particularly sensitive to urban development, but this is not reflected by CONNECT.
Conclusions
Applying misleading results from metrics like CONNECT can have detrimental effects on natural ecosystems, because reductions in within-patch connectivity by human activities are neglected. Therefore, this paper provides evidence for the crucial need to consider the balance between within-patch connectivity and between-patch connectivity when calculating the connectivity of landscapes.
Access options
Buy single article
Instant access to the full article PDF.
USD 39.95
Price excludes VAT (USA)
Tax calculation will be finalised during checkout.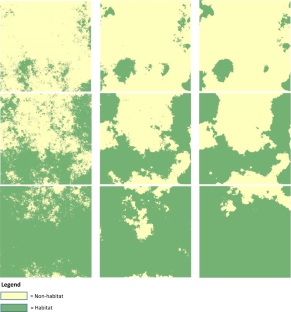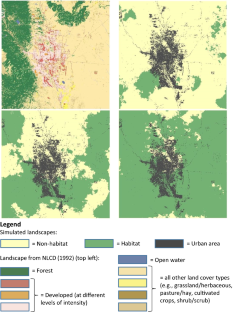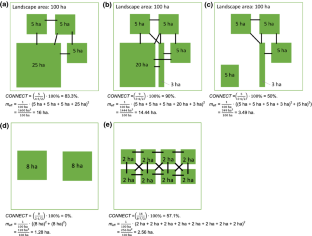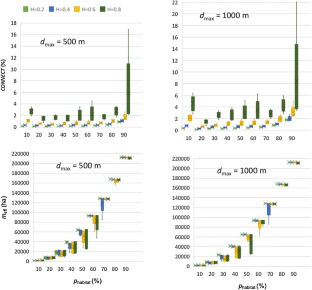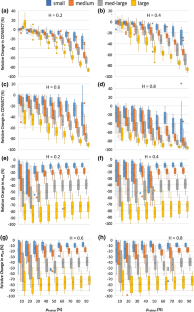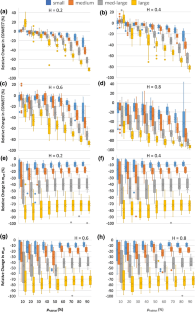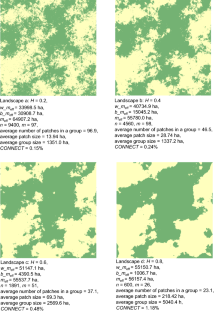 References
Bierwagen BG (2005) Predicting ecological connectivity in urbanizing landscapes. Environ Plan B 32(5):763–776

Bierwagen BG (2007) Connectivity in urbanizing landscapes: the importance of habitat configuration, urban area size, and dispersal. Urban Ecosyst 10(1):29–42

Calabrese JM, Fagan WF (2004) A comparison-shopper's guide to connectivity metrics. Front Ecol Environ 2:529–536

Chan L, Hillel O, Elmqvist T, Werner P, Holman N, Mader A, Calcaterra E (2014) User's Manual on the Singapore Index on Cities' Biodiversity (also known as the City Biodiversity Index). Singapore: National Parks Board, Singapore. https://www.nparks.gov.sg/~/media/nparks-real-content/biodiversity/singapore-index/users-manual-on-the-singapore-index-on-cities-biodiversity.ashx%3Fla%3Den%20

Deslauriers MR, Asgary A, Nazarnia N, Jaeger JAG (2018) Implementing the connectivity of natural areas in cities as an indicator in the City Biodiversity Index (CBI) (+ Corrigendum). Ecolog Indic 94:99–115. https://doi.org/10.1016/j.ecolind.2017.02.028

ESRI (2015) ArcGIS 10.3.1. Environmental Systems Research Institute, Redlands, CA

Fahrig L (2003) Effects of habitat fragmentation on biodiversity. Annu Rev Ecol Evol Syst 34:487–515

Fahrig L (2017) Ecological responses to habitat fragmentation per se. Annu Rev Ecol Evol Syst 48:1–23

Fletcher RJ, Burrell NS, Reichert BE, Vasudev D, Austin JD (2016) Divergent perspectives on landscape connectivity reveal consistent effects from genes to communities. Curr Landsc Ecol Rep 1(2):67–79

Fonseca CR, Ganade G (1996) Asymmetries, compartments and null interactions in an Amazonian ant-plant community. J Anim Ecol 65(3):339–347

Gardner RH (1999) RULE: map generation and a spatial analysis program. In: Klopatek JM, Gardner RH (eds) Landscape ecological analysis: issues and applications. Springer, Berlin, pp 280–303

Gardner RH (2017) Characterizing categorical map patterns using neutral landscape models. In: Gergel SE, Turner MG (eds) Learning landscape ecology: a practical guide to concepts and techniques. Springer Verlag, New York, pp 83–103

Girvetz EH, Greco SE (2007) How to define a patch: a spatial model for hierarchically delineating organism-specific habitat patches. Landsc Ecol 22:1131–1142

Goodwin BJ (2003) Is landscape connectivity a dependent or independent variable? Landsc Ecol 18:687–699

Jaeger JAG (2000) Landscape division, splitting index, and effective mesh size: new measures of landscape fragmentation. Landsc Ecol 15(2):115–130. https://doi.org/10.1023/A:1008129329289

Jaeger J (2002) Landschaftszerschneidung. Eine transdisziplinäre Studie gemäß dem Konzept der Umweltgefährdung [Landscape fragmentation. A transdisciplinary study according to the concept of environmental threat]. Verlag Eugen Ulmer, Stuttgart, p 447

Jaeger JAG (2007) Effects of the configuration of road networks on landscape connectivity. In: Irwin CL, Nelson D, McDermott KP (eds) Proceedings of the 2007 international conference on ecology and transportation (ICOET). Center for Transportation and the Environment, North Carolina State University, Raleigh, pp 267–280

Kindlmann P, Burel F (2008) Connectivity measures: a review. Landsc Ecol 23:879–890

Kool JT, Moilanen A, Treml EA (2013) Population connectivity: recent advances and new perspectives. Landsc Ecol 18:165–185

Laita A, Kotiaho JS, Mönkkönen M (2011) Graph-theoretic connectivity measures: what do they tell us about connectivity? Landsc Ecol 26(7):951–967

Leitão AB, Miller J, Ahern J, McGarigal K (2006) Measuring landscapes: A planner's handbook. Island Press, Washington DC

Li H, Wu J (2004) Use and misuse of landscape indices. Landsc Ecol 19:389–399

Magle SB, Theobald DM, Crooks KR (2009) A comparison of metrics predicting landscape connectivity for a highly interactive species along an urban gradient in Colorado, USA. Landsc Ecol 24(2):267–280

Malanson GP (2003) Dispersal across continuous and binary representations of landscapes. Ecol Model 169:17–24

McGarigal K, Cushman SA, Ene E (2012) FRAGSTATS v4: Spatial Pattern Analysis Program for Categorical and Continuous Maps. Computer software program produced by the authors at the University of Massachusetts, Amherst. http://www.umass.edu/landeco/research/fragstats/fragstats.html

Merriam G (1984) Connectivity: a fundamental ecological characteristic of landscape pattern. In: Brandt J and Agger P (eds) Proceedings of the first international seminar on methodology in landscape ecological research and planning, Roskilde Universitetsforlag GeuRuc, Roskilde, vol. I, pp 5–15

Moser B, Jaeger JAG, Tappeiner U, Tasser E, Eiselt B (2007) Modification of the effective mesh size for measuring landscape fragmentation to solve the boundary problem. Landsc Ecol 22(3):447–459

Pascual-Hortal L, Saura S (2006) Comparison and development of new graph-based landscape connectivity indices: towards the priorization of habitat patches and corridors for conservation. Landsc Ecol 21:959–967

Rayfield B, Fortin M-J, Fall A (2011) Connectivity for conservation: a framework to classify network measures. Ecology 92(4):847–858

Riitters K, Vogt P, Soille P, Estreguil C (2009) Landscape patterns from mathematical morphology on maps with contagion. Landsc Ecol 24:699–709

Roch L, Jaeger JAG (2014) Monitoring an ecosystem at risk: what is the degree of grassland fragmentation in the Canadian Prairies? (+ Corrigendum). Environ Monit Assess 186:2505–2534 + 3299–3301. https://doi.org/10.1007/s10661-013-3557-9

Stoddard ST (2010) Continuous versus binary representations of landscape heterogeneity in spatially-explicit models of mobile populations. Ecol Model 221:2409–2414

Taylor PD, Fahrig L, Henein K, Merriam G (1993) Connectivity is a vital element of landscape structure. Oikos 68(3):571–573

Tischendorf L, Fahrig L (2000a) How should we measure landscape connectivity? Landsc Ecol 15:633–641

Tischendorf L, Fahrig L (2000b) On the usage and measurement of landscape connectivity. Oikos 90(1):7–19

Turner MG, Gardner RH, O'Neill RV (2001) Landscape ecology in theory and practice: pattern and process. Springer, New York

Vogelmann JE, Howard SM, Yang L, Larson CR, Wylie BK, Van Driel JN (2001) Completion of the 1990s national land cover data set for the conterminous United States. Photogramm Eng Remote Sens 67:650–662

Vogt P, Ferrari JR, Lookingbill TR, Gardner RH, Riitters KH, Ostapowicz K (2009) Mapping functional connectivity. Ecol Indic 9:64–71

Yodzis P (1980) The connectance of real ecosystems. Nature 284:544–545

Ziółkowska E, Ostapowicz K, Radeloff VC, Kuemmerle T (2014) Effects of different matrix representations and connectivity measures on habitat network assessments. Landsc Ecol 29:1551–1570
Acknowledgements
We are very thankful to Nicolas Dziemian for writing code in Excel for automated calculation of meff for large numbers of landscapes and to Naghmeh Nazarnia, Marco Burelli, Jonathan Cole, and Judith Plante for helpful comments and technical support.
Additional information
Publisher's Note
Springer Nature remains neutral with regard to jurisdictional claims in published maps and institutional affiliations.
Electronic supplementary material
Below is the link to the electronic supplementary material.
About this article
Cite this article
Spanowicz, A.G., Jaeger, J.A.G. Measuring landscape connectivity: On the importance of within-patch connectivity. Landscape Ecol 34, 2261–2278 (2019). https://doi.org/10.1007/s10980-019-00881-0
Received:

Accepted:

Published:

Issue Date:

DOI: https://doi.org/10.1007/s10980-019-00881-0
Keywords
Between-patch connectivity

CONNECT

Connectance

Connectedness

Effective mesh size

Fragmentation per se

Habitat connectivity

Inter-patch connectivity

Intra-patch connectivity

Landscape metrics