Abstract
Context
Isolated pasture trees play an important role in forest recovery within fragmented tropical landscapes by attracting seed dispersers and facilitating seedling growth. However, studies with conflicting results have led to confusion about what drives variation in zoochorous-dispersed seed rain patterns under isolated tree canopies.
Objectives
To assess the role of landscape and biological factors impacting zoochorous-dispersed seed rain under isolated pasture trees across three tropical regions of the world.
Methods
We measured seed dispersal under 144 isolated pasture trees found in 12 fragmented tropical and sub-tropical landscapes in Australia, Colombia and Nigeria. Using linear mixed effect models, we modeled seed diversity, abundance, richness and evenness as functions of the biological features and landscape context of isolated trees.
Results
Throughout all regions, the amount of woody vegetation surrounding trees in pastures was negatively related to rainforest seed diversity, evenness and abundance. Seed diversity and evenness increased significantly with the distance of isolated trees to forest fragments in the Australian sub-tropics, but elsewhere, seed diversity and evenness tended to decline with distance to forest, though not significantly.
Conclusions
Our results suggest that the tree composition of landscapes surrounding isolated pasture trees is important for influencing zoochorous-dispersed seed rain, regardless of the region studied. Our study highlights the prominent role of landscape-scale, rather than local-scale factors on seed dispersal to isolated pasture trees, while providing strong evidence that early stage successional processes involving isolated pasture trees are similar throughout global tropical regions.
Access options
Buy single article
Instant access to the full article PDF.
USD 39.95
Price excludes VAT (USA)
Tax calculation will be finalised during checkout.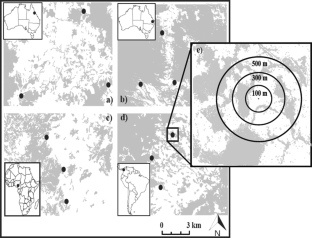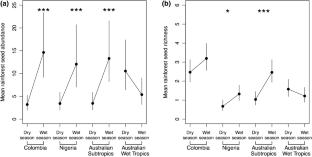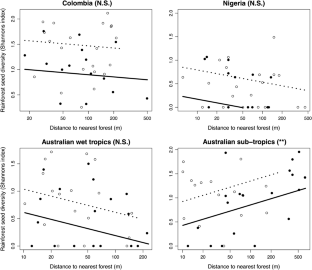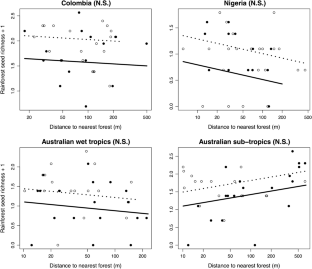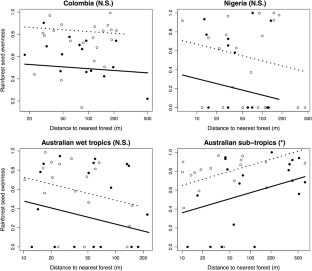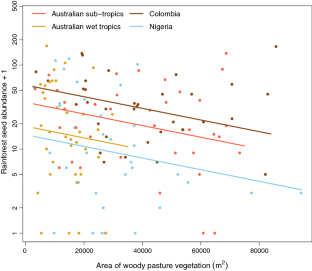 References
Aide TM, Zimmerman JK, Herrera L, Rosario M, Serrano M (1995) Forest recovery in abandoned tropical pastures in Puerto Rico. For Ecol Manag 77:77–86

Bierregaard RO Jr, Lovejoy TE, Kapos V, Santos AAD, Hutchings RW (1992) The biological dynamics of tropical rainforest fragments. Bioscience 42:859–866

Bureau of Meterology (2016) Weather and climate data. Commonwealth of Australia

Carlo TA, Morales JM (2016) Generalist birds promote tropical forest regeneration and increase plant diversity via rare-biased seed dispersal. Ecology 97:1819–1831

Carriere SM, Andre M, Letourmy P, Olivier I, McKey DB (2002) Seed rain beneath remnant trees in a slash-and-burn agricultural system in southern Cameroon. J Trop Ecol 18:353–374

Catterall CP, Kingston MB, Park K (1997) Use of remnant forest habitat by birds during winter in subtropical Australia: patterns and processes. Pac Conserv Biol 3:262–274

Chazdon R (2014) Second growth: the promise of tropical forest regeneration in an age of deforestation. The University of Chicago Press, Chicago

Cole RJ, Holl KD, Zahawi RA (2010) Seed rain under tree islands planted to restore degraded lands in a tropical agricultural landscape. Ecol Appl 20:1255–1269

Corlett RT, Primack RB (2006) Tropical rainforests and the need for cross-continental comparisons. Trends Ecol Evol 21:104–110

Corlett RT, Primack RB (2011) Tropical rain forests: an ecological and biogeographical comparison, 2nd edn. Wiley, Chichester

Daily GC, Ehrlich PR, Sanchez-Azofeifa GA (2001) Countryside biogeography: use of human-dominated habitats by the Avifauna of Southern Costa Rica. Ecol Appl 11:1–13

de la Peña-Domene M, Martínez-Garza C, Palmas-Perez S, Rivas-Alonso E, Howe HF (2014) Roles of birds and bats in early tropical-forest restoration. PLoS ONE 9:e104656

Debussche M, Lepart J (1992) Establishment of woody plants in Mediterranean old fields: opportunity in space and time. Landscape Ecol 6:133–145

Derroire G, Coe R, Healey JR (2016) Isolated trees as nuclei of regeneration in tropical pastures: testing the importance of niche-based and landscape factors. J Veg Sci 27:679–691

Dew JL, Boubli JP (2005) Tropical fruits and frugivores: the search for strong interactors. Springer, Dordrecht

Digital Globe (2017) SPOT imagery. Google Earth Pro V7.1.5.1557

Duncan RS, Chapman CA (1999) Seed dispersal and potential forest succession in abandoned agriculture in tropical Africa. Ecol Appl 9:998–1008

ESRI (2006) ArcGIS. ESRI, Redlands

Fischer J, Lindenmayer DB (2007) Landscape modification and habitat fragmentation: a synthesis. Glob Ecol Biogeogr 16:265–280

Galindo-Gonzalez J, Guevara S, Sosa VJ (2000) Bat- and bird-generated seed rains at isolated trees in pastures in a tropical rainforest. Conserv Biol 14:1693–1703

Guevara S, Laborde J (1993) Monitoring seed dispersal at isolated standing trees in tropical pastures: consequences for local species availability. Vegetatio 107(108):319–338

Guevara S, Meave J, Moreno-Casasola P, Laborde J (1992) Floristic composition and structure of vegetation under isolated trees in neotropical pastures. J Veg Sci 3:655–664

Guevara S, Purata SE, Maarel E (1986) The role of remnant forest trees in tropical secondary succession. Plant Ecol 66:77–84

Harms KE, Wright SJ, Calderon O, Hernandez A, Herre EA (2000) Pervasive density-dependent recruitment enhances seedling diversity in a tropical forest. Nature 404:493–495

Herrera J, García D (2009) The role of remnant trees in seed dispersal through the matrix: being alone is not always so sad. Biol Conserv 142:149–158

Herrera CM, Jordano P, Lopez-Soria L, Amat JA (1994) Recruitment of a mast-fruiting, bird-dispersed tree: bridging frugivore activity and seedling establishment. Ecol Monogr 64:315–344

Hilty SL (1980) Flowering and fruiting periodicity in a premontane rain forest in Pacific Colombia. Biotropica 12:292–306

Holl KD (1998) Do bird perching structures elevate seed rain and seedling establishment in abandoned tropical pasture? Restor Ecol 6:253–261

Hooper E, Legendre P, Condit R (2005) Barriers to forest regeneration of deforested and abandoned land in Panama. J Appl Ecol 42:1165–1174

Hothorn T, Bretz F, Westfall P (2008) Simultaneous inference in general parametric models. Biometr J 50:346–363

Howe HF, Smallwood J (1982) Ecology of seed dispersal. Annu Rev Ecol Syst 13:201–228

Innis G (1989) Feeding ecology of fruit pigeons in subtropical rainforests of south-eastern Queensland. Wildl Res 16:365–394

Kollmann J (2000) Dispersal of fleshy-fruited species: a matter of spatial scale? Perspect Plant Ecol Evol Syst 3:29–51

Laborde J, Guevara S, Sanchez-Rios G (2008) Tree and shrub seed dispersal in pastures: the importance of rainforest trees outside forest fragments. Ecoscience 15:6–16

Levey DJ, Bolker BM, Tewksbury JJ, Sargent S, Haddad NM (2005) Effects of landscape corridors on seed dispersal by birds. Science 309:146–148

Macarthur RH, Wilson EO (1963) Equilibrium-theory of insular zoogeography. Evolution 17:373

Manning AD, Fischer J, Lindenmayer DB (2006) Scattered trees are keystone structures: implications for conservation. Biol Cons 132:311–321

McConkey KR, Prasad S, Corlett RT, Campos-Arceiz A, Brodie JF, Rogers H, Santamaria L (2012) Seed dispersal in changing landscapes. Biol Conserv 146:1–13

Mendenhall CD, Karp DS, Meyer CFJ, Hadly EA, Daily GC (2014) Predicting biodiversity change and averting collapse in agricultural landscapes. Nature 509:213–217

Moran C, Catterall CP (2014) Responses of seed-dispersing birds to amount of rainforest in the landscape around fragments. Conserv Biol 28:551–560

Pearman PB (2002) The scale of community structure: habitat variation and avian guilds in tropical forest understory. Ecol Monogr 72:19–39

Pearson K (1896) Mathematical contributions to the theory of evolution. III. Regression, heredity, and panmixia. Philos Trans R Soc Lond. Philos Trans R Soc Lond Ser A 187:253–318

Pejchar L, Pringle RM, Ranganathan J, Zook JR, Duran G, Oviedo F, Daily GC (2008) Birds as agents of seed dispersal in a human-dominated landscape in southern Costa Rica. Biol Conserv 141:536–544

Pinheiro J, Bates D (2010) Mixed-effects models in S and S-PLUS. Springer, New York

Pinheiro J, Bates D, DebRoy S, Sarkar D, R Core Team (2016) nlme: linear and nonlinear mixed effects models

Prevedello JA, Almeida-Gomes M, Lindenmayer DB (2018) The importance of scattered trees for biodiversity conservation: a global meta-analysis. J Appl Ecol 55:205–214

R Development Core Team (2010) R: a language and environment for statistical computing. R foundation for statistical computing, Vienna

Rhoades CC, Eckert GE, Coleman DC (1998) Effect of pasture trees on soil nitrogen and organic matter: implications for tropical montane forest restoration. Restor Ecol 6:262–270

Shannon CE, Wiener W (1963) A mathematical theory of communication. University Illinois Press, Urbana

Silva JMCD, Uhl C, Murray G (1996) Plant succession, landscape management, and the ecology of frugivorous birds in abandoned amazonian pastures. Conserv Biol 10:491–503

Skaug HJ, Fournier DA, Bolker B, Magnusson A, Nielsen A (2016) Generalized linear mixed models using 'AD model builder. R package version 0.8.3.3

Slocum MG (2001) How tree species differ as recruitment foci in a tropical pasture. Ecology 82:2547–2559

Slocum MG, Horvitz CC (2000) Seed arrival under different genera of trees in a neotropical pasture. Plant Ecol 149:51–62

Sritongchuay T, Gale GA, Stewart A, Kerdkaew T, Bumrungsri S (2014) Seed rain in abandoned clearings in a lowland evergreen rain forest in southern Thailand. Trop Conserv Sci 7:572–585

Tilman D (1994) Competition and biodiversity in spatially structured habitats. Ecology 75:2–16

Toh I, Gillespie M, Lamb D (1999) The role of isolated trees in facilitating tree seedling recruitment at at degraded sub-tropical rainforest site. Restor Ecol 7:288–297

Wenny DG (2000) Seed dispersal, seed predation, and seedling recruitment of a Neotropical montane tree. Ecol Monogr 70:331–351

Wenny DG (2001) Advantages of seed dispersal: a re-evaluation of directed dispersal. Evol Ecol Res 3:51–74

Westcott DA, Dennis AJ, Bradford MG, Harrington GN, McKeown A (2009) Seed dispersal processes in Australia's Tropical Rainforests. Living in a dynamic tropical forest landscape. Blackwell, Madden, pp 210–223

Westcott DA, Graham DL (2000) Patterns of movement and seed dispersal of a tropical frugivore. Oecologia 122:249–257

Wright SJ, Carrasco C, Calderon O, Paton S (1999) The El Nino Southern Oscillation, variable fruit production, and famine in a tropical forest. Ecology 80:1632–1647

Wunderle JM Jr (1997) The role of animal seed dispersal in accelerating native forest regeneration on degraded tropical lands. For Ecol Manag 99:223–235

Yarranton GA, Morrison RG (1974) Spatial dynamics of a primary succession: nucleation. J Ecol 62:417–428

Zuur AF, Saveliev AA, Ieno EN (2012) Zero inflated models and generalized linear mixed models with R. Highland Statistics Limited, Newburgh
Acknowledgements
We thank all the property owners in Australia, Nigeria and Colombia for allowing access to their properties. Thanks also to all the field assistants who collected data and maintained seed traps at the Nigerian Montane Forest Project: Adam Hassan, Ibrahim Umaru, Yusuf Tongbui and Aliyu Usman; in Australia: Jess Holding; and in Colombia: Leon Londoño, Rodrigo Restrepo and Mauricio and Oscar Botero. Thanks to Richard Fuller and Karen Holl for advice on experimental design. We would also like to thank the staff at the CSIRO Sustainable Ecosystems, Tropical Forest Research Centre in Atherton and Trees for the Evelyn Atherton Tablelands (TREAT) for assistance in seed identification. Part of this work was made possible by a grant awarded to LSC by the Birds Queensland Ornithological Society. Author contributions: L.S.C and M.M.M conceived the idea; L.S.C and B.G.Y collect ed data. L.S.C, J.M.D and M.M.M analysed the data; and L.S.C led the writing to which all other authors contributed.
Additional information
Publisher's Note
Springer Nature remains neutral with regard to jurisdictional claims in published maps and institutional affiliations.
Electronic supplementary material
Below is the link to the electronic supplementary material.
About this article
Cite this article
Charles, L.S., Dwyer, J.M., Chapman, H.M. et al. Landscape structure mediates zoochorous-dispersed seed rain under isolated pasture trees across distinct tropical regions. Landscape Ecol 34, 1347–1362 (2019). https://doi.org/10.1007/s10980-019-00846-3
Received:

Accepted:

Published:

Issue Date:

DOI: https://doi.org/10.1007/s10980-019-00846-3
Keywords