Abstract
Context
Humans continually transform landscapes, affecting the ecosystem services (ES) they provide. Thus, the spatial relationships among services vary across landscapes. Managers and decision makers have access to a variety of tools for mapping landscapes and analyzing their capacity to provide multiple ES.
Objectives
This paper characterizes and maps ES bundles across transformed landscapes in southeast Spain incorporating both the ecological and social perspectives. Our specific goals were to: (1) quantify ES biophysical supply, (2) identify public awareness, (3) map ES bundles, and (4) characterize types of ES bundles based on their social-ecological dimensions.
Methods
Biophysical models and face-to-face social surveys were used to quantify and map ES bundles and explore the public awareness in a highly transformed Mediterranean region. Then, we classified ES bundles into four types using a matrix crossing the degree of biophysical ES supply and the degree of social awareness.
Results
Results mapped seven ES bundles types representing diverse social-ecological dynamics. ES bundles mapped at the municipality level showed mismatches between their biophysical provision and the public awareness, which has important implications for operationalizing the bundles concept for landscape planning and management. ES bundles characterization identified four types of bundles scenarios.
Conclusions
We propose an ES bundles classification that incorporates both their social and ecological dimensions. Our findings can be used by land managers to identify areas in which ES are declining as well as priority areas for maximizing ES provision and can help to identify conflicts associated with new management and planning practices.
Access options
Buy single article
Instant access to the full article PDF.
USD 39.95
Price includes VAT (USA)
Tax calculation will be finalised during checkout.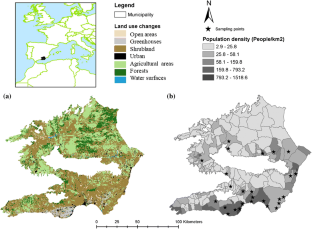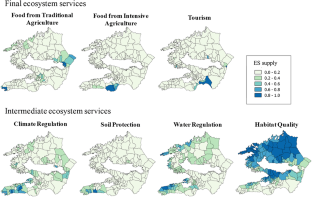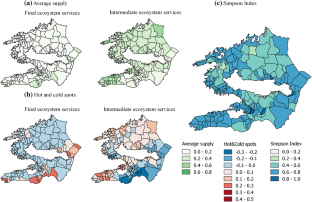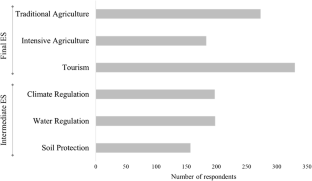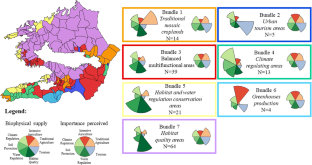 References
Anderson E, Nykvist B, Malinga R, Jaramillo F, Lindborg R (2015) A social-ecological analysis of ecosystem services in two different farming systems. Ambio 44:102–112

Armas C, Miranda JD, Padilla FM, Pugnaire FI (2011) Special issue: the Iberian Southeast. J Arid Environ 75:1241–1243

Aznar-Sánchez JA, Galdeano-Gómez E, Pérez-Mesa JC (2011) Intensive horticulture in Almería (Spain): a counterpoint to current European rural policy strategies. J Agrar Change 11:241–261

Balvanera P, Calderón-Contreras R, Castro AJ, Felipe-Lucia MR, Geijzendorffer IR, Jacobs S, Martín-López B, Arbieu U, Speranza CI, Locatelli B, Harguindeguy NP, Mercado IR, Spierenburg MJ, Vallet A, Lynes L, Gillson L (2017) Interconnected place-based social–ecological research can inform global sustainability. Curr Opin Environ Sustain 29:1–7

Baró F, Gómez-Baggethun E, Haase D (2017) Ecosystem service bundles along the urban-rural gradient: insights for landscape planning and management. Ecosys Serv 24:147–159

Bastian O, Haase D, Grunewald K (2012) Ecosystem properties, potentials and services—the EPPS conceptual framework and an urban application example. Ecol Indic 21:7–16

Bateman IJ, Harwood AR, Mace GM, Watson RT, Abson DJ, Andrews B, Binner A, Crowe A, Day BH, Dugdale S, Fezzi C, Foden J, Hadley D, Haines-Young R, Hulme M, Kontoleon M, Lovett AA, Munday P, Pascual U, Paterson J, Perino G, Sen A, Siriwardena G, van Soest D, Termansen M (2013) Bringing ecosystem services into economic decision-making: land use in the United Kingdom. Science 341:45–50

Bennett EM, Cramer W, Begossi A, Cundill G, Díaz S, Egoh BN, Geijzendorffer IR, Krug CB, Lavorel S, Lazos E, Lebel L, Martín-López B, Meyfroidt P, Mooney HA, Nel JL, Pascual U, Payet K, Pérez Harguindeguy N, Peterson GD, Prieur-Richard AH, Reyers B, Roebeling P, Seppelt R, Solan M, Tschakert P, Tscharntke T, Turner BL II, Verburg PH, Viglizzo EF, White PCL, Woodward G (2015) Linking biodiversity, ecosystem services, and human well-being: three challenges for designing research for sustainability. Curr Opin Environ Sustain 14:76–85

Bennett EM, Peterson GD, Gordon LJ (2009) Understanding relationships among multiple ecosystem services. Ecol Lett 12:1394–1404

Carpenter SR, Folke C, Scheffer M, Westley FR (2009) Resilience: accounting for the noncomputable. Ecol Soc 14(1):13

Castro AJ, Julian JP, Vaughn C, Martin-Mikle CJ, Quintas-Soriano C (2018a) Ecosystem services across US-watersheds: a meta-analysis 2001–2014. Ecosystem services and global ecology. Levente Hufnagel, Intechopen, pp 81–101

Castro AJ, Martín-Lopez B, García-Llorente M, Aguilera PA, Lopez E, Cabello J (2011) Social preferences regarding the delivery of ecosystem services in a semiarid Mediterranean region. J Arid Environ 75(11):1201–1208

Castro AJ, Martín-López B, López E, Plieninger T, Alcaraz-Segura D, Vaughn CC, Cabello J (2015) Do protected areas networks ensure the supply of ecosystem services? Spatial patterns of two nature reserve systems in semi-arid Spain. Appl Geogr 60:1–9

Castro AJ, Quintas-Soriano C, Brandt J, Atkinson CL, Baxter CV, Burnham M, Egoh B, García-Llorente M, Julian JP, Martín-López B, Liao F, Running K, Vaughn C, Norström A (2018b) Applying place-based social-ecological research to address water scarcity: insights for future research. Sustainability 10:1516

Castro AJ, Vaughn C, García-Llorente M, Julian JP, Atkinson CL (2016a) Willingness to pay for ecosystem services among stakeholder groups in a South-Central U.S. watershed with regional conflict. J Water Resour Plan Manag 142:05016006

Castro AJ, Vaughn C, Julian JP, García-Llorente M (2016b) Social demand for ecosystem services and implications for watershed management. JAWRA J Am Water Resour Assoc 52:209–221

Castro AJ, Verburg P, Martín-López B, García-Llorente M, Cabello J, Vaughn C, López E (2014) Ecosystem service trade-offs from the supply to social demand: a landscape-scale spatial analysis. Landsc Urban Plan 132:102–110

Crouzat E, Mouchet M, Turkelboom F, Byczek C, Meersmans J, Berger F, Verkerk PJ, Lavorel S (2015) Assessing bundles of ecosystem services from regional to landscape scale: insights from the French Alps. J Appl Ecol 52:1145–1155

D'Odorico P, Carr JA, Laio F, Ridolfi L, Vandoni S (2014) Feeding humanity through global food trade. Earth's Future 2(9):458–469

Derkzen ML, van Teeffelen AJA, Verburg H (2015) Quantifying urban ecosystem services based on higher solution data of urban Green space: an assessment for Rotterdam, the Netherlands. J Appl Ecol 52:1020–1032

Dittrich A, Seppelt R, Václavík T, Cord AF (2017) Integrating ecosystem service bundles and socio-environmental conditions—a national scale analysis from Germany. Ecosys Serv 28:273–282

Egea FJ, Torrente RG, Aguilar A (2017) An efficient agro-industrial complex in Almería (Spain): towards an integrated and sustainable bioeconomy model. New Biotechnol 40:103–112

Eigenbrod F, Bell VA, Davies HN, Heinemeyer A, Armsworth PR, Gaston KJ (2011) The impact of projected increases in urbanization on ecosystem services. Proc R Soc B 278(1722):3201–3208

Ellis EC (2011) Anthropogenic transformation of the terrestrial biosphere. Philos Trans R Soc A 369:1010–1035

Fischer J, Hartel T, Kuemmerle T (2012) Conservation policy in traditional farming landscapes. Conserv Lett 5:167–175

Fisher B, Turner RK, Morling P (2009) Defining and classifying ecosystem services for decision making. Ecol Econ 68:643–653

Foley JA, DeFries R, Asner GP, Barford C, Bonan G, Carpenter SR, Chapin SC, Coe MT, Daily GC, Gibbs HK, Helkowski JH, Holloway T, Howard EA, Kucharik CJ, Monfreda C, Patz JA, Prentice IC, Ramankutty N, Snyder PK (2005) Global consequences of land use. Science 309:570–574

García-Llorente M, Castro AJ, Quintas-Soriano C, López I, Castro H, Montes C, Martín-López B (2016) The value of time in biological conservation and supplied ecosystem services: a willingness to give up time exercise. J Arid Environ 124:13–21

García-Llorente M, Martín-López B, Nunes PALD, Castro AJ, Montes C (2012) A choice experiment study for land use scenarios in semi-arid watersheds environments. J Arid Environ 87:219–230

Goldstein JH, Caldarone G, Duarte TK, Ennaanay D, Hannahs N, Mendoza G, Polasky S, Wolny S, Daily GC (2012) Integrating ecosystem-service tradeoffs into land-use decisions. PNAS 109:7565–7570

Hamann M, Biggs R, Reyers B (2015) Mapping social–ecological systems: identifying 'green-loop' and 'redloop' dynamics based on characteristic bundles of ecosystem service use. Glob Environ Change 34:218–226

Hicks CC, Cinner JE (2014) Social, institutional, and knowledge mechanisms mediate diverse ecosystem service benefits from coral reefs. PNAS 111(50):17791–17796

Iniesta-Arandia I, García del Amo D, García-Nieto AP, Piñeiro C, Montes C, Martín-López B (2015) Factors influencing local ecological knowledge maintenance in Mediterranean watersheds: insights for environmental policies. Ambio 44:285–296

Iniesta-Arandia I, García-Llorente M, Aguilera P, Montes C, Martín-López B (2014) Socio-cultural valuation of ecosystem services: uncovering the links between values, drivers of change, and human well-being. Ecol Econ 108:36–48

López-Rodríguez MD, Castro AJ, Castro H, Jorreto S, Cabello J (2015) Science–policy interface for addressing environmental problems in arid Spain. Environ Sci Policy 50:1–14

MacDonald GK, Brauman KA, Sun S, Carlson KM, Cassidy ES, Gerber JS, West PC (2015) Rethinking agricultural trade relationships in an era of globalization. Bioscience 65:275–289

Maes J, Egoh B, Willemen L, Liquete C, Vihervaara P, Schägner JP, Grizzetti B, Drakou EG, La Notte A, Zulian G, Bouraoui F, Paracchini ML, Braat L, Bidoglio G (2012) Mapping ecosystem services for policy support and decision making in the European Union. Ecosys Serv 1:31–39

Martín-López B, Iniesta-Arandia I, García-Llorente M, Palomo I, Casado-Arzuaga I, García del Amo D, Gómez-Baggethun E, Oteros-Rozas E, Palacios-Agundez I, Willaarts B, González JA, Santos-Martín F, Onaindia M, López-Santiago C, Montes C (2012) Uncovering ecosystem service bundles through social preferences. PLoS ONE 7:e38970

Martín-López B, Montes C (2015) Restoring the human capacity for conserving biodiversity: a social-ecological approach. Sustain Sci 10(4):699–706

Miller JR (2005) Biodiversity conservation and the extinction of experience. Trends Ecol Evol 20:430–434

Muñoz-Rojas M, De la Rosa D, Zavala LM, Jordán A, Anaya-Romero M (2011) Changes in land cover and vegetation carbon stocks in Andalusia, Southern Spain (1956–2007). Sci Total Environ 409:2796–2806

Nieto-Romero M, Oteros-Rozas E, González JA, Martín-López B (2014) Exploring the knowledge landscape of ecosystem services assessments in Mediterranean agroecosystems: insights for future research. Environ Sci Policy 37:121–133

Oksanen J, Blanchet GF, Friendly M, Kindt R, Legendre P, McGlinn D, Minchin PR, O'Hara RB, Simpson GL, Solymos P, Stevens MHH, Szoecs E, Wagner H (2018) Vegan: community ecology package. R package version 2.5-2. https://CRAN.R-project.org/package=vegan

Opdam P (2013) Using ecosystem services in community-based landscape planning: science is not ready to deliver. In: Fu B, Jones K (eds) Landscape ecology for sustainable environment and culture. Springer, the Netherlands, pp 77–101

Plieninger T, Dijks S, Oteros-Rozas E, Bieling C (2013) Assessing, mapping, and quantifying cultural ecosystem services at community level. Land Use Policy 33:118–129

Porter ME (2000) Locations, clusters, and company strategy. In: Clark GL, Feldman P, Gertler MS (eds) The Oxford handbook of economic geography. Oxford University Press, Oxford, p 274

Queiroz C, Meacham M, Richter K, Norström AV, Anderson A, Norberg J, Peterson G (2015) Mapping bundles of ecosystem services reveals distinct types of multifunctionality within a Swedish landscape. Ambio 44:89–101

Quintas-Soriano C, Brandt J, Running K, Baxter CV, Gibson DM, Narducci J, Castro AJ (2018a) Social-ecological systems influence ecosystem service perception: a programme on ecosystem change and society (PECS) analysis. Ecol Soc 23(3):3

Quintas-Soriano C, Castro AJ, Castro H, García-Llorente M (2016) Impacts of land use change on ecosystem services and implications for human well-being in Spanish drylands. Land Use Policy 54:534–548

Quintas-Soriano C, Castro AJ, García-Llorente M, Cabello J, Castro H (2014) From supply to social demand: a landscape-scale analysis of the water regulation service. Landscape Ecol 29:1069–1082

Quintas-Soriano C, García-Llorente M, Castro AJ (2018b) What has ecosystem service science achieved in Spanish drylands? Evidences of need for transdisciplinary science. J Arid Environ 159:4–10

R Core Team (2018) R: a language and environment for statistical computing. R Foundation for Statistical Computing, Vienna, Austria. Available online at https://www.R-project.org/

Raudsepp-Hearne C, Peterson GD, Bennett EM (2010) Ecosystem service bundles for analyzing tradeoffs in diverse landscapes. PNAS 107:5242–5247

Renard D, Rhemtulla JM, Bennett EM (2015) Historical dynamics in ecosystem service bundles. PNAS 112:13411–13416

Requena-Mullor JM, Quintas-Soriano C, Brandt J, Cabello J, Castro AJ (2018) Modeling how land use legacy affects the provision of ecosystem services in Mediterranean southern Spain. Environ Res Lett 13:114008

Reyers B, Biggs R, Cumming GS, Elmqvist T, Hejnowicz AP, Polasky S (2013) Getting the measure of ecosystem services: a social–ecological approach. Front Ecol Environ 11(5):268–273

Rodríguez-Caballero E, Castro AJ, Chamizo S, Quintas-Soriano C, García-Llorente M, Cantón Y, Weber W (2018) Ecosystem services provided by biocrusts: from ecosystem functions to social values. J Arid Environ 159:45–53

Sánchez-Picón A (2005) De frontera a milagro. La conformación histórica de la economía almeriense. En editores Caja Rural Intermediterránea. Cajamar. La economía de la Provincia de Almería. ISBN: 84-95531-27-5, pp 704

Sayadi E, González-Roa M, Calatrava Requena J (2009) Public preferences for landscape features: the case of agricultural landscape in mountainous Mediterranean areas. Land Use Policy 26:334–344

Schouten MA (2011) How can clusters in agriculture be measured and identified in the Netherlands? Clusters agriculture. Economics and Policy (BEB) Agricultural Economics and Rural Policy Group, Wageningen

Turkelboom F, Leone M, Jacobs S, Kelemen E, García-Llorente M, Baró F, Termansen M, Barton DN, Berry P, Stange E, Thoonen M, Kalóczkai A, Vadineanu A, Castro AJ, Czúcz B, Röckmann C, Wurbs D, Odee D, Preda E, Gómez-Baggethun E, Rusch GM, Martínez-Pastur G, Palomo I, Dick J, Casaer J, van Dijk J, Priess JA, Langemeyer J, Mustajoki J, Kopperoinen L, Baptist MJ, Peri PL, Mukhopadhyay R, Aszalós R, Roy SB, Luque S, Rusch V (2018) When we cannot have it all: ecosystem services trade-offs in the context of spatial planning. Ecosys Serv 29:566–578

Turner KG, Odgaard MC, Bøcher PK, Dalgaard T, Svenning J-C (2014) Bundling ecosystem services in Denmark: trade-offs and synergies in a cultural landscape. Landsc Urban Plan 125:89–104

Vallejos-Izquierdo A, Pulido Bosch A, Daniele D, Martín Rosales W (2008) The intensive exploitation of aquifers and its implications for sustainable water management in a semi-arid zone (Almería, SE Spain). Paper presented at the Iahr international groundwater symposium: flow and transport in heterogeneous subsurface formations: theory modelling and applications (Estambul (Turquía)), Bogazici Universitesi (Instambul), Estambul (Turquía), pp 657–664

Vigl LE, Tasser E, Schirpke U, Tappeiner U (2017) Using land use/land cover trajectories to uncover ecosystem service patterns across the Alps. Reg Environ Change 8:2237–2250

Yang G, Ge Y, Xue H, Yang W, Shi Y, Peng C, Du Y, Fan X, Ren Y, Chang J (2015) Using ecosystem service bundles to detect trade-offs and synergies across urban–rural complexes. Landsc Urban Plan 136:110–121
Acknowledgements
Funding for the development of this research was provided by the Andalusian Center for the Assessment of Global Change (CAESCG) (GLOCHARID project). C.Q.S. was funded by a grant from the University of Almeria to perform a short research stay at the Stockholm Resilience Centre to develop the present study. A.J.C. was partially funded by the NSF Idaho EPSCoR Program and by the National Science Foundation under award number IIA-1301792. A grant from the Spanish National Institute for Agriculture and Food Research and Technology (INIA), which is co-funded by the Social European Fund provided support for M.G.L. Special thanks for Juan Miguel Requena for his valuable help and advices about R. This research is a contribution to the Programme on Ecosystem Change and Society (www.pecs-science.org).
Additional information
Publisher's Note
Springer Nature remains neutral with regard to jurisdictional claims in published maps and institutional affiliations.
Electronic supplementary material
Below is the link to the electronic supplementary material.
About this article
Cite this article
Quintas-Soriano, C., García-Llorente, M., Norström, A. et al. Integrating supply and demand in ecosystem service bundles characterization across Mediterranean transformed landscapes. Landscape Ecol 34, 1619–1633 (2019). https://doi.org/10.1007/s10980-019-00826-7
Received:

Accepted:

Published:

Issue Date:
Keywords
Dryland

Public awareness

Spain

Social-ecological system

Synergy

Trade-off