Abstract
Context
The landscape approach and the ecosystem services (ES) framework have been widely used to investigate human-nature relationships and orient landscape planning and management. However, ecosystem disservices (EDS) and their influence on how people interact with ecosystems have received less attention.
Objective
We aimed at assessing people's preferences and perceptions of forest ES and EDS in three contrasted case studies. In the meantime, it aims at discussing the potential of considering both ES and EDS in landscape preference and sociocultural valuation studies.
Methods
Interviews with stakeholders were conducted in an agroforestry landscape (France), in the Atlantic Forest and in the Pampa grasslands (Brazil). Identified ES and EDS were classified into a common typology and analyzed through discourse analysis and quantitative methods to assess the variability in ES/EDS perceptions among respondents and among forest types.
Results
Respondents cited 19 ES classes and 11 EDS classes, with strong variability among case studies. Contrasted perceptions and preferences among respondents were revealed. In the agroforestry landscape, EDS were particularly emphasized by people and contributed to the variability in people's perceptions. In the Atlantic forest landscape, forested areas tended to contrast based on cultural ecosystem services. In the Pampa case study, EDS were particularly salient in people's preferences concerning exotic forest plantations.
Conclusions
This study suggests that different types of forested areas produce specific ES/EDS, suggesting their complementarity at the landscape scale. The combination of ES and EDS therefore offers a promising research avenue for more consistent ES sociocultural valuations and for improving management recommendations.
Access options
Buy single article
Instant access to the full article PDF.
US$ 39.95
Tax calculation will be finalised during checkout.
Subscribe to journal
Immediate online access to all issues from 2019. Subscription will auto renew annually.
US$ 79
Tax calculation will be finalised during checkout.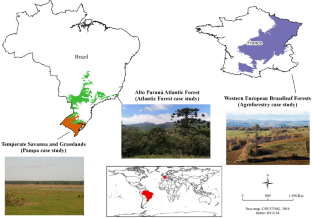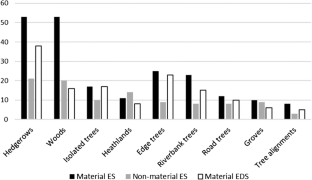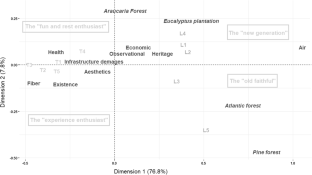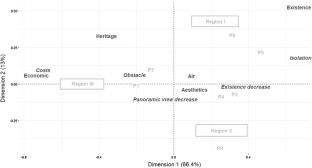 References
Agbenyega O, Burgess PJ, Cook M, Morris J (2009) Application of an ecosystem function framework to perceptions of community woodlands. Land Use Policy 26:551–557

Agrawal A, Ostrom E (2006) Political science and conservation biology: a dialog of the deaf. Conserv Biol 20:681–682

Almeida M, Loupa-Ramos I, Menezes H, Carvalho-Ribeiro S, Guiomar N, Pinto-Correia T (2016) Urban population looking for rural landscapes: different appreciation patterns identified in Southern Europe. Land Use Policy 53:44–55. https://doi.org/10.1016/J.LANDUSEPOL.2015.09.025

Ango TG, Börjeson L, Senbeta F (2016) Crop raiding by wild mammals in Ethiopia: impacts on the livelihoods of smallholders in an agriculture–forest mosaic landscape. Oryx 51:1–11

Ango TG, Börjeson L, Senbeta F, Hylander K (2014) Balancing ecosystem services and disservices: smallholder farmers' use and management of forest and trees in an agricultural landscape in southwestern Ethiopia. Ecol Soc. https://doi.org/10.5751/es-06279-190130

Antrop M (2000) Background concepts for integrated landscape analysis. Agric Ecosyst Environ 77:17–28. https://doi.org/10.1016/S0167-8809(99)00089-4

Arts B, Buizer M, Horlings L, Ingram V, Van Oosten C, Opdam, P (2017) Landscape approaches: a state-of-the-art review. Annu Rev Environ Resour 42:439

Baró F, Haase D, Gómez-Baggethun E, Frantzeskaki N (2015) Mismatches between ecosystem services supply and demand in urban areas: a quantitative assessment in five European cities. Ecol Indic 55:146–158

Bellard C, Leclerc C, Leroy B, Bakkenes, M, Veloz S, Thuiller W, Courchamp F (2014) Vulnerability of biodiversity hotspots to global change. Glob Ecol Biogeogr 23:1376–1386

Blanco J, Sourdril A, Deconchat M, Ladet S, Andrieu E (2018) Social drivers of rural forest dynamics: A multi-scale approach combining ethnography, geomatic and mental model analysis. Landsc Urban Plan. https://doi.org/10.1016/j.landurbplan.2018.02.005

Campagne CS, Roche PK, Salles JM (2018) Looking into Pandora's Box: ecosystem disservices assessment and correlations with ecosystem services. Ecosyst Serv 30:126–136

Carvalho-Ribeiro SM, Lovett A (2011) Is an attractive forest also considered well managed? Public preferences for forest cover and stand structure across a rural/urban gradient in northern Portugal. For Policy Econ 13:46–54

Carvalho-Ribeiro S, Paracchini ML, Schüpbach B, Ode Sang A, Vanderheyden V, Southern A, Jones P, Contreras B, O′Riordan T (2016) Assessing the ability of rural agrarian areas to provide cultural ecosystem services (CES): a multi scale social indicator framework (MSIF). Land Use Policy 53:8–19

Carvalho-Ribeiro S, Ramos IL, Madeira L, Barroso F, Menezes H, Pinto Correia T (2013) Is land cover an important asset for addressing the subjective landscape dimensions? Land Use Policy 35:50–60

Conway TM, Yip V (2016) Assessing residents' reactions to urban forest disservices: a case study of a major storm event. Landsc Urban Plan 153:1–10

Da Ponte E, Kuenzer C, Parker A, Rodas O, Oppelt N, Fleckenstein M (2017) Forest cover loss in Paraguay and perception of ecosystem services: a case study of the Upper Parana Forest. Ecosyst Serv 24:200–212

Siqueira E De (2012) A floresta de Araucária em Monte Verde (MG): História sedimentológica, palinológica e isotópica desde o último máximo glacial

Elands BHM, O'Leary TN, Boerwinkel HWJ, Freerk Wiersum K (2004) Forests as a mirror of rural conditions; local views on the role of forests across Europe. For Policy Econ 6:469–482

Farley J (2012) Ecosystem services: the economics debate. Ecosyst Serv 1:40–49

FEPAM (2010) Zonemanento Ambiental da Silvicultura (ZAS) - Diretrizes da silvicultura por unidade de paisagem e bacia hidrográfica. Rio Grande do Sul, Brazil. Available at: http://www.fepam.rs.gov.br/biblioteca/silvicultura/V2_ZASAPROVADOCONSOLIDADOCORRIGIDOV-18-05-20101.pdf. Accessed 27 Mar 2018

Friess D (2016) Ecosystem services and disservices of mangrove forests: insights from historical colonial observations. Forests 7:183

García de Jalón S, Burgess PJ, Graves A, Moreno G, McAdam J, Pottier E, Novak S, Bondesan V, Mosquera-Losada R, Crous-Durán J, Palma JHN, Paulo JA, Oliveira TS, Cirou E, Hannachi Y, Pantera A, Wartelle R, Kay S, Malignier N, Van Lerberghe P, Tsonkova P, Mirck J, Rois M, Kongsted AG, Thenail C, Luske B, Berg S, Gosme M, Vityi A (2017) How is agroforestry perceived in Europe? An assessment of positive and negative aspects by stakeholders. Agrofor Syst. https://doi.org/10.1007/s10457-017-0116-3

Garrido P, Elbakidze M, Angelstam P (2017) Stakeholders' perceptions on ecosystem services in Östergötland's (Sweden) threatened oak wood-pasture landscapes. Landsc Urban Plan 158:96–104

Gautreau P, Vélez E (2011) Strategies of environmental knowledge production facing land use changes: insights from the Silvicultural Zoning Plan conflict in the Brazilian state of Rio Grande do Sul. Cybergeo Eur J Geogr. https://doi.org/10.4000/cybergeo.24881

Gobster PH, Nassauer JI, Daniel TC, Fry G (2007) The shared landscape: what does aesthetics have to do with ecology? Landscape Ecol 22:959–972

Green RE, Cornell SJ, Scharlemann JPW, Balmford A (2005) Farming and the fate of wild nature. Science 307:550–555

Haines-Young R, Potschin MB (2018) Common International Classification of Ecosystem Services (CICES) V5.1 and Guidance on the Application of the Revised Structure. 27

Hansen WD (2014) Generalizable principles for ecosystem stewardship-based management of social-ecological systems: lessons learned from Alaska. Ecol Soc 19:art13

Henderson KA, Reis M, Blanco CC, Pillar VD, Printes RC, Bauch CT, Anand M (2016) Landowner perceptions of the value of natural forest and natural grassland in a mosaic ecosystem in southern Brazil. Sustain Sci 11:321–330

Iniesta-Arandia I, García-Llorente M, Aguilera PA, Montes C, Martín-López B (2014) Socio-cultural valuation of ecosystem services: uncovering the links between values, drivers of change, and human well-being. Ecol Econ 108:36–48

Krieger D (2001) Economic value of forest ecosystem services : a review. The Wilderness Society, Washington, DC

Lambin EF, Meyfroidt P, Rueda X, Blackman A, Börner J, Cerutti P, Dietsch T, Jungmann L, Lamarque P, Lister J, Walker NF, Wunder S (2014) Effectiveness and synergies of policy instruments for land use governance in tropical regions. Glob Environ Chang 28:129–140

Landers DH, Nahlik AM (2013) Final ecosystem goods and services classification system (FEGS-CS). Report Number: EPA/600/R-13/ORD-004914

Lapola DM, Martinelli LA, Peres CA, Ometto JPHB, Ferreira ME, Nobre CA, Aguiar APD, Bustamante MMC, Cardoso MF, Costa MH, Joly CA, Leite CC, Moutinho P, Sampaio G, Strassburg BBN, Vieira ICG (2014) Pervasive transition of the Brazilian land-use system. Nat Clim Chang 4:27–35

Limburg KE, Luzadis VA, Ramsey M, Schulz, KL, Mayer CM (2010) The good, the bad, and the algae: perceiving ecosystem services and disservices generated by zebra and quagga mussels. J Great Lakes Res 36:86–92

Lyytimäki J (2014) Bad nature: newspaper representations of ecosystem disservices. Urban For Urban Green 13:418–424

Lyytimäki J, Petersen LK, Normander B, Bezák P (2008) Nature as a nuisance? Ecosystem services and disservices to urban lifestyle. Environ Sci 5:161–172

Martín-López B, Iniesta-Arandia I, García-Llorente M, Palomo I, Casado-Arzuaga I, Del Amo DG, Gómez- Baggethun E, Oteros-Rozas E, Palacios-Agundez I, Willaarts B, González JA, Santos-Martín F, Onaindia M, López-Santiago C, Montes C (2012) Uncovering ecosystem service bundles through social preferences. PLoS ONE. https://doi.org/10.1371/journal.pone.0038970

Nenadic O, Greenacre M (2007) Correspondence analysis in R, with two- and three-dimensional graphics: the ca package. J Stat Softw 20:1–13

Ní Dhubháin Á, Fléchard M-C, Moloney R, O'Connor D (2009) Stakeholders' perceptions of forestry in rural areas—two case studies in Ireland. Land Use Policy 26:695–703

Ninan KN, Kontoleon A (2016) Valuing forest ecosystem services and disservices—case study of a protected area in India. Ecosyst Serv 20:1–14

Olson DM, Dinerstein E (2002) The global 200: priority ecoregions for global conservation. Ann Missouri Bot Gard 89:199

Oreszczyn S (2000) A systems approach to the research of people's relationships with English hedgerows. Landsc Urban Plan 50:107–117

Ovaskainen V, Kniivila M (2005) Consumer versus citizen preferences in contingent valuation: evidence on the role of question framing*. Aust J Agric Resour Econ 49:379–394

Overbeck GE, Müller SC, Fidelis A, Pfadenhauer J, Pillar VD, Blanco CC, Boldrini II, Both R, Forneck ED (2007) Brazil's neglected biome: the South Brazilian Campos. Perspect Plant Ecol Evol Syst 9:101–116

Ramos IL, Bernardo F, Ribeiro SC, Van Eetvelde V (2016) Landscape identity: implications for policy making. Land Use Policy 53:36–43

Schaubroeck T (2017) A need for equal consideration of ecosystem disservices and services when valuing nature; countering arguments against disservices. Ecosyst Serv 26:95–97

Schirpke U, Timmermann F, Tappeiner U, Tasser E (2016) Cultural ecosystem services of mountain regions: modelling theaesthetic value. Ecol Indic 69:78–90

Scholte SSK, van Teeffelen AJA, Verburg PH (2015) Integrating socio-cultural perspectives into ecosystem service valuation: a review of concepts and methods. Ecol Econ 114:67–78

Sell J, Koellner T, Weber O, Proctor W, Pedroni L, Scholz RW (2007) Ecosystem services from tropical forestry projects—the choice of international market actors. For Policy Econ 9:496–515

Shackleton CM, Ruwanza S, Sinasson Sanni GK, Bennett S, De Lacy P, Modipa R, Mtati N, Sachikonye M, Thondhlana G (2016) Unpacking Pandora's box: understanding and categorising ecosystem disservices for environmental management and human wellbeing. Ecosystems 19:587–600

Sheppard SRJ, Meitner M (2005) Using multi-criteria analysis and visualisation for sustainable forest management planning with stakeholder groups. For Ecol Manage 207:171–187

Simensen T, Halvorsen R, Erikstad L (2018) Methods for landscape characterisation and mapping: a systematic review. Land Use Policy 75:557–569

Sourdril A, Andrieu E, Cabanettes A, Elyakime B, Ladet S (2012) How to maintain domesticity of usages in small rural forests? Lessons from forest management continuity through a french case study. Ecol Soc 17:art6

Team RC (2017) R: A Language and Environment for Statistical Computing

Torralba M, Fagerholm N, Burgess PJ, Moreno G, Plieninger T (2016) Do European agroforestry systems enhance biodiversity and ecosystem services? A meta-analysis. Agric Ecosyst Environ 230:150–161

Tsonkova P, Mirck J, Böhm C, Fütz B (2018) Addressing farmer-perceptions and legal constraints to promote agroforestry in Germany. Agrofor Syst. https://doi.org/10.1007/s10457-018-0228-4

van der Zanden EH, Carvalho-Ribeiro SM, Verburg PH (2018) Abandonment landscapes: user attitudes, alternative futures and land management in Castro Laboreiro, Portugal. Reg Environ Chang. https://doi.org/10.1007/s10113-018-1294-x

Willemen L, Hein L, Verburg PH (2010) Evaluating the impact of regional development policies on future landscape services. Ecol Econ 69(11):2244–2254

Willemen L, Veldkamp A, Verburg PH, Hein L, Leemans R (2012) A multi-scale modelling approach for analysing landscape service dynamics. J Environ Manag 100:86–95

Wolff S, Schulp CJE, Verburg PH (2015) Mapping ecosystem services demand: a review of current research and future perspectives. Ecol Indic 55:159–171

Wood SLR, Jones SK, Johnson JA, Brauman KA, Chaplin-Kramer R, Fremier A, Girvetz E, Gordon LJ, Kappel CV, Mandle L, Mulligan M, O'Farrell P, Smith WK, Willemen L, Zhang W, DeClerck FA (2018) Distilling the role of ecosystem services in the sustainable development goals. Ecosyst Serv 29:70–82
Acknowledgements
From the Agroforestry case study, we would like to thank the Grants from the 'Fondation de France' that supported this work. We are grateful to the farmers and inhabitants of the Canton of Aurignac, to the tourists, entrepreneurs and local residents of Monte Verde district, and to the local inhabitants of the Pampa biome who participated in these interviews for their willingness to participate in our research. We also appreciate the collaborators of the Atlantic Forest and the Pampa case studies for data collection. FZT received a postdoctoral fellowship from the 'Coordenação de Aperfeiçoamento de Pessoal de Ensino Superior' (PNPD/CAPES).
Additional information
Publisher's Note
Springer Nature remains neutral with regard to jurisdictional claims in published maps and institutional affiliations.
Electronic supplementary material
Below is the link to the electronic supplementary material.
About this article
Cite this article
Teixeira, F.Z., Bachi, L., Blanco, J. et al. Perceived ecosystem services (ES) and ecosystem disservices (EDS) from trees: insights from three case studies in Brazil and France. Landscape Ecol 34, 1583–1600 (2019). https://doi.org/10.1007/s10980-019-00778-y
Received:

Accepted:

Published:

Issue Date:
Keywords
Sociocultural valuation

Preferences

Perceptions

Place-based research

Forest ecosystems

Landscape values