Abstract
Context
Several case studies investigated the role of ecosystem services in participatory planning processes. However, no systematic study exists that cuts across a large number of empirical cases to identify the implications of using ecosystem services in participatory planning.
Objectives
This study explores the potential of the ecosystem services concept to act as a boundary concept ("new Esperanto") to facilitate the integration of actors' perceptions and objectives into planning goals.
Methods
We analyzed eleven case studies to explore how the ecosystem services concept has been operationalized to support participatory planning processes, and to identify lessons from successful applications. We characterized the case studies according to contextual and methodological criteria. Each case study was assessed through a codified score card method in order to detect success or failure criteria in using the ecosystem services concept in participatory planning. We compared the case study criteria with the results of the balanced score card method.
Results
We identified several positive effects of applying the ecosystem services concept in participatory planning, including the facilitation of knowledge sharing and consideration of local experiences, the support towards a shared vision, and the increased awareness among local actors concerning their role as ecosystem services suppliers or beneficiaries. Among the drawbacks, we identified the risk of overemphasizing specific ecosystem goods or services during the process.
Conclusions
We conclude by providing some recommendations to enhance future practice related to issues such as communication, use of local knowledge and integration of ecosystem services in existing legal instruments.
This is a preview of subscription content, log in to check access.
Access options
Buy single article
Instant access to the full article PDF.
US$ 39.95
Price includes VAT for USA
Subscribe to journal
Immediate online access to all issues from 2019. Subscription will auto renew annually.
US$ 99
This is the net price. Taxes to be calculated in checkout.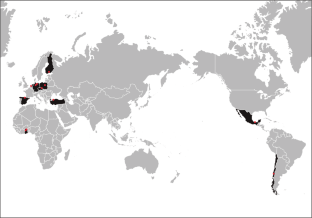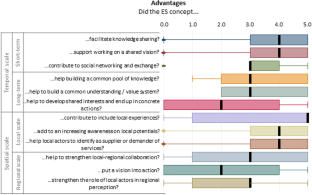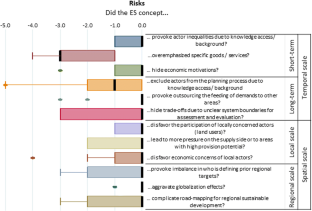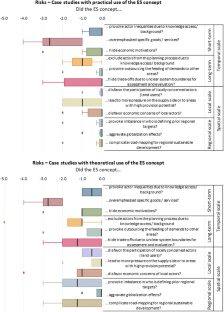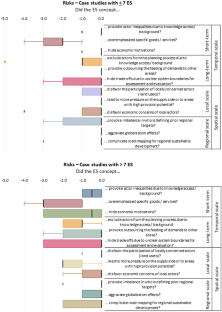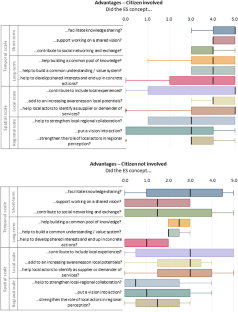 References
Adem Esmail B, Geneletti D, Albert C (2017) Boundary work for implementing adaptive management: a water sector application. Sci Total Environ 593:274–285

Albert C, Aronson J, Fürst C, Opdam P (2014) Integrating ecosystem services in landscape planning: requirements, approaches, and impacts. Landscape Ecol 29(8):1277–1285

Arler F, Mellqvist H (2015) Landscape democracy, three sets of values, and the connoisseur method. Environ Values 24(3):271–298

Balmford A, Fisher B, Green RE, Naidoo R, Strassburg B, Turner RK, Rodrigues ASL (2011) Bringing ecosystem services into the real world: an operational framework for assessing the economic consequences of losing wild nature. Environ Resour Econ 48(2):161–175

Burkhard B, Kroll F, Nedkov S, Müller F (2012) Mapping ecosystem service supply, demand and budgets. Ecol Indic 21:17–29

Cortinovis C, Geneletti D (2018) Ecosystem services in urban plans: what is there, and what is still needed for better decisions. Land Use Policy 70:298–312

Cowling RM, Egoh B, Knight AT, O'Farrell PJ, Reyers B, Rouget M, Wilhelm-Rechman A (2008) An operational model for mainstreaming ecosystem services for implementation. Proc Natl Acad Sci 105(28):9483–9488

de Groot RS, Alkemade R, Braat L, Hein L, Willemen L (2010) Challenges in integrating the concept of ecosystem services and values in landscape planning, management and decision making. Ecol Complex 7(3):260–272.

Dick J, Turkelboom F, Woods H, Iniesta-Arandia I, Primmer E, Saarela S-R, Zulian G (2017) Stakeholders' perspectives on the operationalisation of the ecosystem service concept: results from 27 case studies. Ecosyst Serv 29:552–565

Fagerholm N, Käyhkö N, Ndumbaro F, Khamis M (2012) Community stakeholders' knowledge in landscape assessments - Mapping indicators for landscape services. Ecol Indic 18:421–433

Fisher JA, Brown K (2014) Ecosystem services concepts and approaches in conservation: just a rhetorical tool? Ecol Econ 108:257–265

Fürst C, Opdam P, Inostroza L, Luque S (2014) Evaluating the role of ecosystem services in participatory land use planning: proposing a balanced score card. Landscape Ecol 29(8):1435–1446

Galler C, Albert C, von Haaren C (2016) From regional environmental planning to implementation: paths and challenges of integrating ecosystem services. Ecosyst Serv 18:118–129

García-Llorente M, Harrison PA, Berry P, Palomo I, Gómez-Baggethun E, Iniesta-Arandia I, Martín-López B (2016) What can conservation strategies learn from the ecosystem services approach? Insights from ecosystem assessments in two Spanish protected areas. Biodivers Conserv 27(7):1575–1597

Hansen R, Frantzeskaki N, McPhearson T, Rall E, Kabisch N, Kaczorowska A, Pauleit S (2015) The uptake of the ecosystem services concept in planning discourses of European and American cities. Ecosyst Serv 12:228–246

Hein L, Koppen K Van, De Groot RS, Van Ierland EC (2006) Spatial scales, stakeholders and the valuation of ecosystem services. Ecol Econ 57:209–228

Hubacek K, Kronenberg J (2013) Synthesizing different perspectives on the value of urban ecosystem services. Landsc Urban Plan 109(1):1–6

Jacobs S, Dendoncker N, Martín-López B, Barton DN, Gomez-Baggethun E, Boeraeve F, Washbourn CL (2016) A new valuation school: integrating diverse values of nature in resource and land use decisions. Ecosyst Serv 22:213–220

Kabisch N (2015) Land Use Policy Ecosystem service implementation and governance challenges in urban green space planning—The case of Berlin, Germany. Land Use Policy 42:557–567

La Rosa, D. (2018). Is spatial planning taking advantage of Ecosystem services? A review of Italian experiences. Urbanistica Quaderni

La Rosa D, Spyra M, Inostroza L (2015) Indicators of cultural ecosystem services for urban planning: a review. Ecol Indic 61:74–89, https://doi.org/10.1016/j.ecolind.2015.04.028

Levrel H, Cabral P, Feger C, Chambolle M, Basque D (2017) How to overcome the implementation gap in ecosystem services? A user-friendly and inclusive tool for improved urban management. Land Use Policy 68:574–584

Liu J, Yang W, Li S, (2016) Framing ecosystem services in the telecoupled Anthropocene. Front Ecol Environ 14(1):27–36. https://doi.org/10.1002/16-0188.1

Mascarenhas A, Ramos TB, Haase D, Santos R (2015) Ecosystem services in spatial planning and strategic environmental assessment-A European and Portuguese profile. Land Use Policy 48:158–169

Mascarenhas A, Ramos TB, Haase D, Santos R (2016) Participatory selection of ecosystem services for spatial planning: insights from the Lisbon Metropolitan Area, Portugal. Ecosyst Serv 18:87–99

Mukul SA, Sohel MSI, Herbohn J, Inostroza L, König H (2017) Integrating ecosystem services supply potential from future land-use scenarios in protected area management: a Bangladesh case study. Ecosyst Serv 26(Part B):355–364

Nassauer JI, Opdam P (2008) Design in science: extending the landscape ecology paradigm. Landscape Ecol 23(6):633–644

Olander L, Polasky S, Kagan JS, Johnston RJ, Wainger L, Saah D, Yoskowitz D (2017) So you want your research to be relevant? Building the bridge between ecosystem services research and practice. Ecosyst Serv 26:170–182

Opdam P, Albert C, Fürst C, Grêt-Regamey A, Kleemann J, Parker D, Walz A (2015) Ecosystem services for connecting actors—lessons from a symposium. Change Adapt Socio-Ecol Syst 2(1):1–7

Palacios-Agundez I, Casado-Arzuaga I, Madariaga I, Onaindia M (2013) The relevance of local participatory scenario planning for ecosystem management policies in the Basque Country, northern Spain. Ecol Soc 18(3):7

Palomo I, Martín-López B, Potschin M, Haines-Young R, Montes C (2012) National Parks, buffer zones and surrounding lands: mapping ecosystem service flows. Ecosyst Serv 4(2005):104–116

Palomo I, Martín-López B, Zorrilla-Miras P, García Del Amo D, Montes C (2014) Deliberative mapping of ecosystem services within and around Doñana National Park (SW Spain) in relation to land use change. Reg Environ Change 14(1):237–251

Partidario MR, Gomes RC (2013) Ecosystem services inclusive strategic environmental assessment. Environ Impact Assess Rev 40(1):36–46

Pelorosso R, Gobattoni F, Lopez N, Leone A (2016) Verde Urbano e regolazione delle acque meteoriche. L'approccio modellistico come base per nuovi standard urbanistici. Sentieri Urbani 19:71–77

Plant R, Ryan P (2013) Ecosystem services as a practicable concept for natural resource management: some lessons from Australia. Int J Biodivers Sci 9(1):44–53

Potschin M, Haines-Young R (2013) Landscapes, sustainability and the place-based analysis of ecosystem services. Landscape Ecol 28(6):1053–1065

Reed MS (2008) Stakeholder participation for environmental management: a literature review. Biol Conserv 141(10):2417–2431

Reyers B, Roux DJ, Cowling RM, Ginsburg AE, Nel JL, Farrell PO (2010) Conservation planning as a transdisciplinary process. Conserv Biol 24(4):957–965

Rodríguez JP, Beard Jr TD, Bennett EM, Cumming GS, Cork S, Agard J, Dobson AP, Peterson GD (2006) Trade-offs across space, time, and ecosystem services. Ecol Soc 11(1):28. https://www.ecologyandsociety.org/vol11/iss1/art28/. Accessed 4 Jan 2011

Rozas-Vásquez D, Fürst C, Geneletti D, Almendra O (2018) Integration of ecosystem services in strategic environmental assessment across spatial planning scales. Land Use Policy 71:303–310

Rozas-Vásquez D, Fürst C, Geneletti D, Muñoz F (2017) Multi-actor involvement for integrating ecosystem services in strategic environmental assessment of spatial plans. Environ Impact Assess Rev 62:135–146

Saarikoski H, Primmer E, Saarela SR, Antunes P, Aszalós R, Baró F, Young J (2017) Institutional challenges in putting ecosystem service knowledge in practice. Ecosyst Serv. https://doi.org/10.1016/J.ECOSER.2017.07.019

Sander J, Nicolas D, Berta ML, Nicholas BD, Erik G-B, Fanny B, Carla-Leanne W (2016) A new valuation school: integrating diverse values of nature in resource and land use decisions. Ecosyst Serv. https://doi.org/10.1016/j.ecoser.2016.11.007

Schröter B, Sessin-Dilascio K, Meyer C, Matzdorf B, Sattler C, Meyer A, Wortmann L (2014) Multi-level governance through adaptive co-management: conflict resolution in a Brazilian state park. Ecol Process 3(1):6

Tammi I, Mustajärvi K, Rasinmäki J (2016) Integrating spatial valuation of ecosystem services into regional planning and development. Ecosyst Serv. https://doi.org/10.1016/j.ecoser.2016.11.008

TEEB, 2010. The Economics of Ecosystems and Biodiversity Ecological and Economic Foundations. In: Kumar, P. (Ed.), Earthscan London and Washington

Turnhout E, Van Bommel S, Aarts N (2010) How participation creates citizens: participatory governance as performative practice. Ecol Soc 15(4):26

van Wensem J, Maltby L (2013) Ecosystem services: from policy to practice. Integr Environ Assess Manag 9(2):211–213

von Haaren C, Albert C, Barkmann J, de Groot RS, Spangenberg JH, Schröter-Schlaack C, Hansjürgens B (2014) From explanation to application: introducing a practice-oriented ecosystem services evaluation (PRESET) model adapted to the context of landscape planning and management. Landscape Ecol 29(8):1335–1346

Wilkinson C, Saarne T, Peterson GD, Colding J (2013) Strategic spatial planning and the ecosystem services concept—an historical exploration. Ecol Soc 18(1):37

Woodruff SC, Bendor TK (2016) Ecosystem services in urban planning: comparative paradigms and guidelines for high quality plans. Landsc Urban Plan 152:90–100
Acknowledgements
Authors would like to express their gratitude to the guest editors of this special issue of Landscape Ecology journal and to the anonymous reviewers for their helpful comments on earlier version of this manuscript.
Electronic supplementary material
Below is the link to the electronic supplementary material.
About this article
Cite this article
Spyra, M., Kleemann, J., Cetin, N.I. et al. The ecosystem services concept: a new Esperanto to facilitate participatory planning processes?. Landscape Ecol 34, 1715–1735 (2019). https://doi.org/10.1007/s10980-018-0745-6
Received:

Accepted:

Published:

Issue Date:
Keywords
Case studies

Comparative analysis

Ecosystem services

Landscape planning

Participatory planning

Stakeholders