Abstract
Context
Agroforestry systems in temperate Europe are known to provide both, provisioning and regulating ecosystem services (ES). Yet, it is poorly understood how these systems affect ES provision at a landscape scale in contrast to agricultural practises.
Objectives
This study aimed at developing a novel, spatially explicit model to assess and quantify bundles of provisioning and regulating ES provided by landscapes with and without agroforestry systems and to test the hypothesis that agroforestry landscapes provide higher amounts of regulating ES than landscapes dominated by monocropping.
Methods
Focussing on ES that are relevant for agroforestry and agricultural practices, we selected six provisioning and regulating ES—"biomass production", "groundwater recharge", "nutrient retention", "soil preservation", "carbon storage", "habitat and gene pool protection". Algorithms for quantifying these services were identified, tested, adapted, and applied in a traditional cherry orchard landscape in Switzerland, as a case study. Eight landscape test sites of 1 km × 1 km, four dominated by agroforestry and four dominated by agriculture, were mapped and used as baseline for the model.
Results
We found that the provisioning ES, namely the annual biomass yield, was higher in landscape test sites with agriculture, while the regulating ES were better represented in landscape test sites with agroforestry. The differences were found to be statistically significant for the indicators annual biomass yield, groundwater recharge rate, nitrate leaching, annual carbon sequestration, flowering resources, and share of semi-natural habitats.
Conclusions
This approach provides an example for spatially explicit quantification of provisioning and regulating ES and is suitable for comparing different land use scenarii at landscape scale.
Access options
Buy single article
Instant access to the full article PDF.
US$ 39.95
Tax calculation will be finalised during checkout.
Subscribe to journal
Immediate online access to all issues from 2019. Subscription will auto renew annually.
US$ 79
Tax calculation will be finalised during checkout.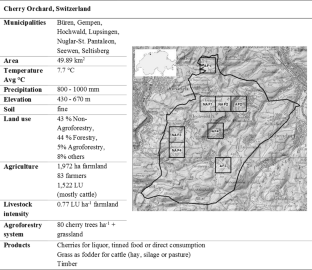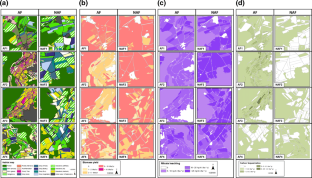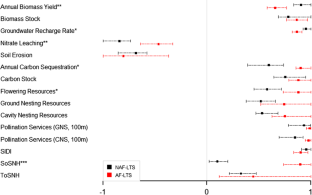 References
AGRIDEA BLW (2017) Wegleitung Suisse-Bilanz, Vollzugs- und Planungsinstrument zur Stickstoff- und Phosphorbilanz. Auflage 1.14. Bundesamt für Landwirtschaft (BLW), Bern; Agridea, Lindau

Alam M, Olivier A, Paquette A, Dupras J, Revéret JP, Messier C (2014) A general framework for the quantification and valuation of ecosystem services of tree-based intercropping systems. Agrofor Syst 88:679–691

Allen RG, Pereira LS, Raes D, Smith M, Ab W (1998) Crop evapotranspiration-Guidelines for computing crop water requirements-FAO Irrigation and drainage paper 56. Rom

BAFU (2013) Nutzungsintensität der landwirtschaftlichen Fläche—Basisdaten aus dem Biodiversitäts-Monitoring Schweiz BDM. Bundesamt für Umwelt (BAFU), Bern

BAFU and BLW (2008) Umweltziele Landwirtschaft. Hergeleitet aus bestehenden rechtlichen Grundlagen. Bundesamt für Umwelt (BAFU), Bern; Bundesamt für Landwirtschaft (BLW), Bern

BAFU and BfS (2015) Schweizerische Forststatistik-Holzernte nach Kantonen, 2004–2014. Bundesamt für Umwelt (BAFU), Bern; Bundesamt für Statistik (BfS), Neuchâtel

Bailey D, Schmidt-Entling MH, Eberhart P, Herrmann JD, Hofer G, Kormann U, Herzog F (2010) Effects of habitat amount and isolation on biodiversity in fragmented traditional orchards. J Appl Ecol 47:1003–1013

Birrer S, Spiess M, Herzog F, Jenny M, Kohli L, Lugrin B (2007) The Swiss agri-environment scheme promotes farmland birds: but only moderately. J Ornithol 148:295–303

BLW (2017) Agrarbericht 2017. Bundesamt für Landwirtschaft (BLW), Bern

Brändli U-B (2010) Schweizerisches Landesforstinventar. Ergebnisse der dritten Erhebung 2004–2006. Eidgenössische Forschungsanstalt für Wald, Schnee und Landschaft (WSL), Birmensdorf; Bundesamt für Umwelt (BAFU), Bern

Burkhard B, Kroll F, Müller F, Windhorst W (2009) Landscapes' capacities to provide ecosystem services—a concept for land-cover based assessments. Landscape Online 15:1–22

Cardinael R, Chevallier T, Barthès BG, Saby NPA, Parent T, Dupraz C, Bernoux M, Chenu C (2015) Impact of alley cropping agroforestry on stocks, forms and spatial distribution of soil organic carbon—a case study in a Mediterranean context. Geoderma 259–260:288–299

Conrad O, Bechtel B, Bock M, Dietrich H, Fischer E, Gerlitz L, Wehberg J, Wichmann V, Böhner J (2015) System for Automated Geoscientific Analyses (SAGA) v. 2.1.4. Geosci Model Dev 8:1991–2007

Crouzat E, Mouchet M, Turkelboom F, Byczek C, Meersmans J, Berger F, Verkerk PJ, Lavorel S (2015) Assessing bundles of ecosystem services from regional to landscape scale: Insights from the French Alps. J Appl Ecol 52:1145–1155

den Herder M, Moreno G, Mosquera-Losada RM, Palma JHN, Sidiropoulou A, Santiago Freijanes JJ, Crous-Duran J, Paulo JA, Tomé M, Pantera A, Papanastasis VP, Mantzanas K, Pachana P, Papadopoulos A, Plieninger T, Burgess PJ (2017) Current extent and stratification of agroforestry in the European Union. Agric Ecosyst Environ 241:121–132

ESRI (2016) ArcGIS Desktop: Release 10.4. Redlands, CA: Environmental Systems Research Institute

Eichhorn MP, Paris P, Herzog F, Incoll LD, Liagre F, Mantzanas K, Mayus M, Moreno G, Papanastasis VP, Pilbeam DJ, Pisanelli A, Dupraz C (2006) Silvoarable systems in Europe—past, present and future prospects. Agrofor Syst 67:29–50

Englund O, Berndes G, Cederberg C (2017) How to analyse ecosystem services in landscapes? A systematic review. Ecol Indic 73:492–504

European Commission (2013) Regulation (EU) No 1305/2013 on support for rural development by the European Agricultural Fund for Rural Development (EAFRD) and repealing Council Regulation (EC) No 1698/2005. Off J Eur Union 1698:487–548

Fader M, Von Bloh W, Shi S, Bondeau A, Cramer W (2015) Modelling Mediterranean agro-ecosystems by including agricultural trees in the LPJmL model. Geosci Model Dev 8:3545–3561

Garibaldi LA, Gemmill-Herren B, D'Annolfo R, Graeub BE, Cunningham SA, Breeze TD (2017) Farming Approaches for Greater Biodiversity, Livelihoods, and Food Security. Trends Ecol. Evol 32(1):68-80

Haines-Young R, Potschin M (2013) Common international classification of ecosystem services (CICES): Consultation on Version 4, August–December 2012

Hein L, van Koppen K, de Groot RS, van Ierland EC (2006) Spatial scales, stakeholders and the valuation of ecosystem services. Ecol Econ 57:209–228

Herzog F (1998) Streuobst: a traditional agroforestry system as a model for agroforestry development in temperate Europe. Agrofor Syst 42:61–80

Herzog F, Lüscher G, Arndorfer M, Bogers M, Balázs K, Bunce RGH, Dennis P, Falusi E, Friedel JK, Geijzendorffer IR, Gomiero T, Jeanneret P, Moreno G, Oschatz M-L, Paoletti MG, Sarthou J-P, Stoyanova S, Szerencsits E, Wolfrum S, Fjellstad W, Bailey D (2017) European farm scale habitat descriptors for the evaluation of biodiversity. Ecol Indic 77:205–217

Herzog F, Szerencsits E, Kay S, Roces-Díaz JV, Jäger M (2018) Agroforestry in Switzerland—a non-CAP European Country. In: Agroforestry as sustainable land use. 4th European Agroforestry Conference, Nijmegen 28–30.05.2018. pp 74–78

Hürdler J, Prasuhn V, Spiess E (2015) Abschätzung diffuser Stickstoff- und Phosphoreinträge in die Gewässer der Schweiz. Bundesamt für Umwelt (BAFU), Bern

Jacobs S, Burkhard B, Van Daele T, Staes J, Schneiders A (2015) "The matrix reloaded": a review of expert knowledge use for mapping ecosystem services. Ecol Modell 295:21–30

Jones KB, Zurlini G, Kienast F, Petrosillo I, Edwards T, Wade TG, Li B, Zaccarelli N (2013) Informing landscape planning and design for sustaining ecosystem services from existing spatial patterns and knowledge. Landscape Ecol 28:1175–1192

Jose S (2009) Agroforestry for ecosystem services and environmental benefits: an overview. Agrofor Syst 76:1–10

Kay S, Crous-Duran J, García de Jalón S, Graves A, Ferreiro-Domínguez N, Moreno G, Mosquera-Losada MR, Palma JH, Roces-Díaz JV, Santiago-Freijanes JJ, Szerencsits E, Weibel R, Herzog F (2018) Spatial similarities between European agroforestry systems and ecosystem services at the landscape scale. Agrofor Syst 92:1075–1089

Kennedy CM, Lonsdorf E, Neel MC, Williams NM, Ricketts TH, Winfree R, Bommarco R, Brittain C, Burley AL, Cariveau D, Carvalheiro LG, Chacoff NP, Cunningham SA, Danforth BN, Dudenhöffer JH, Elle E, Gaines HR, Garibaldi LA, Gratton C, Holzschuh A, Isaacs R, Javorek SK, Jha S, Klein AM, Krewenka K, Mandelik Y, Mayfield MM, Morandin L, Neame LA, Otieno M, Park M, Potts SG, Rundlöf M, Saez A, Steffan-Dewenter I, Taki H, Viana BF, Westphal C, Wilson JK, Greenleaf SS, Kremen C (2013) A global quantitative synthesis of local and landscape effects on wild bee pollinators in agroecosystems. Ecol Lett 16:584–599

Liski J, Palosuo T, Peltoniemi M, Sievänen R (2005) Carbon and decomposition model Yasso for forest soils. Ecol Modell 189:168–182

Lonsdorf E, Kremen C, Ricketts T, Winfree R, Williams N, Greenleaf S (2009) Modelling pollination services across agricultural landscapes. Ann Bot 103:1589–1600

López-Díaz ML, Rolo V, Moreno G (2011) Trees' role in nitrogen leaching after organic, mineral fertilization: a greenhouse experiment. J Environ Qual 40:853–859

Maes J, Barbosa A, Baranzelli C, Zulian G, Batista e Silva F, Vandecasteele I, Hiederer R, Liquete C, Paracchini ML, Mubareka S, Jacobs-Crisioni C, Castillo CP, Lavalle C (2015) More green infrastructure is required to maintain ecosystem services under current trends in land-use change in Europe. Landsc Ecol 30:517–534

Maes J, Liquete C, Teller A, Erhard M, Paracchini ML, Barredo JI, Grizzetti B, Cardoso A, Somma F, Petersen J-E, Meiner A, Gelabert ER, Zal N, Kristensen P, Bastrup-Birk A, Biala K, Piroddi C, Egoh B, Degeorges P, Fiorina C, Santos-Martín F, Naruševičius V, Verboven J, Pereira HM, Bengtsson J, Gocheva K, Marta-Pedroso C, Snäll T, Estreguil C, San-Miguel-Ayanz J, Pérez-Soba M, Grêt-Regamey A, Lillebø AI, Malak DA, Condé S, Moen J, Czúcz B, Drakou EG, Zulian G, Lavalle C (2016) An indicator framework for assessing ecosystem services in support of the EU Biodiversity Strategy to 2020. Ecosyst Serv 17:14–23

MEA (2003) Ecosystems and human well-being. Millenium ecosystem assessment. Island Press, Washington, DC

Moreno G, Aviron S, Berg S, Crous-Duran J, Franca A, García de Jalón S, Hartel T, Mirck J, Pantera A, Palma JHN, Paulo JA, Re GA, Sanna F, Thenail C, Varga A, Viaud V, Burgess PJ (2018) Agroforestry systems of high nature and cultural value in Europe: provision of commercial goods and other ecosystem services. Agrofor Syst 92:877–891

Mouchet MA, Paracchini ML, Schulp CJE, Stürck J, Verkerk PJ, Verburg PH, Lavorel S (2017) Bundles of ecosystem (dis)services and multifunctionality across European landscapes. Ecol Indic 73:23–28

Nabuurs GJ, Schelhaas MJ (2002) Carbon profiles of typical forest types across Europe assessed with CO2FIX. Ecol Indic 1:213–223

Nair VD, Nair PKR, Kalmbacher RS, Ezenwa IV (2007) Reducing nutrient loss from farms through silvopastoral practices in coarse-textured soils of Florida, (USA). Ecol Eng 29:192–199

Nerlich K, Graeff-Hönninger S, Claupein W (2013) Agroforestry in Europe: a review of the disappearance of traditional systems and development of modern agroforestry practices, with emphasis on experiences in Germany. Agrofor Syst 87:1211

Palma JHN, Graves AR, Burgess PJ, Keesman KJ, van Keulen H, Mayus M, Reisner Y, Herzog F (2007) Methodological approach for the assessment of environmental effects of agroforestry at the landscape scale. Ecol Eng 29:450–462

Palma JHN, Oliveira T, Crous-Duran J, Graves AR, Garcia de Jalon S, Upson M, Giannitsopoulos M, Burgess PJ, Paulo JA, Tomé M, Ferreiro-Dominguéz N, Mosquera-Losada MR, Gonzalez-Hernández P, Kay S, Mirk J, Kanzler M, Smith J, Moreno G, Pantera A, Mantovani D, Rosati A, Luske B, Hermansen J (2017) Deliverable 6.17 (6.2): Modelled agroforestry outputs at field and farm scale to support biophysical and environmental assessments. AGFORWARD project. p 162

Pumariño L, Sileshi GW, Gripenberg S, Kaartinen R, Barrios E, Muchane MN, Midega C, Jonsson M (2015) Effects of agroforestry on pest, disease and weed control: a meta-analysis. Basic Appl Ecol 16:573–582

R Development Core Team (2016) R Software. R: a language and environment for statistical computing

Renard K, Foster G, Weesies G, McCool D, Yoder D (1997) Predicting soil erosion by water: a guide to conservation planning with the Revised Universal Soil Loss Equation (RUSLE). Agricultural Handbook No. 703. U.S. Department of Agriculture (USDA)

Rodríguez-Ortega T, Oteros-Rozas E, Ripoll-Bosch R, Tichit M, Martín-López B, Bernués A (2014) Applying the ecosystem services framework to pasture-based livestock farming systems in Europe. Animal 8:1361–1372

Sánchez IA, McCollin D (2015) A comparison of microclimate and environmental modification produced by hedgerows and dehesa in the Mediterranean region: a study in the Guadarrama region, Spain. Landsc Urban Plan 143:230–237

Scherr SJ, Shames S, Friedman R (2012) From climate-smart agriculture to climate-smart landscapes. Agric Food Secur 1:12

Schröter M, Remme RP, Sumarga E, Barton DN, Hein L (2014) Lessons learned for spatial modelling of ecosystem services in support of ecosystem accounting. Ecosyst Serv 13:64–69

Schüepp C, Herzog F, Entling MH (2013) Disentangling multiple drivers of pollination in a landscape-scale experiment. Proc R Soc B Biol Sci 281:20132667

Sereke F, Graves AR, Dux D, Palma JHN, Herzog F (2015) Innovative agroecosystem goods and services: key profitability drivers in Swiss agroforestry. Agron Sustain Dev 35:759–770

Syswerda SP, Robertson GP (2014) Ecosystem services along a management gradient in Michigan (USA) cropping systems. Agric Ecosyst Environ 189:28–35

Termorshuizen JW, Opdam P (2009) Landscape services as a bridge between landscape ecology and sustainable development. Landscape Ecol 24:1037–1052

Torralba M, Fagerholm N, Burgess PJ, Moreno G, Plieninger T (2016) Do European agroforestry systems enhance biodiversity and ecosystem services? A meta-analysis. Agric Ecosyst Environ 230:150–161

Tsonkova P, Quinkenstein A, Böhm C, Freese D, Schaller E (2014) Ecosystem services assessment tool for agroforestry (ESAT-A): an approach to assess selected ecosystem services provided by alley cropping systems. Ecol Indic 45:285–299

Udawatta RP, Kremer RJ, Adamson BW, Anderson SH (2008) Variations in soil aggregate stability and enzyme activities in a temperate agroforestry practice. Appl Soil Ecol 39:153–160

Verburg PH, van Asselen S, van der Zanden EH, Stehfest E (2013) The representation of landscapes in global scale assessments of environmental change. Landscape Ecol 28:1067–1080

Wezel A, Casagrande M, Celette F, Vian JF, Ferrer A, Peigné J (2014) Agroecological practices for sustainable agriculture. A review. Agron Sustain Dev 34:1–20
Acknowledgements
The authors wish to express thanks to the farmers who allowed access to their land and to two anonymous reviewers for their comments that helped to improve the manuscript. We acknowledge funding through Grant 613520 from the European Commission (Project AGFORWARD, 7th Framework Program).
Electronic supplementary material
Below is the link to the electronic supplementary material.
About this article
Cite this article
Kay, S., Crous-Duran, J., García de Jalón, S. et al. Landscape-scale modelling of agroforestry ecosystems services in Swiss orchards: a methodological approach. Landscape Ecol 33, 1633–1644 (2018). https://doi.org/10.1007/s10980-018-0691-3
Received:

Accepted:

Published:

Issue Date:
Keywords
Biodiversity

Cherry orchard

Climate change mitigation

Erosion

Landscape water balance

Lonsdorf model

Nitrate leaching