Abstract
Context
The Natura 2000 aims to promote the persistence of biodiversity and traditional uses. European landscapes have, however, undergone large transformations in the past decades, mainly associated with the abandonment of less productive lands concentration of intensive agriculture. These changes could pose management challenges and new opportunities to the achievement of the network´s goals.
Objective
Evaluate changes in land cover within Natura 2000 in the last two decades.
Methods
We use different Corine Land Cover datasets to construct transition matrices of land uses for measuring changes for each Natura 2000 site. We also explore the role of different drivers in observed changes and assess the impacts of these changes in the structure of landscape.
Results
Landscape has been highly dynamic within Natura 2000 in the last two decades with more than 20% undergoing land cover changes. The most systematic transitions involved both, succession processes towards naturalisation in older and more abrupt protected areas (PAs) and anthropization in less steep and more recently designated PAs. Changes across land cover categories had also significant effects on the landscape configuration towards a higher homogenisation.
Conclusions
Two different strategies would be needed to enhance the role of Natura 2000, (i) tighter control to ensure anthropization, mainly intensive agriculture, does not compromise conservation goals within PAs and (ii) tackle more effectively the ecological and socio-economic effects of abandonment in less productive areas to halt loss of key habitats. On the other hand, changes in composition and structure of landscape open new conservation opportunities derived from enhanced connectivity.
This is a preview of subscription content, log in to check access.
Access options
Buy single article
Instant access to the full article PDF.
US$ 39.95
Price includes VAT for USA
Subscribe to journal
Immediate online access to all issues from 2019. Subscription will auto renew annually.
US$ 99
This is the net price. Taxes to be calculated in checkout.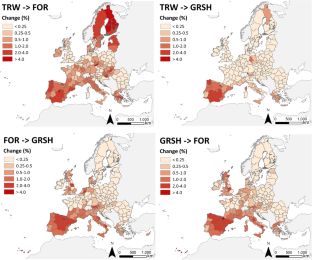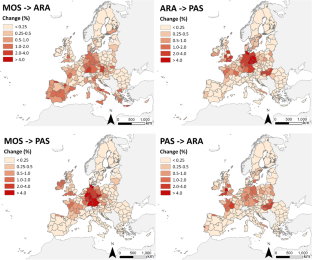 References
Álvarez-Martínez JM, Suárez-Seoane S, Stoorvogel JJ, Calabuig EL (2014) Influence of land use and climate on recent forest expansion: a case study in the Eurosiberian-Mediterranean limit of north-west Spain. J Ecol 102:905–919

Ameztegui A, Brotons L, Coll L (2010) Land-use changes as major drivers of mountain pine (Pinus uncinata Ram.) expansion in the Pyrenees. Glob Ecol Biogeogr 19:632–641

Baldi A, Batary P (2011) Spatial heterogeneity and farmland birds: different perspectives in Western and Eastern Europe. Ibis 153:875–876

Bolker BM, Brooks ME, Clark CJ, Geange SW, Poulsen JR, Stevens MHH, White JSS (2009) Generalized linear mixed models: a practical guide for ecology and evolution. Trends Ecol Evol 24:127–135

Brotons L, Manosa S, Estrada J (2004) Modeling the effects of irrigation schemes on the distribution of steppe birds in Mediterranean farmland. Biodivers Conserv 13:1039–1058

Butsic V, Munteanu C, Griffiths P, Knorn J, Radeloff VC, Lieskovský J, Mueller D, Kuemmerle T (2016) The effect of protected areas on forest disturbance in the Carpathian Mountains 1985–2010. Conserv Biol 3:570–580

Büttner G, Feranec J, Jaffrain G (2002) CORINE Land Cover update 2000. Technical report nº 89. European Environmental Agency, Copenhagen, Denmark, p. 56. http://www.eea.europa.eu/publications/technical_report_2002_89. Accessed Dec 2013

CIESIN (2016) Gridded population of the world, version 4 (GPWv4): population density. Palisades, NY: NASA Socioeconomic Data and Applications Center (SEDAC). http://dx.doi.org/10.7927/H4NP22DQ. Accessed 25 Mar 2017

Dax T (2005) The redefinition of Europe's less favoured areas. In: rural development in Europe—3rd annual conference—Funding European Rural Development in 2007–2013. MPRA paper no. 711

Delibes-Mateos M, Farfan MA, Olivero J, Marquez AL, Vargas JM (2009) Long-term changes in game species over a long period of transformation in the Iberian Mediterranean landscape. Environ Manag 43:1256–1268

Dobrev V, Popgeorgiev G, Plachiyski D (2014) Effects of the Common agricultural Policy on the coverage of grassland habitats in Besaparski Ridove Special Protection Area (Natura 2000), Southern Bulgaria. Acta Zool Bulg 5:147–155

Donald PF, Sanderson FJ, Burfield IJ, van Bommel FPJ (2006) Further evidence of continent-wide impacts of agricultural intensification on European farmland birds, 1990–2000. Agr Ecosyst Environ 116:189–196

EEA (2006a) Land accounts for Europe 1990–2000: towards integrated land and ecosystem accounting. In: European Environment Agency Report No.11. OPOCE, Luxembourg, 107 pp. http://www.eea.europa.eu/publications/eea report 2006 11. Accessed Aug 2017

EEA (2006b) The thematic accuracy of CORINE Land Cover 2000. Assessment using LUCAS (Land use/cover area frame statistical survey). Technical report No. 7. ISBN 1725-2237. European Environment Agency

EEA (2012) Protected areas in Europe: an overview. EEA Report N° 5/2012. EU, Luxembourg

Feranec J, Jaffrain G, Soukup T, Hazeu G (2010) Determining changes and flows in European landscapes 1990–2000 using CORINE land cover data. Appl Geogr 30:19–35

Fernández N, Navarro LM, Pereira HM (2017) Rewilding: a call for boosting ecological complexity in conservation. Conserv Lett 10:276–278

Flores Ribeiro P, Catela Nunes L, Beja P, Reino L, Santana J, Moreira F, Lima Santos J (2018) A spatially explicit choice model to assess the impact of conservation policy on high nature value farming systems. Ecol Econ 145:331–338

Forest Europe (2015). State of Europe's Forests 2015. http://www.foresteurope.org/docs/fullsoef2015.pdf. Accessed June 2018

Gellrich M, Baur P, Koch B, Zimmermann NE (2007) Agricultural land abandonment and natural forest re-growth in the Swiss mountains: a spatially explicit economic analysis. Agr Ecosyst Environ 118:93–108

Gellrich M, Zimmermann NE (2007) Investigating the regional-scale pattern of agricultural land abandonment in the Swiss mountains: a spatial statistical modelling approach. Landsc Urban Plan 79:65–76

Gómez O, Páramo F (2005) Environmental accounting. Methodological guidebook. In: data processing of land cover flows. Internal report of the European topic centre on terrestrial environment, with the support of the EEA, Barcelona,http://www.eea.europa.eu/data-and-maps/data/land-cover-accounts-leac-based-on-corine-land-cover-changes-database-1990-2000/. Accessed Aug 2017

Halada L, Evans D, Romao C, Petersen JE (2011) Which habitats of European importance dependon agricultural practices? Biodivers Conserv 20:2365–2378

Hatna E, Bakker MM (2011) Abandonment and expansion of arable land in Europe. Ecosystems 14:720–731

Hill J, Stellmes M, Udelhoven Th, Röder A, Sommer S (2008) Mediterranean desertification and land degradation mapping related land use change syndromes based on satellite observations. Glob Planet Change 64:146–157

Kallimanis AS, Touloumis K, Tzanopoulos J, Mazaris AD, Apostolopoulou E, Stefanidou S, Scott AV, Potts SG, Pantis JD (2014) Vegetation coverage change in the EU: patterns inside and outside Natura 2000 protected areas. Biodivers Conserv 24:579–591

Lasanta T, Arnaéz J, Errea MP, Ortigosa L, Ruiz-Flaño P (2009) Mountain pastures, environmental degradation, and landscape remediation: the example of a Mediterranean policy initiative. Appl Geogr 29:308–319

Luoto M, Rekolainen S, Aakkula J, Pykala J (2003) Loss of plant species richness and habitat connectivity in grasslands associated with agricultural change in Finland. AMBIO 32:447–452

MacDonald D, Crabtree JR, Wiesinger G, Dax T, Stamou N, Fleury P, Gutierrez Lazpita J, Gibon A (2000) Agricultural abandonment in mountain areas of Europe: environmental consequences and policy response. J Environ Manag 59:47–69

Martínez-Fernández J, Ruiz-Benito P, Zavala MA (2015) Recent land cover changes in Spain across biogeographical regions and protection levels: implications for conservation policies. Land Use Policy 44:62–75

McGarigal K, Cushman SA, Ene E (2012) FRAGSTATS v4: spatial pattern analysis program for categorical and continuous maps. Computer software program produced by the authors at the University of Massachusetts, Amherst. http://www.umass.edu/landeco/research/fragstats/fragstats.html. Accessed Dec 2017

Mitchley J, Tzanopoulos J, Cooper T (2007) Reconciling the conservation of biodiversity with declining agricultural use in the Mountains of Europe: the challenge of interdisciplinary research. In: Price MF (ed) Mountain research and management: integrated approaches. Earthscan Publication, London, pp 164–177

Navarro LM, Pereira HM (2012) Rewilding abandoned landscapes in Europe. Ecosystems 15:900–912

Pinheiro J, Bates D, DebRoy S, Sarkar D, the R Development Core Team (2013) nlme: linear and nonlinear mixed effects models. R package version 3.1-113

Pontius RG, Shusas E, McEachern M (2004) Detecting important categorical land changes while accounting for persistence. Agr Ecosyst Environ 101:251–268

Pressey RL (1994) Ad hoc reservations: forward or backward steps in developing representative reserve systems? Conserv Biol 8:662–668

Santana J, Reino L, Stoate C, Borralho R, Carvalho CR, Schindler S, Moreira F, Bugalho MN, Ribeiro PF, Santos JL, Vaz A, Morgado R, Porto M, Beja P (2013) Mixed effects of long-term conservation investment in Natura 2000 farmland. Conserv Lett 7:1–10

Stoate C, Báldi A, Beja P, Boatman ND, Herzon I, Van Doorn A, De Snoo GR, Rakosy L, Ramwell C (2009) Ecological impacts of early 21st century agricultural change in Europe—A review. J Environ Manag 91:22–46

Tedim F, Xanthopoulos G, Leone V (2015) Forest fires in Europe: facts and challenges. In: Paton D (ed) Wildfire hazards, risks and disasters. Elsevier, Amsterdam, pp 77–99

Young J, Richards C, Fischer A, Halada L, Kull T, Kuzniar A, Tartes U, Uzunov Y, Watt A (2007) Conflicts between biodiversity conservation and human activities in the central and eastern European countries. Ambio 36:545–550
Acknowledgements
V.H was supported by a Ramón y Cajal contract (RYC-2013-13979) and by the FORESTCAST project (CGL2014-59742-C2-2-R) both funded by the Spanish Government.
Electronic supplementary material
Below is the link to the electronic supplementary material.
About this article
Cite this article
Hermoso, V., Morán-Ordóñez, A. & Brotons, L. Assessing the role of Natura 2000 at maintaining dynamic landscapes in Europe over the last two decades: implications for conservation. Landscape Ecol 33, 1447–1460 (2018). https://doi.org/10.1007/s10980-018-0683-3
Received:

Accepted:

Published:

Issue Date:
Keywords
Corine Land Cover

Habitats

Land abandonment

Transition matrix

Clumpiness

Common agriculture policy