Abstract
Context
Landscape and habitat filters are major drivers of biodiversity of small habitat islands by influencing dispersal and extinction events in plant metapopulations.
Objectives
We assessed the effects of landscape and habitat filters on the species richness, abundance and trait composition of grassland specialist and generalist plants in small habitat islands. We studied traits related to functional spatial connectivity (dispersal ability by wind and animals) and temporal connectivity (clonality and seed bank persistence) using model selection.
Methods
We sampled herbaceous plants, landscape (local and regional isolation) and habitat filters (inclination, woody encroachment and disturbance) in 82 grassland islands in Hungary.
Results
Isolation decreased the abundance of good disperser specialist plants due to the lack of directional vectors transferring seeds between suitable habitat patches. Clonality was an effective strategy, but persistent seed bank did not support the survival of specialist plants in isolated habitats. Generalist plants were unaffected by landscape filters due to their wide habitat breadth and high propagule availability. Clonal specialist plants could cope with increasing woody encroachment due to their high resistance against environmental changes; however, they could not cope with intensive disturbance. Steep slopes providing environmental heterogeneity had an overall positive effect on species richness.
Conclusions
Specialist plants were influenced by the interplay of landscape filters influencing their abundance and habitat filters affecting species richness. Landscape filtering by isolation influenced the abundance of specialist plants by regulating seed dispersal. Habitat filters sorted species that could establish and persist at a site by influencing microsite availability and quality.
Access options
Buy single article
Instant access to the full article PDF.
USD 39.95
Price excludes VAT (USA)
Tax calculation will be finalised during checkout.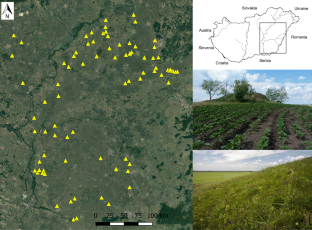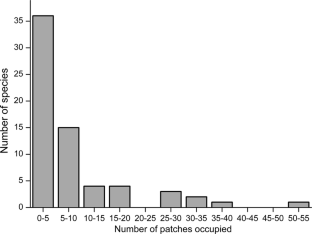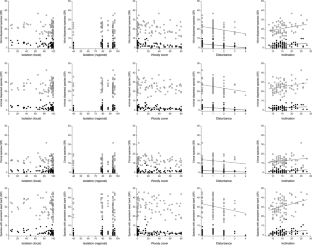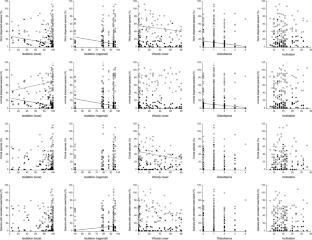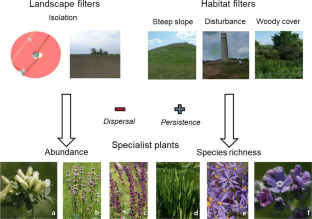 References
Auffret AG (2011) Can seed dispersal by human activity play a useful role for the conservation of European grasslands? Appl Veg Sci 14:291–303

Auffret AG, Plue J (2014) Scale-dependent diversity effects of seed dispersal by a wild herbivore in fragmented grasslands. Oecologia 175:305–313

Auffret AG, Plue J, Cousins SAO (2015) The spatial and temporal components of functional connectivity in fragmented landscapes. Ambio 44:51–59

Barton K (2011) MuMIn: Multi-model inference. R package version 1.0

Bede Á, Salisbury RB, Csathó AI, Czukor P, Páll DG, Szilágyi G, Sümegi P (2015) Report of the complex geoarcheological survey at the Ecse-halom kurgan in Hortobágy, Hungary. Cent Eur Geol 58:268–289

Borhidi A (1995) Social behaviour types, the naturalness and relative ecological indicator values of the higher plants in the Hungarian Flora. Acta Bot Hung 39:97–181

Bossuyt B, Honnay O (2008) Can the seed bank be used for ecological restoration? An overview of seed bank characteristics in European communities. J Veg Sci 19:875–884

Bossuyt B, Honnay O, Hermy M (2004) Scale-dependent frequency distributions of plant species in dune slacks: dispersal and niche limitation. J Veg Sci 15:321–328

Brückmann S, Krauss J, Steffan-Dewenter I (2010) Butterfly and plant specialists suffer from reduced connectivity in fragmented landscapes. J Appl Ecol 47:799–809

Burnham K, Anderson D (2002) Model selection and multimodel inference: a practical information-theoretic approach. Springer, New York

Cadenasso ML, Pickett ST (2001) Effect of edge structure on the flux of species into forest interiors. Conserv Biol 15:91–97

Cierjacks A, Kowarik I, Joshi J, Hemplel S, Ristow M, von der Lippe M, Weber E (2013) Biological flora of the British Isles: Robinia pseudoacacia. J Ecol 101:1623–1640

de Bello F, Lavorel S, Lavergne S, Albert CH, Boulangeat I, Mazel F, Thuiller W (2013) Hierarchical effects of environmental filters on the functional structure of plant communities: a case study in the French Alps. Ecography 36:393–402

Deák B, Valkó O, Török P, Kelemen A, Miglécz T, Szabó S, Szabó G, Tóthmérész B (2015) Micro-topographic heterogeneity increases plant diversity in old stages of restored grasslands. Basic Appl Ecol 16:291–299

Deák B, Tóthmérész B, Valkó O, Sudnik-Wójcikowska B, Bragina TM, Moysiyenko II, Bragina TM, Apostolova I, Dembicz I, Bykov NI, Török P (2016a) Cultural monuments and nature conservation: the role of kurgans in maintaining steppe vegetation. Biodivers Conserv 25:2473–2490

Deák B, Valkó O, Török P, Tóthmérész B (2016b) Factors threatening grassland specialist plants—a multi-proxy study on the vegetation of isolated grasslands. Biol Conserv 204:255–262

Deák B, Tölgyesi C, Kelemen A, Bátori Z, Gallé R, Bragina TM, Abil YA, Valkó O (2017) Vegetation of steppic cultural heritage sites in Kazakhstan – effects of micro-habitats and grazing intensity. Plant Ecol Divers 10:509–520

European Environment Agency (2010) CORINE land cover database. European Environment Agency, Copenhagen

Fahrig L (2003) Effects of habitat fragmentation on biodiversity. Ann Rev Ecol Evol Sys 34:487–515

Faraway JJ (2014) Linear models with R, 2nd edn. Chapman & Hall, London

Gazol A, Tamme R, Takkis K, Kasari L, Saar L, Helm A, Pärtel M (2012) Landscape and small-scale determinants of grassland species diversity: direct and indirect influences. Ecography 35:944–951

Hanski I (2011) Habitat loss, the dynamics of biodiversity, and a perspective on conservation. AMBIO 40:248–255

Heinken T, Weber E (2013) Consequences of habitat fragmentation for plant species: do we know enough? Perspect Plant Ecol Evol Sys 15:205–216

Hintze C, Heydel F, Hoppe C, Cunze S, König A, Tackenberg O (2013) D3: the dispersal and diaspore database: baseline data and statistics on seed dispersal. Perspect Plant Ecol Evol Syst 15:180–192

Honnay O, Bossuyt B (2005) Prolonged clonal growth: escape route or route to extinction? Oikos 108:427–432

Jacquemyn H, Roldán-Ruiz I, Honnay O (2010) Evidence for demographic bottlenecks and limited gene flow leading to low genetic diversity in a rare thistle. Conserv Genet 11:1979–1987

Janečková P, Janeček S, Klimešová J, Götzenberger L, Horník J, Lepš J, de Bello F (2017) The plant functional traits that explain species occurrence across fragmented grasslands differ according to patch management, isolation, and wetness. Landscape Ecol 32:791–805

Kiss R, Valkó O, Tóthmérész B, Török P (2016) Seed bank research in Central-European grasslands—an overview. In: Murphy J (ed) Seed banks: types, roles and research. Nova Science Publishers, New York, pp 1–34

Kleyer M, Bekker RM, Knevel IC, Bakker JP, Thompson K, Sonnenschein M, Poschlod P, Van Groenandel JM, Klimeš L, Klimešová J, Klotz S, Rusch GM, Hermy M, Adriens D, Boedeltje G, Bossuyt B, Dannemann A, Endels P, Götzenberger L, Hodgson JG, Jackel A-K, Kühn I, Kunzmann D, Ozinga WA, Römermann C, Stadler M, Schlegelmilch J, Steendam HJ, Tackenberg O, Wilmann B, Cornelissen JHC, Eriksson O, Garnier E, Peco B (2008) The LEDA Traitbase: a database of life-history traits of Northwest European flora. J Ecol 96:1266–1274

Klimešová J, Danihelka J, Chrtek J, de Bello F, Herben T (2017) CLO-PLA: a database of clonal and bud-bank traits of the Central European flora. Ecology 98:1179

Kuussaari M, Bommarco R, Heikkinen RK, Helm A, Krauss J, Lindborg R, Öckinger E, Pärtel M, Pino J, Rodà F, Stefanescu C, Teder T, Zobel M, Steffan-Dewenter I (2009) Extinction debt: a challenge for biodiversity conservation. Trends Ecol Evol 24:564–571

Lindborg R, Helm A, Bommarco R, Heikkinen RK, Kühn I, Pykälä J, Pärtel M (2012) Fragmentation effects on plant trait distribution in European forests and grassland. Ecography 35:356–363

Lindborg R, Plue J, Andersson K, Cousins SAO (2014) Function of small habitat elements for enhancing plant diversity in different agricultural landscapes. Biol Conserv 169:206–213

Lindgren JP, Cousins SAO (2017) Island biogeography theory outweighs habitat amount hypothesis in predicting plant species richness in small grassland remnants. Landscape Ecol 32:1895–1906

Lisetskii FN, Sudnik-Wójcikowska B, Moysiyenko II (2016) Flora differentiation among local ecotypes in the transzonal study of forest-steppe and steppe mounds. Biol Bull 43:169–176

MacDougall A, McCann K, Gellner G, Turkington R (2013) Diversity loss with persistent human disturbance increases vulnerability to ecosystem collapse. Nature 494:86–89

Marini M, Bruun HH, Heikkinen RK, Helm A, Honnay O, Krauss J, Kühn I, Lindborg R, Pärtel M, Bommarco R (2012) Traits related to species persistence and dispersal explain changes in plant communities subjected to habitat loss. Divers Distrib 18:898–908

McGeoch M, Gaston KJ (2002) Occupancy frequency distributions: patterns, artefacts and mechanisms. Biol Rev 77:311–331

Molnár Z, Biró M, Bölöni J, Horváth F (2008a) Distribution of the (semi-) natural habitats in Hungary I.—Marshes and grasslands. Acta Bot Hung 50:59–105

Molnár C, Molnár Z, Barina Z, Bauer N, Biró M, Csiky J, Fekete G, Horváth A, Király BG, Purger D, Schmidt D, Sramkó G, Bodonczi L, Csathó AI, Deák ÁJ, Harmos K, Isépy I (2008b) Vegetation-based landscape regions of Hungary. Acta Bot Hung 50:47–58

Nathan R, Katul GG, Horn HS, Thomas SM, Oren R, Avissar R, Pacala SW, Levin SA (2002) Mechanisms of long-distance dispersal of seeds by wind. Nature 418:409–413

Novák J, Konvička M (2006) Proximity of valuable habitats affects succession patterns in abandoned quarries. Ecol Eng 26:113–122

Ozinga WA, Bekker RM, Schaminee JHJ, van Groenendael JM (2004) Dispersal potential in plant communities depends on environmental conditions. J Ecol 92:767–777

Poschlod P, Kiefer S, Trankle U, Fischer S, Bonn S (1998) Plant species richness in calcareous grasslands as affected by dispersability in space and time. Appl Veg Sci 1:75–90

R Core Team (2018) R: a language and environment for statistical computing. R Foundation for Statistical Computing, Vienna

Riba R, Mayol M, Giles BE, Ronce O, Imbert E, van der Velde M, Chauvet S, Ericson L, Bijlsma R, Vosman B, Smulders MJ, Olivieri I (2009) Darwin's wind hypothesis: does it work for plant dispersal in fragmented habitats? New Phytol 183:667–677

Sudnik-Wójcikowska B, Moysiyenko II (2014) Indicative role of the flora of kurgans in the 'Wild Field' (southern Ukraine). Monit Środowiska Przyrodniczego 15:75–83

Tamme R, Hiiesalu I, Laanisto L, Szava-Kovats R, Pärtel M (2010) Environmental heterogeneity, species diversity and co-existence at different spatial scales. J Veg Sci 21:796–801

Thompson K, Bakker J, Bekker R (1997) Soil seed banks of North West Europe: methodology, density and longevity. Cambridge University Press, Cambridge

Valkó O, Tóthmérész B, Kelemen A, Simon E, Miglécz T, Lukács B, Török P (2014) Environmental factors driving vegetation and seed bank diversity in alkali grasslands. Agric Ecosys Environ 182:80–87

Young A, Boyle T, Brown T (1996) The population genetic consequences of habitat fragmentation for plants. Trends Ecol Evol 11:413–418
Acknowledgements
The authors were supported by OTKA PD 115627 (BD), OTKA PD 111807 (OV), NKFI FK 124404 (OV), NKFI KH 126476 (OV), NKFI ERC-16-M-127070 (OV); NKFI K 167477 (BT), OTKA K 116639 (BT), NKFIH K 119225 (PT) and NKFIH PD 121126 (ÁB) projects. The project was supported by the Bolyai János Research Scholarship of the Hungarian Academy of Sciences (BD, OV). AK was funded by the MTA's Postdoctoral Research Programme. BD and OV were supported by the ÚNKP-17-4-III-DE-160 and ÚNKP-17-4-III-DE-151 New National Excellence Programme of the Ministry of Human Capacities. We are grateful to Aiko Huckauf for improving the English of the manuscript.
Electronic supplementary material
Below is the link to the electronic supplementary material.
About this article
Cite this article
Deák, B., Valkó, O., Török, P. et al. Landscape and habitat filters jointly drive richness and abundance of specialist plants in terrestrial habitat islands. Landscape Ecol 33, 1117–1132 (2018). https://doi.org/10.1007/s10980-018-0660-x
Received:

Accepted:

Published:

Issue Date:

DOI: https://doi.org/10.1007/s10980-018-0660-x
Keywords
Biotic interactions

Dispersal filter

Historical landscape

Kurgan

Landscape composition

Spatial connectivity

Temporal connectivity