Abstract
Context
Although forest fragmentation is generally thought to impact tree growth and mortality negatively, recent work suggests some forests are resilient. Experimental forests provide an opportunity to examine the timing and extent of forest tree resilience to disturbance from fragmentation.
Objectives
We used the Wog Wog Habitat Fragmentation Experiment in southeastern Australia to test Eucalyptus growth and survivorship responses to forest fragmentation over a 26 year period.
Methods
We measured 2418 tree diameters and used spline-regression techniques to examine non-monotonic fragmentation effect over two time periods.
Results
Over the first 4 years after fragmentation, individual eucalypt tree growth was greater than in continuous forest for large trees and mortality rates were higher only within 10 m of edges. Over the following 22 years only the effects on tree growth remained and on average all fragments rebounded so that their biomass and mortality rates were equivalent to continuous forest. Importantly non-monotonic patterns were observed in growth and mortality with respect to area and distance from edge in both study periods, demonstrating that fragmentation impacts on trees can be strong in localized areas (greatest in 3 ha fragments and 0–30 m edges) and over short time periods.
Conclusions
Dry-sclerophyll eucalypt forests join the set of forest types that display resilient growth dynamics post fragmentation. Moreover, persistent non-monotonic impacts on tree growth with respect to tree size, fragment area, and fragment distance from edge, highlighting landscape fragmentation as a driver of habitat heterogeneity within remnant forest fragments.
This is a preview of subscription content, log in to check access.
Access options
Buy single article
Instant access to the full article PDF.
US$ 39.95
Price includes VAT for USA
Subscribe to journal
Immediate online access to all issues from 2019. Subscription will auto renew annually.
US$ 99
This is the net price. Taxes to be calculated in checkout.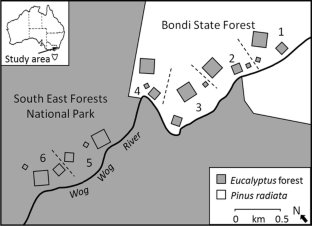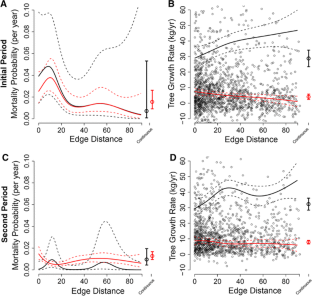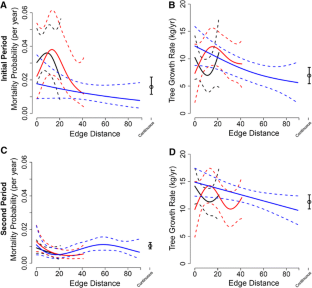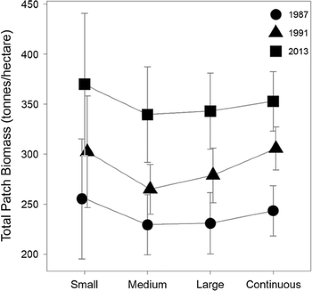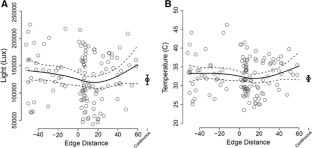 References
Austin MP, Nicholls AO (1988) Species associations within herbaceous vegetation in an Australian eucalypt forest. In: During HJ et al (eds) Diversity and pattern in plant communities. SPB Academic Publishing, The Hague, pp 95–114

Bi H, Turner J, Lambert MJ (2004) Additive biomass equations for native eucalypt forest trees of temperate Australia. Trees 18(4):467–479

Collinge SK (2009) Ecology of fragmented landscapes. The Johns Hopkins University Press, Baltimore

Davies KF, Melbourne BA, Margules CR (2001) Effects of within-and between-patch processes on community dynamics in a fragmentation experiment. Ecology 82(7):1830–1846

Denyer K, Burns B, Ogden J (2006) Buffering of native forest edge microclimate by adjoining tree plantations. Austral Ecol 31(4):478–489

Evans MJ, Banks SC, Driscoll DA, Hicks AJ, Melbourne BA, Davies KF (2017) Short-and long-term effects of habitat fragmentation differ but are predicted by response to the matrix. Ecology 98(3):807–819

Ewers RM, Didham RK (2006) Continuous response functions for quantifying the strength of edge effects. J Appl Ecol 43:527–536

Ewers RM, Thorpe S, Didham RK (2007) Synergistic interactions between edge and area effects in a heavily fragmented landscape. Ecology 88(1):96–106

Fanning D, Fatchen TJ (1990) The upper Wog Wog River catchment of Coolangubra and Nalbaugh State Forest (Mines Road Area), New South Wales: a fauna and flora survey. Forestry Commission of New South Wales, Australia

Farmilo BJ, Nimmo DG, Morgan JW (2013) Pine plantations modify local conditions in forest fragments in southeastern Australia: insights from a fragmentation experiment. For Ecol Manag 305:264–272

Ferrere P, Lupi AM, Boca R, Nakama V, Alfieri A (2008) Biomasa en plantaciones de Eucalyptus viminalis Labill. de la provincial de Buenos Aires, Argentina. Ciência Florestal 18(3):291–305

Gill AM (1975) Fire and the Australian flora: a review. Aust For 38:4–25

Godefroid S, Rucquoij S, Koedam N (2006) Spatial variability of summer microclimates and plant species response along transects within clearcuts in a beech forest. Plant Ecol 185:107–121

Haddad NM, Brudvig LA, Clobert J, Davies KF, Gonzalez A, Holt RD, Cook WM (2015) Habitat fragmentation and its lasting impact on Earth's ecosystems. Sci Adv 1(2):e1500052

Harper KA, Macdonald SE, Burton PJ, Chen J, Brosofske KD, Saunders SC, Esseen PA (2005) Edge influence on forest structure and composition in fragmented landscapes. Conserv Biol 19(3):768–782

Ibáñez I, Katz DS, Peltier D, Wolf SM, Barrie C, Benjamin T (2014) Assessing the integrated effects of landscape fragmentation on plants and plant communities: the challenge of multiprocess–multiresponse dynamics. J Ecol 102(4):882–895

Jönsson MT, Fraver S, Jonsson BG, Dynesius M, Rydgård M, Esseen PA (2007) Eighteen years of tree mortality and structural change in an experimentally fragmented Norway spruce forest. For Ecol Manag 242(2–3):306–313

Kupfer JA, Malanson GP, Franklin SB (2006) Not seeing the ocean for the islands: the mediating influence of matrix-based processes on forest fragmentation effects. Glob Ecol Biogeogr 15(1):8–20

Laurance WF, Camargo JL, Luizão RC, Laurance SG, Pimm SL, Bruna EM, Van Houtan KS (2011) The fate of Amazonian forest fragments: a 32-year investigation. Biol Conserv 144(1):56–67

Laurance WF, Delamônica P, Laurance SG, Vasconcelos HL, Lovejoy TE (2000) Conservation: rainforest fragmentation kills big trees. Nature 404(6780):836

Laurance WF, Nascimento HE, Laurance SG, Andrade AC, Fearnside PM, Ribeiro JE, Capretz RL (2006) Rain forest fragmentation and the proliferation of successional trees. Ecology 87(2):469–482

Laurance WF, Nascimento HE, Laurance SG, Andrade A, Ewers RM, Harms KE, Ribeiro JE (2007) Habitat fragmentation, variable edge effects, and the landscape-divergence hypothesis. PLoS ONE 2(10):e1017

Lewis F, Butler A, Gilbert L (2011) A unified approach to model selection using the likelihood ratio test. Methods Ecol Evol 2(2):155–162

Malcom JR (1994) Edge effects in central Amazonian forest fragments. Ecology 75:2438–2445

Margules CR (1992) The Wog Wog habitat fragmentation experiment. Environ Conserv 19:316–325

Matlack GR (1994) Vegetation dynamics of the forest edge—trends in space and successional time. J Ecol 82:113–123

Meiners SJ, Pickett STA, Handel SN (2002) Probability of tree seedling establishment changes across a forest-old field edge gradient. Am J Bot 89:466–471

Mesquita RC, Delamônica P, Laurance WF (1999) Effect of surrounding vegetation on edge-related tree mortality in Amazonian forest fragments. Biol Conserv 91(2–3):129–134

Morgan JW, Farmilo BJ (2012) Community (re)organization in an experimentally fragmented forest landscape: insights from occupancy-scale patterns of common plant species. J Veg Sci 21:962–969

Murcia C (1995) Edge effects in fragmented forests: implications for conservation. Trends in Ecol Evol 10:58–62

Neves FS, Queiroz-Dantas KS, Da Rocha WD, Delabie JHC (2013) Ants of three adjacent habitats of a transition region between the cerrado and caatinga biomes: the effects of heterogeneity and variation in canopy cover. Neotrop Entomol 42(3):258–268

Oliver T, Roy DB, Hill JK, Brereton T, Thomas CD (2010) Heterogeneous landscapes promote population stability. Ecol Lett 13(4):473–484

Palik BJ, Murphy PG (1990) Disturbance versus edge effects in sugar-maple/beech forest fragments. For Ecol Manag 21:187–202

Phillips OL, Rose S, Mendoza AM, Vargas PN (2006) Resilience of southwestern Amazon forests to anthropogenic edge effects. Conserv Biol 20(6):1698–1710

R Core Team (2013) R: A language and environment for statistical computing. R Foundation for Statistical Computing. http://www.R-project.org/

Raich J (1998) Aboveground productivity and soil respiration in three Hawaiian rain forests. For Ecol Manag 107:309–318

Reinmann AB, Hutyra LR (2017) Edge effects enhance carbon uptake and its vulnerability to climate change in temperate broadleaf forests. Proc Natl Acad Sci USA 114:107–112

Sampaio AB, Scariot A (2011) Edge effect on tree diversity, composition and structure in a deciduous dry forest in Central Brazil. Revista Árvore 35:1121–1134

Stewart HTL, Flinn DW, Aeberli BC (1979) Above-ground biomass of a mixed eucalypt forest in eastern Victoria. Austral J Bot 27(6):725–740

Westfall JA, Patterson PL (2007) Measurement variability error for estimates of volume change. Can J For Res 37:2201–2210

Wood SN (2003) Thin-plate regression splines. J Roy Stat Soc B 65:95–114

Young A, Mitchell N (1994) Microclimate and vegetation edge effects in a fragmented podocarp-broadleaf forest in New Zealand. Biol Conserv 67:63–72
Acknowledgements
The authors would like to thank Amanda King for assistance with the 2013 survey and JS and ST for conducting the 1987 and 1991 surveys. This work was funded by the Commonwealth Science and Industrial Research Organisation, and a National Science Foundation grant DEB 0841892 to KD and BM.
Electronic supplementary material
Below is the link to the electronic supplementary material.
About this article
Cite this article
King, A.J., Melbourne, B.A., Davies, K.F. et al. Spatial and temporal variability of fragmentation effects in a long term, eucalypt forest fragmentation experiment. Landscape Ecol 33, 609–623 (2018). https://doi.org/10.1007/s10980-018-0623-2
Received:

Accepted:

Published:

Issue Date:
Keywords
Fragmentation experiment

Tree growth

Eucalyptus

Pine plantation