Abstract
Context
Alaskan landscapes are changing due to climate change impacts. Maintaining or restoring landscape connectivity is a widely suggested climate change adaptation strategy because species are shifting their distributions to align with emerging conditions. Natural resource managers in Alaska have an opportunity to proactively design connected landscapes as infrastructure networks and economic development continue to increase in the state.
Objectives
We provide an example of strategic, multijurisdictional planning to maintain landscape connectivity at a large spatial scale.
Methods
We use geodiversity to model climate-resilient landscape linkages between conservation lands within and adjacent to a 59-million-acre planning area.
Results
The resulting landscape linkage design consists of as little as 1% of the planning area, but can connect over 64 million acres of conservation land allowing the Bureau of Land Management to leverage the current land designations to maximize the conservation value of the entire landscape.
Conclusions
Maintaining landscape connectivity is above and beyond the mandates and responsibilities of a single organization or land owner. Bridging institutions and partnerships, such as the Northwest Boreal Landscape Conservation Cooperative, can facilitate the coordination needed for this type of multi-jurisdictional planning effort. The opportunity to manage proactively, rather than waiting for system degradation and then responding reactively, should not be undervalued. The implementation of this work will serve as a model for other relatively intact systems and moreover showcases the potential of twenty-first century models of conservation and sustainability.
This is a preview of subscription content, log in to check access.
Access options
Buy single article
Instant access to the full article PDF.
US$ 39.95
Price includes VAT for USA
Subscribe to journal
Immediate online access to all issues from 2019. Subscription will auto renew annually.
US$ 99
This is the net price. Taxes to be calculated in checkout.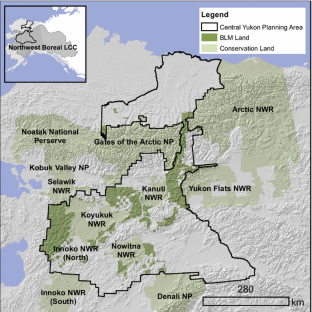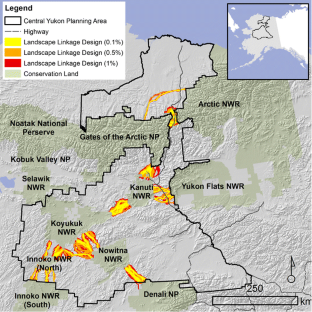 References
Anderson MG, Ferree CE (2010) Conserving the stage: climate change and the geophysical underpinnings of species diversity. PLoS ONE 5:e11554

Barros, VR, CB Field, DJ Dokke, MD Mastrandrea, KJ Mach, TE Bilir, M Chatterjee, KL Ebi, YO Estrada, RC Genova (2014) Climate change 2014: impacts, adaptation, and vulnerability. Part B: regional aspects. Contribution of Working Group II to the Fifth Assessment Report of the Intergovernmental Panel on Climate Change

Bartzke GS, May R, Bevanger K, Stokke S, Roskaft E (2014) The effects of power lines on ungulates and implications for power line routing and rights-of-way management. Int J Biodivers Conserv 6:647–662

Beever EA, O'Leary J, Mengelt C, West JM, Julius S, Green N, Magness DR, Petes L, Stein B, Nicotra AB, Hellmann JJ, Robertson AL, Staudinger MD, Rosenberg AA, Babij E, Brennan J, Schuurman GW, Hofmann GE (2015) Improving conservation outcomes with a new paradigm for understanding species' fundamental and realized adaptive capacity. Conserv Lett 9:131–137

Beier P, Brost B (2010) Use of land facets to plan for climate change: conserving the arenas, not the actors. Conserv Biol 24:701–710

Beier P, Majka DR, Spencer WD (2008) Forks in the road: choices in procedures for designing wildland linkages. Conserv Biol 22:836–851

Beier P, Hunter ML, Anderson M (2015) Special section: conserving nature's stage. Conserv Biol 29:613–617

Belote RT, Dietz MS, McRae BH, Theobald DM, McClure ML, Irwin GH, McKinley PS, Gage JA, Aplet GH (2016) Identifying corridors among large protected areas in the United States. PLoS ONE 11:e0154223

Belote RT, Dietz MS, McKinley PS, Carlson AA, Carroll C, Jenkins CN, Urban DL, Fullman TJ, Leppi JC, Aplet GH (2017) Mapping conservation strategies under a changing climate. BioScience 67:494–497

Bennett, BA, Mulder RS (2009) Natives gone wild: climate change and a history of a Yukon invasion. In: Darbyshire SJ, Prasad R (eds) Proceeding of the weeds across borders 2008 conference. The view from the north. Ablerta Invasive Plants Council, Alberta, pp 235–248

Brost, B (2010) Use of land facets to design conservation corridors: conserving the arenas, not the actors. Thesis. Northern Arizona University

Brost B, Beier P (2012a) Use of land facets to design linkages for climate change. Ecol Appl 22:87–103

Brost BM, Beier P (2012b) Comparing linkage designs based on land facets to linkage designs based on focal species. PLoS ONE 7:e48965

Brudvig LA, Damschen EI, Tewksbury JJ, Haddad NM, Levey DJ (2009) Landscape connectivity promotes plant biodiversity spillover into non-target habitats. Proc Natl Acad Sci 106:9328–9332

Chapin FS III, Peterson G, Berkes F, Callaghan TV, Angelstam P, Apps M, Beier C, Bergeron Y, Crépin AS, Danell K (2004) Resilience and vulnerability of northern regions to social and environmental change. AMBIO J Hum Environ 33:344–349

Forman RT (1995) Land mosaics: the ecology of landscapes and regions. Cambridge University Press, Cambridge

Gill JL, Blois JL, Benito B, Dobrowski S, Hunter ML, McGuire JL (2015) A 2.5-million-year perspective on coarse-filter strategies for conserving nature's stage. Conserv Biol 29:640–648

Heller NE, Zavaleta ES (2009) Biodiversity management in the face of climate change: a review of 22 years of recommendations. Biol Conserv 142:14–32

Hobbs RJ, Higgs ES, Hall C (2013) Novel ecosystems: intervening in the new ecological world order. Wiley-Blackwell, Oxford

Jacobson C, Robertson AL (2012) Landscape conservation cooperatives: bridging entities to facilitate adaptive co-governance of social–ecological systems. Hum Dimens Wildl 17:333–343

Jenness J, Brost B, Beier P (2011) Land facet corridor designer: extension for ArcGIS. Jenness Enterprises, Flagstaff

Johnson LA (1987) Management of northern gravel sites for successful reclamation: a review. Arct Antarct Alp Res 19:530–536

Lawler JJ, Ackerly DD, Albano CM, Anderson MG, Dobrowski SZ, Gill JL, Heller NE, Pressey RL, Sanderson EW, Weiss SB (2015) The theory behind, and the challenges of, conserving nature's stage in a time of rapid change. Conserv Biol 29:618–629

Magness DR, Morton JM, Huettmann F, Chapin FS III, McGuire AD (2011) A climate-change adaptation framework to reduce continental-scale vulnerability across conservation reserves. Ecosphere 2:art112

McIntyre S, Hobbs R (1999) A framework for conceptualizing human effects on landscapes and its relevance to management and research models. Conserv Biol 13:1282–1292

Morrison SA, Boyce WM (2009) Conserving connectivity: some lessons from mountain lions in southern California. Conserv Biol 23:275–285

Parmesan C (2006) Ecological and evolutionary responses to recent climate change. Annu Rev Ecol Evol Syst 37:637–669

Ruediger, W (2001) High, wide, and handsome: designing more effective wildlife and fish crossings for roads and highways. In: Evink, GL (ed) Proceedings of the 2001 International Conference on Ecology and Transportation, North Carolina State University, Durham

SNAP-EWHALE (2012) Predicting future potential climate-biomes for the Yukon, Northwest Territories and Alaska. Scenarios Network for Arctic and Alaska Planning, University of Alaska Fairbanks, Fairbanks. https://www.snap.uaf.edu/attachments/Cliomes-FINAL.pdf. Accessed 15 Jan 2016

Staudinger, MD, Grimm NB, Staudt A, Carter SL, Chapin III FS (2012) Impacts of climate change on biodiversity, ecosystems, and ecosystem services: technical input to the 2013 National Climate Assessment. Cooperative Report to the 2013 National Climate Assessment. https://pubs.er.usgs.gov/publication/70039460. Accessed 15 Jan 2016

Udall MK (1980) Alaska National Interest Lands Conservation Act

Veloz SD, Williams JW, Blois JL, He F, Otto-Bliesner B, Liu Z (2012) No-analog climates and shifting realized niches during the late quaternary: implications for 21st-century predictions by species distribution models. Glob Change Biol 18:1698–1713

Watson JEM, Iwamura T, Butt N (2013) Mapping vulnerability and conservation adaptation strategies under climate change. Nat Clim Change 3:989–994

Weber M, Adamowicz W (2002) Tradable land-use rights for cumulative environmental effects management. Can Public Policy 28:581–595
Acknowledgements
We would like to thank B. Brost and J. Jenness for providing technical support and advice needed to apply their methods. We acknowledge the Steering Committee members and organizations that make up the Northwest Boreal Landscape Conservation Cooperative (nwblcc.org) and thank them for their enthusiasm for collaboration and for adopting landscape ecology principles into on-the-ground landscape conservation actions. A list of Steering Committee organizations is at nwblcc.org. We would also like to thank K. Miller, T. Haby, and M. Ethun for consultation on the treatment of landscape linkages in the planning process, and the BLM for considering these linkages in developing the Central Yukon RMP. The findings and conclusions in this article are those of the authors and do not necessarily represent the views of the U.S. Fish and Wildlife Service or Bureau of Land Management.
About this article
Cite this article
Magness, D.R., Sesser, A.L. & Hammond, T. Using topographic geodiversity to connect conservation lands in the Central Yukon, Alaska. Landscape Ecol 33, 547–556 (2018). https://doi.org/10.1007/s10980-018-0617-0
Received:

Accepted:

Published:

Issue Date:
Keywords
Connectivity

Conserving nature's stage

Climate change

Adaptation

Alaska