Abstract
Context
As global landscapes continue to change, the sustainability of the ecosystem services they support are increasingly coming into question. In the rapidly changing neotropics, multiple-use plants epitomize sources of ecosystem services. To sustain the relationship that exists between such plants and human populations, a sound understanding of their well-being is required.
Objectives
Density data on multiple-use plants were compared across forest types and land tenure classes to understand the implications of these two spatial frames of reference for landscape sustainability.
Methods
The density of an aggregate sample of seventeen multiple-use and a sub-sample of five species were examined relative to forest type and land tenure class across fourteen Rupununi, Southern Guyana, study sites. The examination of plant density based on the two sample sizes was used to make inferences on how the two frames of reference may impact landscape sustainability.
Results
The mean density of the aggregate sample was highest in three of six forest types, but showed no statistical difference across land tenure classes. When individual species were considered mean densities showed no statistical difference across land tenure classes, but differences were observed for three species across forest types. Mean densities were highest in forest types within which swidden agriculture occurs and in the protected area where logging is prohibited.
Conclusions
Our findings suggested that in changing tropical landscapes plant species distribution can be predicted by forest types, but land tenure classes may provide clearer signals as to where a species well-being and hence ecosystem services may be compromised.
Access options
Buy single article
Instant access to the full article PDF.
USD 39.95
Price excludes VAT (USA)
Tax calculation will be finalised during checkout.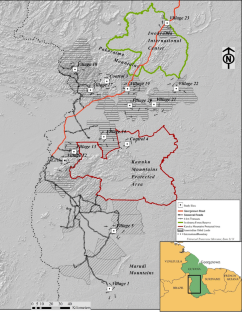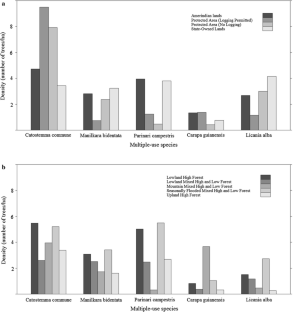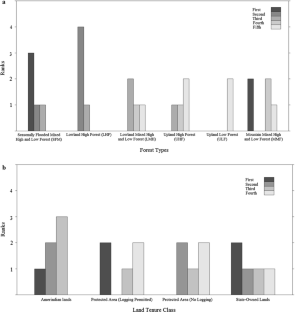 Notes
The Amerindian Act 2006 defines an Amerindian village as a group of Amerindians occupying a portion of land to which they have been granted village lands (title) by the state. In this sense, the count of villages in the study area only includes legal communities and does not account for those functional communities that occupy state lands or satellite communities that fall under the purview of a village but is away from village lands. Culturally, satellite villages start as farming areas or as a group of people moving away to maintain the customary sparse housing patterns observed in communities, but generally remain connected to their mother communities. In this regard the Rupununi landscape consists of many more than twenty-five groups of people living in communal arrangements.

ASTER GDEM is a product of METI and NASA.
References
Abdulai A, Owusu V, Goetz R (2011) Land tenure differences and investment in land improvement measures: theoretical and empirical analyses. J Dev Econ 96:66–78

Amerindian Act, 29:01 Laws of Guyana, 37 (2006)

Brandon K, Redford KH, Sanderson SE (1998) Parks in peril: people, politics and protected areas. Island Press, The Nature Conservancy, Washington

Byron N, Arnold M (1999) What futures for the people of the tropical forests? World Dev 27:789–805

Colchester M (1997) Guyana: fragile frontier. World Rainforest Movement, Forest Peoples Programme, Gloucestershire

Cumming GS (2010) Spatial resilience: integrating landscape ecology, resilience, and sustainability. Landscape Ecol 26:899–909

Cummings AR (2013) For logs, for traditional purposes and for food: identification of multiple-use plant species of Northern Amazonia and an assessment of factors associated with their distribution (Dissertationse ALL). Paper 17. Available from: http://surface.syr.edu/etd/17

Cummings AR, Read JM (2016) Drawing on traditional knowledge to identify and describe ecosystem services associated with Northern Amazon's multiple-use plants. Int J Biodivers Sci Ecosyst Serv Manag 12(2016):39–56.

Cummings AR, Read JM, Fragoso JMV (2015) Utilizing amerindian hunters' descriptions to guide the production of a vegetation map. Int J Appl Geosp Res 6:118–142

Damnyag L, Saastamoinen O, Appiah M, Pappinen A (2012) Role of tenure insecurity in deforestation in Ghana's high forest zone. Forest Policy Econ 14:90–98

David B, Isaacs P, Johnny A, Johnson L, Pugsley M, Ramacindo C, Winter G, Winter Y (2006) Wa Wiizi—Wa Kaduzu: customary use of biological resources and related traditional practices within Wapichan territory in Guyana. Forest Peoples Programme, Moreton-in-Marsh

de Granville J (1988) Phytogeographical characteristics of the Guianan forests. Taxon 37:578–594

Environmental Defense Fund, Amazonian Network of Georeferenced Socio-Environmental Information, EcoSciencia, Gaia Amazonas, Instituto Socioambiental, Instituto Bien Comun, Woods Hole Research Center, Coordinadora De Las Organizaciones Indigenas De La Cuenca Amazonica (2017) Amazonian indigenous peoples territories and their forests related to climate change: analyses and policy options. Retrieved from: http://www.edf.org/sites/default/files/indigenous-territories-barrier-to-deforestation.pdf. Accessed 14 Jan, 2018

Environmental Protection Agency (EPA) Guyana (2009) Kanuku mountains protected area: five year management plan 2009–2013. Georgetown, Guyana

Fanshawe D (1952) The vegetation of British Guiana: a preliminary review (institute paper 29). Commonwealth Forest Institute, Oxford

Fearnside PM (1993) Deforestation in Brazilian Amazonia: the effect of population and land tenure. Ambio 22:537–545

Ferraz SFB, Ferraz KMPMB, Cassiano CC, Brancalion PHS, Luz D, Azevedo TN, Tambosi L, Metzger JP (2014) How good are tropical forest patches for ecosystem services provisioning? Landscape Ecol 29:187–200

Forget PM, Hammond DS (2005) Rainforest vertebrates and food plant diversity in the Guiana shield. In: Hammond DS (ed) Tropical forests of the Guiana shield. CABI Publishing, United Kingdom, pp 233–294

Forte J (1996) Makusipe Komanto Iseru: sustaining Makushi way of life. North Rupununi District Development Board, Guyana

Hamilton LS (1991) Tropical forests: identifying and clarifying the issues. Unasylva 166:19–27

Huber O, Zent S (1995) Indigenous people and vegetation in the Venezuelan Guayana: some ecological considerations. Sci Guaianae 5:37–64

Iwokrama Act (1996) 20:04 Laws of Guyana, 34

Kates RW, Clark WC, Corell R, Hall JM, Jaeger CC, Lowe I, McCarthy JJ, Schellnhuber HJ, Bolin B, Dickson NM, Faucheux S, Gallopin GC, Grübler A, Huntley B, Jäger J, Jodha NS, Kasperson RE, Mabogunje A, Matson P, Mooney H, Moore III B, O'Riordan T, Svedin U (2001) Environment and development: sustainability science. Science 292:641–642

Keith DA, Rodríguez JP, Rodríguez-Clark KM, Nicholson E, Aapala K, Alonso A, Asmussen M, Bachman S, Bassett A, Barrow EG, Benson JS, Bishop MJ, Bonifacio R, Brooks TM, Burgman MA, Comer P, Comín FA, Essl F, Faber-Langendoen D, Fairweather PG, Holdaway RJ, Jennings M, Kingsford RT, Lester RE, Mac Nally R, McCarthy MA, Moat J, Oliveira-Miranda MA, Pisanu P, Poulin B, Regan TJ, Riecken U, Spalding MD, Zambrano-Martínez S (2013) Scientific foundations for an IUCN red list of ecosystems. PLoS ONE 8:e62111

Klimas CA, Kainer KA, Wadt LH (2007) Population structure of Carapa guianensis in two forest types in the southwestern Brazilian Amazon. For Ecol Manag 250:256–265

Klimas CA, Cropper WP Jr, Kainer KA, Wadt LH (2012a) Viability of combined timber and non-timber harvests for one species: a Carapa guianensis case study. Ecol Model 246:147–156

Klimas CA, Kainer KA, Wadt LH (2012b) The economic value of sustainable seed and timber harvests of multi-use species: an example using Carapa guianensis. For Ecol Manag 268:81–91

McCune JL, Van Natto A, MacDougall AS (2017) The efficacy of protected areas and private land for plant conservation in a fragmented landscape. Landscape Ecol 32:871–882

Menton MCS, Merry FD, Lawrence A, Brown N (2009) Company–community logging contracts in Amazonian settlements: impacts on livelihoods and NTFP harvests. Ecol Soc 14:39–58

Musacchio LR (2009) The scientific basis for the design of landscape sustainability: a conceptual framework for translational landscape research and practice of designed landscapes and the six Es of landscape sustainability. Landscape Ecol 24:993–1013

Naughton-Treves L, Wendland K (2013) Land Tenure and Tropical Forest Carbon Management. World Dev 55:1–84

Parrotta JA, Trosper RL (2012) Introduction: The growing importance of traditional forest-related knowledge. In Parrotta JA, Trosper RL (eds) Traditional forest-related knowledge: sustaining communities, ecosystems and biocultural diversity. Springer, New York

Peres CA (1994) Indigenous reserves and nature conservation in Amazonian forests. Conserv Biol 8:586–588

Peters CM (1996) Chapter I–III: introduction to the ecology of tropical forest resources. In: The ecology and management of non-timber forest resources. World Bank Technical Paper No. 322. The World Bank, Washington, DC, pp. 5–97

Posey DA (1992) Traditional knowledge, conservation and "the rain forest harvest". In: Plotkin M, Famolare L (eds) Sustainable harvest and marketing of rain forest products. Island Press, Washington, D.C., p 46

Prance GT (1979) Notes on the vegetation of Amazonia III. The terminology of Amazonian forest types subject to inundation. Brittonia 31:26–38

Read JM, Fragoso JMV, Silvius KM, Luzar J, Overman H, Cummings A, Giery ST, Flamarion de Oliveira L (2010) Space, place, and hunting patterns among indigenous peoples of the Guyanese Rupununi Region. J Latin Am Geogr 9:213–243

Richards PW (1952) The tropical rainforest: an ecological study. Cambridge University Press, Cambridge

Roosmalen M (1985) Fruits of the Guianan flora. Institute of Systematic Botany, Utrecht University, Utrecht

Sheil D, van Heist M (2000) Ecology for tropical forest management. Int For Rev 2:261–270

Sivasailam A, Cummings AR (2017) Does the location of Amerindian communities provide signals about the spatial distribution of tree and palm species? In: Griffith DA, Chun Y, Dean DJ (eds) Advances in Geocomputation. Advances in Geographic Information Science. Springer International Publishing, Switzerland, Basel, pp 169–179

Stocks A (2005) Too much for too few: problems of indigenous land rights in Latin America. Ann Rev Anthropol 34:85–104

The R Development Core Team (2016) R: a language and environment for statistical computing. Vienna, Austria, ISBN: 3-900051-07-0, http://www.R-project.org

Ticktin T (2004) The ecological implications of harvesting non-timber forest products. J Appl Ecol 41:11–21

Turner MG, Donato DC, Romme WH (2013) Consequences of spatial heterogeneity for ecosystem services in changing forest landscapes: priorities for future research. Landscape Ecol 28:1081–1097

van Andel TR (2000) Non-timber forest products of the north-west district of Guyana: part II A field guide. Tropenbos Foundation, Utrecht

Vandermeer J, Perfecto I (1995) Breakfast of biodiversity: the truth about rain forest destruction. The Institute for Food and Development Policy, California

WCMC (1992) Protected areas of the world: a review of national systems. Nearctic and neotropical. World Conservation Monitoring Centre, Cambridge, vol 4

Wu J (2013a) Landscape sustainability science: ecosystem services and human well-being in changing landscapes. Landscape Ecol 28:999–1023

Wu J (2013b) Key concepts and research topics in landscape ecology revisited: 30 years after the Allerton Park workshop. Landscape Ecol 20:1–11

Zimmerman B, Peres CA, Malcolm JR, Turner T (2001) Conservation and development alliances with the Kayapó of south-eastern Amazonia, a tropical forest indigenous people. Environ Conserv 28:10–22
Acknowledgements
This paper represents hours of dedicated work and service from persons all across the Rupununi. In particular, we thank the teams in the fourteen villages where we collected data on multiple-use plant species: Benedict Joseph, Thaddeus Joseph, Ozias James, Orville Milton, Keary Duncan, John Duncan, John Loyola, Handley Thomas, Ram Henry, Alphaeus Thomas, Brucelee Henry, Selverio Edwards, Persaud Moses, Gilbert Domingo, Randolph Brown, Davis Brown, Cameron Anton, Cyril Jonas, Andrew Mandook, Mr. Martin, Billy Martin, Eli Martin, Alphonso Francis, Edgar Caitan, Johnny, William Pereira, Aaron Pereira, Carl St. Hill, Carlson St. Hill, Donald Andries, Jackson Joel, Alexis Nagarine, Danford Moses, Ricky Moses, Marcus Moses, Carro Moses, and Stephen Andries. We are grateful to the people of the Rupununi, in particular the leadership of the North Rupununi District Development Board (NRDDB), Bina Hill Institute and the South Central Peoples Development Association (SCPDA). At Project Fauna Dr. Jeff Luzar and Ms. Ketlen Williams, supported data collection. At UT Dallas Aravind Sivasailam and Muna Shah provided assistance in a number of areas. The Guyana Environmental Protection Agency (EPA) in conjunction with the Ministry of Amerindian Affairs granted permission for this research. The Guyana Lands and Surveys Commission, Conservation International Guyana and the Guyana Geology and Mines Commission kindly provided base maps and maps of Amerindian communities. Funding for this project was made possible by the US National Science Foundation BE/CNH Grant 0837531.
About this article
Cite this article
Cummings, A.R., Read, J.M. & Fragoso, J.M.V. Implications of forest type and land tenure diversity for the sustainability of ecosystem services provided by northern Amazonia's multiple-use tree species. Landscape Ecol 33, 423–438 (2018). https://doi.org/10.1007/s10980-018-0614-3
Received:

Accepted:

Published:

Issue Date:

DOI: https://doi.org/10.1007/s10980-018-0614-3
Keywords
Multiple-use plants

Ecosystem services

Forest type

Land tenure

Landscape diversity

Landscape sustainability

Tropical landscapes