Abstract
Context
Despite the key role of biological control in agricultural landscapes, we still poorly understand how landscape structure modulates pest control at different spatial scales.
Objectives
Here we take an experimental approach to explore whether bird and bat exclusion affects pest control in sun coffee plantations, and whether this service is consistent at different spatial scales.
Methods
We experimentally excluded flying vertebrates from coffee plants in 32 sites in the Brazilian Atlantic Forest, encompassing a gradient of forest cover at landscape (2 km radius) and local (300 m) spatial scales, and quantified coffee leaf loss, as an indicator of herbivory, and fruit set.
Results
Leaf loss decreased with higher landscape forest cover, but this relation was significantly different between treatment and control plants depending on local forest cover. On the other hand, fruit set responded to the interaction between treatment and local forest cover but was not affected by landscape forest cover. More specifically, fruit set increased significantly with local forest cover in exclusion treatments and showed a non-significant decrease in open controls.
Conclusions
These results suggest that services provided by flying vertebrates are modulated by processes occurring at different spatial scales. We posit that in areas with high local forest cover flying vertebrates may establish negative interactions with predaceous arthropods (i.e. intraguild predation), but this would not be the case in areas with low local forest cover. We highlight the importance of employing a multi-scale analysis in systems where multiple species, which perceive the landscape differently, are providing ecosystem services.
Access options
Buy single article
Instant access to the full article PDF.
US$ 39.95
Tax calculation will be finalised during checkout.
Subscribe to journal
Immediate online access to all issues from 2019. Subscription will auto renew annually.
US$ 79
Tax calculation will be finalised during checkout.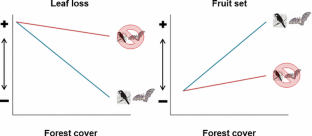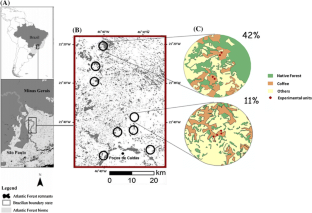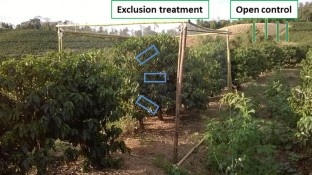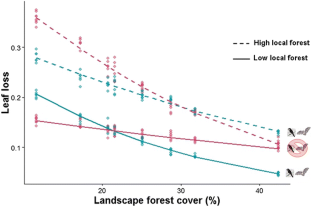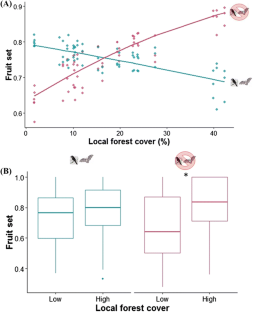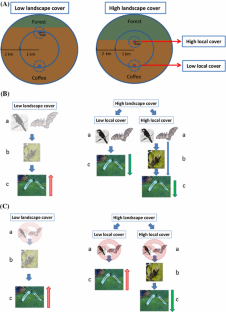 References
Amaral DS, Venzon M, Pallini A, Lima PC, DeSouza O (2010) A diversificação da vegetação reduz o ataque do bicho-mineiro-do-cafeeiro Leucoptera coffeella (Guérin-Mèneville)(Lepidoptera: Lyonetiidae). Neotrop Entomol 39(4):543–548

Aristizábal N (2016) Landscape structure effects on ant-mediated pest control in coffee farms. University of São Paulo (USP)

Aviron S, Burel F, Baudry J, Schermann N (2005) Carabid assemblages in agricultural landscapes: impacts of habitat features, landscape context at different spatial scales and farming intensity. Agric Ecosyst Environ 108(3):205–217

Banks-Leite C, Ewers RM, Metzger JP (2010) Edge effects as the principal cause of area effects on birds in fragmented secondary forest. Oikos 119(6):918–926

Barrera JF (2008) Coffee Pests and their Management. In: Capinera JL (ed) Encyclopedia of entomology. Springer, Dordrecht, pp 961–998

Bianchi FJJA, Booij CJH, Tscharntke T (2006) Sustainable pest regulation in agricultural landscapes: a review on landscape composition, biodiversity and natural pest control. Proc R Soc B-Biol Sci 273(1595):1715–1727

Bichara CC, Santos GMD, dos Santos AB, Santana-Reis VP, da Cruz JD, Gobbi N (2010) Foraging behavior of the swarm-founding Wasp Polybia (Trichothorax) sericea (Hymenoptera, Vespidae): daily resource collection activity and flight capacity. Sociobiology 55(3):899–907

Billeter R, Liira J, Bailey D, Bugter R, Arens P, Augenstein I, Aviron S, Baudry J, Bukacek R, Burel F, Cerny M, De Blust G, De Cock R, Diekotter T, Dietz H, Dirksen J, Dormann C, Durka W, Frenzel M, Hamersky R, Hendrickx F, Herzog F, Lotz S, Koolstra B, Lausch A, Le Coeur D, Maelfait JP, Opdam P, Roubalova M, Schermann A, Schermann N, Schmidt T, Schweiger O, Smulders MJM, Speelmans M, Simova P, Verboom J, van Wingerden WKRE, Zobel M, Edwards PJ (2008) Indicators for biodiversity in agricultural landscapes: a pan-European study. J Appl Ecol 45(1):141–150

Boesing AL, Nichols E, Metzger JP (2017) Effects of landscape structure on avian-mediated insect pest control services: a review. Landscape Ecol 1–14

Boscolo D, Metzger JP (2009) Is bird incidence in Atlantic forest fragments influenced by landscape patterns at multiple scales? Landscape Ecol 24(7):907–918

Carrara E, Arroyo-Rodríguez V, Vega-Rivera JH, Schondube JE, de Freitas SM, Fahrig L (2015) Impact of landscape composition and configuration on forest specialist and generalist bird species in the fragmented Lacandona rainforest, Mexico. Biol Conserv 184:117–126

Carvalho G, Miranda J, Vilela F, Moura A, Moraes J (2004) Impacto de inseticidas sobre vespas predadoras e parasitóides e sua eficiência no controle de Leucoptera coffeella (Guérin-Mèneville & Perrottet, 1842)(Lepidoptera: Lyonetiidae). Arquivos do Instituto Biológico 71:63–70

Chaplin-Kramer R, O'Rourke ME, Blitzer EJ, Kremen C (2011) A meta-analysis of crop pest and natural enemy response to landscape complexity. Ecol Lett 14(9):922–932

Classen A, Peters MK, Ferger SW, Helbig-Bonitz M, Schmack JM, Maassen G, Schleuning M, Kalko EK, Bohning-Gaese K, Steffan-Dewenter I (2014) Complementary ecosystem services provided by pest predators and pollinators increase quantity and quality of coffee yields. Proc Biol Sci R Soc 281(1779):20133148

Cleveland CJ, Betke M, Federico P, Frank JD, McCracken GF, Medellin RA, Moreno-Valdez A, Sansone CG, Westbrook JK, Kunz TH (2006) Economic value of the pest control service provided by Brazilian free-tailed bats in south-central Texas. Front Ecol Environ 4(5):238–243

Conab (2014) Café. Safra 2014. Terceiro Levantamento. Available from http://www.conab.gov.br/OlalaCMS/uploads/arquivos/14_09_16_08_47_43_boletim_setembro_2014.pdf. Accessed 9 May 2015

da Cruz JD, Giannotti E, Santos GMM, Bichara CC, da Rocha AA (2006) Nest site selection and flying capacity of neotropical wasp Angiopolybia pallens (Hymenoptera: Vespidae) in the Atlantic Rain Forest, Bahia state, Brazil. Sociobiology 47(3):739–749

De Coster G, Banks-Leite C, Metzger JP (2015) Atlantic forest bird communities provide different but not fewer functions after habitat loss. Proc R Soc B-Biol Sci 282(1811)

Dias FP, Souza CAS (2015) Caracterização de progênies do cafeeiro (Coffea arabica L.) selecionadas em Minas Gerais: II-caracteres relacionados à produção. Ceres 52(299)

Ethier K, Fahrig L (2011) Positive effects of forest fragmentation, independent of forest amount, on bat abundance in eastern Ontario, Canada. Landscape Ecol 26(6):865–876

FAOSTAT (2013) Food and agricultural commodities production/countries by commodity. Available from http://faostat3.fao.org/browse/rankings/countries_by_commodity/E accessed 9 May 2015

Faria D, Laps RR, Baumgarten J, Cetra M (2006) Bat and bird assemblages from forests and shade cacao plantations in two contrasting landscapes in the Atlantic Forest of southern Bahia, Brazil. Biodivers Conserv 15(2):587–612

Fernandes FL, da Silva PR, Gorri JER, Pucci LF, da Silva ÍW (2014) Selectivity of old and new insecticides and behaviour of vespidae predators in coffee crop. Sociobiology 60(4):471–476

Galindo Leal C, Câmara IdG (2003) The Atlantic forest of South America: biodiversity status, threats, and outlook. Island Press, Washington, DC

Gorresen PM, Willig MR (2004) Landscape responses of bats to habitat fragmentation in Atlantic forest of Paraguay. J Mammal 85(4):688–697

Gorresen PM, Willig MR, Strauss RE (2005) Multivariate analysis of scale-dependent associations between bats and landscape structure. Ecol Appl 15(6):2126–2136

Harrison XA (2015) A comparison of observation-level random effect and Beta-Binomial models for modelling overdispersion in Binomial data in ecology & evolution. Peerj 3:e1114

Jackson HB, Fahrig L (2015) Are ecologists conducting research at the optimal scale? Glob Ecol Biogeogr 24(1):52–63

Johnson MD, Kellermann JL, Stercho AM (2010) Pest reduction services by birds in shade and sun coffee in Jamaica. Anim Conserv 13(2):140–147

Joly CA, Metzger JP, Tabarelli M (2014) Experiences from the Brazilian Atlantic Forest: ecological findings and conservation initiatives. New Phytol 204(3):459–473

Kalka MB, Smith AR, Kalko EKV (2008) Bats limit arthropods and herbivory in a tropical forest. Science 320(5872):71–71

Kalko EKV, Handley CO Jr, Handley D (1996) CHAPTER 16—Organization, diversity, and long-term dynamics of a neotropical bat community. Long-term studies of vertebrate communities. Academic Press, San Diego, pp 503–553

Karp DS, Daily GC (2014) Cascading effects of insectivorous birds and bats in tropical coffee plantations. Ecology 95(4):1065–1074

Karp DS, Mendenhall CD, Sandi RF, Chaumont N, Ehrlich PR, Hadly EA, Daily GC (2013) Forest bolsters bird abundance, pest control and coffee yield. Ecol Lett 16(11):1339–1347

Kennedy C, Sochi K, Baumgarten L, Hawthorne P, Miteva D (2014) Biodiversity model parameters applied to the Brazilian Cerrado

Kraker C, Pérez S (2014) Detección ultrasónica de murciélagos insectívoros en cafetales de La Antigua Guatemala, Guatemala. Revista Científica (24)

Lundin O, Smith HG, Rundlof M, Bommarco R (2013) When ecosystem services interact: crop pollination benefits depend on the level of pest control. Proc R Soc B-Biol Sci 280(1753)

Maas B, Clough Y, Tscharntke T (2013) Bats and birds increase crop yield in tropical agroforestry landscapes. Ecol Lett 16(12):1480–1487

Maas B, Tscharntke T, Saleh S, Dwi Putra D, Clough Y, Siriwardena G (2015) Avian species identity drives predation success in tropical cacao agroforestry. J Appl Ecol

Maine JJ, Boyles JG (2015) Bats initiate vital agroecological interactions in corn. Proc Natl Acad Sci USA 112(40):12438–12443

Marini MÂ (2010) Bird movement in a fragmented Atlantic Forest landscape. Stud Neotrop Fauna Environ 45(1):1–10

Martensen AC, Pimentel RG, Metzger JP (2008) Relative effects of fragment size and connectivity on bird community in the Atlantic Rain Forest: implications for conservation. Biol Conserv 141(9):2184–2192

Martin EA, Reineking B, Seo B, Steffan-Dewenter I (2013) Natural enemy interactions constrain pest control in complex agricultural landscapes. Proc Natl Acad Sci USA 110(14):5534–5539

Melo TL, Castellani MA, do Nascimento MD, Jumior MF, Ferreira GFB, Lemos OL (2007) Parasitoid communities of Leucoptera coffeella (Guerin-Meneville & Perrottet, 1842) (Lepidoptera: Lyonetiidae) in coffee plants in the western and southwestern regions of Bahia state, Brazil. Cienc Agrotec 31(4):966–972

Metzger JP (2010) O Código Florestal tem base científica? Natureza & Conservação

Meyer ST, Koch C, Weisser WW (2015) Towards a standardized rapid ecosystem function assessment (REFA). Trends Ecol Evol

Mitchell MGE, Bennett EM, Gonzalez A (2014) Forest fragments modulate the provision of multiple ecosystem services. J Appl Ecol 51(4):909–918

Moguel P, Toledo VM (1999) Biodiversity conservation in traditional coffee systems of Mexico. Conserv Biol 13(1):11–21

Mooney KA, Gruner DS, Barber NA, Van Bael SA, Philpott SM, Greenberg R (2010) Interactions among predators and the cascading effects of vertebrate insectivores on arthropod communities and plants. Proc Natl Acad Sci USA 107(16):7335–7340

Muylaert RL, Stevens RD, Ribeiro MC (2016) Threshold effect of habitat loss on bat richness in cerrado-forest landscapes. Ecol Appl 26(6):1854–1867

Myers N, Mittermeier RA, Mittermeier CG, da Fonseca GAB, Kent J (2000) Biodiversity hotspots for conservation priorities. Nature 403(6772):853–858

Numa C, Verdu JR, Sanchez-Palomino P (2005) Phyllostomid bat diversity in a variegated coffee landscape. Biol Conserv 122(1):151–158

Oliveira CM, Auad AM, Mendes SM, Frizzas MR (2014) Crop losses and the economic impact of insect pests on Brazilian agriculture. Crop Prot 56:50–54

Peel MC, Finlayson BL, McMahon TA (2007) Updated world map of the Köppen-Geiger climate classification. Hydrol Earth Syst Sci 11(5):1633–1644

Perfecto I, Vandermeer J, Philpott SM (2014) Complex ecological interactions in the coffee agroecosystem. Annu Rev Ecol Evol Syst 45:137–158

Pierre LSR (2011) Níveis populacionais de Leucoptera coffeella (Lepidoptera: Lyonetiidae) e Hypothenemus hampei (Coleoptera: Scolytidae) e a ocorrência de seus parasitoides em sistemas de produção de café orgânico e convencional. PhD, Universidade de São Paulo

Pompeu P, Costa M, Fontes MA, Carvalho L, Pereira J, Pellicciottii A, Gomes D, Cipriani H, Martins M (2009) Classificação e apresentação dos parâmetros climáticos de Poços de Caldas-MG. In: III Congresso Latino Americano de Ecologia, São Lourenço-MG

Prezoto F, Gobbi N (2005) Flight range extension in Polistes simillimus Zakin, 1951 (Hymenoptera, Vespidae). Braz Arch Biol Technol 48(6):947–950

Procafé (2014) BOLETIM DE AVISOS FITOSSANITÁRIOS SUL DE MINAS GERAIS. Fundação Procafé,

R Development Core Team (2014) R: a language and environment for statistical computing. R Foundation for Statistical Computing. Vienna, Austria. http://www.R-project.org

Reis R (1999) Interferência entre vespas e parasitóides de Leucoptera coffeella (Guérin-Méneville)(Lepidoptera: Lyonetiidae)

Ribeiro C, Elisei T, Guimaraes DL, Prezoto F (2008) Flight range extension in the swarm-founding wasp Protopolybia exigua (Hymenoptera, Vespidae, Epiponini). Sociobiology 51(1):173–180

Ribeiro MC, Metzger JP, Martensen AC, Ponzoni FJ, Hirota MM (2009) The Brazilian Atlantic Forest: how much is left, and how is the remaining forest distributed? Implications for conservation. Biol Conserv 142(6):1141–1153

Rocha R, Lopez-Baucells A, Farneda FZ, Groenenberg M, Bobrowiec PED, Cabeza M, Palmeirim JM, Meyer CFJ (2017) Consequences of a large-scale fragmentation experiment for Neotropical bats: disentangling the relative importance of local and landscape-scale effects. Landscape Ecol 32(1):31–45

Santos GMM, Santana-Reis VPG, Resend JJ, De Marco P, Bichara Filho CC (2000) Flying capacity of swarm-founding wasp Polybia occidentalis occidentalis Oliver, 1791 (Hymenoptera, Vespidae). Revista brasileira de Zoociência 2(2):33–39

Saturni FT, Jaffé R, Metzger JP (2016) Landscape structure influences bee community and coffee pollination at different spatial scales. Agric Ecosyst Environ 235:1–12

Souza JC, Reis PR, Rigitano RL (1998) O bicho mineiro do cafeeiro: biologia, danos e manejo integrado. EPAMIG Boletim Técnico 54:48

Tabarelli M, Aguiar AV, Ribeiro MC, Metzger JP, Peres CA (2010) Prospects for biodiversity conservation in the Atlantic Forest: lessons from aging human-modified landscapes. Biol Conserv 143(10):2328–2340

Thies C, Roschewitz I, Tscharntke T (2005) The landscape context of cereal aphid-parasitoid interactions. Proc R Soc B-Biol Sci 272(1559):203–210

Tscharntke T, Klein AM, Kruess A, Steffan-Dewenter I, Thies C (2005) Landscape perspectives on agricultural intensification and biodiversity—ecosystem service management. Ecol Lett 8(8):857–874

Turner MG, Donato DC, Romme WH (2013) Consequences of spatial heterogeneity for ecosystem services in changing forest landscapes: priorities for future research. Landscape Ecol 28(6):1081–1097

Van Bael SA, Philpott SM, Greenberg R, Bichier P, Barber NA, Mooney KA, Gruner DS (2008) Birds as predators in tropical agroforestry systems. Ecology 89(4):928–934

Waller JM, Bigger M, Hillocks RJ (2007) Coffee pests, diseases and their management. CABI

Wheatley M, Johnson C (2009) Factors limiting our understanding of ecological scale. Ecol Complex 6(2):150–159

Wiens JA (1989) Spatial scaling in ecology. Funct Ecol

Williams-Guillén K, Olimpi E, Maas B, Taylor PJ, Arlettaz R (2016) Bats in the anthropogenic matrix: challenges and opportunities for the conservation of chiroptera and their ecosystem services in agricultural landscapes. In: Voigt CC, Kingston T (eds) Bats in the anthropocene: conservation of bats in a changing world. Springer International Publishing, Cham, pp 151–186

Williams-Guillén K, Perfecto I (2011) Ensemble composition and activity levels of insectivorous bats in response to management intensification in coffee agroforestry systems. PLoS ONE 6(1):e16502

Williams-Guillen K, Perfecto I, Vandermeer J (2008) Bats limit insects in a neotropical agroforestry system. Science 320(5872):70–70

Zuur AF (2009) Mixed effects models and extensions in ecology with R. Springer, New York
Acknowledgements
We thank all coffee farmers and employees for giving permission to conduct fieldwork on their lands and for the outstanding support. We also acknowledge Prof. Thomas Kneib for his valuable suggestions regarding statistics. Special thanks to the Lepac (Laboratory of Landscape Ecology and Conservation) staff for their help, hardwork and friendship. Our gratitude goes also to all volunteers that helped in this project for their commitment and dedication. This study is part of the "Interface Project" and was founded by the São Paulo Research Foundation (FAPESP project 2013/23457-6). Authors thank the PAEC-OEA-CGUB program (FLE master fellowship), the Brazilian Science Council (Conselho Nacional de Desenvolvimento Científico e Tecnológico, CNPq; JPM research fellowship process no. 307934/2011-0), and FAPESP (GDC post-doctoral fellowships no. 2012/06866-7 and 2014/14746-7).
Electronic supplementary material
Below is the link to the electronic supplementary material.
About this article
Cite this article
Librán-Embid, F., De Coster, G. & Metzger, J.P. Effects of bird and bat exclusion on coffee pest control at multiple spatial scales. Landscape Ecol 32, 1907–1920 (2017). https://doi.org/10.1007/s10980-017-0555-2
Received:

Accepted:

Published:

Issue Date:
Keywords
Brazilian Atlantic Forest

Coffea arabica

Ecosystem services

Landscape ecology

Pest control