Abstract
Context
Cultural landscapes provide essential ecosystem services to local communities, especially in poor rural settings. However, potentially negative impacts of ecosystems—or disservices—remain inadequately understood. Similarly, how benefit–cost outcomes differ within communities is unclear, but potentially important for cultural landscape management.
Objectives
Here we investigated whether distinct forest ecosystem service–disservice outcomes emerge within local communities. We aimed to characterize groups of community members according to service–disservice outcomes, and assessed their attitudes towards the forest.
Methods
We interviewed 150 rural households in southwestern Ethiopia about locally relevant ecosystem services (provisioning services) and disservices (wildlife impacts). Households were grouped based on their ecosystem service–disservice profiles through hierarchical clustering. We used linear models to assess differences between groups in geographic and socioeconomic characteristics, as well as attitudes toward the forest.
Results
We identified three groups with distinct ecosystem service–disservice profiles. Half of the households fell into a "lose–lose" profile (low benefits, high costs), while fewer had "lose–escape" (low benefits, low costs) and "win–lose" (high benefits, high costs) profiles. Location relative to forest and altitude explained differences between the "lose–escape" profile and other households. Socioeconomic factors were also important. "Win–lose" households appeared to be wealthier and had better forest use rights compared to "lose–lose" households. Attitudes towards the forest did not differ between profiles.
Conclusions
Our study demonstrates the importance of disaggregating both ecosystem services and disservices, instead of assuming that communities receive benefits and costs homogenously. To manage cultural landscapes sustainably, such heterogeneity must be acknowledged and better understood.
This is a preview of subscription content, log in to check access.
Access options
Buy single article
Instant access to the full article PDF.
US$ 39.95
Price includes VAT for USA
Subscribe to journal
Immediate online access to all issues from 2019. Subscription will auto renew annually.
US$ 99
This is the net price. Taxes to be calculated in checkout.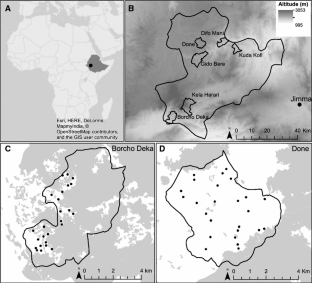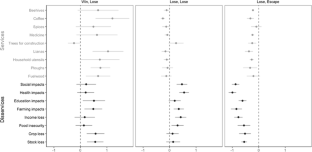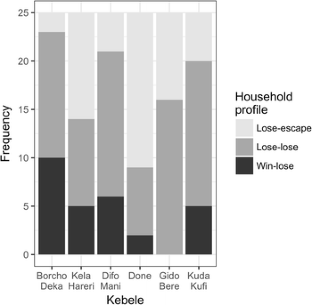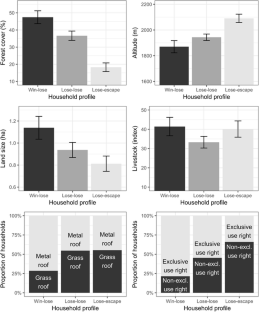 References
Abson DJ, Von Wehrden H, Baumgärtner S, Fischer J, Hanspach J, Härdtle W, Heinrichs H, Klein AM, Lang DJ, Martens P, and Walmsley D (2014) Ecosystem services as a boundary object for sustainability. Ecol Econ 103:29–37

Aerts R, Hundera K, Berecha G, Gijbels P, Baeten M, Van Mechelen M, Hermy M, Muys B, Honnay O (2011) Semi-forest coffee cultivation and the conservation of Ethiopian Afromontane rainforest fragments. For Ecol Manage 261(6):1034–1041

Altieri MA (2004) Linking ecologists and traditional farmers in the search for sustainable agriculture. Front Ecol Environ 2(1):35–42

Ameha A, Larsen HO, Lemenih M (2014) Participatory forest management in Ethiopia: learning from pilot projects. Environ Manage 53(4):838–854

Ango TG (2016) Ecosystem services and disservices in an agriculture—forest mosaic: a study of forest and tree management and landscape transformation in southwestern Ethiopia. PhD thesis, Stockholm University, Stockholm

Ango TG, Börjeson L, Senbeta F (2016) Crop raiding by wild mammals in Ethiopia: impacts on the livelihoods of smallholders in an agriculture–forest mosaic landscape. Oryx. doi:10.1017/S0030605316000028

Ango TG, Börjeson L, Senbeta F, Hylander K (2014) Balancing ecosystem services and disservices: smallholder farmers' use and management of forest and trees in an agricultural landscape in southwestern Ethiopia. Ecol Soc 19(1):30

Barua M, Bhagwat SA, Jadhav S (2013) The hidden dimensions of human–wildlife conflict: health impacts, opportunity and transaction costs. Biol Cons 157:309–316

Bignal EM, McCracken DI (2000) The nature conservation value of European traditional farming systems. Environ Rev 8(3):149–171

Bulte EH, Rondeau D (2005) Research and management viewpoint: why compensating wildlife damages may be bad for conservation. J Wildl Manage 69(1):14–19

Carpenter SR, Mooney HA, Agard J, Capistrano D, DeFries RS, Díaz S, Dietz T, Duraiappah AK, Oteng-Yeboah A, Pereira HM, Perrings C (2009) Science for managing ecosystem services: beyond the Millennium Ecosystem Assessment. Proc Natl Acad Sci 106(5):1305–1312

Chilalo M, Wiersum KF (2011) The role of non-timber forest products for livelihood diversification in Southwest Ethiopia. Ethiopian e-J Res Innov Foresight 3:44–59

Daw T, Brown K, Rosendo S, Pomeroy R (2011) Applying the ecosystem services concept to poverty alleviation: the need to disaggregate human well-being. Environ Conserv 38(04):370–379

Dawson N, Martin A (2015) Assessing the contribution of ecosystem services to human wellbeing: a disaggregated study in western Rwanda. Ecol Econ 117:62–72

Dunn RR (2010) Global mapping of ecosystem disservices: the unspoken reality that nature sometimes kills us. Biotropica 42(5):555–557

Egoh BN, O'Farrell PJ, Charef A, Gurney LJ, Koellner T, Abi HN, Egoh M, Willemen L (2012) An African account of ecosystem service provision: use, threats and policy options for sustainable livelihoods. Ecosyst Serv 2:71–81

Ehret C (1979) On the antiquity of agriculture in Ethiopia. J Afr Hist 20:161–177

Engelen D, Lemessa D, Şekerciogluğlu ÇH, Hylander K (2016) Similar bird communities in homegardens at different distances from Afromontane forests. Bird Conserv Int. doi:10.1017/S0959270916000162

Foli S, Reed J, Clendenning J, Petrokofsky G, Padoch C, Sunderland T (2014) To what extent does the presence of forests and trees contribute to food production in humid and dry forest landscapes?: a systematic review protocol. Environ Evid 3(1):15

Folke C (2006) Resilience: the emergence of a perspective for social–ecological systems analyses. Glob Environ Change 16(3):253–267

Friis I, Demissew S, van Breugel P (2010) Atlas of the potential vegetation of Ethiopia. Royal Danish Academy of Science and Letters, Copenhagen

Galili T (2015) Dendextend: an R package for visualizing, adjusting, and comparing trees of hierarchical clustering. Bioinformatics 31(22):3718–3720

Gobeze T, Bekele M, Lemenih M, Kassa H (2009) Participatory forest management and its impacts on livelihoods and forest status: the case of Bonga forest in Ethiopia. Int For Rev 11(3):346–358

Horcea-Milcu AI, Abson DJ, Dorresteijn I, Loos J, Hanspach J, Fischer J (2017) The role of co-evolutionary development and value debt in navigating changing cultural landscapes: the case of Southern Transylvania. J Environ Planning Manage. doi:10.1080/09640568.2017.1332985

Horcea-Milcu AI, Leventon J, Hanspach J, Fischer J (2016) Disaggregated contributions of ecosystem services to human well-being: a case study from Eastern Europe. Reg Environ Change 16(6):1779–1791

Howe C, Suich H, Vira B, Mace GM (2014) Creating win-wins from trade-offs? Ecosystem services for human well-being: a meta-analysis of ecosystem service trade-offs and synergies in the real world. Glob Environ Change 28:263–275

Hundera K, Aerts R, Fontaine A, Van Mechelen M, Gijbels P, Honnay O, Muys B (2013) Effects of coffee management intensity on composition, structure, and regeneration status of Ethiopian moist evergreen afromontane forests. Environ Manage 51(3):801–809

Hylander K, Nemomissa S (2009) Complementary roles of home gardens and exotic tree plantations as alternative habitats for plants of the Ethiopian montane rainforest. Conserv Biol 23(2):400–409

Hylander K, Nemomissa S, Delrue J, Enkosa W (2013) Effects of coffee management on deforestation rates and forest integrity. Conserv Biol 27(5):1031–1040

Koltko-Rivera ME (2006) Rediscovering the later version of Maslow's hierarchy of needs: self-transcendence and opportunities for theory, research, and unification. Rev Gen Psychol 10:302–317

Labouisse J-P, Bellachew B, Kotecha S, Bertrand B (2008) Current status of coffee (Coffea arabica L.) genetic resources in Ethiopia: implications for conservation. Genet Resour Crop Evol 55(7):1079–1093

Lakerveld RP, Lele S, Crane TA, Fortuin KPJ, Springate-Baginski O (2015) The social distribution of provisioning forest ecosystem services: evidence and insights from Odisha, India. Ecosyst Serv 14:56–66

Lele S, Springate-Baginski O, Lakerveld R, Deb D, Dash P (2013) Ecosystem services: origins, contributions, pitfalls, and alternatives. Conserv Soc 11(4):343

Lemessa D, Hambäck PA, Hylander K (2015) The effect of local and landscape level land-use composition on predatory arthropods in a tropical agricultural landscape. Landscape Ecol 30(1):167–180

Lemessa D, Hylander K, Hambäck PA (2013) Composition of crops and land-use types in relation to crop raiding pattern at different distances from forests. Agric Ecosyst Environ 167:71–78

Lyytimäki J (2015) Ecosystem disservices: embrace the catchword. Ecosyst Serv 12:136

Mackenzie CA (2012) Accruing benefit or loss from a protected area: location matters. Ecol Econ 76:119–129

Mackenzie CA, Ahabyona P (2012) Elephants in the garden: financial and social costs of crop raiding. Ecol Econ 75:72–82

Maslow A (1954) Motivation and personality. Harper and Row, New York

McCann JC (1995) People of the plow: an agricultural history of Ethiopia, 1800–1990. University of Wisconsin Press, Madison

Millennium Ecosystem Assessment (2003) Ecosystems and human well-being: a framework for assessment. Island Press, Washington, DC

Millennium Ecosystem Assessment (2005) Ecosystems and human well-being: synthesis. Island Press, Washington, DC

Moges A, Beyene A, Triest L, Ambelu A, Kelbessa E (2016) Imbalance of ecosystem services of wetlands and the perception of the local community towards their restoration and management in Jimma highlands, southwestern Ethiopia. Wetlands. doi:10.1007/s13157-016-0743-x

Norgaard RB (2010) Ecosystem services: from eye-opening metaphor to complexity blinder. Ecol Econ 69(6):1219–1227

Plieninger T, Dijks S, Oteros-Rozas E, Bieling C (2013) Assessing, mapping, and quantifying cultural ecosystem services at community level. Land Use Policy 33:118–129

Plieninger T, Höchtl F, Spek T (2006) Traditional land-use and nature conservation in European rural landscapes. Environ Sci Policy 9(4):317–321

Plieninger T, van der Horst D, Schleyer C, Bieling C (2014) Sustaining ecosystem services in cultural landscapes. Ecol Soc 19(2):59

R Core Team (2016) R: a language and environment for statistical computing. R Foundation for Statistical Computing, Vienna. https://www.R-project.org/

Rasmussen LV, Christensen AE, Danielsen F, Dawson N, Martin A, Mertz O, Sikor T, Thongmanivong S, Xaydongvanh P (2016) From food to pest: conversion factors determine switches between ecosystem services and disservices. Ambio 46(2):173–183

Salerno J, Mulder MB, Grote MN, Ghiselli M, Packer C (2015) Household livelihoods and conflict with wildlife in community-based conservation areas across northern Tanzania. Oryx 50(4):702–712

Samnegård U, Hambäck PA, Eardley C, Nemomissa S, Hylander K (2015) Turnover in bee species composition and functional trait distributions between seasons in a tropical agricultural landscape. Agric Ecosyst Environ 211:185–194

Saunders ME, Luck GW (2016) Limitations of the ecosystem services versus disservices dichotomy. Conserv Biol. doi:10.1111/cobi.12740

Schirpke U, Scolozzi R, De Marco C, Tappeiner U (2014) Mapping beneficiaries of ecosystem services flows from Natura 2000 sites. Ecosyst Serv 9:170–179

Schröter M, Zanden EH, Oudenhoven AP, Remme RP, Serna-Chavez HM, Groot RS, Opdam P (2014) Ecosystem services as a contested concept: a synthesis of critique and counter-arguments. Conserv Lett 7(6):514–523

Senbeta F, Denich M, Boehmer HJ, Woldemariam T, Teketay D, Demissew S (2007) Wild Coffea arabica L. in Afromontane rainforests of Ethiopia: distribution, ecology and conservation. SINET: Ethiopian J Sci 30(1):13–24

Seppelt R, Dormann CF, Eppink FV, Lautenbach S, Schmidt S (2011) A quantitative review of ecosystem service studies: approaches, shortcomings and the road ahead. J Appl Ecol 48(3):630–636

Shackleton CM, Ruwanza S, Sanni GS, Bennett S, De Lacy P, Modipa R, Mtati N, Sachikonye M, Thondhlana G (2016) Unpacking Pandora's box: understanding and categorising ecosystem disservices for environmental management and human wellbeing. Ecosystems 19(4):587–600

Stellmacher T (2013) Local forest governance in Ethiopia: between legal pluralism and livelihood realities. ZEF Working Paper Series 110:1–29

Suich H, Howe C, Mace G (2015) Ecosystem services and poverty alleviation: a review of the empirical links. Ecosyst Serv 12:137–147

Tadesse S, Woldetsadik M, Senbeta F (2016) Impacts of participatory forest management on forest conditions: evidences from Gebradima Forest, southwest Ethiopia. J Sustain For. doi:10.1080/10549811.2016.1236279

Tallis H, Kareiva P, Marvier M, Chang A (2008) An ecosystem services framework to support both practical conservation and economic development. Proc Natl Acad Sci 105(28):9457–9464

Tchamba MN (1996) History and present status of the human/elephant conflict in the Waza-Logone region, Cameroon, West Africa. Biol Conserv 75(1):35–41

Tesfaye Y, Roos A, Campbell BM, Bohlin F (2011) Livelihood strategies and the role of forest income in participatory-managed forests of Dodola area in the Bale highlands, southern Ethiopia. For Policy Econ 13(4):258–265

Wangai P, Burkhard B, Mueller F (2016) A review of studies on ecosystem services in Africa. Int J Sustain Built Environ. doi:10.1016/j.ijsbe.2016.08.005

Waylen KA, Fischer A, McGowan PJK, Thirgood SJ, Milner-Gulland EJ (2010) Effect of local cultural context on the success of community-based conservation interventions. Conserv Biol 24(4):1119–1129

Willemen L, Drakou EG, Dunbar MB, Mayaux P, Egoh BN (2013) Safeguarding ecosystem services and livelihoods: understanding the impact of conservation strategies on benefit flows to society. Ecosyst Serv 4:95–103

Woldegeorgis G, Wube T (2012) A survey on mammals of the Yayu Forest in Southwest Ethiopia. SINET: Ethiopian J Sci 35(2):135–138

Wu J (2013) Landscape sustainability science: ecosystem services and human well-being in changing landscapes. Landscape Ecol 28:999–1023
Acknowledgements
We thank Tolani Asirat, Shiferaw Diriba, and Dadi Feyisa for their tremendous effort in the field and translations. We thank all the respondents for their participation. We thank the Government of Ethiopia and Oromia State for their permission to conduct the research and the staff of the different woreda and kebele offices and the local communities for their collaboration. The survey procedure was cleared by the ethics committee of Leuphana University Lueneburg. The study was funded through an ERC consolidator Grant to JF. Reviewers' comments improved an earlier version of the manuscript.
Electronic supplementary material
Below is the link to the electronic supplementary material.
About this article
Cite this article
Dorresteijn, I., Schultner, J., Collier, N.F. et al. Disaggregating ecosystem services and disservices in the cultural landscapes of southwestern Ethiopia: a study of rural perceptions. Landscape Ecol 32, 2151–2165 (2017). https://doi.org/10.1007/s10980-017-0552-5
Received:

Accepted:

Published:

Issue Date:
Keywords
Agriculture–forest mosaic

Benefit distribution

Ecosystem service–disservice framework

Human–wildlife conflict

Poverty