Abstract
Context
Human demands for ecosystem services (ES) have tremendously changed the landscape and led to degradation of ecosystems and associated services. The resolving of current eco-environmental problems calls for better understanding of the spatially explicit ES interactions to guide targeted land-use policy-making.
Objectives
We propose a framework to map ES in continuous time-series, based on which we further quantify interactions among multiple ES.
Methods
The supply of three key ES—soil conservation (SC), net primary production (NPP) and water yield (WY)—were quantified and mapped at fine-resolution from 2000 to 2013 using easily-accessible spatial data. Pairwise ES interactions were quantified using a spatio-temporal statistical method.
Results
Spatio-temporal analyses of ES dynamics illustrated that the supply of the three ES increased over the past 14 years in northern Shaanxi, where land cover dramatically changed owing to the wide-range ecological restoration projects. Our results also revealed that ES interactions varied across locations due to landscape heterogeneity and climate difference. In the arid and semi-arid area, synergies among ES (e.g., SC vs. WY) tended to dominate in grassland, while in artificial lands ES were prone to show trade-offs. In the semi-humid area, pairwise ES (e.g., NPP vs. WY) in woodland tended to present synergies.
Conclusions
The spatio-temporal variation of ES and their interactions resulted from coupling effect of human-induced climate and land-use change. In the long-term, spatially explicit quantification of ES interactions can help identify spatial heterogeneity in ES trade-offs and synergies, and inform regional targeted land-use policy adjustment and sustainable ecosystem management.
Access options
Buy single article
Instant access to the full article PDF.
USD 39.95
Price excludes VAT (USA)
Tax calculation will be finalised during checkout.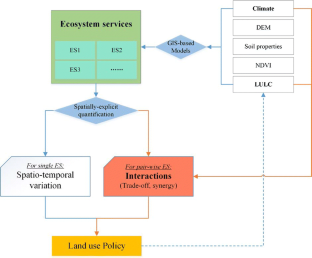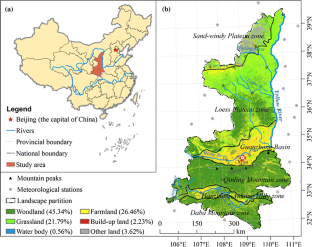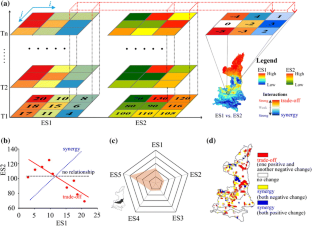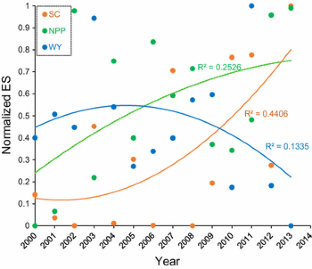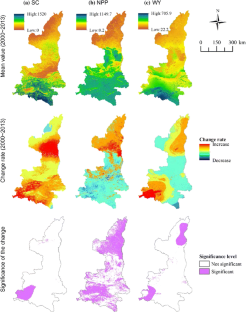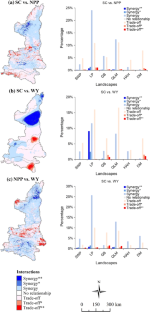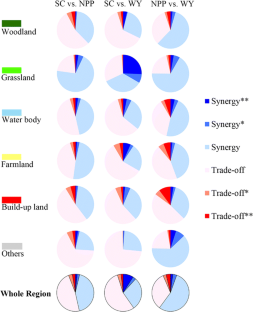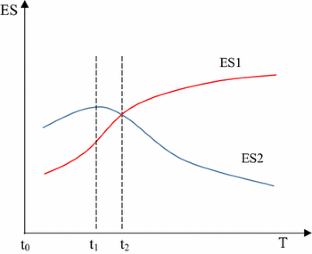 References
Anderson BJ, Armsworth PR, Eigenbrod F, Thomas CD, Gillings S, Heinemeyer A, Roy DB, Gaston KJ (2009) Spatial covariance between biodiversity and other ecosystem service priorities. J Appl Ecol 46(4):888–896

Bennett EM (2017) Research frontiers in ecosystem service science. Ecosystems 20(1):31–37

Bennett EM, Peterson GD, Gordon LJ (2009) Understanding relationships among multiple ecosystem services. Ecol Lett 12(12):1394–1404

Birkhofer K, Diehl E, Andersson J, Ekroos J, Früh-Müller A, Machnikowski F, Mader VL, Nilsson L, Sasaki K, Rundlöf M (2015) Ecosystem services—current challenges and opportunities for ecological research. Front Ecol Evol 2:87

Brown AE, Zhang L, McMahon TA, Western AW, Vertessy RA (2005) A review of paired catchment studies for determining changes in water yield resulting from alterations in vegetation. J Hydrol 310(1–4):28–61

Budyko MI (1974) Climate and life. Academic Press, San Diego

Butler JRA, Wong GY, Metcalfe DJ, Honzak M, Pert PL, Rao N, van Grieken ME, Lawson T, Bruce C, Kroon FJ, Brodie JE (2013) An analysis of trade-offs between multiple ecosystem services and stakeholders linked to land use and water quality management in the Great Barrier Reef, Australia. Agric Ecosyst Environ 180:176–191

Cai C, Ding S, Shi Z, Huang L, Zhang G (2000) Study of applying USLE and geographical information system IDRISI to predict soil erosion in small watershed. J Soil Water Conserv 14(2):19–24

Costanza R, Fisher B, Mulder K, Liu S, Christopher T (2007) Biodiversity and ecosystem services: a multi-scale empirical study of the relationship between species richness and net primary production. Ecol Econ 61(2–3):478–491

Daily GC, Polasky S, Goldstein J, Kareiva PM, Mooney HA, Pejchar L, Ricketts TH, Salzman J, Shallenberger R (2009) Ecosystem services in decision making: time to deliver. Front Ecol Environ 7(1):21–28

Dallimer M, Davies ZG, Diaz-Porras DF, Irvine KN, Maltby L, Warren PH, Armsworth PR, Gaston KJ (2015) Historical influences on the current provision of multiple ecosystem services. Glob Environ Change 31:307–317

de Groot RS, Alkemade R, Braat L, Hein L, Willemen L (2010) Challenges in integrating the concept of ecosystem services and values in landscape planning, management and decision making. Ecol Complex 7(3):260–272

de Groot RS, Wilson MA, Boumans RMJ (2002) A typology for the classification, description and valuation of ecosystem functions, goods and services. Ecol Econ 41(3):393–408

Deng X, Li Z, Gibson J (2016) A review on trade-off analysis of ecosystem services for sustainable land-use management. J Geog Sci 26(7):953–968

ESRI I (2013) ArcGIS: release 10.2. Esri Inc, Redmond

Feng X, Fu B, Piao S, Wang S, Ciais P, Zeng Z, Lu Y, Zeng Y, Li Y, Jiang X, Wu B (2016) Revegetation in China[rsquor]s Loess Plateau is approaching sustainable water resource limits. Nat Clim Change 6(11):1019–1022

Feng XM, Sun G, Fu BJ, Su CH, Liu Y, Lamparski H (2012) Regional effects of vegetation restoration on water yield across the Loess Plateau, China. Hydrol Earth Syst Sci 16(8):2617–2628

Fischer G, Nachtergaele F, Prieler S, Van Velthuizen H, Verelst L, Wiberg D (2008) Global agro-ecological zones assessment for agriculture (GAEZ 2008). IIASA, Laxenburg

Fisher B, Turner RK, Morling P (2009) Defining and classifying ecosystem services for decision making. Ecol Econ 68(3):643–653

Foley JA, Defries R, Asner GP, Barford C, Bonan G, Carpenter SR, Chapin FS, Coe MT, Daily GC, Gibbs HK, Helkowski JH, Holloway T, Howard EA, Kucharik CJ, Monfreda C, Patz JA, Prentice IC, Ramankutty N, Snyder PK (2005) Global consequences of land use. Science 309(5734):570–574

Fu B, Liu Y, Lu Y, He C, Zeng Y, Wu B (2011) Assessing the soil erosion control service of ecosystems change in the Loess Plateau of China. Ecol Complex 8(4):284–293

Fu B, Zhang L, Xu Z, Zhao Y, YongpingWei Skinner D (2015) Ecosystem services in changing land use. J Soils Sediments 15(4):833–843

Goldstein JH, Caldarone G, Duarte TK, Ennaanay D, Hannahs N, Mendoza G, Polasky S, Wolny S, Daily GC (2012) Integrating ecosystem-service tradeoffs into land-use decisions. Proc Natl Acad Sci USA 109(19):7565–7570

Gret-Regamey A, Weibel B, Bagstad KJ, Ferrari M, Geneletti D, Klug H, Schirpke U, Tappeiner U (2014) On the effects of scale for ecosystem services mapping. PLoS ONE 9(12):e112601

Haase D, Schwarz N, Strohbach M, Kroll F, Seppelt R (2012) Synergies, Trade-offs, and Losses of Ecosystem Services in Urban Regions: an Integrated Multiscale Framework Applied to the Leipzig-Halle Region, Germany. Ecol Soc 17(3)

Haberl H, Erb K-H, Krausmann F (2013) Global human appropriation of net primary production (HANPP). Retrieved from http://www.eoearth.org/view/article/153031

Hamon WR (1963) Computation of direct runoff amounts from storm rainfall. International Association of Scientific Hydrology Publication

Haslett JR, Berry PM, Bela G, Jongman RHG, Pataki G, Samways MJ, Zobel M (2010) Changing conservation strategies in Europe: a framework integrating ecosystem services and dynamics. Biodivers Conserv 19(10):2963–2977

Hein L, van Koppen CSA, van Ierland EC, Leidekker J (2016) Temporal scales, ecosystem dynamics, stakeholders and the valuation of ecosystems services. Ecosyst Serv 21:109–119

Hu H, Fu B, Lü Y, Zheng Z (2014) SAORES: a spatially explicit assessment and optimization tool for regional ecosystem services. Landscape Ecol 30(3):547–560

Jackson RB, Jobbágy EG, Avissar R, Roy SB, Barrett DJ, Cook CW, Farley KA, le Maitre DC, McCarl BA, Murray BC (2005) Trading water for carbon with biological carbon sequestration. Science 310(5756):1944

Jia X, Fu B, Feng X, Hou G, Liu Y, Wang X (2014) The tradeoff and synergy between ecosystem services in the Grain-for-Green areas in Northern Shaanxi, China. Ecol Ind 43:103–113

Landis JR, Koch GG (1977) The measurement of observer agreement for categorical data. Biometrics, 159–174

Lee H, Lautenbach S (2016) A quantitative review of relationships between ecosystem services. Ecol Ind 66:340–351

Li S (2014) The geography of ecosystem services. Science Press, Beijing

Li Y, Zhang L, Yan J, Wang P, Hu N, Cheng W, Fu B (2017) Mapping the hotspots and coldspots of ecosystem services in conservation priority setting. J Geog Sci 27(6):681–696

Liu J, Kuang W, Zhang Z, Xu X, Qin Y, Ning J, Zhou W, Zhang S, Li R, Yan C, Wu S, Shi X, Jiang N, Yu D, Pan X, Chi W (2014) Spatiotemporal characteristics, patterns, and causes of land-use changes in China since the late 1980s. J Geog Sci 24(2):195–210

Lu N, Sun G, Feng X, Fu B (2013) Water yield responses to climate change and variability across the North-South Transect of Eastern China (NSTEC). J Hydrol 481:96–105

Lü Y, Fu B, Feng X, Zeng Y, Liu Y, Chang R, Sun G, Wu B (2012) A policy-driven large scale ecological restoration: quantifying ecosystem services changes in the Loess Plateau of China. PLoS ONE 7(2):e31782

Lufafa A, Tenywa M, Isabirye M, Majaliwa M, Woomer P (2003) Prediction of soil erosion in a Lake Victoria basin catchment using a GIS-based Universal Soil Loss model. Agric Syst 76(3):883–894

Maes J, Paracchini ML, Zulian G, Dunbar MB, Alkemade R (2012) Synergies and trade-offs between ecosystem service supply, biodiversity, and habitat conservation status in Europe. Biol Conserv 155:1–12

MEA (2005) Ecosystems and human well-being: current state and trends. Island Press, Washington, DC, pp 829–838

Naidoo R, Balmford A, Costanza R, Fisher B, Green RE, Lehner B, Malcolm TR, Ricketts TH (2008) Global mapping of ecosystem services and conservation priorities. Proc Natl Acad Sci USA 105(28):9495–9500

Nelson E, Mendoza G, Regetz J, Polasky S, Tallis H, Cameron DR, Chan KMA, Daily GC, Goldstein J, Kareiva PM, Lonsdorf E, Naidoo R, Ricketts TH, Shaw MR (2009) Modeling multiple ecosystem services, biodiversity conservation, commodity production, and tradeoffs at landscape scales. Front Ecol Environ 7(1):4–11

Ouyang Z, Zheng H, Xiao Y, Polasky S, Liu J, Xu W, Wang Q, Zhang L, Xiao Y, Rao E (2016) Improvements in ecosystem services from investments in natural capital. Science 352(6292):1455–1459

Potter CS, Randerson JT, Field CB, Matson PA, Vitousek PM, Mooney HA, Klooster SA (1993) Terrestrial ecosystem production: a process model based on global satellite and surface data. Global Biogeochem Cycles 7(4):811–841

Qin K, Li J, Yang X (2015) Trade-off and synergy among ecosystem services in the Guanzhong-Tianshui Economic Region of China. Int J Environ Res Public Health 12(11):14094–14113

Qiu J, Turner MG (2013) Spatial interactions among ecosystem services in an urbanizing agricultural watershed. Proc Natl Acad Sci USA 110(29):12149–12154

Qiu J, Turner MG (2015) Importance of landscape heterogeneity in sustaining hydrologic ecosystem services in an agricultural watershed. Ecosphere 6(11):229

Raudsepp-Hearne C, Peterson GD (2016) Scale and ecosystem services: how do observation, management, and analysis shift with scale—lessons from Québec. Ecol Soc 21(3):16

Raudsepp-Hearne C, Peterson GD, Bennett EM (2010) Ecosystem service bundles for analyzing tradeoffs in diverse landscapes. Proc Natl Acad Sci USA 107(11):5242–5247

Renard D, Rhemtulla JM, Bennett EM (2015) Historical dynamics in ecosystem service bundles. Proc Natl Acad Sci 112(43):13411–13416

Renard KG, Foster G, Weesies G, McCool D, Yoder D (1997) Predicting soil erosion by water: a guide to conservation planning with the Revised Universal Soil Loss Equation (RUSLE). United States Department of Agriculture, Washington, DC

Rodriguez JP, Beard TD Jr, Bennett EM, Cumming GS, Cork SJ, Agard J, Dobson AP, Peterson GD (2006) Trade-offs across space, time, and ecosystem services. Ecol Soc 11(1):28

Schröter M, Remme RP (2016) Spatial prioritisation for conserving ecosystem services: comparing hotspots with heuristic optimisation. Landscape Ecol 31:431–450

Sharp R, Tallis H, Ricketts T, Guerry A, Wood S, Chaplin-Kramer R, Nelson E, Ennaanay D, Wolny S, Olwero N, Vigerstol K, Pennington D, Mendoza G, Aukema J, Foster J, Forrest J, Cameron D, Arkema K, Lonsdorf E, Kennedy C, Verutes G, Kim CK, Guannel G, Papenfus M, Toft J, Marsik M, Bernhardt J, Griffin R, Glowinski K, Chaumont N, Perelman A, Lacayo MM, L, Hamel P, Vogl AL, Rogers L, Bierbower W (2016) InVEST+VERSION+User's Guide. The Natural Capital Project, Stanford University, University of Minnesota, The Nature Conservancy, and World Wildlife Fund

Su C, Fu B (2013) Evolution of ecosystem services in the Chinese Loess Plateau under climatic and land use changes. Global Planet Change 101:119–128

Su C, Fu B, He C, Lu Y (2012) Variation of ecosystem services and human activities: a case study in the Yanhe Watershed of China. Acta Oecologica 44:46–57

Sun G, McNulty SG, Lu J, Amatya DM, Liang Y, Kolka R (2005) Regional annual water yield from forest lands and its response to potential deforestation across the southeastern United States. J Hydrol 308(1):258–268

Sun G, Zhou G, Zhang Z, Wei X, McNulty SG, Vose JM (2006) Potential water yield reduction due to forestation across China. J Hydrol 328(3–4):548–558

Thompson JR, Lambert KF, Foster DR, Broadbent EN, Blumstein M, Almeyda Zambrano AM, Fan Y (2016) The consequences of four land-use scenarios for forest ecosystems and the services they provide. Ecosphere 7(10):e01469

Tomscha SA, Gergel SE (2016) Ecosystem service trade-offs and synergies misunderstood without landscape history. Ecol Soc 21(1):43

Ungaro F, Zasada I, Piorr A (2014) Mapping landscape services, spatial synergies and trade-offs. A case study using variogram models and geostatistical simulations in an agrarian landscape in North-East Germany. Ecol Ind 46:367–378

Wang J, Lü Y, Zeng Y, Zhao Z, Zhang L, Fu B (2014) Spatial heterogeneous response of land use and landscape functions to ecological restoration: the case of the Chinese loess hilly region. Environ Earth Sci 72(7):2683–2696

Wang S, Fu B, Piao S, Lü Y, Ciais P, Feng X, Wang Y (2015) Reduced sediment transport in the Yellow River due to anthropogenic changes. Nat Geosci 9(1):38–41

Wischmeier W, Smith D (1965) Rainfall-Erosion Losses From Cropland East of the Rocky Mountains, Guide for Selection of Practices for Soil and Water Conservation. Agriculture Handbook 282

Xie H, Li R, Yang Q, Li J, Liang W (2009) Effect of returning farmland to forest (pasture) and changes of precipitation on soil erosion in the Yanhe basin. Sci Agric Sin 42(2):569–576

Zhang L, Dawes W, Walker G (2001) Response of mean annual evapotranspiration to vegetation changes at catchment scale. Water Resour Res 37(3):701–708

Zhang L, Fu B, Lü Y, Zeng Y (2015) Balancing multiple ecosystem services in conservation priority setting. Landscape Ecol 30(3):535–546

Zhang L, Hickel K, Dawes W, Chiew FH, Western A, Briggs P (2004) A rational function approach for estimating mean annual evapotranspiration. Water Resour Res 40:W02502

Zhang M, Wei X, Sun P, Liu S (2012) The effect of forest harvesting and climatic variability on runoff in a large watershed: the case study in the Upper Minjiang River of Yangtze River basin. J Hydrol 464–465:1–11

Zhang XP, Zhang L, McVicar TR, Van Niel TG, Li LT, Li R, Yang Q, Wei L (2008) Modelling the impact of afforestation on average annual streamflow in the Loess Plateau, China. Hydrol Process 22(12):1996–2004

Zhao Y, Yu X, Zheng J, Wu Q (2012) Quantitative effects of climate variations and land-use changes on annual streamflow in Chaobai river basin. Trans Chin Soc Agric Eng 28(22):252–260

Zhu W, Pan Y, He H, Yu D, Hu H (2006) Simulation of maximum light use efficiency for some typical vegetation types in China. Chin Sci Bull 51(4):457–463

Zurlini G, Jones KB, Riitters KH, Li B-L, Petrosillo I (2014) Early warning signals of regime shifts from cross-scale connectivity of land-cover patterns. Ecol Ind 45:549–560
Acknowledgements
We thank Lei Jiao and Feng Yang for providing helpful discussions about this work. We also appreciate constructive comments from two anonymous reviewers that greatly improved this manuscript. This work was funded by the National Natural Science Foundation of China (41601182), the National Key Research and Development Plan of China (2016YFC0501601), the Key Project of Chinese Ministry of Education (15JJD790022), the National Social Science Foundation of China (14AZD094), the Fundamental Research Funds for the Central Universities (GK201603078) and the China Postdoctoral Science Foundation (2016M592743).
Electronic supplementary material
Below is the link to the electronic supplementary material.
About this article
Cite this article
Li, Y., Zhang, L., Qiu, J. et al. Spatially explicit quantification of the interactions among ecosystem services. Landscape Ecol 32, 1181–1199 (2017). https://doi.org/10.1007/s10980-017-0527-6
Received:

Accepted:

Published:

Issue Date:

DOI: https://doi.org/10.1007/s10980-017-0527-6
Keywords
Multiple ecosystem services

Trade-off

Synergy

Temporal dynamics

Spatial heterogeneity

Partial correlation

LULC change

Loess Plateau