Abstract
Context
Dispersal has important fitness consequences for individuals, populations, and species. Despite growing theoretical insights into the evolution of dispersal, its behavioral underpinnings remain empirically understudied, limiting our understanding of the extent and impact of responses to landscape-level heterogeneity of environments, and increasing the risk of inferring species-level responses from biased population sampling.
Objectives
We asked if predictable ecological variation among naturally fragmented arid waterbodies is correlated with disparate dispersal responses of populations of the desert goby Chlamydogobius eremius, which naturally inhabits two habitat "types" (permanent springs, ephemeral rivers), and different levels of hydrological connectivity (high and low) that potentially convey different costs and benefits of dispersal.
Methods
To test for possible behavioral divergence between such populations, we experimentally compared the movement behaviors (correlates of emigration and exploration) of wild-caught fish. We used two biologically relevant spatial scales to test movement relevant to different stages of the dispersal process.
Results
Behavior differed at both spatial scales, suggesting that alternative dispersal strategies enable desert gobies to exploit diverse habitat patches. However, while emigration was best predicted by the connectivity (flood risk) of fish habitats, exploration was linked to their habitat type (spring versus river).
Conclusions
Our findings demonstrate that despite a complex picture of ecological variation, key landscape factors have an overarching effect on among-population variation in dispersal traits. Implications include the maintenance of within-species variation, potentially divergent evolutionary trajectories of naturally or anthropogenically isolated populations, and the direction of future experimental studies on the ecology and evolution of dispersal behavior.
Access options
Buy single article
Instant access to the full article PDF.
US$ 39.95
Tax calculation will be finalised during checkout.
Subscribe to journal
Immediate online access to all issues from 2019. Subscription will auto renew annually.
US$ 79
Tax calculation will be finalised during checkout.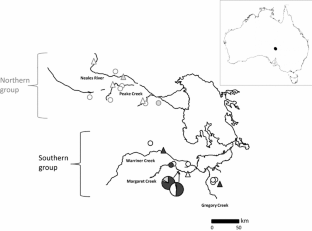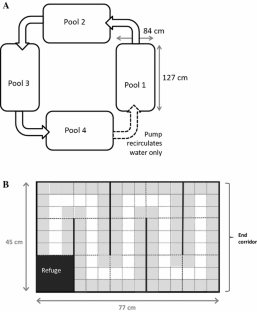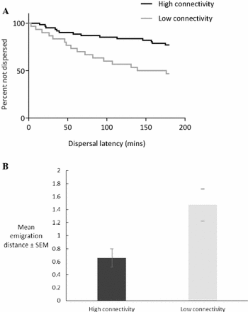 References
Ajemian MJ, Sohel S, Mattila J (2015) Effects of turbidity and habitat complexity on antipredator behavior of three-spined sticklebacks (Gasterosteus aculeatus). Environ Biol Fishes 98:45–55

Altermatt F, Ebert D (2010) Populations in small, ephemeral habitat patches may drive dynamics in a Daphnia magna metapopulation. Ecology 91:2975–2982

Arthington AH, Balcombe SR (2011) Extreme flow variability and the 'boom and bust' ecology of fish in arid-zone floodplain rivers: a case history with implications for environmental flows, conservation and management. Ecohydrology 4(5):708–720

Baguette M, Blanchet S, Legrand D, Stevens VM, Turlure C (2013) Individual dispersal, landscape connectivity and ecological networks. Biol Rev 88:310–326

Bell A (2013) Randomized or fixed order for studies of behavioral syndromes? Behav Ecol 24:16–20

Bonte D, Vanden Borre J, Lens L, Maelfait JP (2006) Geographical variation in wolf spider dispersal behaviour is related to landscape structure. Anim Behav 72:655–662

Bonte D , Van Dyck H, Bullock JM, Coulon A, Delgado M, Gibbs M, Lehouck V, Matthysen E, Mustin K, Saastamoinen M, Schtickzelle N, Stevens VM, Vandewoestijne S, Baguette M, Barton K, Benton TG, Chaput-Bardy A, Clobert J, Dytham C, Hovestadt T, Meier CM, Palmer SCF, Turlure C, Travis JMJ (2012) Costs of dispersal. Biol Rev 87:290–312

Bowler DE, Benton TG (2005) Causes and consequences of animal dispersal strategies: relating individual behavior to spatial dynamics. Biol Rev 80:205–225

Bowler DE, Benton TG (2009) Variation in dispersal mortality and dispersal propensity among individuals: the effects of age, sex and resource availability. J Anim Ecol 78:1234–1241

Candolin U, Wong BBM (2012) Behavioral responses to a changing world: mechanisms and consequences. Oxford University Press, Oxford

Chaine AS, Clobert J (2012) Dispersal. In: Candolin U, Wong BBM (eds) Behavioral responses to a changing world: mechanisms and consequences. Oxford University Press, Oxford, pp 63–79

Chapman BB, Morrell LJ, Krause J (2010) Unpredictability in food supply during early life influences boldness in fish. Behav Ecol 21:501–506

Cheptou PO, Massol F (2009) Pollination fluctuations drive evolutionary syndromes linking dispersal and mating system. Am Nat 174:46–55

Costelloe JF, Grayson RB, McMahon TA, Argent RM (2005) Spatial and temporal variability of water salinity in an ephemeral, arid-zone river, central Australia. Hydrol Process 19:3147–3166

Cote J, Clobert J, Brodin T, Fogarty S, Sih A (2010a) Personality-dependent dispersal: characterization, ontogeny and consequences for spatially structured populations. Philos Trans R Soc B 365:4065–4076

Cote J, Fogarty S, Weinersmith K, Brodin T, Sih A (2010b) Personality traits and dispersal tendency in the invasive mosquitofish (Gambusia affinis). Philos Trans R Soc B 277:1571–1579

Crook DA, Reich P, Bond NR, McMaster D, Koehn JD, Lake PS (2010) Using biological information to support proactive strategies for managing freshwater fish during drought. Mar Freshw Res 61:379–387

Dawson MN, Hamner WM (2008) A biophysical perspective on dispersal and the geography of evolution in marine and terrestrial systems. J R Soc Interface 5:135–150

Debeffe L, Morellet N, Cargnelutti B, Lourtet B, Coulon A, Gaillard JM, Bon R, Hewison AJM (2013) Exploration as a key component of natal dispersal: dispersers explore more than philopatric individuals in roe deer. Anim Behav 86:143–151

Driscoll DA, Banks SC, Barton PS, Ikin K, Lentini P, Lindenmayer DB, Smith AL, Berry LE, Burns EL, Edworthy A, Evans MJ, Gibson R, Heinsohn R, Howland B, Kay G, Munro N, Scheele BC, Stirnemann I, Stojanovic D, Sweaney N, Villasenor NR, Westgate MJ (2014) The trajectory of dispersal research in conservation biology. PLoS One 9(4):e95053

Duputié A, Massol F (2013) An empiricist's guide to theoretical predictions on the evolution of dispersal. Interface Focus 3(6):20130028

Fensham RJ, Silcock JL, Kerezsy A, Ponder W (2011) Four desert waters: setting arid zone wetland conservation priorities through understanding patterns of endemism. Biol Conserv 144:2459–2467

Fronhofer EA, Stelz JM, Lutz E, Poethke HJ, Bonte D (2014) Spatially correlated extinctions select for less emigration but larger dispersal distances in the spider mite Tetranychus urticae. Evolution 68:1838–1844

Gebauer K, Dickinson KJM, Whigham PA, Seddon PJ (2013) Matrix matters: differences of grand skink metapopulation parameters in native tussock grasslands and exotic pasture grasslands. PLoS ONE 8:e76076

Glover C (1971) The taxonomy and biology of Chlamydogobius eremius (Zietz, 1896). Master's Thesis, Department of Zoology, University of Adelaide

Gomon MF, Bray DJ (2011) Desert goby, Chlamydogobius eremius in fishes of Australia. Accessed 10 Dec 2014

GraphPad Software, Inc (2015) GraphPad Prism 6 (Computer software). GraphPad Software, La Jolla

Hanski I, Eralahti C, Kankare M, Ovaskainen O, Siren H (2004) Variation in migration propensity among individuals maintained by landscape structure. Ecol Lett 7:958–966

Hartman R, Lawler S (2014) Evidence for contemporary evolution of behavioral responses to introduced fish. Anim Behav 97:213–220

Herczeg G, Välimäki K (2011) Intraspecific variation in behavior: effects of evolutionary history, ontogenetic experience and sex. J Evol Biol 24:2434–2444

Hof C, Brandle M, Dehling DM, Munguia M, Brandl R, Araujo MB, Rahbek C (2012) Habitat stability affects dispersal and the ability to track climate change. Biol Lett 8:639–643

Ishiyama N, Nagayama S, Akasaka T, Nakamura F (2012) Habitat use by endangered Japanese crayfish (Cambaroides japonicus) in low-gradient streams of southern Hokkaido, Japan: reach and microhabitat-scale analysis. Hydrobiologia 686:257–266

Janin A, Lena JP, Joly P (2012) Habitat fragmentation affects movement behavior of migrating juvenile common toads. Behav Ecol Sociobiol 66(9):1351–1356

Jonsen ID, Taylor PD (2000) Fine-scale movement behaviors of calopterygid damselflies are influenced by landscape structure: an experimental manipulation. Oikos 88(3):553–562

Kodric-Brown A, Nicoletto PF (2005) Courtship behavior, swimming performance, and microhabitat use of Trinidadian guppies. Environ Biol Fishes 73:299–307

Kubisch A, Holt RD, Poethke HJ, Fronhofer EA (2014) Where am I and why? Synthesizing range biology and the eco-evolutionary dynamics of dispersal. Oikos 123:5–22

Lee MSY (2011) Macroevolutionary consequences of "spatial sorting". Proc Natl Acad Sci USA 108:E347–E347

Luyten PH, Liley NR (1985) Geographic-variation in the sexual-behavior of the guppy, Poecilia reticulata (Peters). Behaviour 95:164–179

Maes J, Van Damme R, Matthysen E (2013) Individual and among-population variation in dispersal-related traits in Natterjack toads. Behav Ecol 24:521–531

Manzur T, Vidal F, Pantoja JF, Fernaandez M, Navarrete SA (2014) Behavioral and physiological responses of limpet prey to a seastar predator and their transmission to basal trophic levels. J Anim Ecol 83:923–933

Martín J, Lopez P, Polo V (2009) Temporal patterns of predation risk affect antipredator behavior allocation by Iberian rock lizards. Anim Behav 77:1261–1266

Mathias A, Kisdi E, Olivieri I (2001) Divergent evolution of dispersal in a heterogeneous landscape. Evolution 55:246–259

Matthysen E (2005) Density-dependent dispersal in birds and mammals. Ecography 28:403–416

McNeil DG, Schmarr DW, Rosenberger AE (2011) Climatic variability, fish and the role of refuge waterholes in the Neales River Catchment: Lake Eyre Basin, South Australia. South Australian Arid Lands NRM Board, Port Augusta

Michelangeli M, Wong BBM (2014) A recent predatory encounter influences male courtship in a desert-dwelling fish. Behav Ecol 25:928–932

Michelangeli M, Tuomainen U, Candolin U, Wong BBM (2015) Habitat alteration influences male signalling effort in the Australian desert goby. Behav Ecol 26(4):1164–1169

Moran NP, Mossop KD, Thompson RM, Wong BBM (2016) Boldness in extreme environments: temperament divergence in a desert-dwelling fish. Anim Behav 122:125–133

Mossop KD, Adams M, Unmack PJ, Date KLS, Wong BBM, Chapple DG (2015) Dispersal in the desert: ephemeral water drives connectivity and phylogeography of an arid-adapted fish. J. Biogeogr 42:2374–2388

Myles-Gonzalez E, Burness G, Yavno S, Rooke A, Fox MG (2015) To boldly go where no goby has gone before: boldness, dispersal tendency, and metabolism at the invasion front. Behav Ecol 26:1083–1090

O'Sullivan D, Benton TG, Cameron TC (2014) Inter-patch movement in an experimental system: the effects of life history and the environment. Oikos 123(5):623–629

Quinn GP, Keough MJ (2002) Experimental design and data analysis for biologists. Cambridge University Press, Cambridge

Rehage JS, Sih A (2004) Dispersal behavior, boldness, and the link to invasiveness: a comparison of four Gambusia species. Biol Invasions 6:379–391

Richardson JML (2001) A comparative study of activity levels in larval anurans and response to the presence of different predators. Behav Ecol 12:51–58

Rincon PA, Correas AM, Morcillo F, Risueno P, Lobon-Cervia J (2002) Interaction between the introduced eastern mosquitofish and two autochthonous Spanish toothcarps. J Fish Biol 61:1560–1585

Ronce O (2007) How does it feel to be like a rolling stone? Ten questions about dispersal evolution. Annu Rev Ecol Evol Syst 38:231–253

Shine R, Brown GP, Phillips BL (2011) An evolutionary process that assembles phenotypes through space rather than through time. Proc Natl Acad Sci 108:5708–5711

Snell-Rood EC (2013) An overview of the evolutionary causes and consequences of behavioral plasticity. Anim Behav 85:1004–1011

Stevens VM, Pavoine S, Baguette M (2010) Variation within and between closely related species uncovers high intra-specific variability in dispersal. PLoS ONE 5(6):e11123

Stevens VM, Polus E, Wesselingh RA, Schtickzelle N, Baguette M (2004) Quantifying functional connectivity: experimental evidence for patch-specific resistance in the Natterjack toad (Bufo calamita). Landscape Ecol 19(8):829–842

Systat Software, Inc (2009) Systat 13 (Computer software). Systat Software, Inc, San Jose. http://www.systat.com/

Travis JMJ (2001) The color of noise and the evolution of dispersal. Ecol Res 16(1):157–163

Wager R, Unmack PJ (2000) Fishes of the Lake Eyre catchment of central Australia, Queensland. Department of Primary Industries, Brisbane

Ward AJ (2012) Social facilitation of exploration in mosquitofish (Gambusia holbrooki). Behav Ecol Sociobiol 66:223–230

Wong BBM, Svensson PA (2009) Strategic male signalling effort in a desert-dwelling fish. Behav Ecol Sociobiol 63:543–549

Worthington Wilmer J, Elkin C, Wilcox C, Murray L, Niejalke D, Possingham HP (2008) The influence of multiple dispersal mechanisms and landscape structure on population clustering and connectivity in fragmented Artesian spring snail populations. Mol Ecol 17:3733–3751
Acknowledgements
We acknowledge the traditional owners of the Kati Thanda-Lake Eyre region, and particularly thank Reg Dodd and Dean Ah Chee for valuable natural and cultural insights. Thanks to Matt Simpson for assistance with laboratory trials. Financial support was received from the Nature Foundation SA, the Holsworth Wildlife Endowment, and the Great Artesian Basin Coordinating Committee (to K.D.M.) and the Australian Research Council (DP120103010 to B.B.M.W.). Procedures for field sampling were approved by the Monash University Animal Ethics Committee (BSCI/2012/14), and the South Australian Department of Environment and Natural Resources granted collection permits (9902391, 9902523, and 9902598). We thank Diana Bowler and two additional referees for highly constructive comments on a prior version of this manuscript.
Additional information
Data accessibility: Behavioral data, species location data, and information on unique genetic variation not previously archived will be submitted to the appropriate repositories (Dryad and GenBank).
Electronic supplementary material
Below is the link to the electronic supplementary material.
About this article
Cite this article
Mossop, K.D., Moran, N.P., Chapple, D.G. et al. Connectivity and habitat type shape divergent dispersal behavior in a desert-dwelling fish. Landscape Ecol 32, 1065–1078 (2017). https://doi.org/10.1007/s10980-017-0509-8
Received:

Accepted:

Published:

Issue Date:
Keywords
Among-population variation

Intraspecific divergence

Aquatic connectivity

Lake Eyre Basin

Heterogeneity

Landscape