Abstract
Context
Temperate grasslands and their dependent species are exposed to high variability in weather and climate due to the lack of natural buffers such as forests. Grassland birds are particularly vulnerable to this variability, yet have failed to shift poleward in response to recent climate change like other bird species in North America. However, there have been few studies examining the effect of weather on grassland bird demography and consequent influence of climate change on population persistence and distributional shifts.
Objectives
The goal of this study was to estimate the vulnerability of Henslow's Sparrow (Ammodramus henslowii), an obligate grassland bird that has been declining throughout much of its range, to past and future climatic variability.
Methods
We conducted a demographic meta-analysis from published studies and quantified the relationship between nest success rates and variability in breeding season climate. We projected the climate-demography relationships spatially, throughout the breeding range, and temporally, from 1981 to 2050. These projections were used to evaluate population dynamics by implementing a spatially explicit population model.
Results
We uncovered a climate-demography linkage for Henslow's Sparrow with summer precipitation, and to a lesser degree, temperature positively affecting nest success. We found that future climatic conditions—primarily changes in precipitation—will likely contribute to reduced population persistence and a southwestward range contraction.
Conclusions
Future distributional shifts in response to climate change may not always be poleward and assessing projected changes in precipitation is critical for grassland bird conservation and climate change adaptation.
Access options
Buy single article
Instant access to the full article PDF.
US$ 39.95
Tax calculation will be finalised during checkout.
Subscribe to journal
Immediate online access to all issues from 2019. Subscription will auto renew annually.
US$ 79
Tax calculation will be finalised during checkout.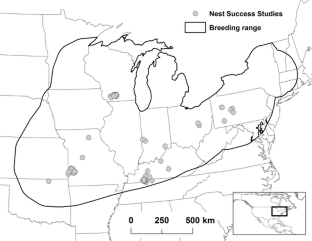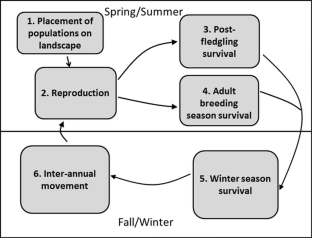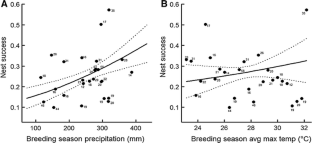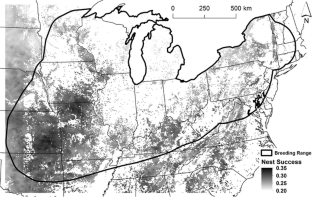 References
Arnold TW (2010) Uninformative parameters and model selection using Akaike's Information Criterion. J Wildl Manag 74:1175–1178

Askins RA, Chavez-Ramirez F, Dale BC, Haas CA, Herkert JR, Knopff FL, Vickery PD (2007) Conservation of grassland birds in North America: understanding ecological processes in different regions: "Report of the AOU Committee on Conservation". Ornithol Monogr 64:1–46

Bajema RA, Lima SL (2001) Landscape-level analyses of Henslow's sparrow (Ammodramus henslowii) abundance in reclaimed coal mine grasslands. Am Midl Nat 145:288–298

Bateman BL, Pidgeon AM, Radeloff VC, Vanderwal J, Thogmartin WE, Vavrus SJ, Heglund PJ (2016) The pace of past climate change vs. potential bird distributions and land use in the United States. Glob Chang Biol 22:1130–1144

Beale CM, Baker NE, Brewer MJ, Lennon JJ (2013) Protected area networks and savannah bird biodiversity in the face of climate change and land degradation. Ecol Lett 16:1061–1068

Benson TJ, Chiavacci SJ, Ward MP (2013) Patch size and edge proximity are useful predictors of brood parasitism but not nest survival of grassland birds. Ecol Appl 23:879–887

Berkeley LI, McCarty JP, Wolfenbarger LL (2007) Postfledging survival and movement in Dickcissels (Spiza americana): implications for habitat management and conservation. Auk 124:396–409

BirdLife International, NatureServe (2014) Bird species distribution maps of the world. BirdLife International, Cambridge

Brekke L, Thrasher BL, Maurer EP, Pruitt T (2013) Downscaled CMIP3 and CMIP5 climate and hydrology projections: release of downscaled CMIP5 climate projections, comparison with preceding information, and summary of user needs

Brown JH (1995) Macroecology. University of Chicago Press, Chicago

Brown JH, Mehlman DW, Stevens GC (1995) Spatial variation in abundance. Ecology 76:2028–2043

Burke EJ, Brown SJ, Christidis N (2006) Modeling the recent evolution of global drought and projections for the twenty-first century with the Hadley Centre Climate Model. J Hydrometeorol 7:1113–1125

Burnham KP, Anderson DR (2002) Model selection and multimodel inference: a practical information-theoretic approach, 2nd edn. Springer, New York

Cade BS (2015) Model averaging and muddled multimodel inference. Ecology 96(9):2370–2382

Channell R, Lomolino MV (2000) Dynamic biogeography and conservation of endangered species. Nature 403:84–86

Chase MK, Nur N, Geupel GR (2005) Effects of weather and population density on reproductive success and population dynamics in a Song Sparrow (Melospiza Melodia) population: a long-term study. Auk 122:571

Conrey RY, Skagen SK, Yackel Adams AA, Panjabi AO (2016) Extremes of heat, drought and precipitation depress reproductive performance in shortgrass prairie passerines. Ibis (Lond 1859) 158:614–629

Cooper T (2012) Status assessment and conservation plan for the Henslow's Sparrow (Ammodramus henslowii). Version 1.0. U.S. Fish and Wildlife Service, Bloomington, Minnesota

Cox WA, Thompson FR, Reidy JL, Faaborg J (2013) Temperature can interact with landscape factors to affect songbird productivity. Glob Chang Biol 19:1064–1074. doi:10.1111/gcb.12117

Dai A (2012) Increasing drought under global warming in observations and models. Nat Clim Chang 3:52–58. doi:10.1038/nclimate1633

Dobrowski SZ, Abatzoglou J, Swanson AK, Greenberg JA, Mynsberge AR, Holden ZA, Schwartz MK (2013) The climate velocity of the contiguous United States during the 20th century. Glob Chang Biol 19:241–251

Franklin J (2010) Mapping species distributions: spatial inference and prediction. Cambridge University Press, Cambridge

Fry JA, Xian G, Jin S, Dewitz JA, Homer CG, Yang L, Barnes CA, Herold ND, Wickham JD (2011) Completion of the 2006 National Land Cover Database for the conterminous United States. Photogramm Eng Remote Sens 77:858–864

Gaston KJ (1990) Patterns in the geographical ranges of species. Biol Rev 65:105–129

Gillings S, Balmer DE, Fuller RJ (2015) Directionality of recent bird distribution shifts and climate change in Great Britain. Glob Chang Biol 21:2155–2168

Hamann A (2016) Historical and projected climate data for North America (Climate NA). https://sites.ualberta.ca/~ahamann/data/climatena.html. Accessed 9 Aug 2016

Harris RMB, Grose MR, Lee G, Bindoff NL, Porfirio LL, Fox-Hughes P (2014) Climate projections for ecologists. WIREs Clim Chang 5:621–637

Herkert JR (1994) The effects of habitat fragmentation on midwestern grassland bird communities. Ecol Appl 4:461–471

Herkert JR, Szafoni RE, Kleen VM, Schwegman JE (1993) Habitat establishment, enhancement and management for forest and grassland birds in Illinois. Natural Heritage Technical Publication #1. Division of Natural Heritage, Illinois Department of Conservation, Springfield, Illinois

Hostetler JA, Sillett TS, Marra PP (2015) Full-annual-cycle population models for migratory birds. Auk 132:433–449

Hovick TJ, Miller JR, Koford RR, Engle DM, Debinski DM (2011) Postfledging survival of Grasshopper Sparrows in grasslands managed with fire and grazing. Condor 113:429–437

Illán JG, Thomas CD, Jones JA, Wong W-K, Shirley SM, Betts MG (2014) Precipitation and winter temperature predict long-term range-scale abundance changes in western North American birds. Glob Chang Biol 20:3351–3364

Johnson EI, Dimiceli JK, Stouffer PC, Brooks ME, Stoufferi P (2011) Habitat use does not reflect habitat quality for Henslow's Sparrows (Ammodramus henslowii) wintering in fire-managed Longleaf Pine savannas. Auk 128:564–576

Lawton JH (1995) Population dynamic principles. Extinction rates. Oxford University Press, Oxford, pp 147–163

Loarie SR, Duffy PB, Hamilton H, Asner GP, Field CB, Ackerly DD (2009) The velocity of climate change. Nature 462:1052–1055. doi:10.1038/nature08649

Marzluff JM, Bowman R, Donnelly R (2001) Avian ecology and conservation in an urbanizing world. Springer, New York

Maurer EP, Brekke L, Pruitt T, Duffy PB (2007) Fine-resolution climate projections enhance regional climate change impact studies. EOS Trans Am Geophys Union 88:504

Mayfield H (1961) Nesting success calculated from exposure. Wilson Bull 73:255–261

McKechnie AE, Wolf BO (2010) Climate change increases the likelihood of catastrophic avian mortality events during extreme heat waves. Biol Lett 6:253–256. doi:10.1098/rsbl.2009.0702

Meehl GA, Stocker TF, Collins WD, Friedlingstein P, Gaye A, Gregory JM, Kitoh A, Knutti R, Murphy JM, Noda A, Raper SC, Watterson IG, Weaver AJ, Zhao Z (2007) Global climate projections. In: Climate change 2007: Contribution of Working Group I to the Fourth Assessment Report of the Intergovernmental Panel on Climate Change, pp. 747–846. doi: 10.1080/07341510601092191

Melillo JM, Richmond TC, Yohe GW (2014) Climate change impacts in the United States: third national climate assessment. http://nca2014.globalchange.gov/report. Accessed 1 Nov 2015

Michel N, DeSante DF, Kaschube DR, Nott MP (2011) The Monitoring Avian Productivity and Survivorship (MAPS) program annual reports, 1989–2006. NBII/MAPS avian demographics query interface. http://www.birdpop.org/nbii2006/NBIIHome.asp. Accessed Jan 2011

Moritz C, Agudo R (2013) The future of species under climate change: resilience or decline? Science 341:504–508. doi:10.1126/science.1237190

Mouton AM, De Baets B, Goethals PLM (2010) Ecological relevance of performance criteria for species distribution models. Ecol Model 221:1995–2002

Niven D, Butcher G, Bancroft G (2010) Northward shifts in early winter abundance. Am Birds 63:10–15

North American Bird Conservation Initiative (2010) The state of the birds; 2010 Report on Climate Change. http://www.stateofthebirds.org/2010. Accessed 1 July 2015

Notaro M, Lorenz D, Hoving C, Schummer M (2014) Twenty-first-century projections of snowfall and winter severity across central-eastern North America. J Clim 27:6526–6550

Pacifici M, Foden WB, Visconti P, Watson JEM, Butchart SHM, Kovacs KM, Scheffers BR, Hole DG, Martin TG, Akçakaya HR, Corlett RT, Huntley B, Bickford D, Carr JA, Hoffmann AA, Midgley GF, Pearce-Kelly P, Pearson RG, Williams SE, Willis SG, Young B, Rondinini C (2015) Assessing species vulnerability to climate change. Nat Clim Chang 5:215–225

Pardieck KL, Ziolkowski DJ, Hudson MAR (2014) North American Breeding Bird Survey Dataset 1966–2014, version 2014.0. U.S Geological Survey. Patuxent Wildlife Research Center

Parmesan C, Yohe G (2003) A globally coherent fingerprint of climate change impacts across natural systems. Nature 421:37–42. doi:10.1038/nature01286

Perlut NG, Strong AM (2011) Grassland birds and rotational-grazing in the northeast: breeding ecology, survival and management opportunities. J Wildl Manag 75:715–720

Perlut NG, Strong AM, Donovan TM, Buckley NJ (2008) Grassland songbird survival and recruitment in agricultural landscapes: implications for source-sink demography. Ecology 89:1941–1952

Pidgeon AM, Radeloff VC, Mathews NE (2003) Landscape-scale patterns of black-throated sparrow (Amphispiza bilineata) abundance and nest success. Ecol Appl 13:530–542

PRISM Climate Group-Oregon State University (2014) PRISM Climate Group. http://www.prism.oregonstate.edu/. Accessed 1 Aug 2014

Pulliam HR (1988) Sources, sinks, and population regulation. Am Nat 132:652–661

Radeloff VC, Stewart SI, Hawbaker TJ, Gimmi U, Pidgeon AM, Flather CH, Hammer RB, Helmers DP (2010) Housing growth in and near United States protected areas limits their conservation value. Proc Natl Acad Sci USA 107:940–945

Ribic CA, Guzy MJ, Anderson TJ, Sample DW, Nack JL (2012) Bird productivity and nest predation in agricultural grasslands. In: Ribic C, Thompson FR, Pietz PJ (eds) Video surveillance of nesting birds, vol 43. Studies in avian biology. University of California Press, Berkeley, pp 119–134

Ribic CA, Guzy MJ, Sample DW (2009a) Grassland bird use of remnant prairie and Conservation Reserve Program fields in an agricultural landscape in Wisconsin. Am Midl Nat 161:110–122

Ribic CA, Koford RR, Herkert JR, Johnson DH, Niemuth ND, Naugle DE, Bakker KK, Sample DW, Renfrew RB (2009b) Area sensitivity in North American grassland birds: patterns and processes. Auk 126:233–244

Rotenberry J, Wiens J (1991) Weather and reproductive variation in shrubsteppe sparrows: a hierarchical analysis. Ecology 72:1325–1335

Sample DW, Ribic CA, Renfrew RB (2003) Linking landscape management with the conservation of grassland birds in Wisconsin. In: Bissonette JA, Storch I (eds) Landscape ecology and resource management: linking theory with practice. Island Press, Washington, DC, pp 359–385

Samson F, Knopf F, Ostlie W (2004) Great Plains ecosystems: past, present, and future. Wildl Soc Bull 32:6–15

Sauer JR, Hines JE, Fallon JE, Pardieck KL, Ziolkowski DJ, Link WA (2014) The North American Breeding Bird Survey, Results and Analysis 1966–2013. Version 01.30.2015. http://www.mbr-pwrc.usgs.gov/bbs/. Accessed 8 Sept 2014

Schumaker NH (2015) HexSim version 3.2.1. U.S. Environamental Protection Agency, Environmental Research Laboratory, Corvallis, OR. http://www.hexsim.net

Shaffer TL (2004) A unified approach to analyzing nest success. Auk 121:526–540

Sheffield J, Wood EF (2008) Projected changes in drought occurrence under future global warming from multi-model, multi-scenario, IPCC AR4 simulations. Clim Dyn 31:79–105

Siikamaki P (1996) Nestling growth and mortality of Pied Flycatchers Ficedula hypoleuca in relation to weather and breeding effort. Ibis 138:471–478

Skagen SK, Yackel Adams AA (2012) Weather effects on avian breeding performance and implications of climate change. Ecol Appl 22:1131–1145

Stauffer GE (2008) Nesting ecology and site fidelity of grassland sparrows on reclaimed surface mines in Pennsylvania. Thesis, Pennsylvania State University

Stauffer GE, Diefenbach DR, Marshall MR, Brauning DW (2011) Nest success of grassland sparrows on reclaimed surface mines. J Wildl Manag 75:548–557

Suedkamp Wells KM, Ryan MR, Millspaugh JT, Thompson FR, Hubbard MW (2007) Survival of postfledging grassland birds in Missouri. Condor 109:781–794

R Development Core Team (2015) R: a language and environment for statistical computing. R Foundation for Statistical Computing. v 3.1.1. http://www.r-project.org/. Accessed 1 Feb 2015

Thatcher BS, Krementz DG, Woodrey MS (2006) Henslow's Sparrow winter-survival estimates and response to prescribed burning. J Wildl Manag 70:198–206

Thogmartin WE, Gallant A, Fox T, Knutson MG, Suarez M (2004) Commentary: a cautionary tale regarding use of the 1992 National Land Cover Dataset. Wildl Soc Bull 32:960–968

Thogmartin WE, Knutson MG, Sauer JR (2006) Predicting regional abundance of rare grassland birds with a hierarchical spatial count model. Condor 108:25–46

Thomas CD, Cameron A, Green RE, Bakkenes M, Beaumont LJ, Collingham YC, Erasmus BFN, Ferreira de Siqueira M, Grainger A, Hannah L, Hughes L, Huntley B, van Jaarsveld AS, Midgley GF, Miles L, Ortega-Huerta MA, Peterson AT, Phillips OL, Williams SE (2004) Extinction risk from climate change. Nature 427:145–148

Trenberth KE, Dai A, van der Schrier G, Jones PD, Barichivich J, Briffa KR, Sheffield J (2014) Global warming and changes in drought. Nat Clim Chang 4:17–22

VanDerWal J, Falconi L, Januchowski S, Shoo L, Storlie C (2015) SDMTools: species distribution modelling tools: tools for processing data associated with species distribution modelling exercises. R package version 1.1–221

VanDerWal J, Murphy HT, Kutt AS, Perkins GC, Bateman BL, Perry JJ, Reside AE (2013) Focus on poleward shifts in species' distribution underestimates the fingerprint of climate change. Nat Clim Chang 3:239–243

Vicente-Serrano SM, Gouveia C, Camarero JJ, Beguería S, Trigo R, López-Moreno JI, Azorín-Molina C, Pasho E, Lorenzo-Lacruz J, Revuelto J, Morán-Tejeda E, Sanchez-Lorenzo A (2013) Response of vegetation to drought time-scales across global land biomes. Proc Natl Acad Sci USA 110:52–57

Vickery PD, Tubaro PL, da Silva JMC, Peterjohn BG, Herkert JR, Cavalcanti RB (1999) Conservation of grassland birds in the western hemisphere. Stud Avian Biol 19:2–26

Wang T, Hamann A, Spittlehouse D, Carroll C (2016) Locally downscaled and spatially customizable climate data for historical and future periods for North America. PLoS ONE 11:e0156720

Williams SE, Shoo LP, Isaac JL, Hoffmann AA, Langham G (2008) Towards an integrated framework for assessing the vulnerability of species to climate change. PLoS Biol 6:2621–2626

Yackel Adams AA, Skagen SK, Adams RD (2001) Movements and survival of Lark Bunting fledglings. Condor 103:643
Acknowledgements
This work was funded by the Northeast Climate Science Center. We acknowledge the World Climate Research Programme's Working Group on Coupled Modelling, which is responsible for CMIP, and we thank the climate modeling groups (listed in Online Appendix 3 of this paper) for producing and making available their model output. For CMIP, the U.S. Department of Energy's Program for Climate Model Diagnosis and Intercomparison provides coordinating support and led development of software infrastructure in partnership with the Global Organization for Earth System Science Portals. We thank our scientific advisory board, J. Herkert, S. Hull, D. King, K Koch, M. Knutson, D. Lorenz, R. Renfrew, D. Rugg, D. Sample, S. Skagen, G. White, and T. Will, for their input as we developed our models. We thank W. Thogmartin, two anonymous reviewers, and Associate Editor C. Wilsey for their comments on earlier drafts of this manuscript. We thank N. Schumaker for guidance in developing the spatially explicit population models in HexSim. We thank the University of Wisconsin Madison Department of Forest and Wildlife Ecology for help with publication expenses. Any use of trade, product, or firm names is for descriptive purposes only and does not imply endorsement by the U.S. Government.
Electronic supplementary material
Below is the link to the electronic supplementary material.
About this article
Cite this article
McCauley, L.A., Ribic, C.A., Pomara, L.Y. et al. The future demographic niche of a declining grassland bird fails to shift poleward in response to climate change. Landscape Ecol 32, 807–821 (2017). https://doi.org/10.1007/s10980-017-0487-x
Received:

Accepted:

Published:

Issue Date:
Keywords
Climate change vulnerability assessment

Demographic modeling

Grassland birds

Nest success

Poleward shift

Precipitation

Species distribution modeling