Abstract
Context
Complex structural connectivity patterns can influence the distribution of animals in coastal landscapes, particularly those with relatively large home ranges, such as birds. To understand the nuanced nature of coastal forest avifauna, where there may be considerable overlap in assemblages of adjacent forest types, the concerted influence of regional landscape context and vegetative structural connectivity at multiple spatial scales warrants investigation.
Objectives
This study determined whether species compositions of coastal forest bird assemblages differ with regional landscape context or with forest type, and if this is influenced by structural connectivity patterns measured at multiple spatial scales.
Methods
Three replicate bird surveys were conducted in four coastal forest types at ten survey locations across two regional landscape contexts in northeast Australia. Structural connectivity patterns of 11 vegetation types were quantified at 3, 6, and 12 km spatial scales surrounding each survey location, and differences in bird species composition were evaluated using multivariate ordination analysis.
Results
Bird assemblages differed between regional landscape contexts and most coastal forest types, although Melaleuca woodland bird assemblages were similar to those of eucalypt woodlands and rainforests. Structural connectivity was primarily correlated with differences in bird species composition between regional landscape contexts, and correlation depended on vegetation type and spatial scale.
Conclusions
Spatial scale, landscape context, and structural connectivity have a combined influence on bird species composition. This suggests that effective management of coastal landscapes requires a holistic strategy that considers the size, shape, and configuration of all vegetative components at multiple spatial scales.
Access options
Buy single article
Instant access to the full article PDF.
USD 39.95
Price excludes VAT (USA)
Tax calculation will be finalised during checkout.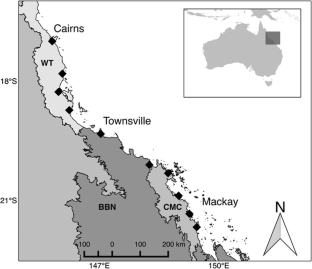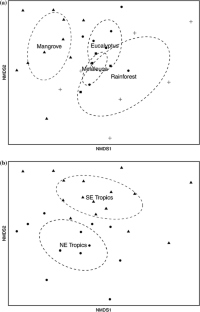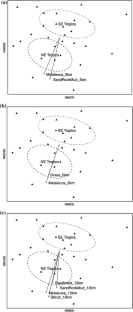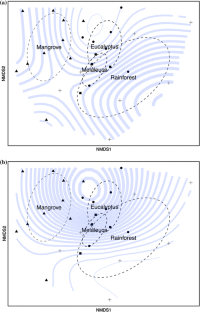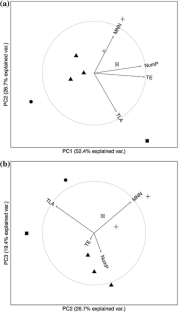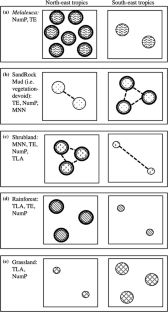 References
Anderson MJ (2001) A new method for nonparametric multivariate analysis of variance. Austral Ecol 26:32–46

Brennan SP, Schnell GD (2005) Relationship between bird abundances and landscape characteristics: the influence of scale. Environ Monit Assess 105:209–228

Brennan SP, Schnell GD (2007) Multiscale analysis of tyrannid abundances and landscape variables in the central plains, USA. Wilson Bull 119:631–647

Brittain RA, Schimmelmann A, Parkhurst DF, Craft CB (2012) Habitat use by coastal birds inferred from stable carbon and nitrogen isotopes. Estuaries Coasts 35:633–645

Burgess EE, Maron M (2016) Does the response of bird assemblages to fire mosaic properties vary among spatial scales and foraging guilds? Landscape Ecol 31:687–699

Clarke KR, Gorley RN (2006) PRIMER v6: user manual/tutorial. PRIMER-E, Plymouth

Drielsma M, Manion G, Ferrier S (2007a) A raster-based technique for analysing habitat configuration: the cost-benefit approach. Ecol Model 202:324–332

Drielsma M, Manion G, Ferrier S (2007b) The spatial links tool: automated mapping of habitat linkages in variegated landscapes. Ecol Model 200:403–411

Elliott CP, Lindenmayer DB, Cunningham SA, Young AG (2012) Landscape context affects honeyeater communities and their foraging behaviour in Australia: implications for plant pollination. Landscape Ecol 27:393–404

Ford J (1982) Origin, evolution and speciation of birds specialized to mangroves in Australia. Emu 82:12–23

Franklin DC, Noske RA (1998) Local movements of honeyeaters in a sub-coastal vegetation mosaic in the Northern Territory. Corella 22:97–103

Franklin DC, Noske RA (1999) Birds and nectar in a monsoonal woodland: correlations at three spatio-temporal scales. Emu 99:15–28

Franklin DC, Noske RA (2000) Nectar sources used by birds in monsoonal north-wetstern Australia: a regional survey. Aust J Bot 48:461–474

Galitsky C, Lawler JJ (2015) Relative influence of local and landscape factors on bird communities vary by species and functional group. Landscape Ecol 30:287–299

Grover DR, Slater PJ (1994) Conservation value to birds of remnants of Melaleuca forest in suburban Brisbane. Wildl Res 21:433–444

Heffernan JB, Soranno PA, Angilletta MJ Jr, Buckley LB, Gruner DS, Keitt TH, Kellner JR, Kominoski JS, Rocha AV, Xiao J, Harms TK, Goring SJ, Koenig LE, McDowell WH, Powell H, Richardson AD, Stow CA, Vargas R, Weathers KC (2014) Macrosystems ecology: understanding ecological patterns and processes at continental scales. Front Ecol Environ 12:5–14

IBRA (2012) Interim biogeographic regionalisation for Australia, version 7. Department of Sustainability, Environment, Water, Population and Communities, Canberra

Johnson AKL, Ebert SP, Murray AE (2000) Land cover change and its environmental significance in the Herbert river catchment, north-east Queensland. Aust Geogr 21:75–86

Kemp JE, Kutt AS (2005) The vertebrate fauna of the Clemant state forest lowlands: a significant coastal woodland remnant in the southern wet tropics bioregion, North-eastern Queensland. Aust Zool 32:508–542

Kemp JE, Lovatt RJ, Bahr JC, Kahler CP, Appelman CN (2007) Pre-clearing vegetation of the coastal lowlands of the Wet Tropics Bioregion, North Queensland. Cunninghamia 10:285–329

Kutt AS (2007) Bird assemblage in a dune-mangrove mosaic, Cairns, Queensland. Aust Zool 34:158–164

Luque S, Saura S (2012) Landscape connectivity analysis for conservation: insights from combining new methods with ecological and genetic data. Landscape Ecol 27:153–157

Martin TG, McIntyre S, Catterall CP, Possingham HP (2006) Is landscape context important for riparian conservation? Birds in grassy woodland. Biol Conserv 127:201–214

McGarigal K, Cushman SA, Ene E (2012) FRAGSTATS v4: spatial pattern analysis program for categorical and continuous maps. Computer software program produced by the authors at the University of Massachusetts, Amherst. http://www.umass.edu/landeco/research/fragstats/fragstats.html

Mohd-Azlan J, Lawes MJ (2011) The effect of the surrounding landscape matrix on mangrove bird community assembly in north Australia. Biol Conserv 144:2134–2141

Mohd-Azlan J, Noske RA, Lawes MJ (2012) Avian species-assemblage structure and indicator bird species of mangroves in the Australian monsoon tropics. Emu 112:287–297

Mohd-Azlan J, Noske RA, Lawes MJ (2014) The role of habitat heterogeneity in structuring mangrove bird assemblages. Diversity 7:118–136

Noske RA (1996) Abundance, zonation and foraging ecology of birds in mangroves of Darwin Harbour, Northern Territory. Wildl Res 23:443–474

NVIS (2012) National vegetation information system, version 4.1. Department of the Environment and Heritage, Canberra

Oksanen J, Blanchet FG, Kindt R, Legendre P, Minchin PR, O'Hara RB, Simpson GL, Solymos P, Henry M, Stevens H, Wagner H (2015) Vegan: community ecology package. R package version 2.3-1. http://CRAN.R-project.org/package=vegan

Radford JQ, Bennett AF (2007) The relative importance of landscape properties to woodland birds in agricultural environments. J Appl Ecol 44:737–747

Radford JQ, Bennett AF, Cheers GJ (2005) Landscape-level thresholds of habitat cover for woodland-dependent birds. Biol Conserv 124:317–337

Rempel RS, Kaukinen D, Carr AP (2012) Patch analyst and patch grid. Ontario Ministry of Natural Resources. Centre for Northern Forest Ecosystem Research, Thunder Bay

Riffell SK, Keas BE, Burton TM (2003) Birds in North American Great Lakes coastal wet meadows: is landscape context important? Landscape Ecol 18:95–111

Saab V (1999) Importance of spatial scale to habitat use by breeding birds in riparian forests: a hierarchical analysis. Ecol Appl 9:135–151

Sattler PS, Williams RD (eds) (1999) The conservation status of Queensland's bioregional ecosystems. Environmental Protection Agency, Brisbane

Sheaves M (2009) Consequences of ecological connectivity: the coastal ecosystem mosaic. Mar Ecol Prog Ser 391:107–115

Shriver WG, Hodgman TP, Gibbs JP, Vickery PD (2004) Landscape context influences salt marsh bird diversity and area requirements in New England. Biol Conserv 119:545–553

Steffan-Dewenter I, Muzenberg U, Burger C, Thies C, Tscharntke T (2002) Scale-dependent effects of landscape context on three pollinator guilds. Ecology 83:1421–1432

R Core Team (2015) R: a language and environment for statistical computing. R Foundation for Statistical Computing, Vienna. https://www.R-project.org/

Tews J, Brose U, Grimm V, Tielborger K, Wichmann MC, Schwager M, Jeltsch F (2004) Animal species diversity driven by habitat heterogeneity/diversity: the importance of keystone structures. J Biogeogr 31:79–92

Watson JEM, Whittaker RJ, Dawson TP (2004) Habitat structure and proximity to forest edge affect the abundance and distribution of forest-dependent birds in tropical coastal forests of southeastern Madagascar. Biol Conserv 120:311–327

Westphal MI, Field SA, Tyre AJ, Paton D, Possingham HP (2003) Effects of landscape pattern on bird species distribution in the Mt. Lofty Ranges, South Australia. Landscape Ecol 18:413–426

Wiens JA (1995) Habitat fragmentation: island v landscape perspectives on bird conservation. Ibis 137:97–104

Woinarski JCZ (1993) A cut-and-paste community: birds of monsoon rainforests in Kakadu National Park, Northern Territory. Emu 93:100–120

Woinarski JCZ (2004) The forest fauna of the Northern Territory: knowledge, conservation and management. In: Lunney D (ed) Conservation of Australia's forest fauna, 2nd edn. Royal Zoological Society of New South Wales, Mosman, pp 36–55

Woinarski JCZ, Brock C, Armstrong M, Hempel C, Cheal D, Brennan K (2000a) Bird distribution in riparian vegetation in the extensive natural landscape of Australia's tropical savannah: a broad-scale survey and analysis of a distributional data base. J Biogeogr 27:843–868

Woinarski JCZ, Connors G, Franklin DC (2000b) Thinking honeyeater: nectar maps for the Northern Territory, Australia. Pac Conserv Biol 6:62–80

Woinarski JCZ, Tidemann SC (1991) The bird fauna of a deciduous woodland in the wet-dry tropics of northern Australia. Wildl Res 18:479–500

Woinarski JCZ, Tidemann SC, Kerin S (1988) Birds in a tropical mosaic: the distribution of bird species in relation to vegetation patterns. Aust Wildl Res 15:171–196

Wu J (2004) Effects of changing scale on landscape pattern analysis: scaling relations. Landscape Ecol 19:125–138

Ziolkowska E, Ostapowicz K, Radeloff VC, Kuemmerle T (2014) Effects of different matrix representations and connectivity measures on habitat network assessments. Landscape Ecol 29:1551–1570
Acknowledgements
We thank the following for funding support: BirdLife Australia, Wet Tropics Management Authority, Birds Queensland, and Ecological Society of Australia.
Electronic supplementary material
Below is the link to the electronic supplementary material.
About this article
Cite this article
Buelow, C.A., Baker, R., Reside, A.E. et al. Spatial dynamics of coastal forest bird assemblages: the influence of landscape context, forest type, and structural connectivity. Landscape Ecol 32, 547–561 (2017). https://doi.org/10.1007/s10980-016-0461-z
Received:

Accepted:

Published:

Issue Date:

DOI: https://doi.org/10.1007/s10980-016-0461-z
Keywords
Species composition

Avifauna

Structural connectivity

Coastal forests

Spatial scale

Landscape context

Keystone structure