Abstract
Context
Data for biophysically modeled and Public Participatory GIS (PPGIS)-derived cultural ecosystem services have potential to identify natural resource management synergies and conflicts, but have rarely been combined. Ecosystem service hot/coldspots generated using different methods vary in their spatial extent and connectivity, with important implications.
Objectives
We map biophysically modeled and PPGIS-derived cultural services for six U.S. national forests using six hot/coldspot delineation methods. We evaluate the implications of hotspot methods for management within and outside of designated wilderness areas.
Methods
We used the ARIES and SolVES modeling tools to quantify four biophysically modeled and 11 largely cultural ecosystem services for six national forests in Colorado and Wyoming, USA. We mapped hot/coldspots using two quantile methods (top and bottom 10 and 33 % of values), two area-based methods (top and bottom 10 and 33 % of area), and two statistical methods (Getis-Ord Gi* at α = 0.05 and 0.10 significance level) and compare results within and outside wilderness areas.
Results
Delineation methods vary in their degree of conservatism for hot/coldspot extents and spatial clustering. Hotspots were more common in wilderness areas in national forests near the more densely populated Colorado Front Range, while coldspots were more common in wilderness areas in more urban-distant forests in northwest Wyoming.
Conclusions
Statistical hotspot methods of intermediate conservatism (i.e., Getis-Ord Gi*, α = 0.10 significance) may be most useful for ecosystem service hot/coldspot mapping to inform landscape scale planning. We also found spatially explicit evidence in support of past findings about public attitudes toward wilderness areas.
Access options
Buy single article
Instant access to the full article PDF.
US$ 39.95
Tax calculation will be finalised during checkout.
Subscribe to journal
Immediate online access to all issues from 2019. Subscription will auto renew annually.
US$ 79
Tax calculation will be finalised during checkout.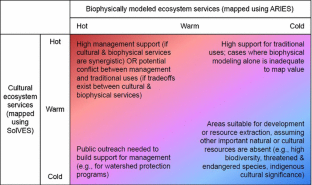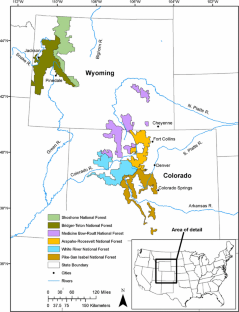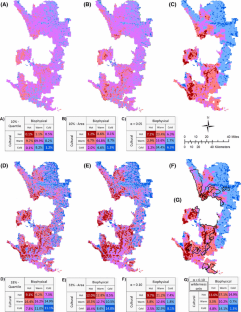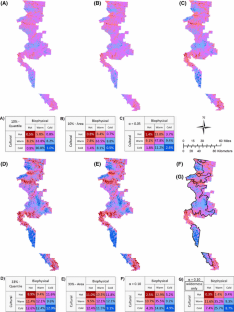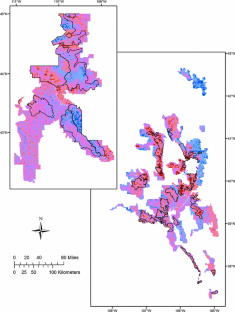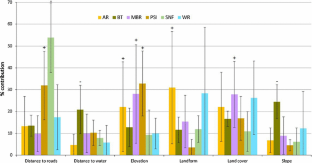 References
Alessa L, Kliskey A, Brown G (2008) Social-ecological hotspots mapping: a spatial approach for identifying coupled social-ecological space. Landsc Urban Plan 85:27–39

ARIES Consortium (2016) ARIES—artificial intelligence for ecosystem services, rocky mountains case study. http://aries.integratedmodelling.org/?project=rocky-mountains-case-study. Accessed 5 Jul 2016

Bagstad KJ, Reed JM, Semmens DJ, Sherrouse BC, Troy A (2015) Linking biophysical models and public preferences for ecosystem service assessments: a case study for the Southern Rocky Mountains. Reg Environ Chang. doi:10.1007/s10113-015-0756-7

Bagstad KJ, Semmens DJ, Waage S, Winthrop R (2013) A comparative assessment of decision-support tools for ecosystem services quantification and valuation. Ecosyst Serv 5:27–39

Bai Y, Zhuang C, Ouyang Z, Zheng H, Jiang B (2011) Spatial characteristics between biodiversity and ecosystem services in a human-dominated watershed. Ecol Complex 8:177–183

Bourassa SC, Hoesli M, Sun J (2004) What's in a view? Environ Plan A36:1427–1450

Brown G (2012) Public Participation GIS (PPGIS) for regional and environmental planning: reflections on a decade of empirical research. URISA J 25:7–18

Brown G, Alessa L (2005) A GIS-based inductive study of wilderness values. Int J Wilderness 11:14–18

Brown G, Brabyn L (2012) The extrapolation of social landscape values to a national level in New Zealand using landscape character classification. Appl Geogr 35:84–94

Brown G, Donovan S (2014) Measuring change in place values for environmental and natural resource planning using public participation GIS (PPGIS): results and challenges for longitudinal research. Soc Nat Resour 27(1):36–54

Brown G, Fagerholm N (2015) Empirical PPGIS/PGIS mapping of ecosystem services: a review and evaluation. Ecosyst Serv 13:119–133

Brown TC, Hobbins MT, Ramirez JA (2008) Spatial distribution of water supply in the coterminous United States. J Am Water Resour Assoc 44:1474–1487

Brown G, Montag JM, Lyon K (2012) Public Participation GIS: a method for identifying ecosystem services. Soc Nat Resour 25:633–651

Brown G, Pullar D, Hausner VH (2016) An empirical evaluation of spatial value transfer methods for identifying cultural ecosystem services. Ecol Indic 69:1–11

Brown G, Reed P (2009) Public participation GIS: a new method for use in National Forest planning. For Sci 55:166–182

Brown G, Weber D (2013) Using public participation GIS (PPGIS) on the Geoweb to monitor tourism development preferences. J Sustain Tour 21(2):192–211

Bryan BA, Raymond CM, Crossman ND, King D (2011) Comparing spatially explicit ecological and social values for natural areas to identify effective conservation strategies. Conserv Biol 25:172–181

Burkhard B, de Groot R, Costanza R, Seppelt R, Jorgensen SE, Potschin M (2012) Solutions for sustaining natural capital and ecosystem services. Ecol Indic 21:1–6

Chan KMA, Goldstein J, Satterfield T, Hannahs N, Kikiloi K, Naidoo R, Vadeboncoeur N, Woodside U (2011) Cultural services and non-use values. In: Kareiva P, Tallis H, Ricketts TH, Daily GC, Polasky S (eds) Natural capital: theory and practice of mapping ecosystem services. Oxford University Press, Oxford, pp 207–228

Chan KMA, Satterfield T, Goldstein J (2012) Rethinking ecosystem services to better address and navigate cultural values. Ecol Econ 74:8–18

Clement JM, Cheng AS (2011) Using analyses of public value orientations, attitudes, and preferences to inform national forest planning in Colorado and Wyoming. Appl Geogr 31:393–400

Clement JP, Belin AD, Bean MJ, Boling TA, Lyons JR (2014) A strategy for improving the mitigation policies and practices of the Department of the Interior: a report to the Secretary of the Interior from the energy and climate change task force. U.S Department of the Interior, Washington

Cordell HK, Tarrant MA, McDonald BL, Bergstrom JC (1998) How the public views wilderness: more results from the USA survey on recreation and the environment. Int J Wilderness 4:31

Council on Environmetnal Quality (CEQ) (2015) Memorandum M-16-01: incorporating ecosystem services into Federal Decision Making. https://www.whitehouse.gov/sites/default/files/omb/memoranda/2016/m-16-01.pdf. Accessed 14 Jun 2016

Czaja M, Cottrell SP (2014) Integrating social science research into wildland fire management. Disaster Prev Manag 23:381–394

Daniel TC, Muhar A, Arnberger A, Aznar O, Boyd JW, Chan KMA, Costanza R, Elmqvist T, Flint CG, Gobster PH, Gret-Regamey A, Lave R, Muhar S, Penker M, Ribe R, Schauppenlehner T, Sikor T, Soloviy I, Spierenburg M, Taczanowska K, Tam J, von der Dunk A (2012) Contributions of cultural services to the ecosystem services agenda. Proc Natl Acad Sci USA 109:8812–8819

Dunn CE (2007) Participatory GIS a people's GIS? Prog Hum Geogr 31:616–637

Durant JO, Shumway JM (2004) Attitudes toward wilderness study areas: a survey of six southeastern Utah counties. Environ Manag 33:271–283

Egoh B, Reyers B, Rouget M, Richardson DM, Le Maitre DC, van Jaarsveld AS (2008) Mapping ecosystem services for planning and management. Agric Ecosyst Environ 127:135–140

Egoh BN, Reyers B, Rouget M, Richardson DM (2011) Identifying priority areas for ecosystem service management in South African grasslands. J Environ Manag 92:1642–1650

Eigenbrod F, Armsworth PR, Anderson BJ, Heinemeyer A, Gillings S, Roy DB, Thomas CD, Gaston KJ (2010) The impact of proxy-based methods on mapping the distribution of ecosystem services. J Appl Ecol 47:377–385

Elith J, Phillips SJ, Hastie T, Dudik M, Chee YE, Yates CJ (2011) A statistical explanation of MaxEnt for ecologists. Divers Distrib 17:43–57

ESP Maps (2014) The Ecosystem Services Partnership visualization tool: an interactive knowledge platform for ecosystem service maps. http://esp-mapping.net/HOME/. Accessed 27 Mar 2016

Getis A, Ord JK (1992) The analysis of spatial association by use of distance statistics. Geogr Anal 24:189–206

Gimona A, van der Horst D (2007) Mapping hotspots of multiple landscape functions: a case study on farmland afforestation in Scotland. Landscape Ecol 22:1255–1264

Hauck J, Gorg C, Varjopuro R, Ratamaki O, Maes J, Wittmer H, Jax K (2013) "Maps have an air of authority": potential benefits and challenges of ecosystem service maps at different levels of decision making. Ecosyst Serv 4:25–32

Hermans C, Erickson JD (2007) Multicriteria decision analysis: Overview and implications for environmental decision making. In: Erickson JD, Messner F, Ring I (eds) Ecological economics of sustainable watershed management. Elsevier, Amsterdam, pp 213–228

Kareiva P, Tallis H, Ricketts TH, Daily GC, Polasky S (eds) (2011) Natural Capital: theory and practice of mapping ecosystem services. Oxford University Press, Oxford

Karimi A, Brown G, Hockings M (2015) Methods and participatory approaches for identifying social-ecological hotspots. Appl Geogr 63:9–20

Kellndorfer J, Walker W, LaPoint E, Bishop J, Cormier T, Fiske G, Hoppus M, Kirsch K, Westfall J (2012) NACP Aboveground Biomass and Carbon Baseline Data (NBCD 2000), U.S.A., 2000. http://whrc.org/publications-data/datasets/national-biomass-and-carbon-dataset/. Accessed 27 Mar 2016

Law EA, Bryan BA, Meijaard E, Mallawaarachchi T, Struebig M, Wilson KA (2015) Ecosystem services from a degraded peatland of Central Kalimantan: implications for policy, planning, and management. Ecol Appl 25:70–87

Martinez-Harms MJ, Balvanera P (2012) Methods for mapping ecosystem service supply: a review. Int J Biodivers Sci Ecosyst Serv Manag 8:17–25

McIntyre N, Moore J, Yuan M (2008) A place-based, values-centered approach to managing recreation on Canadian crown lands. Soc Nat Resour 21:657–670

Millennium Ecosystem Assessment (MA) (2005) Millennium Ecosystem Assessment: Living beyond our means—natural assets and human well-being. World Resources Institute, Washington, DC

Moilanen A, Anderson BJ, Eigenbrod F, Heinemeyer A, Roy DB, Gillings S, Armsworth PR, Gaston KJ, Thomas CD (2011) Balancing alternative land uses in conservation prioritization. Ecol Appl 21(5):1419–1426

Mouchet MA, Lamarque P, Martin-Lopez B, Crouzat E, Gos P, Byczek C, Lavorel S (2014) An interdisciplinary methodological guide for quantifying associations between ecosystem services. Glob Environ Chang 28:298–308

Myers N, Mittermeier RA, Mittermeier CG, da Fonseca GAB, Kent J (2000) Biodiversity hotspots for conservation priorities. Nature 403:853–858

Naidoo R, Ricketts T (2006) Mapping the economic costs and benefits of conservation. PLoS Biol 4:2153–2164

National Ecosystem Services Partnership (2014) Federal resource management and ecosystem services guidebook. https://nespguidebook.com/. Accessed 27 Mar 2016

Natural Resources Conservation Service (2016) Soil Survey Geographic Database. http://www.nrcs.usda.gov/wps/portal/nrcs/detail/soils/survey/?cid=nrcs142p2_053627. Accessed 27 Mar 2016

Numerical Terradynamic Simulation Group (2016) MODIS GPP/NPP Project. http://www.ntsg.umt.edu/project/mod17. Accessed 27 Mar 2016

Polasky S, Nelson E, Camm J, Csuti B, Facker P, Lonsdorf E, Montgomery C, White D, Arthur J, Garber-Yonts B, Haight R, Kagan J, Starfield A, Tobalske C (2008) Where to put things? Spatial land management to sustain biodiversity and economic returns. Biol Conserv 141:1505–1524

Raffa KF, Aukema BH, Bentz BJ, Carroll AL, Hicke JA, Turner MG, Romme WH (2008) Cross-scale drivers of natural disturbances prone to anthropogenic amplification: the dynamics of bark beetle eruptions. BioScience 58:501–517

Raymond CM, Bryan BA, MacDonald DH, Cast A, Strathearn S, Grandgirard A, Kalivas T (2009) Mapping community values for natural capital and ecosystem services. Ecol Econ 68:1301–1315

Renard KG, Foster GR, Weesies GA, McCool DK, Yoder DC (1996) Predicting soil erosion by water: a guide to conservation planning with the revised universal soil loss equation (RUSLE). Handbook 703. U.S. Department of Agriculture, Washington, DC

Rolston H, Coufal J (1991) A forest ethic and multivalue forest management. J For 89:35–40

Rudzitis G (1999) Amenities increasingly draw people to the rural west. Rural Dev Perspect 14:9–13

Schaefer M, Goldman E, Bartuska AM, Sutton-Grier A, Lubchenco J (2015) Nature as capital: advancing and incorporating ecosystem services in United States federal policies and programs. Proc Natl Acad Sci USA 112:7383–7389

Schoennagel T, Veblen TT, Romme WH (2004) The interaction of fire, fuels, and climate across Rocky Mountain forests. Bioscience 54:661–676

Schröter M, Remme RP (2016) Spatial prioritization for conserving ecosystem services: comparing hotspots with heuristic optimization. Landscape Ecol 31:431–450

Sherrouse BC, Clement JM, Semmens DJ (2011) A GIS application for assessing, mapping, and quantifying the social values of ecosystem services. Appl Geogr 31:748–760

Sherrouse BC, Semmens DJ (2014) Validating a method for transferring social values of ecosystem services between public lands in the Rocky Mountain region. Ecosyst Serv 8:166–177

Sherrouse BC, Semmens DJ (2015) Social values for ecosystem services, Version 3.0 (SolVES 3.0)—Documentation and user manual. U.S. Geological Survey Open-File Report 2015-1008. U.S. Geological Survey, Reston, VA

Sherrouse BC, Semmens DJ, Clement JM (2014) An application of social values for ecosystem services (SolVES) to three national forests in Colorado and Wyoming. Ecol Indic 36:68–79

Sieber R (2006) Public Participation Geographic Information Systems: a literature review and framework. Ann Assoc Am Geogr 96:491–507

Tallis H, Kennedy CM, Ruckelshaus M, Goldstein J, Kiesecker JM (2015) Mitigation for one & all: an integrated framework for mitigation of development impacts on biodiversity and ecosystem services. Environ Impact Assess 55:21–34

U.K. National Ecosystem Assessment (2011) The U.K. National Ecosystem Assessment: synthesis of key findings. UNEP-WCMC, Cambridge

Villa F, Bagstad KJ, Voigt B, Johnson GW, Portela R, Honzak M, Batker D (2014) A methodology for adaptable and robust ecosystem services assessment. PLoS One 9:e91001

Watson AE, Venn T (2012) Wilderness ecosystem services: a focus on applications. Int J Wilderness 18:3

Whitehead AL, Kujala H, Ives CD, Gordon A, Lentini PE, Wintle BA, Nicholson E, Raymond C (2014) Integrating biological and social values when prioritizing places for biodiversity conservation. Conserv Biol 28(4):992–1003

Wilson KA, Possingham HP, Martin TG, Grantham HS (2010) Key concepts. In: Ardron JA, Possingham HP, Klein CJ (eds), Marxan good practices handbook, version 2. Pacific Marine Analysis and Research Association, Victoria, pp 18–23

Wünscher T, Engel S, Wunder S (2008) Spatial targeting of payments for ecosystem services: a tool for boosting conservation benefits. Ecol Econ 65:822–833

Zhu X, Pfueller S, Whitelaw P, Winter C (2010) Spatial differentiation of landscape values in the Murray River region of Victoria, Australia. Environ Manag 45:896–911
Acknowledgments
Support for this work was provided by the U.S. Geological Survey's Land Change Science program. Brian Voigt, Ferdinando Villa, James Reed, Gary Johnson, and students participating in a graduate-level ecosystem services modeling course taught in the University of Denver's Department of Geography in the fall of 2011 assisted with ARIES model development. We thank Jessica Clement for sharing survey data from the BT, PSI, and SNF national forests, and Stuart Cottrell, Mike Czaja, and Jessica Clement for their work in collecting survey data from the AR, MBR, and WR national forests. Any use of trade, firm, or product names is for descriptive purposes only and does not imply endorsement by the U.S. Government.
Electronic supplementary material
Below is the link to the electronic supplementary material.
About this article
Cite this article
Bagstad, K.J., Semmens, D.J., Ancona, Z.H. et al. Evaluating alternative methods for biophysical and cultural ecosystem services hotspot mapping in natural resource planning. Landscape Ecol 32, 77–97 (2017). https://doi.org/10.1007/s10980-016-0430-6
Received:

Accepted:

Published:

Issue Date:
Keywords
ARIES

Cultural ecosystem services

Hotspot analysis

Public Participatory GIS (PPGIS)

SolVES

Wilderness