Abstract
Context
Annual migration of landbirds across the Gulf of Mexico (GOM) presents a unique opportunity to examine extrinsic processes operating at various spatial scales in determining animal distributions.
Objectives
Our objectives were to comprehensively quantify bird stopover densities across the northern GOM coast and model broad-scale factors explaining distributional patterns.
Methods
We used weather surveillance radars to measure reflectivity of birds aloft at onset of nocturnal migratory flights and estimate bird stopover densities during four springs (2009–2012) for 6.7 million ha along the GOM. We aggregated bird densities to one longitudinal degree and 3 km of proximity to coast.
Results
Boosted Regression Tree models revealed that stopover density was related to year, longitude, proximity to coast, and amount of hardwood forest cover in the landscape. Average longitudinal patterns supported previous studies of broad-scale trans-Gulf migrant arrivals with highest density in Louisiana (92–93°W) and lowest in Alabama (88–89°W). Florida (83–84°W) supported a second peak in migrant density, suggesting an eastern trans-Gulf route or contribution from trans-Caribbean migrants. Longitudinal patterns in migrant distributions varied strongly between years and appear generally related to variability in GOM wind patterns. Densities increased with proximity to coast, highlighting constraints on migrants to travel inland, especially in Florida's panhandle. Despite this, density was positively related to amount of forest cover more steeply along the immediate coast.
Conclusions
Broad-scale stopover distributions of migrating landbirds along the GOM coast are heavily influenced by geographic constraints in the context of the GOM acting as a barrier to landbird migration.
Access options
Buy single article
Instant access to the full article PDF.
USD 39.95
Price excludes VAT (USA)
Tax calculation will be finalised during checkout.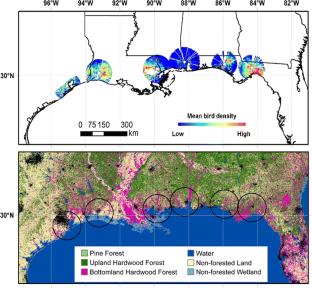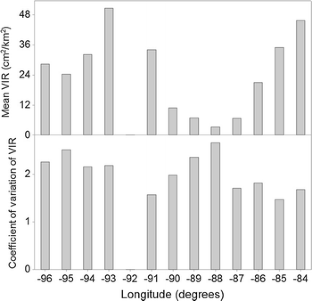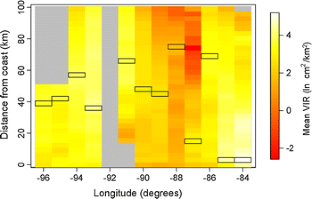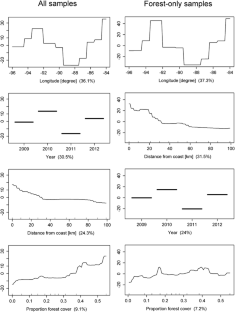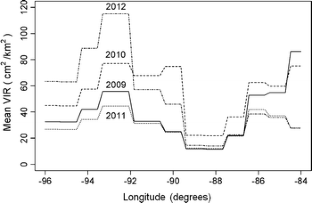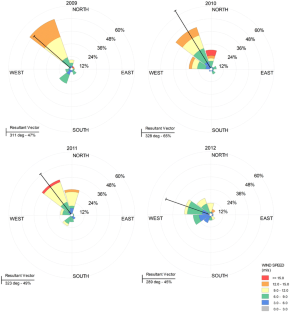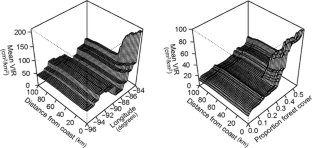 References
Abdollahi KK, Ning ZH, Stubblefield M (2005) Urban forest ecosystem structure and the function of the gulf coastal communities in the United States. WIT Trans Ecol Environm. Ecosyst Sustain Dev V Vol 81: 605–614

Able KP (1972) Fall migration in coastal Louisiana and the evolution of migration patterns in the Gulf region. Wilson Bull 84:231–242

Alerstam T (2001) Detours in bird migration. J Theor Biol 209(3):319–331

Alerstam T, Hedenström A, Åkesson S (2003) Long-distance migration: evolution and determinants. Oikos 103:247–260

Alerstam T, Lindström A (1990) Optimal bird migration: the relative importance of time, energy and safety. In: Gwinner E (ed) Bird migration: physiology and ecophysiology. Springer, Berlin, pp 331–351

Barrow WC, Johnson Randall LA, Woodrey MS, Cox J, Ruelas E, Riley CM, Hamilton RB, Eberly C (2005) Coastal forests of the Gulf of Mexico: a description and some thoughts on their conservation. USDA Forest Service General Technical Report PSW-GTR-191

Bowlin MS, Bisson IA, Shamoun-Baranes J, Reichard JD, Sapir N, Marra PP, Kunz TH, Wilcove DS, Hedenström A, Guglielmo CG, Åkesson S (2010) Grand challenges in migration biology. Integr Comp Biol 50(3):261–279

Buler JJ, Dawson DK (2014) Radar analysis of fall bird migration stopover sites in the northeastern US. Condor 116(3):357–370

Buler JJ, Diehl RH (2009) Quantifying bird density during migratory stopover using weather surveillance radar. IEEE Trans Geosci Remote Sens 47:2741–2751

Buler JJ, Moore FR (2011) Migrant-habitat relationships during stopover along an ecological barrier: extrinsic constraints and conservation implications. J Ornithol 152(Suppl 1):S101–S112

Buler JJ, Moore FR, Woltmann S (2007) A multi-scale examination of stopover habitat use by birds. Ecology (Washington D. C.) 88:1789–1802

Buler JJ, Randall L, Fleskes JP, Barrow W, Bogart T, Kluver D (2012) Mapping wintering waterfowl distributions using weather surveillance radar. PLoS ONE 7(7):e41571

Buskirk WH (1980) Influence of meteorological patterns and trans-Gulf migration on the calendars of latitudinal migrants. In: Keast A, Morton E (eds) Migrant birds in the Neotropics. Smithsonian Press, Washington, DC, pp 485–491

Callo PA, Morton ES, Stutchbury BJ (2013) Prolonged spring migration in the red-eyed vireo (Vireo olivaceus). Auk 130(2):240–246

Chernetsov N (2012) Passerine migration: stopovers and flight. Springer, Berlin

Chilson PB, Frick WF, Stepanian PM, Shipley JR, Kunz TH, Kelly JF (2012) Estimating animal densities in the aerosphere using weather radar: To Z or not to Z? Ecosphere 3:art72. doi:10.1890/ES12-00027.1

Cooke WW (1904) Distribution and migration of North American warblers. U.S. Department of Agriculture. Bulletin No. 18

Cooke WW (1905) Routes of bird migration. Auk 22(1):1–11

Deppe J, Ward MP, Bolus RT, Diehl RH, Celis-Murillo A, Zenzal TJ, Moore FR, Benson TJ, Smolinsky JA, Schofield LN, Enstrom DA, Paxton EH, Bohrer G, Beveroth TA, Raim A, Obringer RL, Delaney D, Cochran WW (2015) Fat, weather, and date affect migratory songbirds' departure decisions, routes, and time it takes to cross the Gulf of Mexico. Proc Natl Acad Sci USA 112(46):E6331–E6338

Diehl RH, Larkin RP, Black JE, Moore F (2003) Radar observations of bird migration over the Great Lakes. Auk 120:278–290

Dokter AM, Liechti F, Stark H, Delobbe L, Tabary P, Holleman I (2011) Bird migration flight altitudes studied by a network of operational weather radars. J R Soc Interface 8:30–43

Elith J, Leathwick JR, Hastie T (2008) A working guide to boosted regression trees. J Anim Ecol 77:802–813

Fraser KC, Silverio C, Kramer P, Mickle N, Aeppli R, Stutchbury BJ (2013) A trans-hemispheric migratory songbird does not advance spring schedules or increase migration rate in response to record-setting temperatures at breeding bites. PLoS ONE 8(5):e64587. doi:10.1371/journal.pone.0064587

Gauthreaux SA (1971) A radar and direct visual study of passerine spring migration in southern Louisiana. Auk 88:343–365

Gauthreaux SA (1975) Coastal hiatus of spring trans-Gulf bird migration. A rationale for determining Louisiana's coastal zone. Louisiana State University, Center for Wetland Resources, Coastal Zone Management Series report no. 1, pp 85–91

Gauthreaux SA (1999) Neotropical migrants and the Gulf of Mexico: The view from aloft. In: Able KP (ed) A gathering of angels: the ecology and conservation of migrating birds. Cornell University Press, Ithaca

Gauthreaux SA, Belser CG (1998) Displays of bird movements on the WSR-88D: patterns and quantification. Weather Forecast 13:453–464

Gauthreaux SA, Belser CG, Blaricom DV (2003) Using a network of WSR-88D weather surveillance radars to define patterns of bird migration at large spatial scales. In: Berthold P, Gwinner E, Sonnenschein E (eds) Avian migration. Springer, Berlin, pp 335–346

Gauthreaux SA, Belser CG, Welch CM (2006) Atmospheric trajectories and spring bird migration across the Gulf of Mexico. J Ornithol 147(2):317–325

Gauthreaux SA, Michi JE, Belser CG (2005) The temporal and spatial structure of the atmosphere and its influence on bird migration strategies. Birds of two worlds. Smithsonian Institution, Washington, D. C., pp 182–196

Hijmans RJ, Phillips S, Leathwick JR, Elith J (2015) Dismo: species distribution modeling. R package version 1.0-12. http://CRAN.R-project.org/package=dismo

Homer CG, Dewitz JA, Yang L, Jin S, Danielson P, Xian G, Coulston J, Herold ND, Wickham JD, Megown K (2015) Completion of the 2011 National Land Cover Database for the conterminous United States-Representing a decade of land cover change information. Photogramm Eng Remote Sens 81(5):345–354

Kerlinger P, Moore F (1989) Atmospheric structure and avian migration. Curr Ornithol 6:109–142

Lowery GH (1946) Evidence of trans-Gulf migration. Auk 63(2):175–211

Mehlman DW, Mabey SE, Ewert DN, Duncan C, Abel B, Cimprich D, Sutter RD, Woodrey MS (2005) Conserving stopover sites for forest-dwelling migratory landbirds. Auk 122:1281–1290

Mesinger F, DiMego G, Kalnay E, Mitchell K, Shafran P, Ebisuzaki W, Jovic D, Woollen J, Rogers E, Berbery E, Ek M, Fan Y, Grumbine R, Higgins W, Li H, Lin Y, Manikin G, Parrish D, Shi W (2006) North American regional reanalysis. Bull Am Meteorol Soc 873:343–360

Moore FR (ed) (2000) Stopover Ecology of Neartic-Neotropical Landbird Migrants: Habitat Relations and Conservation Implications. Stud in Avian Biol No. 20

Moore FR, Gauthreaux SA, Kerlinger P, Simons TR (1995) Habitat requirements during migration: important link in the conservation of neotropical landbird migrants. In: Martin T, Finch D (eds) Ecology and management of neotropical migratory birds. Oxford University Press, New York, pp 121–144

Moore FR, Kerlinger P (1987) Stopover and fat deposition by North American wood-warblers (Parulinae) following spring migration over the Gulf of Mexico. Oecologia 74:47–54

Moore FR, Kerlinger P (1989) Atmospheric structure and avian migration. Curr Ornithol 6:109–142

Moore FR, Kerlinger P, Simons TR (1990) Stopover on a Gulf Coast barrier island by spring trans-gulf migrants. Wilson Bull 102:487–500

Moore FR, Woodrey MS, Buler JJ, Woltmann S, Simons TR (2005) Understanding the stopover of migratory birds: A scale dependent approach. In: Ralph CJ and Rich TD (eds) Bird Conservation Implementation and Integration in the Americas: Proceedings of the third international partners in flight conference 2002. U.S.D.A. Forest Service, GTR-PSW-191, Albany, CA, pp 684–689

Moore FR, Yong W (1991) Evidence of food-based competition among passerine migrants during stopover. Behav Ecol Sociobiol 28(2):85–90

Murray D, McWhirter J, Wier S, Emmerson S (2003) The integrated data viewer: a web-enabled application for scientific analysis and visualization. Preprints, 19th International conference on IIPS for meteorology, oceanography and hydrology

Newton I (2008) The migration ecology of birds. Academic Press, London

Putnam JA, Furnival GM, McKnight JS (1960) Management and inventory of southern hardwoods. U.S. Department of Agriculture Handbook 181

Rappole JH, Ramos MA (1994) Factors affecting migratory bird routes over the Gulf of Mexico. Bird Conserv Int 4:251–262

Richardson WJ (1974) Spring migration over Puerto Rico and the western Atlantic, a radar study. Ibis 116(2):172–193

Russell RW (2005) Interactions between migrating birds and offshore oil and gas platforms in the northern Gulf of Mexico: Final Report. U.S. Department of the Interior, Minerals Management Service, Gulf of Mexico OCS Region, New Orleans, LA. OCS Study MMS 2005-009

Stanley CQ, MacPherson M, Fraser KC, McKinnon EA, Stutchbury BJ (2012) Repeat tracking of individual songbirds reveals consistent migration timing but flexibility in route. PLoS ONE 7(7):e40688. doi:10.1371/journal.pone.0040688

Stanley CQ, McKinnon EA, Fraser KC, Macpherson MP, Casbourn G, Friesen L, Marra PP, Studds C, Ryder TB, Diggs NE, Stutchbury BJ (2014) Connectivity of wood thrush breeding, wintering, and migration sites based on range-wide tracking. Conserv Biol 29(1):164–174

Weber TP, Houston AI (1997) Flight costs, flight range and the stopover ecology of migrating birds. J Anim Ecol 66:297–306

Wiens JA (1989) Spatial scaling in ecology. Funct Ecol 3:385–397

Wolfe JD, Johnson EI (2015) Geolocator reveals migratory and winter movements of a Prothonotary Warbler. J Field Ornithol 86(3):238–243

Yong W, Moore FR (1997) Spring stopover of intercontinental migratory thrushes along the northern coast of the Gulf of Mexico. Auk 114(2):263–278
Acknowledgments
We thank Jaclyn Smolinsky for assistance with radar data processing. Funding to support this research was awarded in part by a grant from the USGS Science Support Partnership Program and provided in part by the University of Southern Mississippi. We acknowledge and are grateful for the support of the USGS Gulf Coast Joint Venture and constructive comments from two anonymous reviewers.
Additional information
Jill M. Lafleur and Jeffrey J. Buler contributed equally to this work.
About this article
Cite this article
Lafleur, J.M., Buler, J.J. & Moore, F.R. Geographic position and landscape composition explain regional patterns of migrating landbird distributions during spring stopover along the northern coast of the Gulf of Mexico. Landscape Ecol 31, 1697–1709 (2016). https://doi.org/10.1007/s10980-016-0354-1
Received:

Accepted:

Published:

Issue Date:

DOI: https://doi.org/10.1007/s10980-016-0354-1
Keywords
(10 max) Bird migration

Gulf of Mexico

Hierarchical distribution patterns

Weather radar