Abstract
Context
Published maps of global tree cover derived from Landsat data have indicated substantial changes in forest area from 2000 to 2012. The changes can be arranged in different patterns, with different consequences for forest fragmentation. Thus, the changes in forest area do not necessarily equate to changes in forest sustainability.
Objective
The objective is to assess global and regional changes in forest fragmentation in relation to the change of forest area from 2000 to 2012.
Methods
Using published global tree cover data, forest and forest interior areas were mapped in 2000 and 2012. The locations of forest interior change were compared to the locations of overall forest change to identify the direct (pixel level) and indirect (landscape level) components of forest interior change. The changes of forest interior area were compared to the changes of total forest area in each of 768 ecological regions.
Results
A 1.71 million km2 (3.2 %) net loss of global forest area translated to a net loss of 3.76 million km2 (9.9 %) of forest interior area. The difference in loss rates was consistent in most of the 768 ecological regions. The indirect component accounted for 2.44 million km2 of the net forest interior change, compared to 1.32 million km2 that was attributable to the direct component.
Conclusion
Forest area loss alone from 2000 to 2012 underestimates ecological risks from forest fragmentation. In addition to the direct loss of forest, there was a widespread shift of the remaining global forest to a more fragmented condition.
Access options
Buy single article
Instant access to the full article PDF.
US$ 39.95
Tax calculation will be finalised during checkout.
Subscribe to journal
Immediate online access to all issues from 2019. Subscription will auto renew annually.
US$ 79
Tax calculation will be finalised during checkout.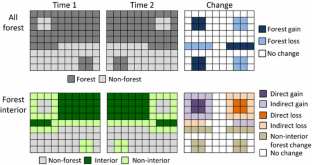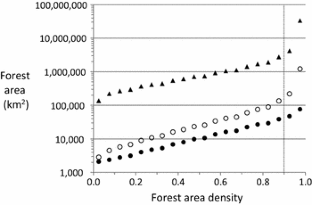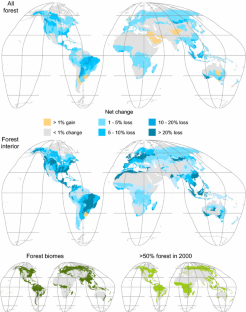 References
Andersen T, Carstensen J, Hernández-Garcia E, Duarte CM (2009) Ecological thresholds and regime shifts: approaches to identification. Trends Ecol Evol 24:49–57

Andrén H (1994) Effects of habitat fragmentation on birds and mammals in landscapes with different proportions of suitable habitat: a review. Oikos 71:355–366

Asner GP (2014) Satellites and psychology for improved forest monitoring. Proc Natl Acad Sci 111:567–568

Cadenasso ML, Pickett STA (2001) Effect of edge structure on the flux of species into forest interiors. Conserv Biol 15:91–97

Carpenter SR, DeFries R, Dietz T, Mooney HA, Polasky S, Reid WV, Scholes RJ (2006) Millennium ecosystem assessment: research needs. Science 314:257–258

Chazdon RL (2008) Beyond deforestation: restoring forests and ecosystem services on degraded lands. Science 320:1458–1460

Fahrig L (2003) Effects of habitat fragmentation on biodiversity. Annu Rev Ecol Evol Syst 34:487–515

FAO (Food and Agriculture Organization of the United Nations) (2010) Global forest resource assessment 2010. FAO Forestry Paper 163, Rome

Gascon C, Williamson GB, da Fonseca GAB (2000) Receding forest edges and vanishing reserves. Science 288:1356–1358

Haddad NM, Brudvig LA, Clobert J, Davies KF, Gonzalez A, Holt RD, Lovejoy TE, Sexton JO, Austin MP, Collins CD, Cook WM, Damschen EI, Ewers RM, Foster BL, Jenkins CN, King AJ, Laurance WF, Levey DJ, Margules CR, Melbourne BA, Nicholls AO, Orrock JL, Song D-X, Townshend JR (2015) Habitat fragmentation and its lasting impact on Earth's ecosystems. Sci Adv 1:e1500052

Hansen MC, Potapov PV, Moore R, Hancher M, Turubanova SA, Tyukavina A, Thau D, Stehman SV, Goetz SJ, Loveland TR, Kommareddy A, Egorov A, Chini L, Justice CO, Townshend JRG (2013) High-resolution global maps of 21st-century forest cover change. Science 342:850–853. http://earthenginepartners.appspot.com/science-2013-global-forest. Accessed 5 March 2014

Harris LD (1984) The fragmented forest. University of Chicago Press, Chicago

Heinz Center (The H. John Heinz III Center for Science, Economics, and the Environment) (2008) The state of the nation's ecosystems 2008. Island Press, Washington, DC

Hosonuma N, Herold M, De Sy V, De Fries R, Brockhaus M, Verchot L, Angelsen A, Romijn E (2012) An assessment of deforestation and forest degradation drivers in developing countries. Environ Res Lett 7:044009

Innes JL, Koch B (1998) Forest biodiversity and its assessment by remote sensing. Glob Ecol Biogeogr Lett 7:397–419

Kapos V (1989) Effects of isolation on the water status of forest patches in the Brazilian Amazon. J Trop Ecol 5:173–185

Keddy PA, Drummond CG (1996) Ecological properties for the evaluation, management, and restoration of temperate deciduous forest ecosystems. Ecol Appl 6:748–762

Kurz WA (2010) An ecosystem context for global gross forest cover loss estimates. Proc Natl Acad Sci 107:9025–9026

Laurance WF (2000) Do edge effects occur over large spatial scales? Trends Ecol Ecol 15:134–135

Laurance WF (2008) Theory meets reality: how habitat fragmentation research has transcended island biogeography theory. Biol Conserv 141:1731–1744

Laurance WF, Ferreira LV, Rankin-De Merona JM, Laurance SG (1998) Rain forest fragmentation and the dynamics of Amazonian tree communities. Ecology 79:2032–2040

Loveland TR, Dwyer JL (2012) Landsat: building a strong future. Remote Sens Environ 122:22–29

Luck GW (2005) An introduction to ecological thresholds. Biol Conserv 124:299–300

Mather AS (2005) Assessing the world's forests. Glob Environ Change 15:267–280

McIntyre S, Hobbs R (1999) A framework for conceptualizing human effects on landscapes and its relevance to management and research models. Conserv Biol 13:1282–1292

Millennium Ecosystem Assessment (2005) Ecosystems and human well-being: biodiversity synthesis. World Resources Institute, Washington, DC

Murcia C (1995) Edge effects in fragmented forests: implications for conservation. Trends Ecol Evol 10:58–62

Olson DM, Dinerstein E, Wikramanayake ED, Burgess ND, Powell GVN, Underwood EC, D'Amico JA, Itoua I, Strand HE, Morrison JC, Loucks CJ, Allnutt TF, Ricketts TH, Kura Y, Lamoreux JF, Wettengel WW, Hedao P, Kassem KR (2001) Terrestrial ecoregions of the world: a new map of life on Earth. Bioscience 51:933–938

O'Neill RV, Hunsaker CT, Jones KB, Riitters KH, Wickham JD, Schwartz PM, Goodman IA, Jackson BL, Baillargeon WS (1997) Monitoring environmental quality at the landscape scale. Bioscience 47:513–519

Pelletier J, Goetz SJ (2015) Baseline data on forest loss and associated uncertainty: advances in national forest monitoring. Environ Res Lett 10:021001

Pickett STA, Cadenasso ML (1995) Landscape ecology: spatial heterogeneity in ecological systems. Science 269:331–334

Ricketts TH (2001) The matrix matters: effective isolation in fragmented landscapes. Am Nat 158:87–99

Ries L, Fletcher RJ, Battin J, Sisk TD (2004) Ecological responses to habitat edges: mechanisms, models, and variability explained. Annu Rev Ecol Evol Syst 35:491–522

Riitters KH, Wickham JD (2003) How far to the nearest road? Front Ecol Environ 1:125–129

Riitters KH, Wickham JD (2012) Decline of forest interior conditions in the conterminous United States. Sci Rep 2:653

Riitters KH, O'Neill RV, Jones KB (1997) Assessing habitat suitability at multiple scales: a landscape-level approach. Biol Conserv 81:191–202

Riitters K, Wickham J, O'Neill RV, Jones B, Smith E (2000) Global-scale patterns of forest fragmentation. Ecol Soc 4(2):3

Riitters KH, Wickham JD, O'Neill RV, Jones KB, Smith ER, Coulston JW, Wade TG, Smith JH (2002) Fragmentation of continental United States forests. Ecosystems 5:815–822

Riitters KH, Coulston JW, Wickham JD (2012) Fragmentation of forest communities in the eastern United States. For Ecol Manage 263:85–93

Robinson SK, Thompson FR III, Donovan TM, Whitehead DR, Faaborg J (1995) Regional forest fragmentation and the nesting success of migratory birds. Science 267:1987–1990

Rose RA, Byler D, Eastman JR, Fleishman E, Geller G, Goetz S, Guild L, Hamilton H, Hansen M, Headley R, Hewson J, Horning N, Kaplin BA, LaPorte N, Leidner A, Leimgruber P, Morisette J, Musinsky J, Pintea L, Prados A, Radeloff VC, Rowen M, Saatchi S, Schill S, Tabor K, Turner W, Vodacek A, Vogelmann J, Wegmann M, Wilkie D, Wilson C (2014) Ten ways remote sensing can contribute to conservation. Conserv Biol 29:350–359

Roy DP, Wulder MA, Loveland TR, Woodcock CE, Allen RG, Anderson MC, Helder D, Irons JR, Johnson DM, Kennedy R, Scambos TA, Schaaf CB, Schott JR, Sheng Y, Vermote EF, Belward AS, Bindschadler R, Cohen WB, Gao F, Hipple JD, Hostert P, Huntington J, Justice CO, Kilic A, Kovalskyy V, Lee ZP, Lymburner L, Masek JG, McCorkel J, Shuai Y, Trezza R, Vogelmann J, Wynne RH, Zhu Z (2014) Landsat-8: science and product vision for terrestrial global change research. Remote Sens Environ 145:154–172

Scheffer M, Bascompte J, Brock WA, Brovkin V, Carpenter SR, Dakos V, Held H, Van Nes EH, Rietkerk M, Sugihara G (2009) Early-warning signals for critical transitions. Nature 461:53–59

Sexton JO, Song XP, Feng M, Noojipady P, Anand A, Huang C, Kim D-H, Collins KM, Channan S, DiMiceli C, Townshend JR (2013) Global, 30-m resolution continuous fields of tree cover: landsat-based rescaling of MODIS vegetation continuous fields with lidar-based estimates of error. Int J Digit Earth 6:427–448

Suding KN, Hobbs RJ (2009) Threshold models in restoration and conservation: a developing framework. Trends Ecol Evol 24:271–279

Turner BL II, Lambin EF, Reenberg A (2007) The emergence of land change science for global environmental change and sustainability. Proc Natl Acad Sci 104:2066–20671

US Environmental Protection Agency (2008) EPA's 2008 report on the environment. EPA/600/R-07/045F. National Center for Environmental Assessment, Washington, DC. Available from the National Technical Information Service, Springfield. http://www.epa.gov/roe

USDA (United States Department of Agriculture) Forest Service (2004) National report on sustainable forests—2003. Publication FS-766. USDA Forest Service, Washington, DC

USDA (United States Department of Agriculture) Forest Service (2011) National report on sustainable forests—2010. Publication FS-979. USDA Forest Service, Washington, DC

USDA (United States Department of Agriculture) Forest Service (2012) Future of America's forest and rangelands: Forest Service 2010 Resources Planning Act assessment. General Technical Report WO-87. Washington, DC

Wade TG, Riitters KH, Wickham JD, Jones KB (2003) Distribution and causes of global forest fragmentation. Ecol Soc 7(2):7

Weathers KC, Cadenasso ML, Pickett STA (2001) Forest edges as nutrient and pollutant concentrators: potential synergisms between fragmentation, forest canopies, and the atmosphere. Conserv Biol 15:1506–1514

Wickham JD, Riitters KH, Wade TG, Coulston JW (2007) Temporal change in fragmentation at multiple scales. Landscape Ecol 22:481–489

Wickham JD, Riitters KH, Wade TG, Homer C (2008) Temporal change in fragmentation of continental US forests. Landscape Ecol 23:891–898

World Wildlife Fund (2004) Terrestrial ecoregions of the world. Version 2.0 (digital map). The World Wildlife Fund, Washington, DC. http://www.worldwildlife.org/publications/terrestrial-ecoregions-of-the-world. Accessed 4 Feb 2009

Wulder MA, Masek JG, Cohen WB, Loveland TR, Woodcock CE (2012) Opening the archive: how free data has enabled the science and monitoring promise of Landsat. Remote Sens Environ 122:2–10
Acknowledgments
We thank M. Hansen, his colleagues, and Google Earth Engine for the global forest change maps. The United States Environmental Protection Agency (EPA), through its Office of Research and Development, partially funded and collaborated in the research described here. It has been subjected to EPA review and approved for publication.
Additional information
Special issue: Macrosystems ecology: Novel methods and new understanding of multi-scale patterns and processes.
Guest Editors: S. Fei, Q. Guo, and K. Potter.
Electronic supplementary material
Below is the link to the electronic supplementary material.
About this article
Cite this article
Riitters, K., Wickham, J., Costanza, J.K. et al. A global evaluation of forest interior area dynamics using tree cover data from 2000 to 2012. Landscape Ecol 31, 137–148 (2016). https://doi.org/10.1007/s10980-015-0270-9
Received:

Accepted:

Published:

Issue Date:
Keywords
Spatial analysis

Forest fragmentation

Monitoring

Assessment