Abstract
Context
Grasshoppers are a dominant herbivore assemblage globally and play an important role for ecosystem nutrient cycling. Yet, we lack a strong understanding of the relationship between grasshopper diversity and plant community composition at the landscape scale.
Objective
Our aim was to test landscape scale relationships between plant and grasshopper communities.
Methods
We used a large-scale, replicated experiment at four sites, including grazed and protected pastures across a 350 km transect and 200–400 mm precipitation gradient in the steppes of Inner Mongolia, China. We analyzed the relationships between plant and grasshopper parameters with ANOVAs and CCA.
Results
We collected 17 grasshopper species and 15,000+ individuals. The desert steppe (lowest precipitation) had the lowest grasshopper richness and diversity, but abundance was not different from the other sites. In two dry sites (desert steppe and Stipa steppe), livestock grazing decreased grasshopper diversity and increased abundance of the main pest species. In contrast, at the highest precipitation site (meadow steppe), grasshopper communities did not differ between grazing levels. Across all sites and grazing intensities, grasshopper abundance tended to be lowest and diversity highest in plant communities with intermediate levels of biomass and plant species richness.
Conclusion
These results support the concept that appropriate land use management practices would be beneficial for increasing biodiversity, promoting grassland sustainability, and reducing outbreaks of the dominant pest grasshopper in Inner Mongolia. Our study suggests that different management approaches are necessary depending on the average annual precipitation and that the driest sites are most vulnerable to disturbance.
Access options
Buy single article
Instant access to the full article PDF.
USD 39.95
Price excludes VAT (USA)
Tax calculation will be finalised during checkout.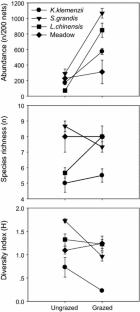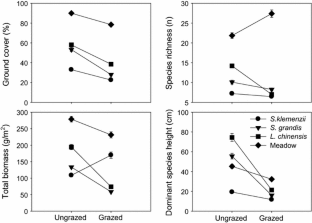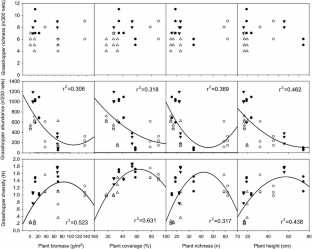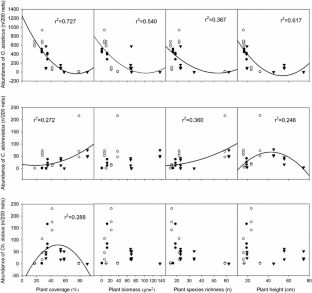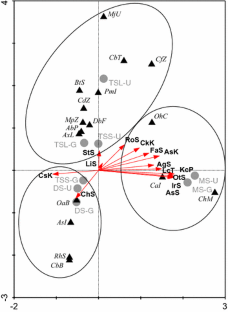 References
Andersen AN, Ludwig JA, Lowe LM, Rentz DCF (2001) Grasshopper biodiversity and bio-indicators in Australian tropical savannas: responses to disturbance in Kakadu National Park. Austral Ecol 26:213–222

Bazelet CS, Samways MJ (2011a) Identifying grasshopper bioindicators for habitat quality assessment of ecological networks. Ecol Indic 11:1259–1269

Bazelet CS, Samways MJ (2011b) Relative importance of management vs. design for implementation of large-scale ecological networks. Landscape Ecol 26:341–353

Belovsky GE, Slade JB (2000) Insect herbivory accelerates nutrient cycling and increases plant production. Proc Natl Acad Sci 97:14412–14417

Branson DH (2011) Relationships between plant diversity and grasshopper diversity and abundance in the little Missouri National Grassland. Psyche. doi:10.1155/2011/748635

Branson DH, Sword GA (2010) An experimental analysis of grasshopper community responses to fire and livestock grazing in a northern mixed-grass prairie. Environ Entomol 39:1441–1446

Branson DH, Joern A, Sword GA (2006) Sustainable management of insect herbivores in grassland ecosystems: new perspectives in grasshopper control. Bioscience 56:743–755

Capinera JC, Horton DR (1989) Geographic variation in effects of weather on grasshopper infestation. Environ Entomol 18:8–14

Capinera JL, Sechrist TS (1982) Grasshopper (Acrididae)-host plant associations: response of grasshopper populations to cattle grazing intensity. Can Entomol 114:1055–1062

Capinera JL, Thompson DC (1987) Dynamics and structure of grasshopper assemblages in short grass prairie. Can Entomol 119:567–575

Cease AJ, Hao S, Kang L, Elser JJ, Harrison JF (2010) Are color or high rearing density related to migratory polyphenism in the band-winged grasshopper, Oedaleus asiaticus? J Insect Physiol 56:926–936

Cease AJ, Elser JJ, Ford CF, Hao S, Kang L, Harrison JF (2012) Heavy livestock grazing promotes locust outbreaks by lowering plant nitrogen content. Science 335:467–469

Dennis JF, Brusven MA (1995) Ecological correlates between rangeland grasshopper and plant communities of southern Idaho. Environ Entomol 24:1432–1441

Essl F, Dirnböck T (2012) What determines Orthoptera species distribution and richness in temperate semi-natural dry grassland remnants? Biodivers Conserv 21:2525–2537

Evans EW (1992) Absence of inter specific competition among tall grass prairie grasshoppers during a drought. Ecology 73:1038–1044

Fartmann T (2012) Orthoptera as ecological indicators for succession in steppe grassland. Ecol Indic 20:337–344

Fielding DJ, Brusven MA (1993) Grasshopper (Orthoptera: Acrididae) community composition and ecological disturbance on southern Idaho rangeland. Environ Entomol 22:71–81

Fielding DJ, Brusven MA (1995) Ecological correlates between rangeland grasshopper (Orthoptera: Acrididae) and plant communities of southern Idaho. Environ Entomol 24:1432–1441

Gardiner T (2010) Precipitation and habitat degradation influence the occurrence of the common green grasshopper Omocestus viridulus in Southeastern England. J Orthoptera Res 19:315–326

Gebeyehu S, Samways MJ (2002) Grasshopper assemblage response to a restored national park (Mountain Zebra National Park, South Africa). Biodivers Conserv 11:283–304

Gillon Y (1983) The invertebrates of the grass layer. In: Bouliere F (ed) Ecosystems of the World 13: tropical Savanas. Elsevier, Amsterdam, pp 289–311

Haddad NM, Tilman D, Haarstad J, Ritchie M, Knops JMH (2001) Contrasting effects of plant richness and composition on insect communities: a field experiment. Am Nat 158:17–35

Haddad NM, Crutsinger GM, Gross K, Haarstad J, Knops JMH, Tilman D (2009) Plant species loss decreases arthropod diversity and shifts trophic structure. Ecol Lett 12:1029–1039

Hao SG, Kang L (2004) Post-diapause development and hatching rate of three grasshopper species (Orthoptera: Acrididae) in Inner Mongolia. Environ Entomol 33:1528–1534

Hawkins BA, Porter EE (2003) Does herbivore diversity depend on plant diversity? The case of California butterflies. Am Nat 161:40–49

Hunter DM, Walker PW, Elder RJ (2010) Adaptations of locusts and grasshoppers to the low and variable rainfall of Australia. J Orthoptera Res 19:347–351

Jepson-Innes K, Bock CE (1989) Response of grasshoppers (Orthoptera: Acrididae) to livestock grazing in southeastern Arizona: differences between seasons and subfamilies. Oecologia 78:430–431

Joern A (2004) Variation in grasshopper (Acrididae) densities in response to fire frequency and bison grazing in tall grass prairie. Environ Entomol 33:1617–1625

Joern A (2005) Disturbance by fire frequency and bison grazing modulate grasshopper assemblages in tall grass prairie. Ecology 86:861–873

Johnson DL, Worobec A (1988) Spatial and temporal computer analysis of insects and weather: grasshoppers and rainfall in Alberta. Mem Entomol Soc Can 146:33–46

Jonas JL, Joern A (2007) Grasshopper (Orthoptera: Acrididae) communities respond to fire, bison grazing and weather in North American tall grass prairie: a long term study. Oecologia 153:699–711

Hill JVG (2012) Habitat associations of grasshoppers (Orthoptera: Acrididae) in the heterogeneous cedar glade landscape of the Central Basin of Tennessee. J Orthoptera Res 21:227–233

Kang L (1995) Grasshopper–plant interactions under different grazing intensities in Inner Mongolia. Acta Ecol Sin 15:1–11

Kang L, Chen YL (1995) Dynamics of grasshopper community under different grazing intensities in Inner Mongolia. Entomol Sin 2(3):265–281

Kang L, Han X, Zhang Z, Sun OJ (2007) Grassland ecosystems in China: review of current knowledge and research advancement. Philos Trans R Soc B 362:997–1008

Kemp WP, Cigliano MM (1994) Drought and rangeland grasshopper species diversity. Can Entomol 126:1075–1092

Kemp WP, Harvey SJ, O'Neill KM (1990) Patterns of vegetation and grasshopper community composition. Oecologia 83:299–308

Kemp WP, Cigliano MM, O'Neill KM, Torrusio S (2002) Field-scale variations in plant and grasshopper communities: a GIS-based assessment. Trans GIS 6:115–133

Lee MA, Manning P, Walker CS, Power SA (2014) Plant and arthropod community sensitivity to rainfall manipulation but not nitrogen enrichment in a successional grassland ecosystem. Oecologia 176:1173–1185

Li HC, Wang Z, Chen YL (1987) Food consumption and utilization by three species of acridoids (adult stage) in typical steppe. Acta Ecol Sin 7:331–338

Liu GH, Hao SG, Shao XQ, Zhang YJ, Wang SP (2013) Diet composition and trophic niche of Oedaleus asiaticus (Orthoptera: Acrididae) in natural grasslands under different grazlng pressure in Inner Mongolia, northern China. Acta Entomol Sin 56:537–547

Lockwood JA, Li HC, Dodd JL, Williams SE (1994) Comparison of grasshopper (Orthoptera: Acrididae) ecology on the grasslands of the Asian steppe in Inner Mongolia and the Great plains of North America. J Orthoptera Res 2:4–14

Marini L, Fontana P, Scotton M, Klimek S (2008) Vascular plant and Orthoptera diversity in relation to grassland management and landscape composition in the European Alps. J Appl Ecol 45:361–370

Miller RH, Onsager JA (1991) Grasshopper (Orthoptera: Acrididae) and plant relationships under different grazing intensities. Environ Entomol 20:807–814

O'Neill KM, Olson BE, Rolston MG, Wallander R, Larson DP, Seibert CE (2003) Effects of livestock grazing on rangeland grasshopper (Orthoptera: Acrididae) abundance. Agric Ecosyst Environ 97:51–64

O'Neill KM, Olson BE, Wallander R, Olston M, Seibert CE (2010) Effects of livestock grazing on grasshopper abundance on a native Rangeland in Montana. Environ Entomol 39:775–786

Onsager JA (2000) Suppression of grasshoppers in the Great Plains through grazing management. J Range Manag 53:592–602

Otte D (1976) Species richness patterns of New World desert grasshoppers in relation to plant diversity. J Biogeogr 3:197–209

Ovadia O, Schmitz OJ (2004) Weather variation and trophic interaction strength: sorting the signal from the noise. Oecologia 140:398–406

Powell LR, Berg AA, Johnson DL, Warland JS (2007) Relationships of pest grasshopper populations in Alberta, Canada to soil moisture and climate variables. Agric For Meteorol 144:73–84

Quinn MA, Walgenbach DD (1990) Influence of grazing history on the community structure of grasshoppers of a mixed-grass prairie. Environ Entomol 19:1756–1766

Rambo JL, Faeth SH (1999) Effect of vertebrate grazing on plant and insect community structure. Conserv Biol 13:1047–1054

Reynolds JF, Smith DMS, Lambin EF, Turner BL II, Mortimore M, Batterbury SPJ, Downing TE, Dowlatabadi H, Fernández RJ, Herrick JE, Huber-Sannwald E, Jiang H, Leemans R, Lynam T, Maestre FT, Ayarza M, Walker B (2007) Global desertification: building a science for dryland development. Science 316:847–851

Samways MJ, Kruzinger K (2001) Vegetation, ungulate and grasshopper interactions inside vs. outside an African savanna game park. Biodivers Conserv 10:1963–1981

Schaffers AP, Raemakers IP, Sykora KV, TerBraak CJF (2008) Arthropod assemblages are best predicted by plant species composition. Ecology 89:782–794

Sorgog K, Saito M, Hironaka Y, Higashiura Y, Matsuda H (2012) Influence of agricultural activities on grassland Arthropods in Inner Mongolia. Environ Nat Resour Res 3:33–41

Torrusio S, Cigliano MM, De Wysiecki ML (2002) Grasshopper (Orthoptera: Acridoidea) and plant community relationships in the Argentine pampas. J Biogeogr 29:221–229

Wachter DH, O'Neill KM, Kemp WP (1998) Grasshopper (Orthoptera: Acrididae) communities on an elevational gradient in southwestern Montana. J Kansas Entomol 71:35–43

Wallis De Vries MFW, Parkinson AE, Dulphy JP, Sayer M, Diana E (2007) Effects of livestock breed and grazing intensity on biodiversity and production in grazing systems. 4. Effects on animal diversity. Grass Forage Sci 62:185–197
Acknowledgments
We thank anonymous reviewers for their comments on earlier versions of the paper. The research was supported by the research grants of Public Welfare Fund for Agriculture (201003079), Knowledge Innovation Program in the Chinese Academy of Sciences (KSCX2-YW-N-040) and the U.S. National Science Foundation (DEB-1313693 and CHE-1313958 to AJC).
Electronic supplementary material
Below is the link to the electronic supplementary material.
About this article
Cite this article
Hao, S., Wang, S., Cease, A. et al. Landscape level patterns of grasshopper communities in Inner Mongolia: interactive effects of livestock grazing and a precipitation gradient. Landscape Ecol 30, 1657–1668 (2015). https://doi.org/10.1007/s10980-015-0247-8
Received:

Accepted:

Published:

Issue Date:

DOI: https://doi.org/10.1007/s10980-015-0247-8
Keywords