Abstract
Context
Determining regional and local processes that govern the maintenance of biodiversity and assessing their relative importance remain major research challenges in landscape ecology. In riparian systems, propagule dispersal and disturbance are constrained by longitudinal and lateral water flows, but riparian forests in temperate human-dominated landscapes have received little attention so far.
Objectives
We investigated how the longitudinal position along the river course and the lateral position to the riverbed structure forest plant communities subjected to flooding.
Methods
We studied vegetation, soil seed bank, hydrochorous seed rain and environmental conditions along 23 transects perpendicular to the river in two forest floodplains in the North of France. We used generalized linear mixed models to assess the relative importance of longitudinal distance, relative elevation, and their interaction on both species richness in a given compartment and species turnover between compartments.
Results
Relative elevation to the riverbed was the main factor explaining species richness of vegetation and water seed deposit, but not of the seed bank. Vegetation was the most species-rich at low elevations, where the number of water-dispersed seeds and related species richness were maximal. The longitudinal position within the riparian forest had no effect on vegetation and seed bank richness. Dissimilarity between the seed bank and the seed rain increased with relative elevation.
Conclusion
Lateral much more than longitudinal movements of water create a strong gradient in seed rain intensity that structures plant communities. Flooding is important to species dispersal, hence to the conservation of species-rich plant communities within human-pressured landscapes.
Access options
Buy single article
Instant access to the full article PDF.
US$ 39.95
Tax calculation will be finalised during checkout.
Subscribe to journal
Immediate online access to all issues from 2019. Subscription will auto renew annually.
US$ 79
Tax calculation will be finalised during checkout.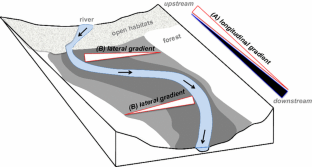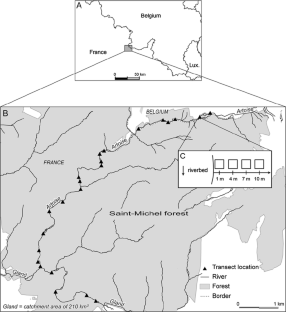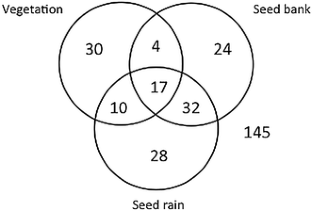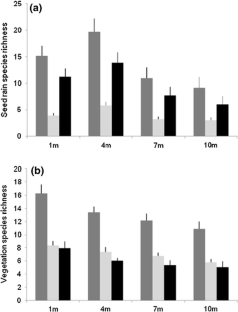 References
Andersson E, Nilsson C, Johansson ME (2000) Plant dispersal in boreal rivers and its relation to the diversity of riparian flora. J Biogeogr 27:1095–1106

Araujo Calçada E, Closset-Kopp D, Gallet-Moron E, Lenoir J, Rêve M, Hermy M, Decocq G (2013) Streams are efficient corridors for plant species in forest metacommunities. J Appl Ecol 50:1152–1160

Bendix J, Hupp CR (2000) Hydrological and geomorphological impacts on riparian plant communities. Hydrol Process 14:2977–2990

Biswas SR, Mallik AU (2010) Disturbance effects on species diversity and functional diversity in riparian and upland plant communities. Ecology 91:28–35

Boedeltje G, Bakker JP, Bekker RM, van Groenendael JM, Soesbergen M (2003) Plant dispersal in a lowland river in relation to occurrence and three specific life history traits of the species in the species pool. J Ecol 91:855–866

Boedeltje G, Bakker Brinke A, Van Groenendael JM, Soesbergen M (2004) Dispersal phenology of hydrochorous plants in relation to discharge, seed release time and buoyancy of seeds: the flood pulse concept supported. J Ecol 92:786–796

Bossuyt B, Hermy M (2001) Influence of land use history on seed banks in European temperate forest ecosystems: a review. Ecography 24:225–238

Brederveld RJ, Jähnig SC, Lorenz AW, Brunzel S, Soons MB (2011) Dispersal as a limiting factor in the colonization of restored mountain streams by plants and macroinvertebrates. J Appl Ecol 48:1241–1250

Crawley MJ (2007) The R book. John Wiley & Sons Ltd, London

Decocq G (2002) Patterns of plant species and community diversity at different organization levels in a forested riparian landscape. J Veg Sci 13:91–106

Development Core Team R (2011) R: a language and environment for statistical computing. R Foundation for Statistical Computing, Vienna

Ellenberg H, Weber HE, Düll R, Wirth V, Werner W, Paulissen D (1991) Zeigerwerte der Gefäßpflanzen (ohne Rubus). Script Geobot 18:9–166

Goodson JM, Gurnell AM, Angold PG, Morrissey IP (2003) Evidence for hydrochory and the deposition of viable seeds within winter flow-deposited sediments: the river Dove, Derbyshire, UK. River Res Appl 19:317–334

Grelsson G, Nilsson C (1991) Vegetation and seed-bank relationships on a lakeshore. Freshw Biol 26:199–207

Gurnell AM, Boitsidis AJ, Thompson K, Clifford NJ (2006) Seed bank, seed dispersal and vegetation cover: colonization along a newly-created river channel. J Veg Sci 17:665–674

Hampe A (2004) Extensive hydrochory uncouples spatiotemporal patterns of seedfall and seedling recruitment in a 'bird-dispersed' riparian tree. J Ecol 92:797–807

Honnay O, Verhaeghe W, Hermy M (2001) Plant community assembly along dendritic networks of small forest streams. Ecology 82:1691–1702

Houle G (1994) Spatiotemporal patterns in the components of regeneration of four sympatric tree species-Acer rubrum, A. saccharum, Betula alleghaniensis and Fagus grandifolia. J Ecol 82:39–53

Hughes JW, Cass WB (1997) Pattern and process of a floodplain forest, Vermont, USA: predicted response of vegetation to perturbation. J Appl Ecol 34:594–612

Jansson R, Zinko U, Merritt DM, Nilsson C (2005) Hydrochory increases riparian plant species richness: a comparison between a free-flowing and a regulated river. J Ecol 93:1094–1103

Johansson ME, Nilsson C, Nilsson E (1996) Do rivers function as corridors for plant dispersal? J Veg Sci 7:593–598

Johnson PCD (2014) Extension of Nakagawa & Schielzeth's R2 GLMM to random slopes models. Methods Ecol Evol 5:944–946

Kuglerová L, Jansson R, Sponseller RA, Laudon H, Malm-Renöfält B (2015) Local and regional processes determine plant species richness in a river-network metacommunity. Ecology 96:381–391

Levine JM, Murrell DJ (2003) The community-level consequences of seed dispersal patterns. Annu Rev Ecol Evol Syst 34:549–574

Leyer I (2006) Dispersal, diversity and distribution patterns in pioneer vegetation: the role of river-floodplain connectivity. J Veg Sci 17:407–416

Logan M (2010) Biostatistical design and analysis using R: a practical guide. Wiley-Blackwell, London

Londo G (1976) The decimal scale for relevés of permanent quadrats. Plant Ecol 33:61–64

McCullagh P, Nelder JA (1997) Generalized linear models. Chapman & Hall, London

Merritt DM, Wohl EE (2006) Plant dispersal along rivers fragmented by dams. River Res Appl 22:1–26

Merritt DM, Nilsson C, Jansson R (2010) Consequences of propagule dispersal and river fragmentation for riparian plant community diversity and turnover. Ecol Monogr 80:609–626

Moggridge HL, Gurnell AM, Mountford JO (2009) Propagule input, transport and deposition in riparian environments: the importance of connectivity for diversity. J Veg Sci 20:465–474

Naiman RJ, Décamps H (1997) The ecology of interfaces: riparian zones. Annu Rev Ecol Evol Syst 28:621–658

Nakagawa S, Schielzeth H (2013) A general and simple method for obtaining R2 from generalized linear mixed-effects models. Methods Ecol Evol 4:133–142

Nilsson C, Gardfjell M, Grelsson G (1991) Importance of hydrochory in structuring plant-communities along rivers. Can J Bot 69:2631–2633

Nilsson C, Ekblad A, Dynesius M, Backe S, Gardfjell M, Carlberg B, Hellqvist S, Jansson R (1994) A comparison of species richness and traits of riparian plants between a main channel and its tributaries. J Ecol 82:281–295

Nilsson C, Andersson E, Merritt DM, Johansson ME (2002) Differences in riparian flora between riverbanks and river lakeshores explained by dispersal traits. Ecology 83:2878–2887

Nilsson C, Brown RL, Jansson R, Merritt DM (2010) The role of hydrochory in structuring riparian and wetland vegetation. Biol Rev 85:837–858

Plue J, Van Gils B, Peppler-Lisbach C, De Schrijver A, Verheyen K, Hermy M (2010) Seed-bank convergence under different tree species during forest development. Perspect Plant Ecol Evol Syst 12:211–218

Plue J, Thompson K, Verheyen K, Hermy M (2012) Seed banking in ancient forest species : why total sampled area really matters. Seed Sci Res 22:123–133

Postel SL, Carpenter S (1997) Freshwater ecosystem services. In: Daily GC (ed) Nature's services. Island Press, Washington DC, pp 195–214

Raup D, Crick RE (1979) Measurement of faunal similarity in paleontology. J Paleontol 53:1213–1227

Reed DC, Raimondi PT, Carr MH, Goldwasser L (2000) The role of dispersal and disturbance in determining spatial heterogeneity in sedentary organisms. Ecology 81:2011–2026

Sabo JL, Sponseller R, Dixon M, Gade K, Harms T, Heffernan J, Jani A, Katz G, Soykan C, Watts J, Welter J (2005) Riparian zones increase regional species richness by harboring different, not more, species. Ecology 86:56–62

Schielzeth H (2010) Simple means to improve the interpretability of regression coefficients. Methods Ecol Evol 1:103–113

Schneider RL, Sharitz RR (1988) Hydrochory and regeneration in a bald cypress-water tupelo swamp forest. Ecology 69:1055–1063

Ter Heerdt GNJ, Verweij GL, Bekker RM, Bakker JP (1996) An improved method for seed-bank analysis: seedling emergence after removing the soil by sieving. Funct Ecol 10:144–151

van Coller AL, Rogers KH, Heritage GL (2000) Riparian vegetation-environment relationships: complementarity of gradients versus patch hierarchy approaches. J Veg Sci 11:337–350

Vogt K, Rasran L, Jensen K (2004) Water-borne seed transport and seed deposition during flooding in a small river-valley in Northern Germany. Flora 199:377–388

Wolters M, Geertsema J, Chang ER, Veeneklaas RM, Carey PD, Bakker JP (2004) Astroturf seed traps for studying hydrochory. Funct Ecol 18:141–147
Acknowledgments
We thank Patrick Endels and Kathleen Vanderheyden for their contribution to this project, Eric van Beek for the help with the germination trials, Emilie Gallet-Moron for the GIS help. We are thankful to the two anonymous referees for their insightful comments. We also thank the French Office national des Forêts for the facilities during field work. This study was partly supported by a Hubert Curien Program "TOURNESOL" (EGIDE). Additional support was provided by the "Conseil régional de Picardie" via a mobility grant "Philéas Séjour". This paper was written while E.A.C. held a PhD fellowship from the French "Ministère de l'Enseignement supérieur".
Electronic supplementary material
Below is the link to the electronic supplementary material.
About this article
Cite this article
Araujo Calçada, E., Lenoir, J., Plue, J. et al. Spatial patterns of water-deposited seeds control plant species richness and composition in riparian forest landscapes. Landscape Ecol 30, 2133–2146 (2015). https://doi.org/10.1007/s10980-015-0236-y
Received:

Accepted:

Published:

Issue Date:
Keywords
Biodiversity maintenance

Disturbance

Environmental gradients

Flooding

Hydrochory

Recruitment limitation

Seed dispersal

Soil seed bank

Temperate floodplain forest

Vascular plant diversity