Abstract
In this article we demonstrate how to integrate the ecosystem services concept into regional planning using the example of a case study in Saxony, Germany. We analysed how the reduction of water erosion as a regulating service impacts six other ecosystem services. Ecological integrity, provisioning services (provision of food and fibre, provision of biomass), regulating services (soil erosion protection, drought-risk regulation, flood regulation), and the cultural service landscape aesthetics are taken into account. Using a decision support software, we found that the greening of preferential discharge paths can reduce water erosion by 2–7 %. The introduction of hedgerows and the change in the soil management system from tillage to no-till practices revealed a reduction in the total soil loss by 33 and 89 %, respectively. A combination of the three erosion control measures—greening, hedgerows, and no-till management—reduced the soil loss most efficiently by 92 %. We found synergies between the measures for reducing erosion and the provision of ecological integrity, of regulating and cultural ecosystem services. In contrast, the impact on provisioning services was slightly negative. For the land use planning in the case study region we recommend therefore a combination of greening, hedges, and management change. We found that the applied integrated ecosystem services assessment approach, in combination with stakeholder involvement in the scenario development, helped communicating cross-sectoral effects of different management strategies in a comprehensive way and therefore supports regional planning.
Access options
Buy single article
Instant access to the full article PDF.
USD 39.95
Price excludes VAT (USA)
Tax calculation will be finalised during checkout.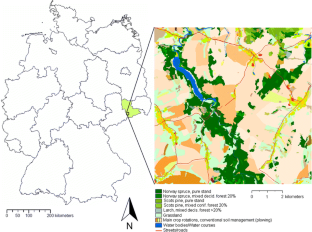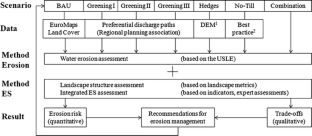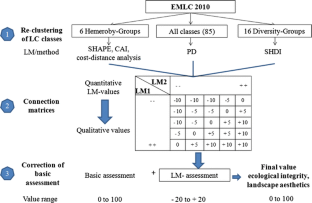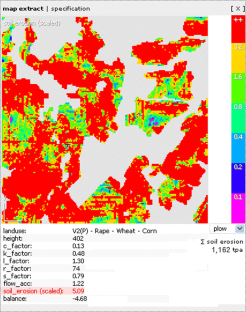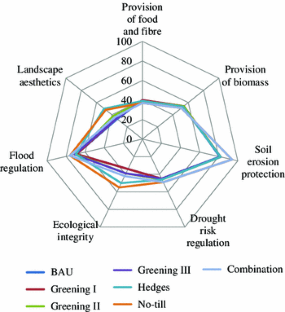 References
Angima SD, Stott DE, O'Neill MK, Ong CK, Weesies GA (2002) Use of calliandra-Napier grass contour hedges to control erosion in central Kenya. Agric Ecosyst Environ 91:15–23

Arshad MA, Franzluebbers AJ, Azooz RH (1999) Components of surface soil structure under conventional and no-tillage in northwestern Canada. Soil Tillage Res 53:41–47

Barkmann J, Baumann R, Meyer U, Müller F, Windhorst W (2001) Ökologische Integrität: Risikovorsorge im Nachhaltigen Landschaftsmanagement. GAIA 10:97–108

Barral MP, Oscar MN (2012) Land-use planning based on ecosystem service assessment: a case study in the Southeast Pampas of Argentina. Agric Ecosyst Environ 154:34–43

Bastian O, Schreiber K-F (1999) Analyse und ökologische Bewertung der Landschaft. Heidelberg Spektrum Akad, Berlin

BMVEL (2002) Gute fachliche Praxis zur Vorsorge gegen Bodenschadverdichtungen und Bodenerosion. BMVEL (Bundesministerium für Verbraucherschutz Ernährung und Landwirtschaft), Bonn

BMWi, BMU (2010) Energiekonzept für eine umweltschonende, zuverlässige und bezahlbare. www.bmu.de/files/pdfs/allgemein/application/pdf/energiekonzept_bundesregierung.pdf [accessed May 2013], Federal Ministry of Economics and Technology; Federal ministry for the environment, nature conservation and nuclear safety, Berlin, Germany

Botequilha Leitão A, Ahern J (2002) Applying landscape ecological concepts and metrics in sustainable landscape planning. Landscape Urban Plan 59:65–93

Bräutigam T, Kleinstäuber G, Schmidt J (2007) Bodenatlas des Freistaates Sachsen Teil 2: Standortkundliche Verhältnisse und Bodennutzung. Sächsisches Landesamt für Umwelt und Geologie, www.umwelt.sachsen.de/umwelt/download/boden/Bodenatlas-Teil2.pdf, accessed: 25/06/2013

Bryan BA, Crossman ND (2008) Systematic regional planning for multiple objective natural resource management. J Environ Manage 88:1175–1189

Buongiorno J, Raunikar R, Zhu S (2011) Consequences of increasing bioenergy demand on wood and forests: an application of the Global Forest Products Model. J For Econ 17:214–229

Burel F, Baudry J (1995) Social, aesthetic and ecological aspects of hedgerows in rural landscapes as a framework for greenways. Landscape Urban Plan 33:327–340

Copeland N, Cape JN, Heal MR (2012) Volatile organic compound emissions from Miscanthus and short rotation coppice willow bioenergy crops. Atmos Environ 60:327–335

de la Fuente de Val G, Atauri JA, de Lucio JV (2006) Relationship between landscape visual attributes and spatial pattern indices: A test study in Mediterranean-climate landscapes. Landscape Urban Plan 77:393–407

de Groot RS, Alkemade R, Braat L, Hein L, Willemen L (2010) Challenges in integrating the concept of ecosystem services and values in landscape planning, management and decision making. Ecol Complex 7:260–272

Dexter AR, Bird NRA (2001) Methods for predicting the optimum and the range of soil water contents for tillage based on the water retention curve. Soil Tillage Res 57:203–212

Dillen SY, Djomo SN, Al Afas N, Vanbeveren S, Ceulemans R (2013) Biomass yield and energy balance of a short-rotation poplar coppice with multiple clones on degraded land during 16 years. Biomass Bioenergy 56:157–165

DIN 19708 (2005) Bodenbeschaffenheit–Ermittlung der Erosionsgefahrdung von Boden durch Wasser mit Hilfe der ABAG. DIN Deutsches Institut für Normierung e.V., Februar 2005, Berlin

Evrard O, Nord G, Cerdan O, Souchère V, Le Bissonnais Y, Bonté P (2010) Modelling the impact of land use change and rainfall seasonality on sediment export from an agricultural catchment of the northwestern European loess belt. Agric Ecosyst Environ 138:83–94

Faith D, Walker P (2002) The role of trade-offs in biodiversity conservation planning: linking local management, regional planning, global conservation efforts. J Biosci 27:393–407

Fernández-Ugalde O, Virto I, Bescansa P, Imaz MJ, Enrique A, Karlen DL (2009) No-tillage improvement of soil physical quality in calcareous, degradation-prone, semiarid soils. Soil Tillage Res 106:29–35

Fjellstad WJ, Dramstad WE, Strand GH, Fry GLA (2001) Heterogeneity as a measure of spatial pattern for monitoring agricultural landscapes. Norsk Geografisk Tidsskrift–Norwegian Journal of Geography 55:71–76

Follain S, Walter C, Legout A, Lemercier B, Dutin G (2007) Induced effects of hedgerow networks on soil organic carbon storage within an agricultural landscape. Geoderma 142, 80–95

Frank S, Fürst C, Koschke L, Makeschin F (2012) A contribution towards a transfer of the ecosystem service concept to landscape planning using landscape metrics. Ecol Ind 21:30–38

Frank S, Fürst C, Koschke L, Witt A, Makeschin F (2013) Assessment of landscape aesthetics-Validation of a landscape metrics-based assessment by visual estimation of the scenic beauty. Ecol Ind 32:222–231

Fürst D, Ritter E.-H (1993) Landesentwicklungsplanung und Regionalplanung: ein verwaltungswissenschaftlicher Grundriss. 2. neubearb. u. erw. Auflage. Werner, Düsseldorf

Fürst C, König H, Pietzsch K, Ende H, Makeschin F (2010a) Pimp your landscape–a generic approach integrating regional stakeholder needs into land use planning. Ecology and Society 15(3):34

Fürst C, Volk M, Pietzsch K, Makeschin F (2010b) Pimp Your Landscape: a Tool for Qualitative Evaluation of the Effects of Regional Planning Measures on Ecosystem Services. Environ Manage 46:953–968

Fürst C, Lorz C, Makeschin F (2011) Integrating land management aspects in the impact assessment of land cover changes on ecosystem services. Intern J Biodivers Sci Ecosyst Serv Manag 7(3):168–181

Fürst C, Frank S, Witt A, Koschke L, Makeschin F (2012a) Assessment of the effects of forest land use strategies on the provision of ecosystem services at regional scale. J Environ Manage 127(Supplement):S96–S116

Fürst C, Pietzsch K, Frank S, Witt A, Koschke L, Makeschin F (2012b) How to better consider sectoral planning information in regional development planning–example afforestation and conversion. J Environ Planning Manage 55(7):855–883

Fürst C, Helming K, Lorz C, Müller F, Verburg PH (2013) Integrated land use and regional resource management—A cross-disciplinary dialogue on future perspectives for a sustainable development of regional resources. J Environ Manage 127(Supplement):S1–S5

Grêt-Regamey A, Walz A, Bebi P (2008) Valuing ecosystem services for sustainable landscape planning in alpine regions. Mt Res Dev 28:156–165

Grêt-Regamey A, Brunner SH, Altwegg J, Bebi P (2013) Facing uncertainty in ecosystem services-based resource management. J Environ Manage 127(Supplement):S145–S154

Haines-Young R, Potschin M, (2010) The links between biodiversity, ecosystem services and human well-being. In: F. Raffaelli D and J.M. Clement (Eds.), Ecosystem ecology: a new synthesis, Cambridge University Press, Cambridge

Hartmann P, Zink A, Fleige H, Horn R (2012) Effect of compaction, tillage and climate change on soil water balance of Arable Luvisols in Northwest Germany. Soil Tillage Res 124:211–218

Herbst H, Förster M, Kleinschmit B (2009) Contribution of landscape metrics to the assessment of scenic quality–the example of the landscape structure plan Havelland/Gemany. Landscape Online 10:1–17

Hermann A, Kuttner M, Hainz-Renetzeder C, Konkoly-Gyuró É, Tirászi Á, Brandenburg C, Allex B, Ziener K, Wrbka T (2014) Assessment framework for landscape services in European cultural landscapes: an Austrian Hungarian case study. Ecol Ind 37A:229–240

Holzweißig M, Speer F (2013) Schutz des Oberbodens vor Wassererosion. Regionaler Planungsverband Oberes Elbtal/Osterzgebirge, Radebeul, Konzept für die Modellregion Oberes Elbtal/Osterzgebirge, p 44

Jemai I, Ben Aissa N, Ben Guirat S, Ben-Hammouda M, Gallali T (2013) Impact of three and seven years of no-tillage on the soil water storage, in the plant root zone, under a dry subhumid Tunisian climate. Soil Tillage Res 126:26–33

Kandziora M, Burkhard B, Müller F (2013a) Interactions of ecosystem properties, ecosystem integrity and ecosystem service indicators- theoretical matrix exercise. Ecol Ind 28:54–78

Kandziora M, Burkhard B, Müller F (2013b) Mapping provisioning ecosystem services at the local scale using data of varying spatial and temporal resolution. Ecosystem Services 4:47–59

Kantelhardt J, Osinski E, Heissenhuber A (2003) Is there a reliable correlation between hedgerow density and agricultural conditions? Agric Ecosyst Environ 98:517–527

Koschke L, Fürst C, Frank S, Makeschin F (2012) A multi-criteria approach for an integrated land-cover-based assessment of ecosystem services provision to support landscape planning. Ecol Ind 21:54–66

Koschke L, Fürst C, Lorenz M, Witt A, Frank S, Makeschin F (2013) The integration of crop rotation and tillage practices in the assessment of ecosystem services provision at the regional scale. Ecol Ind 32:157–171

Lorenz M, Thiel E, Schönhart M (2012) The choice of crop rotations as an important model input—a case study from Saxony. In: R. Seppelt, A.A. Voinov, S. Lange and D. Bankamp (Eds.), Proceedings of the International Congress on International Environmental Modelling and Software (iEMSs 2012) Leipzig, Germany

Lorenz M, Thiel E, Fürst C, (2013) A methodological approach how to combine regional crop sequences and agricultural management as input data for regional assessment systems. Journal of Environmental Management

Lüdemann H, Lehmann E, Zühlke D (eds) (1964) Zwischen Müglitz und Weißeritz. Berlin Akademie, Berlin

Lupp G, Steinhäußer R, Starick A, Gies M, Bastian O, Albrecht J (2014) Forcing Germany's renewable energy targets by increased energy crop production: a challenge for regulation to secure sustainable land use practices. Land Use Policy 36:296–306

Maes J, Egoh B, Willemen L, Liquete C, Vihervaara P, Schägner JP, Grizzetti B, Drakou EG, Notte AL, Zulian G, Bouraoui F, Luisa Paracchini M, Braat L, Bidoglio G (2012) Mapping ecosystem services for policy support and decision making in the European Union. Ecosystem Services 1:31–39

Maes J, Hauck J, Paracchini ML, Ratamäki O, Hutchins M, Termansen M, Furman E, Pérez-Soba M, Braat L, Bidoglio G (2013) Mainstreaming ecosystem services into EU policy. Curr Opin Environ Sustain 5:128–134

Maetens W, Poesen J, Vanmaercke M (2012) How effective are soil conservation techniques in reducing plot runoff and soil loss in Europe and Mediterranean? Earth Sci Rev 115:21–36

Marshall EJP, Moonen AC (2002) Field margins in northern Europe: their functions and interactions with agriculture. Agric Ecosyst Environ 89:5–21

McDonald R (2009) Ecosystem service demand and supply along the urban-to-rural gradient. Journal of Conservation Planning, 1–14

MEA (2005) Ecosystems and Human Well-being: synthesis. Island Press, Washington D.C

Ode Å, Fry G, Tveit MS, Messager P, Miller D (2009) Indicators of perceived naturalness as drivers of landscape preference. J Environ Manage 90:375–383

Raunikar R, Buongiorno J, Turner JA, Zhu S (2010) Global outlook for wood and forests with the bioenergy demand implied by scenarios of the Intergovernmental panel on climate change. Forest Policy and Economics 12:48–56

Regionaler Planungsverband Oberes Elbtal/Osterzgebirge (2009) Regionalplan 1. Gesamtfortschreibung 2009, in der Fassung des Satzungsbeschlusses VV 12/2008 vom 15.12.2008, des Nachtragsbeschlusses zur Satzung VV 02/2009 vom 25.02.2009 und des Genehmigungsbescheides vom 28.08.2009

REGKLAM-Konsortium (Hrsg.) (2013) Integriertes Regionales Klimaanpassungsprogramm für die Region Dresden. Grundlagen, Ziele und Maßnahmen. REGKLAM-Publikationsreihe, Heft 7. Rhombos-Verlag, Berlin. ISBN: 978-3-944101-17-0

Routschek, A (2012) Auswirkungen des Klimawandels auf die Bodenerosion. In: LfULG (Ed.), Schriftenreihe des LfULG, Landesamt für Umwelt, Landwirtschaft und Geologie, Dresden, p. 139

Ruckelshaus M, McKenzie E, Tallis H, Guerry A, Daily G, Kareiva P, Polasky S, Ricketts T, Bhagabati N, Wood S.A, Bernhardt J, in press. Notes from the field: Lessons learned from using ecosystem service approaches to inform real-world decisions. Ecological Economics

Schindewolf M, Schmidt W(2009) Validierung EROSION 3D. In: LfULG (Ed.), Schriftenreihe des Landesamtes für Umwelt, Landwirtschaft und Geologie, The Saxon State Office for the Environment Agriculture and Geology, Dresden, p. 134

Schindewolf M, Schmidt J (2012) Parameterization of the EROSION 2D/3D soil erosion model using a small-scale rainfall simulator and upstream runoff simulation. CATENA 91:47–55

Schwertmann UW, Vogl W, Kainz M (1987) Bodenerosion durch Wasser- Vorhersage des Abtrags und Bewertung von Gegenmaßnahmen. Eugen Ulmer, Stuttgart

Seppelt R, Fath B, Burkhard B, Fisher JL, Grét-Regamey A, Lautenbach S, Pert P, Hotes S, Spangenberg J, Verburg PH, Van Oudenhoven APE (2012) Form follows function? Proposing a blueprint for ecosystem service assessments based on reviews and case studies. Ecol Ind 21:145–154

Sherrouse BC, Semmens DJ, Clement JM (2014) An application of Social Values for Ecosystem Services (SolVES) to three national forests in Colorado and Wyoming. Ecol Ind 36:68–79

Speer F (2013) Erarbeitung einer modellhaften Darstellung von besonders erosionsgefährdeten Abflussbahnen in der Planungsregion Oberes Elbtal/Osterzgebirge. Regionaler Planungsverband Oberes Elbtal/Osterzgebirge, Radebeul, p 34

Stolarski MJ, Szczukowski S, Tworkowski J, Krzyżaniak M (2013) Cost of heat energy generation from willow biomass. Renewable Energy 59:100–104

Syrbe R-U, Walz U (2012) Spatial indicators for the assessment of ecosystem services: providing, benefiting and connecting areas and landscape metrics. Ecol Ind 21:80–88

van Capelle C, Schrader S, Brunotte J (2012) Tillage-induced changes in the functional diversity of soil biota–A review with a focus on German data. European Journal of Soil Biology 50:165–181

von Haaren C, Albert C (2011) Integrating ecosystem services and environmental planning: limitations and synergies. International Journal of Biodiversity Science, Ecosystem Services & Management 7:150–167

von Haaren C, Kempa D, Vogel K, Rüter S (2012) Assessing biodiversity on the farm scale as basis for ecosystem service payments. J Environ Manage 113:40–50

Voß J, Schwan A, Heyne W, Müller N (2010) Erosionsschutz in reliefbedingten Abflussbahnen. In: LfULG (Ed.), Schriftenreihe des LfULG, Landesamt für Umwelt, Landwirtschaft und Geologie, Dresden, p. 92

Wischmeier WH, Smith DD (1978) Predicting soil erosion by water: A guide to conservation planning with the revised universal soil loss equation (USLE). Agriculture Handbook, USA

Witt A, Fürst C, Frank S, Koschke L, Makeschin F (2013) Regionalisation of climate change sensitive forest development types for potential afforestation areas. J Environ Manage 127(Supplement):S48–S55

Witters N, Mendelsohn RO, Van Slycken S, Weyens N, Schreurs E, Meers E, Tack F, Carleer R, Vangronsveld J (2012) Phytoremediation, a sustainable remediation technology? Conclusions from a case study. I: energy production and carbon dioxide abatement. Biomass Bioenergy 39:454–469

Wurbs D, Steininger M (2011) Wirkungen der Klimaänderungen auf die Böden- Untersuchungen zu Auswirkungen des Klimawandels auf die Bodenerosion durch Wasser. Umweltbundesamt Texte 16:225

Xiao B, Wang Q, Wang H, Wu J, Yu D (2012) The effects of grass hedges and micro-basins on reducing soil and water loss in temperate regions: a case study of Northern China. Soil and Tillage Research 122:22–35

Zona D, Janssens IA, Aubinet M, Gioli B, Vicca S, Fichot R, Ceulemans R (2013) Fluxes of the greenhouse gases (CO2, CH4 and N2O) above a short-rotation poplar plantation after conversion from agricultural land. Agric For Meteorol 169:100–110
Acknowledgments
We wish to thank the colleagues from the planning district "Oberes Elbtal–Osterzgebirge" for their input, support, and help. The project RegioPower is funded in the ERA-Net program Bioenergy/Woodwisdom by the German Federal Ministry of Food, Agriculture and Consumer Protection, funding reference number 22019911(11NF199). REGKLAM (01LR0802B) is a project of the German Federal Ministry of Education and Research (BMBF). The case study was carried out with support of the project Klimafit, which is funded by the Federal Ministry of Transport, Building and Urban Development as well as the Federal Office of Building and Regional Planning in the framework of the MORO project (spatial development strategies for Climate Change).
About this article
Cite this article
Frank, S., Fürst, C., Witt, A. et al. Making use of the ecosystem services concept in regional planning—trade-offs from reducing water erosion. Landscape Ecol 29, 1377–1391 (2014). https://doi.org/10.1007/s10980-014-9992-3
Received:

Accepted:

Published:

Issue Date:

DOI: https://doi.org/10.1007/s10980-014-9992-3
Keywords
Saxony

Decision support system

Soil management

Land use change

Landscape structure