Abstract
Estimating landscape resistance to animal movement is the foundation for connectivity modeling, and resource selection functions based on point data are commonly used to empirically estimate resistance. In this study, we used GPS data points acquired at 5-min intervals from radiocollared pumas in southern California to model context-dependent point selection functions. We used mixed-effects conditional logistic regression models that incorporate a paired used/available design to examine the sensitivity of point selection functions to the scale of available habitat and to the behavioral state of individual animals. We compared parameter estimates, model performance, and resistance estimates across 37 scales of available habitat, from 250 to 10,000 m, and two behavioral states, resource use and movement. Point selection functions and resistance estimates were sensitive to the chosen scale of the analysis. Multiple characteristic scales were found across our predictor variables, indicating that pumas in the study area are responding at different scales to different landscape features and that multi-scale models may be more appropriate. Additionally, point selection functions and resistance estimates were sensitive to behavioral state; specifically, pumas engaged in resource use behavior had an opposite selection response to some land cover types than pumas engaged in movement behavior. We recommend examining a continuum of scales and behavioral states when using point selection functions to estimate resistance.
Access options
Buy single article
Instant access to the full article PDF.
USD 39.95
Price excludes VAT (USA)
Tax calculation will be finalised during checkout.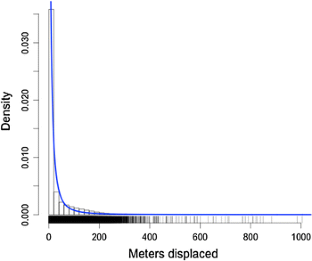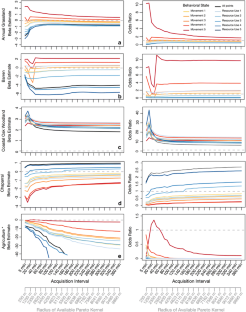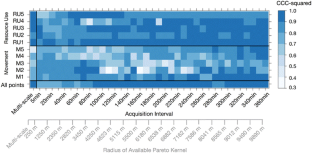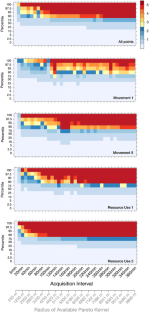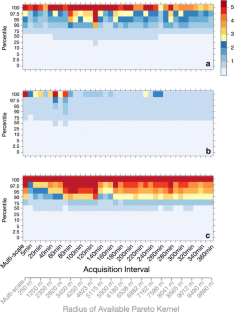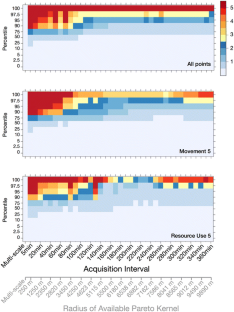 References
Addicott JF, Aho JM, Antolin MF, Padilla DL, Richardson JS, Soluk DA (1987) Ecological neighborhoods: scaling environmental patterns. Oikos 49:340–346

Agresti A (2002) Categorical data analysis, 2nd edn. Wiley, Hoboken, p 419

Bates D, Maechler M, Bolker B (2013) Linear mixed-effects models using S4 classes. (R package). http://cran.r-project.org/web/packages/lme4/index.html. Accessed 20 April 2013

Boyce MS (2006) Scale for resource selection functions. Divers Distrib 12:269–276

Boyce MS, Vernier PR, Nielsen SE, Schmiegelow FKA (2002) Evaluating resource selection functions. Ecol Model 157:281–300

Brown DD, LaPoint S, Kays R, Heidrich W, Kummeth F, Wilelski M (2012) Accelerometer-informed GPS telemetry: reducing the trade-off between resolution and longevity. Wildl Soc Bull 36:139–146

Burdett CL, Crooks KR, Theobald DM, Wilson KR, Boydston EE, Lyren LM, Fisher RN, Vickers TW, Morrison SA, Boyce WM (2010) Interfacing models of wildlife habitat and human development to predict the future distribution of puma habitat. Ecosphere 1: Article 4, p 1–21

California Department of Fish and Game (1988) A guide to wildlife habitats of California. In Mayer KE, Laudenslayer WF Jr (eds) State of California Resources Agency. Department of Fish and Game, Sacramento, p 166. http://www.dfg.ca.gov/biogeodata/cwhr/wildlife_habitats.asp#Tree. Accessed 29 Jan 2013

Compton BW, Rhymer JM, McCollough M (2002) Habitat selection by wood turtles (Clemmys insculpta): an application of paired logistic regression. Ecology 83:833–843

Dalziel BD, Morales JM, Fryxell JM (2008) Fitting probability distributions to animal movement trajectories: using artificial neural networks to link distance, resources, and memory. Am Nat 172:248–258

DeCesare NJ, Hebblewhite M, Schmiegelow F, Hervieux D, McDermid GJ, Neufeld L, Bradley M, Whittington J, Smith KG, Morgantini LE, Wheatley M, Musiani M (2012) Transcending scale dependence in identifying habitat with resource selection functions. Ecol Appl 22:1068–1083

Dickson BG, Beier P (2002) Home-range and habitat selection by adult cougars in southern California. J Wildl Manag 66:1235–1245

Dickson BG, Jenness JS, Beier P (2005) Influence of vegetation, topography, and roads on cougar movement in southern California. J Wildl Manag 69:264–276

Dormann CF, McPherson JM, Araújo MB, Bivand R, Bollinger J, Carl G, Davies RG, Hirzel A, Jetz W, Kissling WD, Kühn I, Ohlemüller R, Peres-Neto PR, Reineking B, Shröder B, Schurr FM, Wilson R (2007) Methods to account for spatial autocorrelation in the analysis of species distributional data: a review. Ecography 30:609–628

Ferreras P (2001) Landscape structure and asymmetrical inter-patch connectivity in a metapopulation of the endangered Iberian lynx. Biol Conserv 100:125–136

Frair JL, Fieberg J, Hebblewhite M, Cagnacci F, DeCesare NJ, Pedrotti L (2010) Resolving issues of imprecise and habitat-biased locations in ecological analyses using GPS telemetry data. Phil Trans R Soc B 365:2187–2200

Fritz H, Said S, Weimerskirch H (2003) Scale-dependent hierarchical adjustments of movement patterns in a long-range foraging seabird. Proc R Soc Lond B 270:1143–1148

Hawkins BA, Diniz-Filho JAF, Bini LM, De Marco P, Blackburn TM (2007) Red herrings revisited: spatial autocorrelation and parameter estimation in geographical ecology. Ecography 30:375–384

Holland JD, Bert DG, Fahrig L (2004) Determining the spatial scale of species' response to habitat. Bioscience 54:227–233

Johnson CJ, Nielsen SE, Merrill EH, McDonald TL, Boyce MS (2006) Resource selection functions based on use-availability data: theoretic motivation and evaluation methods. J Wildl Manag 70:347–357

Laundré JW, Hernández L (2003) Winter hunting habitat of pumas Puma concolor in northwestern Utah and southern Idaho, USA. Wildl Biol 9:123–129

Laundré JW, Loxterman J (2007) Impact of edge habitat on summer home range size in female pumas. Am Midl Nat 157:221–229

Legendre P (1993) Spatial autocorrelation—trouble or new paradigm? Ecology 74:1659–1673

Levin SA (1992) The problem of pattern and scale in ecology: the Robert H MacArthur Award lecture. Ecology 73:1943–1967

Lewis JS, Rachlow JL, Garton EO, Vierling LA (2007) Effects of habitat on GPS collar performance: using data screening to reduce location error. J Appl Ecol 44:663–671

Lin LI (1989) A concordance correlation coefficient to evaluate reproducibility. Biometrics 1:255–268

Manly BF, McDonald L, Thomas DL, McDonald TL, Erickson WP (2002) Resource selection by animals: statistical design and analysis for field studies, 2nd edn. Kluwer Academic Publishers, Dordrecht

Martin AE, Fahrig L (2012) Measuring and selecting scales of effect for landscape predictors in species-habitat models. Ecol Appl 22:2277–2292

Meyer CB, Thuiller W (2006) Accuracy of resource selection functions across spatial scales. Divers Distrib 12:288–297

Morales JM, Haydon DT, Frair J, Holsinger KE, Fyxell JM (2004) Extracting more out of relocation data: building movement models as mixtures of random walks. Ecology 85:2436–2445

Norththrup JM, Hooten MB, Anderson CR Jr, Wittemyer G (2013) Practical guidance on characterizing availability in resource selection functions under a use-availability design. Ecology 94:1456–1463

Patterson TA, Thomas L, Wilcox C, Ovaskainen O, Matthiopoulos J (2008) State-space models of individual animal movement. Trends Ecol Evol 23:87–94

Pullinger MG, Johnson CJ (2010) Maintaining or restoring connectivity of modified landscapes: evaluating the least-cost path model with multiple sources of ecological information. Landscape Ecol 25:1547–1560

R Core Team (2013) R: a language and environment for statistical computing. R Foundation for Statistical Computing, Vienna, Austria. http://www.R-project.org/. Accessed 15 May 2013

Rettie WJ, McLoughlin PD (1999) Overcoming radio telemetry bias is habitat-selection studies. Can J Zool 77:1175–1184

Ribatet M (2012) Generalized pareto distribution and peaks over threshold. (R package). http://cran.r-project.org/web/packages/POT/index.html. Accessed 15 Nov 2012

Ruth TK, Buotte PC, Quigley HB (2010) Comparing ground telemetry and global positioning system methods to determine cougar kill rates. J Wildl Manag 74:1122–1133

Squires JR, DeCesare NJ, Olson LE, Kolbe JA, Hebblewhite M, Parks SA (2013) Combining resource selection and movement behavior to predict corridors for Canada lynx at their southern range periphery. Biol Conserv 157:187–195

Sweanor LL, Logan KA, Bauer JW, Millsap B, Boyce WM (2008) Puma and human spatial and temporal use of a popular California state park. J Wildl Manag 72:1076–1084

USDA Forest Service (2007) CalVeg: FSSDE.EvegTile47A_02_v2. Pacific Southwest Region Remote Sensing Lab, McClellan

Wheatley M (2010) Domains of scale in forest-landscape metrics: implications for species-habitat modeling. Acta Oecol 36:259–267

Wheatley M, Johnson C (2009) Factors limiting our understanding of ecological scale. Ecol Complex 6:150–159

Wiens JA (1989) Spatial scaling in ecology. Funct Ecol 3:385–397

Wilmers CC, Wang Y, Nickel B, Houghtaling P, Shakeri Y, Allen ML, Kermish-Wells J, Yovovich V, Williams T (2013) Scale dependent behavioral responses to human development by a large predator, the puma. PLoS ONE 8:e60590. doi:10.1371/journal.pone.0060590

Zeller KA, McGarigal K, Whiteley AR (2012) Estimating landscape resistance to movement: a review. Landscape Ecol 27:777–797
Acknowledgments
We thank A. Allyn, B. Compton, E. Plunkett, H. Robinson, and B. Timm for helpful conversations, ideas, and assistance with computational capacity, D. Dawn, D. Krucki, C. Bell, P. Bryant, D. Stewart, and K. Krause for field assistance, and three anonymous reviewers for thoughtful and constructive comments. We would also like to thank the following landowners/managers: The Nature Conservancy, California Department of Fish and Wildlife, Orange County Parks Department, The New Irvine Ranch Conservancy, Audubon Starr Ranch Reserve, Riverside County Parks Department, and the Cleveland National Forest. This material is based upon work supported by the National Science Foundation under NSF DGE-0907995, a Kaplan Graduate Award, The Nature Conservancy, Orange County Transportation Corridor Agency, The Nature Reserve of Orange County, and the McBeth Foundation.
Electronic supplementary material
Below is the link to the electronic supplementary material.
About this article
Cite this article
Zeller, K.A., McGarigal, K., Beier, P. et al. Sensitivity of landscape resistance estimates based on point selection functions to scale and behavioral state: pumas as a case study. Landscape Ecol 29, 541–557 (2014). https://doi.org/10.1007/s10980-014-9991-4
Received:

Accepted:

Published:

Issue Date:

DOI: https://doi.org/10.1007/s10980-014-9991-4
Keywords