Abstract
While political and scientific interests in ecosystem services (ES) information increases, actual implementation in planning still remains limited. We investigated how landscape and regional planners in Germany already use environmental information, and explored their perceptions concerning an integration of additional information on ES in their work. Four themes are addressed: (1) existing decision-making contexts, (2) current use of environmental information, (3) perceived options for integrating ES information, and (4) useful ES information formats. The research method consists of semi-structured interviews and a web-based survey with German landscape and regional planners. Results are disaggregated between landscape and regional planners, as well as planners with and without prior knowledge of the ES concept. Our results illustrate that a broad range of environmental information is already used that could be associated with ES, but the two most frequently consulted data, species and habitats, relate more to biodiversity. Stronger integrating ES information in planning was generally perceived as useful. However, implementation would often require a mandate from higher-ranking policy levels and the provision of appropriate resources. Project-oriented planning, public information and regional development were seen as promising application contexts. Contrary to our expectations, planners with prior knowledge of the ES concept did not evaluate the usefulness of ES information significantly more optimistic. No single optimal ES information format (ordinal, cardinal, economic valuation) emerged, but context-specific combinations were proposed. The results present valuable guidance for studies and assessments that aim at addressing the ES information needs and requirements of decision makers, and planners in particular.
Access options
Buy single article
Instant access to the full article PDF.
US$ 39.95
Tax calculation will be finalised during checkout.
Subscribe to journal
Immediate online access to all issues from 2019. Subscription will auto renew annually.
US$ 79
Tax calculation will be finalised during checkout.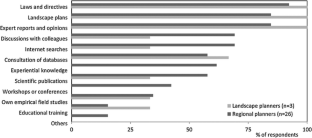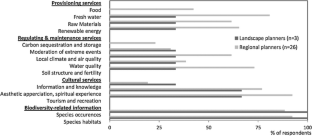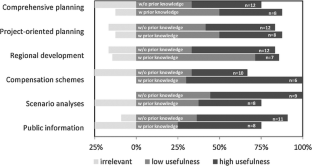 References
Albert C, von Haaren C, Galler C (2012a) Ökosystemdienstleistungen: alter Wein in neuen Schläuchen oder ein Impuls für die Landschaftsplanung? Naturschutz Landschaftsplanung 44:142–148

Albert C, Zimmermann T, Knieling J, von Haaren C (2012b) Social learning can benefit decision-making in landscape planning: gartow case study on climate change adaptation, Elbe valley biosphere reserve. Landscape Urban Planning 105:347–360

Arciniegas G, Janssen R (2012) Spatial decision support for collaborative land use planning workshops. Landscape Urban Planning 107:332–342

ARL (2005) Handwörterbuch der Raumordnung. Akad. für Raumforschung und Landesplanung - ARL, Hannover

ARL (2011) Grundriss der Raumordnung und Raumentwicklung. Verlag der ARL, Hannover

Bastian O, Haase D, Grunewald K (2012) Ecosystem properties, potentials and services: the EPPS conceptual framework and an urban application example. Ecol Ind 21:7–16

Bateman IJ, Harwood AR, Mace GM, Watson RT, Abson DJ, Andrews B, Binner A, Crowe A, Day, BH, Dugdale S, Fezzi C, Foden J, Hadley D, Haines-Young R, Hulme M, Kontoleon A, Lovett AA, Munday P, Pascual U, Paterson J, Perino G, Sen A, Siriwardena G, van Soest D, Termansen M (2013) Bringing ecosystem services into economic decision-making: land use in the United Kingdom. Science 341(6141):45-50

Beunen R, Opdam P (2011) When landscape planning becomes landscape governance, what happens to the science? Landscape Urban Planning 100:324–326

Brouwer R, Brander L, Kuik O, Papyrakis E, Bateman I (2013) A synthesis of approaches to assess and value ecosystem services in the EU in the context of TEEB final report

Burkhard B, Petrosillo I, Costanza R (2010) Ecosystem services: bridging ecology, economy and social sciences. Ecol Complex 7:257–259

Burkhard B, de Groot R, Costanza R, Seppelt R, Joergensen SE, Potschin M (2012) Solutions for sustaining natural capital and ecosystem services. Ecol Ind 21:1–6

Cork SJ, Proctor W (2005) Implementing a process for integration research: ecosystem services project. Aust J Res Pract 1:M6

Cowling RM, Egoh B, Knight AT, O'Farrell PJ, Reyers B, Rouget M, Roux DJ, Welz A, Wilhelm-Rechman A (2008) An operational model for mainstreaming ecosystem services for implementation. Proc Natl Acad Sci USA 105:9483

Daily GC, Polasky S, Goldstein J, Kareiva PM, Mooney HA, Pejchar L, Ricketts TH, Salzman J, Shallenberger R (2009) Ecosystem services in decision making: time to deliver. Front Ecol Environ 7:21–28

de Groot RS, Alkemade R, Braat L, Hein L, Willemen L (2010) Challenges in integrating the concept of ecosystem services and values in landscape planning, management and decision making. Ecol Complex 7:260–272

European Commission (2011) Our life insurance, our natural capital: an EU biodiversity strategy to 2020. COM(2011) 244

Faludi A, Waterhout B (2006) Introducing evidence-based planning. disP – Planning Rev 42:4–13

Fisher TB (2007) Theory and practice of strategic environmental assessment: towards a more systematic approach. Earthscan, London

Galler C, Von Haaren C, Albert C (Under Rev) Enhancing landscape management effectiveness and efficiency by optimizing multifunctional effects of environmental measures: case study results and recommendations for Designing Agri-Environmental Programs. J Environ Manage

Geertman S, Stillwell J (2004) Planning support systems: an inventory of current practice. Comput Environ Urban Syst 28:291–310

Geneletti D (2013) Ecosystem services in environmental impact assessment and strategic environmental assessment. Environ Impact Assess Rev 40:1–2

Haase G (1978) Zur Ableitung und Kennzeichnung von Naturraumpotentialen. Petermans Geogr Mitteilungen 112:113–125

Hauck J, Görg C, Varjopuro R, Ratamäki O, Maes J, Wittmer H, Jax K (2013a) Maps have an air of authority: potential benefits and challenges of ecosystem service maps at different levels of decision making. Ecosyst Serv 4:25–32

Hauck J, Schweppe-Kraft B, Albert C, Görg C, Jax K, Jensen R, Fürst C, Maes J, Ring I, Hönigová I, Burkhard B, Mehring M, Tiefenbach M, Grunewald K, Schwarzer M, Meurer J, Sommerhäuser M, Priess JA, Schmidt J, Grêt-Regamey A (2013b) The promise of the ecosystem services concept for planning and decision-making. GAIA 22:232–236

Hay I (ed) (2005) Qualitative research methods in human geography. Oxford University Press, New York

Helming K, Diehl K, Geneletti D, Wiggering H (2013) Mainstreaming ecosystem services in European policy impact assessment. Environ Impact Assess Rev 40:82–87

Huitema D, Cornelisse C, Ottow B (2010) Is the jury still out? Toward greater insight in policy learning in participatory decision processes—the case of Dutch citizens' juries on water management in the Rhine Basin. Ecol Soc 15:16

Huser B, Rutledge DT, Van Delden H, Wedderburn ME, Cameron M, Elliott S, Fenton T, Hurkens J, Mcbride G, Mcdonald G, O'Connor M, Phyn D, Poot J, Price R, Small B, Tait A, Vanhout R, Woods RA (2009) Creating futures: towards an integrated spatial decision support system for local government in New Zealand. In: Anderssen RS, Braddock RD and Newham LTH (eds) 18th IMACS world congress – MODSIM09 international congress on modelling and simulation, Cairns, Australia, ISBN: 978-0-9758400-7-8

Jahn T, Bergmann M, Keil F (2012) Transdisciplinarity: between mainstreaming and marginalization. Ecol Econ 79:1–10

Kates RW, Parris TM (2003) Long-term trends and a sustainability transition. Proc Natl Acad Sci USA 100:8062–8067

Koschke L, Fürst C, Frank S, Makeschin F (2012) A multi-criteria approach for an integrated land-cover-based assessment of ecosystem services provision to support landscape planning. Ecol Ind 21:54–66

Lang D, Wiek A, Bergmann M, Stauffacher M, Martens P, Moll P, Swilling M, Thomas C (2012) Transdisciplinary research in sustainability science: practice, principles, and challenges. Sustain Sci 7:25–43

Nadin V, Stead D (2008) European spatial planning systems, social models and learning. disP Plan Rev 172:35–47

Nassauer JI, Opdam P (2008) Design in science: extending the landscape ecology paradigm. Landscape Ecol 23:633–644

Neef E (1966) Zur Frage des gebietswirtschaftlichen potentials. Forschungen Fortschritte 40:65–70

Opdam P (2010) Learning science from practice. Landscape Ecol 25:821–823

Opdam P, Nassauer JI, Wang Z, Albert C, Bentrup G, Castella J-C, McAlpine C, Liu J, Sheppard S, Swaffield S (2013) Strengthening the science-policy interface at the local scale. Landscape Ecol 28:1439–1445

Plieninger T, Bieling C, Gerdes H, Ohnesorge B, Schaich H, Schleyer C, Trommler K, Wolff F (2010) Ökosystemleistungen in Kulturlandschaften - Konzept und Anwendung am Beispiel der Biosphärenreservate Oberlausitz und Schwäbische Alb. Natur Landschaft 85:187–192

Primmer E, Furman E (2012) Operationalising ecosystem service approaches for governance: do measuring, mapping and valuing integrate sector-specific knowledge systems? Ecosyst Serv 1:85–92

Scolozzi R, Morri E, Santolini R (2012) Delphi-based change assessment in ecosystem service values to support strategic spatial planning in Italian landscapes. Ecol Ind 21:134–144

Selman P (2012) Sustainable landscape planning: the reconnection agenda. Abington, Routledge

TEEB 2010. The Economics of Ecosystems and Biodiversity: Ecological and Economic Foundations, Edited by Pushpam Kumar, London and Washington, D.C., Earthscan

Termorshuizen J, Opdam P (2009) Landscape services as a bridge between landscape ecology and sustainable development. Landscape Ecol 24:1037–1052

UBA - Federal Environmental Agency (2008) Economic valuation of environmental damage: methodological convention for estimates of environmental externalities. Federal Environmental Agency, Dessau-Roßlau

von Haaren C (ed) (2004) Landschaftsplanung. Eugen Ulmer, Stuttgart

von Haaren C, Albert C (2011) Integrating ecosystem services and environmental planning: limitations and synergies. Int J Biodiv Sci Ecosyst Serv Manage 7:150–167

von Haaren C, Saathoff W, Galler C (2011) Integrating climate protection and mitigation functions with other landscape functions in rural areas: a landscape planning approach. J Environ Plan Manage 55:59–76

Wiek A, Binder C, Scholz RW (2006) Functions of scenarios in transition processes. Futures 38:740–766

Wittmer H, Gundimedia H (eds) (2012) The economics of ecosystems and biodiversity in local and regional policy and management. Routledge, London

Wood SA, Guerry AD, Silver JM, Lacayo M (2013) Using social media to quantify nature-based tourism and recreation. Sci Reports 3:2976
Acknowledgments
We would like to thank our interviewees and survey respondents for their time and willingness to take part in our study and to provide their insights and expertise. Furthermore, we would like to thank two anonymous reviewers who provided very helpful guidance and advice for the revision. We are grateful for the support of Bea Achtermann, Johannes Hermes, Frauke Lehrke and Felix Neuendorf who helped to set up the internet survey and to evaluate the results. And we thank Frank Schaarschmidt for analyzing our survey data with different statistical methods. Funding for the study was provided through a research grant for the project "QUANTIY-Quantifying Ecosystem Services as Decision Support in Landscape Planning" by Leibniz Universität Hannover.
Electronic supplementary material
Below is the link to the electronic supplementary material.
About this article
Cite this article
Albert, C., Hauck, J., Buhr, N. et al. What ecosystem services information do users want? Investigating interests and requirements among landscape and regional planners in Germany. Landscape Ecol 29, 1301–1313 (2014). https://doi.org/10.1007/s10980-014-9990-5
Received:

Accepted:

Published:

Issue Date:
Keywords
Landscape services

Ecosystem services

Application

Landscape planning

Regional planning

Communication