Abstract
Context
Although many studies have demonstrated that grazing may increase or decrease plant diversity of grasslands at small scales, few studies have examined the patterns and mechanisms of grazing effects on biodiversity across multiple scales.
Objective
Our study tested the scale dependence of grazing effects on plant diversity based a 7-year grazing manipulation experiment with seven levels of grazing intensity (0–9 sheep ha−1) in a typical steppe of the Inner Mongolia grassland.
Methods
Species area relationships (SARs) were used to analyze the scale dependence of species loss. SAR decomposition approaches were followed to examine the contribution of four potential mechanisms to changes in the slope of SARs, including species aggregation, overall species richness, total number of individuals, and species abundance distribution.
Results
The proportional species loss increased with sampling area (4–1024 m2), which was evidenced by decreasing intercepts and slopes of SARs with grazing. Reduction in the slope of SARs was mainly caused by changes in overall species richness and species abundance distribution, with the relative minor effect of changes in number of individuals.
Conclusions
The negative effect of grazing on overall species richness was mainly attributed to the loss of grazing-sensitive rare species from species pool. Compared with flat systems, plant diversity in slope systems was more sensitive to grazing at low intensities. However, the responses of plant diversity to grazing tended to converge between the flat and slope systems at high levels of grazing intensity. Our study has important implications for adaptive ecosystem management and biodiversity conservation in arid and semiarid grasslands.
Access options
Buy single article
Instant access to the full article PDF.
USD 39.95
Price excludes VAT (USA)
Tax calculation will be finalised during checkout.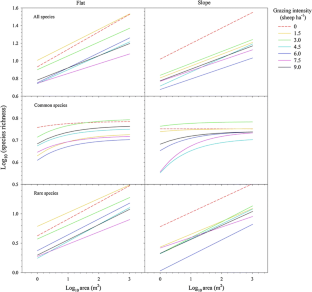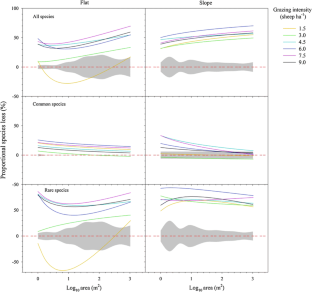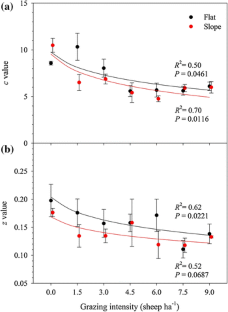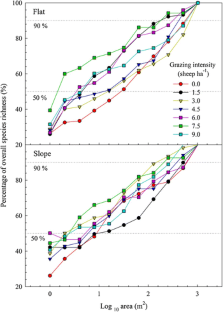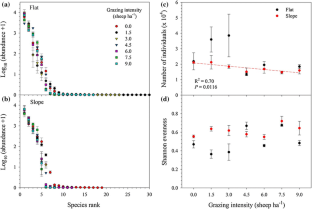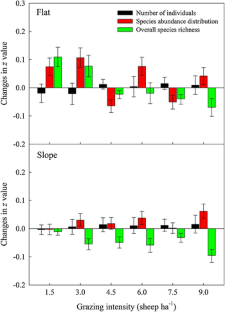 References
Adler PB, Levine JM (2007) Contrasting relationships between precipitation and species richness in space and time. Oikos 116:221–232

Adler PB, Raff DA, Lauenroth WK (2001) The effect of grazing on the spatial heterogeneity of vegetation. Oecologia 128:465–479

Adler PB, Milchunas DG, Sala OE, Burke IC, Lauenroth WK (2005) Plant traits and ecosystem grazing effects: comparison of US sagebrush steppe and Patagonian steppe. Ecol Appl 15:774–792

Augustine DJ (2003) Spatial heterogeneity in the herbaceous layer of a semi-arid savanna ecosystem. Plant Ecol 167:319–332

Augustine DJ, McNaughton SJ (1998) Ungulate effects on the functional species composition of plant communities: herbivore selectivity and plant tolerance. J Wildl Manag 62:1165–1183

Bai YF, Han XG, Wu JG, Chen ZZ, Li LH (2004) Ecosystem stability and compensatory effects in the Inner Mongolia grassland. Nature 431:181–184

Bai YF, Wu JG, Pan QM, Huang JH, Wang QB, Li FS, Buyantuyev A, Han XG (2007) Positive linear relationship between productivity and diversity: evidence from the Eurasian Steppe. J Appl Ecol 44:1023–1034

Bai YF, Wu JG, Clark CM, Naeem S, Pan QM, Huang JH, Zhang LX, Han XG (2010) Tradeoffs and thresholds in the effects of nitrogen addition on biodiversity and ecosystem functioning: evidence from Inner Mongolia Grasslands. Glob Change Biol 16:358–372

Bai YF, Wu JG, Clark CM, Pan QM, Zhang LX, Chen SP, Wang QB, Han XG (2012) Grazing alters ecosystem functioning and C: N: P stoichiometry of grasslands along a regional precipitation gradient. J Appl Ecol 49:1204–1215

Belsky JA (1992) Effects of grazing, competition, disturbance and fire on species composition and diversity in grassland communities. J Veg Sci 3:187–200

Chase JM, Knight TM (2013) Scale-dependent effect sizes of ecological drivers on biodiversity: why standardised sampling is not enough. Ecol Lett 16:17–26

Chen MJ, Jia SX (eds) (2002) Forage Plants of China. China Agriculture Press, Beijing

Cingolani AM, Noy-Meir I, Diaz S (2005) Grazing effects on rangeland diversity: a synthesis of contemporary models. Ecol Appl 15:757–773

Collins SL, Calabrese LB (2012) Effects of fire, grazing and topographic variation on vegetation structure in tallgrass prairie. J Veg Sci 23:563–575

Collins MD, Simberloff D (2009) Rarefaction and nonrandom spatial dispersion patterns. Environ Ecol Stat 16:89–103

Cornelissen JHC, Lavorel S, Garnier E, Diaz S, Buchmann N, Gurvich DE, Reich PB, ter Steege H, Morgan HD, van der Heijden MGA, Pausas JG, Poorter H (2003) A handbook of protocols for standardised and easy measurement of plant functional traits worldwide. Aust J Bot 51:335–380

De Bello F, Leps J, Sebastia MT (2007) Grazing effects on the species–area relationship: variation along a climatic gradient in NE Spain. J Veg Sci 18:25–34

Drakare S, Lennon JJ, Hillebrand H (2006) The imprint of the geographical, evolutionary and ecological context on species–area relationships. Ecol Lett 9:215–227

Frank DA (2005) The interactive effects of grazing ungulates and aboveground production on grassland diversity. Oecologia 143:629–634

Fuhlendorf SD, Smeins FE (1999) Scaling effects of grazing in a semi-arid grassland. J Veg Sci 10:731–738

Fynn RWS, O'Connor TG (2000) Effect of stocking rate and rainfall on rangeland dynamics and cattle performance in a semi-arid savanna, South Africa. J Appl Ecol 37:491–507

Gibson DJ, Hulbert LC (1987) Effects of fire, topography and year-to-year climatic variation on species composition in Tallgrass Prairie. Vegetatio 72:175–185

Green JL, Ostling A (2003) Endemics-area relationships: the influence of species dominance and spatial aggregation. Ecology 84:3090–3097

He FL, Legendre P (2002) Species diversity patterns derived from species–area models. Ecology 83:1185–1198

Hoffmann C, Funk R, Wieland R, Li Y, Sommer M (2008) Effects of grazing and topography on dust flux and deposition in the Xilingele grassland, Inner Mongolia. J Arid Environ 72:792–807

Kölbl A, Steffens M, Wiesmeier M, Hoffmann C, Funk R, Krümmelbein J, Reszkowska A, Zhao Y, Peth S, Horn R, Giese M, Kögel-Knabner I (2011) Grazing changes topography-controlled topsoil properties and their interaction on different spatial scales in a semi-arid grassland of Inner Mongolia, P.R. China. Plant Soil 340:35–58

Kutiel P, Kutiel H, Lavee H (2000) Vegetation response to possible scenarios of rainfall variations along a Mediterranean-extreme arid climatic transect. J Arid Environ 44:277–290

Lan Z, Bai Y (2012) Testing mechanisms of N-enrichment-induced species loss in a semiarid Inner Mongolia grassland: critical thresholds and implications for long-term ecosystem responses. Philos Trans R Soc Lond Ser B 367:3125–3134

Landsberg J, James CD, Maconochie J, Nicholls AO, Stol J, Tynan R (2002) Scale-related effects of grazing on native plant communities in an arid rangeland region of South Australia. J Appl Ecol 39:427–444

McIntyre S, Heard KM, Martin TG (2003) The relative importance of cattle grazing in subtropical grasslands: Does it reduce or enhance plant biodiversity? J Appl Ecol 40:445–457

McNaughton SJ (1985) Ecology of a grazing ecosystem: the Serengeti. Ecol Monogr 55:259–294

McNaughton SJ (1993) Biodiversity and function of grazing ecosystems. In: Schulze E-D, Mooney HA (eds) Biodiversity and ecosystem function. Springer-Verlag, Berlin, pp 361–405

Milchunas DG, Lauenroth WK (1993) Quantitative effects of grazing on vegetation and soils over a global range of environments. Ecol Monogr 63:327–366

Milchunas DG, Sala OE, Lauenroth WK (1988) A generalized-model of the effects of grazing by large herbivores on grassland community structure. Am Nat 132:87–106

O'Connor TG, Martindale G, Morris CD, Short A, Witkowski ETF, Scott-Shaw R (2011) Influence of grazing management on plant diversity of highland Sourveld grassland, KwaZulu-Natal, South Africa. Rangel Ecol Manag 64:196–207

Oksanen J (1996) Is the humped relationship between species richness and biomass an artefact due to plot size? J Ecol 84:293–295

Olff H, Ritchie ME (1998) Effects of herbivores on grassland plant diversity. Trends Ecol Evol 13:261–265

Powell KI, Chase JM, Knight TM (2013) Invasive plants have scale-dependent effects on diversity by altering species-area relationships. Science 339:316–318

Qiao X, Tang Z, Shen Z, Fang J (2012a) What causes geographical variation in the species–area relationships? A test from forests in China. Ecography 35:1110–1116

Qiao X, Tang Z, Wang S, Liu Y, Fang J (2012b) Effects of community structure on the species–area relationship in China's forests. Ecography 35:1117–1123

Reitalu T, Purschke O, Johansson LJ, Hall K, Sykes MT, Prentice HC (2012) Responses of grassland species richness to local and landscape factors depend on spatial scale and habitat specialization. J Veg Sci 23:41–51

Ren HY, Zheng SX, Bai YF (2009) Effects of grazing on foliage biomass allocation of grassland communities in Xilin river basin, Inner mongolia. Chin J Plant Ecol 33:1065–1074

Sandel B, Corbin JD (2012) Scale-dependent responses of species richness to experimental manipulation of productivity and disturbance in Californian coastal grasslands. J Veg Sci 23:906–918

Sasaki T, Okubo S, Okayasu T, Jamsran U, Ohkuro T, Takeuchi K (2009) Management applicability of the intermediate disturbance hypothesis across Mongolian rangeland ecosystems. Ecol Appl 19:423–432

Schonbach P, Wan H, Schiborra A, Gierus M, Bai Y, Muller K, Glindemann T, Wang C, Susenbeth A, Taube F (2009) Short-term management and stocking rate effects of grazing sheep on herbage quality and productivity of Inner Mongolia steppe. Crop Pasture Sci 60:963–974

Shan YM, Chen DM, Guan XX, Zheng SX, Chen HJ, Wang MJ, Bai YF (2011) Seasonally dependent impacts of grazing on soil nitrogen mineralization and linkages to ecosystem functioning in Inner Mongolia grassland. Soil Biol Biochem 43:1943–1954

Smit C, Bakker ES, Apol MEF, Olff H (2010) Effects of cattle and rabbit grazing on clonal expansion of spiny shrubs in wood-pastures. Basic Appl Ecol 11:685–692

Steffens M, Kolbl A, Totsche KU, Kogel-Knabner I (2008) Grazing effects on soil chemical and physical properties in a semiarid steppe of Inner Mongolia (PR China). Geoderma 143:63–72

Suding KN, Collins SL, Gough L, Clark C, Cleland EE, Gross KL, Milchunas DG, Pennings S (2005) Functional- and abundance-based mechanisms explain diversity loss due to N fertilization. Proc Natl Acad Sci USA 102:4387–4392

Tjørve E, Kunin WE, Polce C, Tjørve KMC (2008) Species-area relationship: separating the effects of species abundance and spatial distribution. J Ecol 96:1141–1151

White RP, Murray S, Rohweder M (2000) Pilot analysis of global ecosystems: grassland ecosystems. World Resources Institute, Washington

Zhao Y, Peth S, Reszkowska A, Gan L, Krummelbein J, Peng XH, Horn R (2011) Response of soil moisture and temperature to grazing intensity in a Leymus chinensis steppe, Inner Mongolia. Plant Soil 340:89–102

Zheng SX, Ren HY, Lan ZC, Li WH, Wang KB, Bai YF (2010) Effects of grazing on leaf traits and ecosystem functioning in Inner Mongolia grasslands: scaling from species to community. Biogeosciences 7:1117–1132

Zobel M (1997) The relative of species pools in determining plant species richness: an alternative explanation of species coexistence? Trends Ecol Evol 12:266–269
Acknowledgments
We thank Lingfeng Mao, Dunmei Lin, and Kristin Powell for help with data analysis, and Shuxia Zheng, Chunmei Pan, Xiaoliang Wang, and many others at the Inner Mongolia Grassland Ecosystem Research Station, Chinese Academy of Sciences for their help with fieldwork. This study was supported by the Knowledge Innovation Project of the Chinese Academy of Sciences (KSCX2-EW-Z-5), National Key Technology R&D Program (2012BAD16B0304), the Natural Science Foundation of China (31030013 and 31320103916), and the Strategic Priority Research Program of the Chinese Academy of Sciences (XDA05050400).
Electronic supplementary material
Below is the link to the electronic supplementary material.
About this article
Cite this article
Li, W., Zhan, S., Lan, Z. et al. Scale-dependent patterns and mechanisms of grazing-induced biodiversity loss: evidence from a field manipulation experiment in semiarid steppe. Landscape Ecol 30, 1751–1765 (2015). https://doi.org/10.1007/s10980-014-0146-4
Received:

Accepted:

Published:

Issue Date:

DOI: https://doi.org/10.1007/s10980-014-0146-4
Keywords