Abstract
The development and use of the conceptual framework of ecosystem services (ES) has been very successful in supporting the broad diffusion and application of ES within science and policy communities. However, most of the currently proposed interpretations of the framework neither correlate to environmental planning nor to decision-making contexts at the local and regional scale, which is a potential reason for the slow adoption and practice of the ES conceptual framework. This paper proposes a practice-oriented ES evaluation (PRESET) model specifically adapted to the requirements of local and regional planning and decision-making contexts, and discusses its potential benefits and implications for practice. Through the usage of PRESET we suggest making a distinction between 'offered ES', 'utilized ES', 'human input', and 'ES benefits' as relevant information for decision-making. Furthermore, we consider it important to link these decision-support categories to different value dimensions relevant in planning and management practice. PRESET provides guidance to inject the ES concept into planning, but needs to be implemented together with concrete assessment methods, indicators and data. The planning strategic benefits of using PRESET include its reference to existing legislative objectives, avoiding the risk that monetized ES values might dominate decision-making, clarification of human contributions, and easier identification of land use conflicts and synergies. Examples are given for offered and utilized ES, as well as for respective evaluation approaches and instruments of implementation.
Access options
Buy single article
Instant access to the full article PDF.
USD 39.95
Price excludes VAT (USA)
Tax calculation will be finalised during checkout.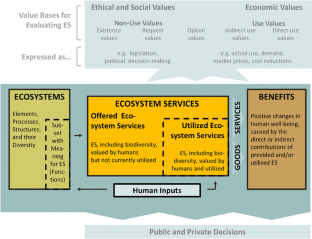 References
Abson DJ, von Wehrden H, Baumgärtner S, Fischer J, Hanspach J, Härdtle W, Heinrichs H, Klein AM, Lang DJ, Martens P, Walmsley D (2014) Ecosystem services as a boundary object for sustainability. Ecol Econ 103:29–37

Albert C, Aurbacher J, von Haaren C, Mahnkopf B, Petermann C (2009) Ökonomische Auswirkungen zukünftiger Agrarentwicklungen auf die Landschaftspflege und mögliche Beiträge der Aufpreisvermarktung von Naturschutzprodukten im Landkreis Diepholz. Ber Landwirtsch 87(3):357–379

Albert C, Hauck J, Buhr N, von Haaren C (2014) What ecosystem services information do users want? Investigating interests and requirements among landscape and regional planners in Germany. Landscape Ecol. doi:10.1007/s10980-014-9990-5

Bastian O, Steinhardt U (eds) (2002) Development and perspectives of landscape ecology. Kluwer Academic Publishers, Dordrecht

Bastian O, Haase D, Grunewald K (2012) Ecosystem properties, potentials and services—the EPPS conceptual framework and an urban application example. Ecol Ind 21:7–16

Burkhard B, de Groot R, Costanza R, Seppelt R, Joergensen SE, Potschin M (2012) Solutions for sustaining natural capital and ecosystem services. Ecol Ind 21:1–6

Burkhard B, Kandziora M, Hou Y, Müller F (2014) Ecosystem service potentials, flows and demands—concepts for spatial localization, indication and quantification. Landsc Online 34:1–33. doi:10.3097/LO.201434

Cerda C, Barkmann J, Marggraf R (2013) Application of choice experiments to quantify the existence value of an endemic moss: a case study in Chile. Environ Dev Econ 18(2):207–224

Council of Europe (2000) European landscape convention. Council of Europe, Florence

de Groot RS, Fisher B, Christie M, Aronson J, Braat L, Gowdy J, Haines-Young R, Maltby E, Neuville A, Polasky S, Portela R, Ring I (2010a) Integrating the ecological and economic dimensions in biodiversity and ecosystem service valuation. In: Kumar P (ed) The economics of ecosystems and biodiversity: Ecological and Economic Foundations. Earthscan, London, pp 9–40

de Groot RS, Alkemade R, Braat L, Hein L, Willemen L (2010b) Challenges in integrating the concept of ecosystem services and values in landscape planning, management and decision making. Ecol Complex 7(3):260–272

EC (European Commission) (2000) Directive 2000/60/EC of the European Parliament and of the Council establishing a framework for the Community action in the field of water policy EU Water Framework Directive (WFD) published in the Official Journal (OJ L 327) on 22 December 2000

EEA (1999) Environmental indicators: typology and overview. Technical Report No 25. EEA, Copenhagen

Fisher B, Turner RK, Morling P (2009) Defining and classifying ecosystem services for decision making. Ecol Econ 68:643–653

Golley FB (1993) A history of the ecosystem concept in ecology. More than the sum of the parts. Yale University Press, New Haven

Gómez-Baggethun E, de Groot R, Lomas PL, Montes C (2010) The history of ecosystem services in economic theory and practice: from early notions to markets and payment schemes. Ecol Econ 69(6):1209–1218

Grunewald K, Bastian O (2012) Ökosystemdienstleistungen. Springer, Berlin

Haines-Young R, Potschin M (2010) The links between biodiversity, ecosystem services and human well-being. In: Raffaelli DG, Frid CLJ (eds) Ecosystem ecology—a new synthesis. Cambridge University Press, Cambridge, pp 110–139

Haines-Young R, Potschin M (2013) Common International Classification of Ecosystem Services (CICES): consultation on version 4, Aug–Dec 2012. EEA Framework Contract No EEA/IEA/09/003. Download at www.cices.eu and spread sheet

Hauck J, Schweppe-Kraft B, Albert C, Görg C, Jax K, Jensen R, Fürst C, Maes J, Ring I, Hönigová I, Burkhard B, Mehring M, Tiefenbach M, Grunewald K, Schwarzer M, Meurer J, Sommerhäuser M, Priess JA, Schmidt J, Grêt-Regamey A (2013) The promise of the ecosystem services concept for planning and decision-making. GAIA 22:232–236

Hoppichler J (2013) Vom Wert der Biodiversität.Wirtschaftliche Bewertungen und Konzepte für das Berggebiet. Bundesanstalt für Bergbauernfragen. Forschungsbericht Bundesanstalt für Bergbauernfragen, p 67

IPBES (2013) Outcome of an informal expert workshop on main issues relating to the development of a conceptual framework for the Intergovernmental Science-Policy Platform on Biodiversity and Ecosystem Services (IPBES/1/INF/9). Available from http://www.ipbes.net/images/documents/IPBES_1_INF_9_En.pdf. Accessed July 2014

Jax K (2010) Ecosystem functioning. Cambridge University Press, Cambridge

Kosoy N, Corbera E (2010) Payments for ecosystem services as commodity fetishism. Ecol Econ 69(6):1228–1236

Kowarik I (1987) Kritische Anmerkungen zum theoretischen Konzept der potentiellen natürlichen Vegetation mit Anregungen zu einer zeitgemäßen Modifikation. Tuexenia 7:53–67

Landers DH, Nahlik AM (2013) Final ecosystem goods and services classification system (FEGS-CS). EPA/600/R-13/ORD-004914. Office of Research and Development, U.S. Environmental Protection Agency, Washington, DC

Liu J, Opdam P (2014) Valuing ecosystem services in community-based landscape planning: introducing a wellbeing-based approach. Landscape Ecol. doi:10.1007/s10980-014-0045-8

Maltby E (ed) (2009) Functional assessment of wetlands. Towards evaluation of ecosystem services. Woodhead Publishing, Abington, Cambridge

Müller F, Burkhard B (2012) The indicator side of ecosystem services. Ecosyst Serv 1(1):26–30

Opdam P, Nassauer JI, Wang Z, Albert C, Bentrup G, Castella JC, McAlpine C, Liu J, Shephard S, Swaffield S (2013) Science for action at the local landscape scale. Landscape Ecol 28:1439–1445

Pascual U, Muradian R (2010) The economics of valuing ecosystem services and biodiversity. In: TEEB (ed) The economics of ecosystems and biodiversity: Ecological and Economic Foundations. Earthscan Publications, London, pp 183–256

Pearce DW, Moran D (1994) The economic value of biodiversity. Earthscan Publications, London

Perez-Soba M, Petit S, Jones L, Bertrand N, Briquel V, Omodei-Zorini L, Contini C, Helming K, Farrington J, Tinacci M, Wascher DM, Kienast F, de Groot RS (2008) Land use functions—a multifunctionality approach to assess the impact of land use change on land use sustainability. In: Helming K, Tabbush P, Perez-Soba M (eds) Sustainability impact assessment of land use changes. Springer, Berlin, pp 375–404

Potschin M, Haines-Young R (2011) Ecosystem services: exploring a geographical perspective. Prog Phys Geogr 35(5):575–594

Primmer E, Furman E (2012) Operationalising ecosystem service approaches for governance: do measuring, mapping and valuing integrate sector-specific knowledge systems? Ecosyst Serv 1(1):85–92

Spangenberg JH, von Haaren C, Settele J (2014a) The ecosystem service cascade: further developing the metaphor. Integrating societal processes to accommodate social processes and planning, and the case of bioenergy. Ecol Econ 104:22–32

Spangenberg JH, Görg C, Truong DT, Tekken V, Bustamante JV, Settele J (2014b) Provision of ecosystem services is determined by human agency, not ecosystem functions. Four case studies. Int J Biodivers Sci Ecosyst Serv Manag 10(1):40–53

Steinitz C (1990) A framework for theory applicable to the education of landscape architects (and other environmental design professionals). Landsc J 9:136–143

Tansley AG (1935) The use and abuse of vegetational concepts and terms. Ecology 16(3):284–307

TEEB (2010) The economics of ecosystems and biodiversity: ecological and economic foundations. Earthscan Publications, London

Termorshuizen J, Opdam P (2009) Landscape services as a bridge between landscape ecology and sustainable development. Landscape Ecol 24(8):1037–1052

UK NEA (UK National Ecosystem Assessment) (2011) The UK national ecosystem assessment: synthesis of the key findings. UNEP-WCMC, Cambridge

van Oudenhoven APE, Petz K, Alkemade R, Hein L, de Groot RS (2012) Framework for systematic indicator selection to assess effects of land management on ecosystem services. Ecol Ind 21:110–122

von Haaren C (ed) (2004) Landschaftsplanung. Eugen Ulmer, Stuttgart

von Haaren C, Albert C (2011) Integrating ecosystem services and environmental planning: limitations and synergies. Int J Biodivers Sci Ecosyst Serv Manag 7:150–167
Acknowledgments
We thank the participants of workshops of the project "Naturkapital Deutschland - TEEB-DE", funded by the German Federal Ministry for the Environment, Nature Conservation, Building and Nuclear Safety (BMUB), for discussions of earlier drafts. In particular, we thank Dr. Schweppe-Kraft for very useful contributions to the conceptual discussion. Further support was provided by Leibniz Universität for the QUANTIFY project. We would like to thank Louise von Falkenhayn for polishing the language of the paper. Christoffer Lange-Kabitz provided assistance in the revision—his help is also gratefully acknowledged. Finally, we thank the two reviewers who contributed to the final version of article to an extraordinary extent by a very comprehensive discussion of the model and by extremely helpful and detailed comments.
About this article
Cite this article
von Haaren, C., Albert, C., Barkmann, J. et al. From explanation to application: introducing a practice-oriented ecosystem services evaluation (PRESET) model adapted to the context of landscape planning and management. Landscape Ecol 29, 1335–1346 (2014). https://doi.org/10.1007/s10980-014-0084-1
Received:

Accepted:

Published:

Issue Date:

DOI: https://doi.org/10.1007/s10980-014-0084-1
Keywords