Abstract
The application of the ecosystem services (ES) concept in land use planning has great potential to enhance the awareness of planning actors on their interactions. At the same time it can contribute to improve the linkage between the role of land use patterns and the understanding of land system functioning and its contribution to human well-being. The concept should be developed in a way that can be applicable in socio-ecological systems where nature and society are capable of enhancing their roles mutually. The objective of this paper is to suggest a standardized scheme and generalizable criteria to assess how successful the application of the ES concept contributed to facilitate participatory planning. We consider three potential advantages and three critical aspects for how to improve the applicability and relevance of the ES concept in planning. Hereon based, we present a balanced score card tool for which we broke down to advantages and risks into concrete questions. We illustrate the application of this approach with two case studies, representatives of two major governance schemes in relation to land use planning. We demonstrate that the balanced score card approach helps to reveal potential imbalances regarding the consideration of different ES groups. It supports testing the potential of the ES concept to enhance or not interactions of local and regional actors. We conclude that the framework should be reconsidered after a set of case studies to be developed into a monitoring tool for supporting planning practices.
Access options
Buy single article
Instant access to the full article PDF.
USD 39.95
Price excludes VAT (USA)
Tax calculation will be finalised during checkout.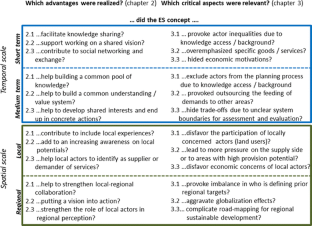 References
Albert C, Zimmermann T, Knieling J, von Haaren C (2010) Social learning can benefit decision-making in landscape planning: Gartow case study on climate change adaptation, Elbe valley biosphere reserve. Landsc Urban Plan 105:347–360

Armitage DR, Plummer R, Berkes F, Arthur RI, Charles AT, Davidson-Hunt IJ, Diduck AP, Doubleday NC, Johnson DS, Marschke M, McConney P, Pinkerton EW, Wollenberg WK (2009) Adaptive co-management for social–ecological complexity. Front Ecol Environ 7:95–102

Baker J, Sheate WR, Phillips P, Eales R (2013) Ecosystem services in environmental assessment—help or hindrance? Environ Impact Assess Rev 40:3–13

Becker E (2012) Social–ecological systems as epistemic objects. In: Glaser M, Krause G, Ratter BMW, Welp M (eds) Human–nature interactions in the anthropocene—potentials of socio-ecological systems analysis. Routledge studies in environment, culture and science. pp 37–59

Beunen R, Opdam P (2011) When landscape planning becomes landscape governance, what happens to the science? Landsc Urban Plan 100:324–326

Boaden N, Goldsmith M, Hampton W, Stringer P (1980) Planning and participation in practice: a study of public participation in structure planning. Prog Plan 13(Part 1):1–102

Bošnjaković B (2006) Valuing and paying for ecosystem services: a pre-condition for sustainability. Ecohydrol Hydrobiol 6(1–4):123–134

Bourgoin J, Castella JC, Pullar D, Lestrelin G, Bouahom B (2012) Toward a land zoning negotiation support platform: "tips and tricks" for participatory land use planning in Laos. Landsc Urban Plan 104(2):270–278

Broch SW, Strange N, Jacobsen JB, Wilson KA (2013) Farmers' willingness to provide ecosystem services and effects of their spatial distribution. Ecol Econ 92:78–86

Cairns J (1996) Determining the balance between technological and ecosystem services. In: Schulze PC (ed) Engineering within ecological constraints. National Academy Press, Washington, pp 12–30

Casado-Arzuaga I, Madariaga I, Onaindia M (2013) Perception, demand and user contribution to ecosystem services in the Bilbao Metropolitan Greenbelt. J Environ Manag 129:33–43

Chapman PM (2012) Adaptive monitoring based on ecosystem services. Sci Total Environ 415:56–60

Daniel TC, Muhar A, Arnberger A, Aznar O, Boyd JW, Chan KM, Costanza R, Elmqvist T, Flint CG, Gobster PH, Grêt-Regamey A, Lave R, Muhar S, Penker M, Ribe RG, Schauppenlehner T, Sikor T, Soloviy I, Spierenburg M, Taczanowska K, Tam J, von der Dunk A (2012) Contributions of cultural services to the ecosystem services agenda. Proc Natl Acad Sci USA 109(23):8812–8819

de Groot RS, Alkemade R, Braat L, Hein L, Willemenen L (2010) Challenges in integrating the concept of ecosystem services and values in landscape planning, management and decision making. Ecol Complex 7(3):260–272

Frank S, Fürst C, Koschke L, Makeschin F (2012) Towards the transfer of the ecosystem service concept to land use planning using landscape metrics. Ecol Indic 21:30–38

Frank S, Fürst C, Koschke L, Makeschin F (2013) Assessment of landscape aesthetics—validation of a landscape metrics-based assessment by visual estimation of the scenic beauty. Ecol Indic 32:222–231

Fu B, Wang S, Su C, Forsius M (2013) Linking ecosystem processes and ecosystem services. Curr Opin Environ Sustain 5(1):4–10

Fürst C, Lorz C, Makeschin F (2011) Integrating land management aspects into an assessment of the impact of land cover changes on Ecosystem Services. Int J Biodivers Sci Ecosyst Serv Manag 1–14

Fürst C, Pietzsch K, Frank S, Witt A, Koschke L, Makeschin F (2012)How to better consider sectoral planning information in regional planning—example afforestation and conversion. J Environ Plan Manag 1–29

Fürst C, Frank S, Witt A, Koschke L, Makeschin F (2013a) Assessment of the effects of forest land use strategies on the provision of ecosystem services at regional scale. J Environ Manag 127:S96–S116

Fürst C, Helming K, Lorz C, Müller F, Verburg P (2013b) Integrated land use and regional resource management—a cross-disciplinary dialogue on future perspectives for a sustainable development of regional resources. J Environ Manag 127:S1–S5

Gómez-Baggethun E, Barton DN (2013) Classifying and valuing ecosystem services for urban planning. Ecol Econ 86:235–245

Gruber JS (2010) Key principles of community-based natural resource management: a synthesis and interpretation of identified effective approaches for managing the commons. Environ Manag 45:52–66

Hauck J, Görg C, Varjopuro R, Ratamäki OJ (2013) Benefits and limitations of the ecosystem services concept in environmental policy and decision making: some stakeholder perspectives. Environ Sci Policy 25:13–21

Werner C, Panesar A, Bracken P, Mang HP, Huba-Mang, E, Gerold A (2003) An ecosan source book for the preparation and implementation of ecological sanitation projects. GTZ—ecosan program

Inostroza L, Baur R, Csaplovics E (2013) Urban sprawl and fragmentation in Latin America: a dynamic quantification and characterization of spatial patterns. J Environ Manag 115:87–97

Iverson L, Echeverria C, Nahuelhual L, Luque S (2014) Ecosystem services in changing landscapes: an introduction. Landscape Ecol 29(2):1–6

Jessel B, Jacobs J (2005) Land use scenario development and stakeholder involvement as tools for watershed management within the Havel River Basin. Limnologica 35(3):220–233

Klug H (2012) An integrated holistic transdisciplinary land use planning concept after the Leitbild approach. Ecol Indic 23:616–626

Koschke L, Fürst C, Frank S, Makeschin F (2012) A multi-criteria approach for an integrated land-cover-based assessment of ecosystem services provision to support land use planning. Ecol Indic 21:54–66

Lambin E (2012) Global land availability: Malthus versus Ricardo. Glob Food Secur 1(2):83–87

Larondelle N, Haase D (2012) Valuing post-mining landscapes using an ecosystem services approach—an example from Germany. Ecol Indic 18:567–574

Lorenz M, Fürst C, Thiel E (2013) A methodological approach for deriving regional crop rotations as basis for the assessment of the impact of agricultural strategies using soil erosion as example. J Environ Manag 127:37–47

Mastrangelo M, Weyland F, Villarino SH, Barral MP, Nahuelhual L, Laterra P (2014) Concepts and methods for landscape multifunctionality and a unifying framework based on ecosystem services. Landscape Ecol 29(2). doi:10.1007/s10980-013-9959-9

McIntyre N, Iverson L, Turner M (2013) A 27-year perspective on landscape ecology from the US-IALE annual meeting. Landscape Ecol 28:1845–1848

MEA (Millenium Ecosystem Assessment) (2005) Ecosystems and human well-being: synthesis [online]. Island Press, Washington. www.millenniumassessment.org. Accessed 29 April 2014

Nelson E, Mendoza G, Regetz J, Polasky P, Tallis H, Cameron R, Chan KM, Daily GC, Goldstein J, Kareiva PM, Lonsdorf E, Naidoo R, Ricketts TH, Shaw R (2009) Modeling multiple ecosystem services, biodiversity conservation, commodity production, and tradeoffs at landscape scales. Front Ecol Environ 7:4–11

Opdam P (2013) Using ecosystem services in community based planning: science is not ready to deliver. In: Fu B, Jones KB (eds) Landscape ecology for sustainable environment and culture. Springer, Berlin, pp 77–101

Opdam P, Nassauer J, Wang Z, Albert C, Bentrup G, Castella JC, McAlpine C, Liu J, Sheppard S, Swaffield S (2013) Science for action at the local landscape scale. Landscape Ecol 28:1439–1445

Ostrom E (2009) A general framework for analyzing sustainability of social–ecological systems. Science 325:419–422

Raymond CM, Fazey I, Reed MS, Stringer LC, Robinson GM, Evely AC (2010) Integrating local and scientific knowledge for environmental management. J Environ Manag 91(8):1766–1777

Rees WE (1996) Revisiting carrying capacity: area-based indicators of sustainability. Popul Environ 17(3):195–215

Risser PG, Iverson LR (2013) 30 years later—landscape ecology: directions and approaches. Landscape Ecol 28(3):367–369

Sandström A, Rova C (2010) Adaptive co-management networks: a comparative analysis of two fishery conservation areas in Sweden. Ecol Soc 15(3):14. www.ecologyandsociety.org/vol15/iss3/art14/

Schroeter B, Sessin-Dilascio K, Sattler C, Matzdorf B, Meyer C, Meyer A, Giersch G, Jericó-Daminello C, Wortmann L (2014) Multi-level governance through co-management: conflict resolution in an inhabited Brazilian State Park. Ecol Process 3:6

Seppelt R, Fath B, Burkhard B, Fisher JL, Grêt-Regamey A, Lautenbach S, Pert P, Hotes S, Spangenberg J, Verburg PH, van Oudenhoven APE (2012) Form follows function? Proposing a blueprint for ecosystem service assessments based on reviews and case studies. Ecol Indic 21:145–154

Steingröver E, Geertsema W, van Wingerden WKRE (2010) Designing agricultural landscapes for natural pest control: a transdisciplinary approach in the Hoeksche Waard (The Netherlands). Landscape Ecol 25(6):825–838

Syrbe RU, Walz U (2012) Spatial indicators for the assessment of ecosystem services: providing, benefiting and connecting areas and landscape metrics. Ecol Indic 21:80–88

Temorshuizen JW, Opdam P (2009) Landscape services as a bridge between landscape ecology and sustainable development. Landscape Ecol 24:1037–1052

Witt A, Fürst C, Makeschin F (2013) Regionalization of climate change sensitive forest ecosystem types for potential afforestation areas. J Environ Manag 127:48–55
Acknowledgments
The idea for this paper was born from the workshop organized at the EcoSummit 2012 "Structure matters—The potential of land-use pattern to contribute to ES provision". It underwent an intensive discussion process and we wish to thank cordially the participants of this workshop, for sharing ideas and supporting the development of this paper.
About this article
Cite this article
Fürst, C., Opdam, P., Inostroza, L. et al. Evaluating the role of ecosystem services in participatory land use planning: proposing a balanced score card. Landscape Ecol 29, 1435–1446 (2014). https://doi.org/10.1007/s10980-014-0052-9
Received:

Accepted:

Published:

Issue Date:

DOI: https://doi.org/10.1007/s10980-014-0052-9
Keywords
Ecosystem services

Participatory land use planning

Balanced score card

Actors

Ecosystem services groups

Efficiency of land use planning processes

Quality of land use plans