Abstract
The "land sharing versus land sparing" concept provides a framework for comparing potential land use patterns in terms of trade-offs between biodiversity conservation and agricultural yields at a landscape scale. Here, we raise two additional aspects to be considered in the sparing/sharing debate, supported by a review of available literature. First, beta and gamma (instead of alpha) diversity measures capture landscape scale variance in biodiversity in response to land use changes and should be considered for the long-term management of agricultural landscapes. Moreover, beta and gamma diversity may better account for comparisons of biodiversity between spared and shared land use options. Second, land use history has a pronounced influence on the complexity and variance in agricultural habitat niches at a landscape scale, which in turn may determine the relevance of sparing or sharing land use options. Appropriate and comparable biodiversity metrics and the recognition of landscape history are two vital preconditions in aligning biological conservation goals with maximized yields within the sparing/sharing framework.
Access options
Buy single article
Instant access to the full article PDF.
US$ 39.95
Tax calculation will be finalised during checkout.
Subscribe to journal
Immediate online access to all issues from 2019. Subscription will auto renew annually.
US$ 79
Tax calculation will be finalised during checkout.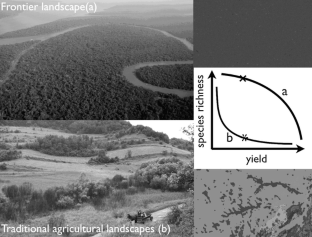 References
Baessler C, Klotz S (2006) Effects of changes in agricultural land-use on landscape structure and arable weed vegetation over the last 50 years. Agric Ecosyst Environ 115(1–4):43–50

Balmford A, Bond W (2005) Trends in the state of nature and their implications for human well-being. Ecol Lett 8(11):1218–1234

Beckmann M, von Wehrden H (2012) Where you search is what you get: literature mining—Google Scholar vs ISI using a dataset from a literature search in vegetation science. J Veg Sci 23(6):1197–1199

Benton TG, Vickery JA, Wilson JD (2003) Farmland biodiversity: is habitat heterogeneity the key? Trends Ecol Evol 18:182–188

Blanco V, Waltert M (2013) Does the tropical agricultural matrix bear potential for primate conservation? a baseline study from Western Uganda. J Nat Conserv 21(6):383–393

Chandler RB, King DI, Raudales R, Trubey R, Chandler C, Arce Chávez VJ (2013) A small-scale land-sparing approach to conserving biological diversity in tropical agricultural landscapes. Conserv Biol 27(4):785–795

Clough Y, Barkmann J, Juhrbandt J et al (2011) Combining high biodiversity with high yields in tropical agroforests. Proc Natl Acad Sci USA 108(20):8311–8316

Edwards DP, Hodgson JA, Hamer KC et al (2010) Wildlife-friendly oil palm plantations fail to protect biodiversity effectively. Conserv Lett 3(4):236–242

Edwards DP, Gilroy JJ, Woodcock P et al (2014) Land-sharing versus land-sparing logging: reconciling timber extraction with biodiversity conservation. Glob Chang Biol 20(1):183–191

Egan JF, Mortensen DA (2012) A comparison of land-sharing and land-sparing strategies for plant richness conservation in agricultural landscapes. Ecol Appl 22(2):459–471

Ellis EC, Kaplan JO, Fuller DQ, Vavrus S, Goldewijk KK, Verburg PH (2013) Used planet: a global history. Proc Natl Acad Sci USA 110(20):7978–7985

Fischer J, Brosi B, Daily GC et al (2008) Should agricultural policies encourage land sparing or wildlife-friendly farming? Front Ecol Environ 6(7):382–387

Fischer J, Batary P, Bawa KS et al (2011) Conservation: limits of land sparing. Science 334(6056):593–594

Foreman R (1995) Land mosaics: the ecology of landscapes and regions. Cambridge University Press, Cambridge

Foster DR, Motzkin G, Bernardos D, Cardoza J (2002) Wildlife dynamics in the changing New England landscape. J Biogeogr 29(10–11):1337–1357

Gabriel D, Roschewitz I, Tscharntke T, Thies C (2006) Beta diversity at different spatial scales: plant communities in organic and conventional agriculture. Ecol Appl 16(5):2011–2021

Gabriel D, Sait SM, Kunin WE, Benton TG (2013) Food production vs. biodiversity: comparing organic and conventional agriculture. J Appl Ecol 50(2):355–364

Grau R, Kuemmerle T, Macchi L (2013) Beyond 'land sparing versus land sharing': environmental heterogeneity, globalization and the balance between agricultural production and nature conservation. Curr Opin Environ Sustain 5:477–483

Hall SJ, Trujillo J, Nakase D et al (2013) Legacies of prehistoric agricultural practices within plant and soil properties across an arid ecosystem. Ecosystems 16(7):1273–1293

Hayashi K (2011) Conservation: model management intensity. Science 334:593–594

Hodgson JA, Kunin WE, Thomas CD, Benton TG, Gabriel D (2010) Comparing organic farming and land sparing: optimizing yield and butterfly populations at a landscape scale. Ecol Lett 13(11):1358–1367

Hulme MF, Vickery JA, Green RE et al (2013) Conserving the birds of Uganda's banana–coffee arc: land sparing and land sharing compared. PLoS ONE 8(2):e54597

Keil P, Schweiger O, Kuhn I et al (2012) Patterns of beta diversity in Europe: the role of climate, land cover and distance across scales. J Biogeogr 39(8):1473–1486

Lentini PE, Gibbons P, Fischer J, Law B, Hanspach J, Martin TG (2012) Bats in a farming landscape benefit from linear remnants and unimproved pastures. PLoS ONE 7(11):e48201

Lindborg R, Eriksson O (2004) Historical landscape connectivity affects present plant species diversity. Ecology 85(7):1840–1845

Macchi L, Grau HR, Zelaya PV, Marinaro S (2013) Trade-offs between land use intensity and avian biodiversity in the dry Chaco of Argentina: a tale of two gradients. Agric Ecosyst Environ 174:11–20

Mahood SP, Lees AC, Peres CA (2012) Amazonian countryside habitats provide limited avian conservation value. Biodivers Conserv 21(2):385–405

Maskell LC, Crowe A, Dunbar MJ et al (2013) Exploring the ecological constraints to multiple ecosystem service delivery and biodiversity. J Appl Ecol 50(3):561–571

Maurer K, Weyand A, Fischer M, Stocklin J (2006) Old cultural traditions, in addition to land use and topography, are shaping plant diversity of grasslands in the Alps. Biol Conserv 130(3):438–446

Navarro, LM Pereira, HM (2012) Rewilding abandoned landscapes in Europe. Ecosystems 15(6):900–912

Phalan B, Onial M, Balmford A, Green RE (2011a) Reconciling food production and biodiversity conservation: land sharing and land sparing compared. Science 333(6047):1289–1291

Phalan B, Balmford A, Green RE, Scharlemann JPW (2011b) Minimising the harm to biodiversity of producing more food globally. Food Policy 36(Suppl 1):62–71

Pimm SL, Raven P (2000) Biodiversity: extinction by numbers. Nature 403:843–845

Pywell RF, Heard MS, Bradbury RB et al (2012) Wildlife-friendly farming benefits rare birds, bees and plants. Biol Lett 8(5):772–775

Quinn JE, Brandle JR, Johnson RJ (2012) The effects of land sparing and wildlife-friendly practices on grassland bird abundance within organic farmlands. Agric Ecosyst Environ 161:10–16

Quinn JE, Oden A, Brandle JR (2013) The influence of different cover types on American Robin nest success in organic agroecosystems. Sustainability (Switz) 5(8):3502–3512

Ramankutty N, Rhemtulla J (2012) Can intensive farming save nature? Front Ecol Environ 10(9):455

Ramankutty N, Rhemtulla J (2013) Land sparing or land sharing: context dependent. Front Ecol Environ 11(4):178

Ranganathan J, Daniels RJR, Chandran MDS, Ehrlich PR, Daily GC (2008) Sustaining biodiversity in ancient tropical countryside. Proc Natl Acad Sci USA 105(46):17852–17854

Schuch S, Wesche K, Schaefer M (2012) Long-term decline in the abundance of leafhoppers and planthoppers (Auchenorrhyncha) in Central European protected dry grasslands. Biol Conserv 149(1):75–83

Sheldon F, Styring A (2011) Bird diversity differs between industrial tree plantations on Borneo: implications for conservation planning. Raff Bull Zool 59(2):295–309

Steffan-Dewenter I, Kessler M, Barkmann J et al (2007) Tradeoffs between income, biodiversity, and ecosystem functioning during tropical rainforest conversion and agroforestry intensification. Proc Natl Acad Sci USA 104(12):4973–4978

Tscharntke T, Clough Y, Wanger TC et al (2012a) Global food security, biodiversity conservation and the future of agricultural intensification. Biol Conserv 151(1):53–59

Tscharntke T, Tylianakis JM, Rand TA et al (2012b) Landscape moderation of biodiversity patterns and processes—eight hypotheses. Biol Rev 87(3):661–685

Vos W, Meekes H (1999) Trends in European cultural landscape development: perspectives for a sustainable future. Landsc Urban Plan 46(1–3):3–14

Wade ASI, Asase A, Hadley P et al (2010) Management strategies for maximizing carbon storage and tree species diversity in cocoa-growing landscapes. Agric Ecosyst Environ 138(3–4):324–334

Wu JG (2013) Landscape sustainability science: ecosystem services and human well-being in changing landscapes. Landscape Ecol 28(6):999–1023

Zobel M, Otto R, Laanisto L, Naranjo-Cigala A, Partel M, Fernandez-Palacios JM (2011) The formation of species pools: historical habitat abundance affects current local diversity. Glob Ecol Biogeogr 20(2):251–259
Electronic supplementary material
Below is the link to the electronic supplementary material.
Supplementary material 1 (DOCX 10 kb)
Supplementary material 2 (XLSX 24 kb)
About this article
Cite this article
von Wehrden, H., Abson, D.J., Beckmann, M. et al. Realigning the land-sharing/land-sparing debate to match conservation needs: considering diversity scales and land-use history. Landscape Ecol 29, 941–948 (2014). https://doi.org/10.1007/s10980-014-0038-7
Received:

Accepted:

Published:

Issue Date:
Keywords
Biodiversity

Yields

Land management

Beta-diversity

Agricultural landscape