Abstract
Natural landscapes are increasingly subjected to anthropogenic pressure and fragmentation resulting in reduced ecological condition. In this study we examined the relationship between ecological condition and the soundscape in fragmented forest remnants of south-east Queensland, Australia. The region is noted for its high biodiversity value and increased pressure associated with habitat fragmentation and urbanisation. Ten sites defined by a distinct open eucalypt forest community dominated by spotted gum (Corymbia citriodora ssp. variegata) were stratified based on patch size and patch connectivity. Each site underwent a series of detailed vegetation condition and landscape assessments, together with bird surveys and acoustic analysis using relative soundscape power. Univariate and multivariate analyses indicated that the measurement of relative soundscape power reflects ecological condition and bird species richness, and is dependent on the extent of landscape fragmentation. We conclude that acoustic monitoring technologies provide a cost effective tool for measuring ecological condition, especially in conjunction with established field observations and recordings.
Access options
Buy single article
Instant access to the full article PDF.
USD 39.95
Price includes VAT (USA)
Tax calculation will be finalised during checkout.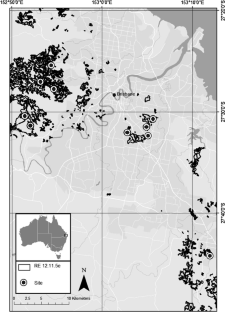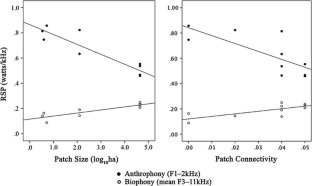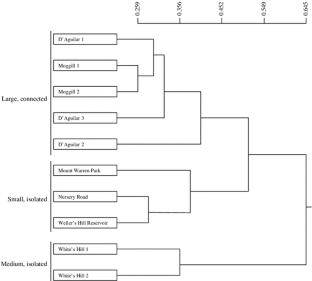 References
Arrhenius O (1921) Species and area. J Ecol 9:95–99

Australian Natural Resources Atlas (2009) Australian Government, Canberra. Available from http://www.anra.gov.au (accessed April 2013)

Bauerfeind SS, Theisen A, Fischer K (2009) Patch occupancy in the endangered butterfly Lycaena helle in a fragmented landscape: effects of habitat quality, patch size and isolation. J Insect Conserv 13:271–277

Bazelet CS, Samways MJ (2012) Grasshopper and butterfly local congruency in grassland remnants. J Insect Conserv 16:71–85

Belbin L (2013) PATN [Computer Software]. Retrieved from http://www.patn.com.au

Belnap J (1998) Choosing indicators of natural resource condition: a case study in Arches National Park, Utah, USA. Environ Manag 22(4):635–642

Blair RB (1999) Birds and butterflies along an urban gradient: surrogate taxa for assessing biodiversity? Ecol Appl 9(1):164–170

Blumstein DT, Mennill DJ, Clemins P, Girod L, Yao K, Patricelli G, Deppe JL, Krakauer AH, Clark C, Cortopassi KA, Hanser SF, McCowan B, Ali AM, Kirschel ANG (2011) Acoustic monitoring in terrestrial environments using microphone arrays: applications, technological considerations and prospectus. J Appl Ecol 48:758–767

Bormpoudakis D, Sueur J, Pantis JD (2013) Spatial heterogeneity of ambient sound at the habitat type level: ecological implications and applications. Landscape Ecol 28:495–506

Bowman AS, Facelli JM (2013) Fallen logs as sources of patchiness in chenopod shrublands of South Australia. J Arid Environ 97:66–72

Bradshaw CJA (2012) Little left to lose: deforestation and forest degradation in Australia since European colonization. J Plant Ecol 5:109–120

Bray JR, Curtis JT (1957) An ordination of the upland forest communities of southern Wisconsin. Ecol Monogr 27:325–349

Cabrini I, Grella MD, Andrade CFS, Thyssen PJ (2013) Richness and composition of Calliphoridae in an Atlantic Forest fragment: implication for the use of dipteran species as bioindicators. Biodivers Conserv 22:2635–2643

Carrascal LM, Seoane J, Palomino D, Polo V (2008) Explanations for bird species range size: ecological correlates and phylogenetic effects in the Canary Islands. J Biogeogr 35:2061–2073

Catterall CP, Kingston MB, Park K, Sewell S (1998) Deforestation, urbanisation and seasonality: interacting effects on a regional bird assemblage. Biol Conserv 84:65–81

Celis-Murillo A, Deppe JL, Allen MF (2009) Using soundscape recordings to estimate bird species abundance, richness, and composition. J Field Ornithol 80:64–78

Chace JF, Walsh JJ (2006) Urban effects on native avifauna: a review. Landscape Urban Plann 74:46–69

Chan K (2004) Effect of patch size and bird aggression on bird species richness: a community-based project in tropical/subtropical eucalypt woodland. Proc R Soc Queensl 111:1–11

Cherkaoui I, Selmi S, Boukhriss J, Hamid R-I, Mohammed D (2009) Factors affecting bird richness in a fragmented cork oak forest in Morocco. Acta Oecol 35:197–205

Depraetere M, Pavoine S, Jiguet F, Gasc A, Duvail S, Sueur J (2012) Monitoring animal diversity using acoustic indices: Implementation in a temperate woodland. Ecol Indic 13:9–9

Drever MC, Aitken KEH, Norris AR, Martin K (2008) Woodpeckers as reliable indicators of bird richness, forest health and harvest. Biol Conserv 141:624–634

Driscoll DA, Weir T (2005) Beetle responses to habitat fragmentation depend on ecological traits, habitat condition, and remnant size. Conserv Biol 19:182–194

Dumyahn SL, Pijanowski BC (2011) Soundscape conservation. Landscape Ecol 26:1327–1344

Dures SG, Cumming GS (2010) The confounding influence of homogenising invasive species in a globally endangered and largely urban biome: does habitat quality dominate avian biodiversity? Biol Conserv 143:768–777

Eglington SM, Noble DG, Fuller RJ (2012) A meta-analysis of spatial relationships in species richness across taxa: birds as indicators of wider biodiversity in temperate regions. J Nat Conserv 20:301–309

Eyre TJ, Kelly AL, Neldner VJ, Wilson BA, Ferguson DJ, Laidlaw MJ, Franks AJ (2011) BioCondition: A Condition Assessment Framework for Terrestrial Biodiversity in Queensland. Assessment Methodology Manual Version 2.1 Department of Environment and Resource Management

Farina A, Lattanzi E, Malavasi R, Pieretti N, Piccioli L (2011a) Avian soundscapes and cognitive landscapes: theory, application and ecological perspectives. Landscape Ecol 26:1257–1267

Farina A, Pieretti N, Piccioli L (2011b) The soundscape methodology for long-term bird monitoring: a Mediterranean Europe case-study. Ecol Inf 6:354–363

Favero S, Souza HA, Oliveira AKM (2011) Coleoptera (Insecta) as forest fragmentation indicators in the Rio Negro sub-region of the Pantanal, Mato Grosso do Sul, Brazil. Braz J Biol 71:291–295

Flaspohler DJ, Giardina CP, Asner GP, Hart P, Price J et al (2010) Long-term effects of fragmentation and fragment properties on bird species richness in Hawaiian forests. Biol Conserv 143:280–288

Francis CD, Paritsis J, Ortega CP, Cruz A (2011) Landscape patterns of avian habitat use and nest success are affected by chronic gas well compressor noise. Landscape Ecol 26:1269–1280

Gage SH, Napoletano BM, Cooper MC (2001) Assessment of ecosystem biodiversity by acoustic diversity indices. J Acoust Soc Am 109:2430

Gibbons P, Freudenberger D (2006) An overview of methods used to assess vegetation condition at the scale of the site. Ecol Manage Restor 7:10–17

Gibbons P, Briggs SV, Ayers D, Seddon J, Doyle S, Cosier P, McElhinny C, Pelly V, Roberts K (2009) An operational method to assess impacts of land clearing on terrestrial biodiversity. Ecol Indic 9(1):26–40

Gil-Tena A, Saura S, Brotons L (2007) Effects of forest composition and structure on bird species richness in a Mediterranean context: implications for forest ecosystem management. For Ecol Manag 242:470–476

Gorrod E (2006) Evaluating the ecological and operational basis of vegetation condition assessments. Ecol Manag Restor 7(S1):80

Herrando S, Brotons L (2002) Forest bird diversity in Mediterranean areas affected by wildfires: a multi-scale approach. Ecography 25:161–172

Hobbs RJ, Yates CJ (2003) Impacts of ecosystem fragmentation on plant populations: generalising the idiosyncratic. Aust J Bot 51:471–488

Huber PR, Thorne JH, Roth NE, McCoy MM (2011) Assessing ecological condition, vulnerability, and restorability of a conservation network under alternative urban growth policies. Nat Area J 31:234–245

Jackson HB, Baum KA, Cronin JT (2012) From logs to landscapes: determining the scale of ecological processes affecting the incidence of a saproxylic beetle. Ecol Entomol 37:233–243

Joo W, Gage SH, Kasten EP (2011) Analysis and interpretation of variability in soundscapes along an urban-rural gradient. Landscape Urban Plann 103:259–276

Juutinen A, Monkkonen M (2004) Testing alternative indicators for biodiversity conservation in old-growth boreal forests: ecology and economics. Ecol Econ 50(1–2):35–48

Kasten EP, Gage SH, Fox J, Joo W (2012) The remote environmental assessment laboratory's acoustic library: an archive for studying soundscape ecology. Ecol Info 12:50–67

Kelley J, Kelly A (2012) Calculating BioCondition v 2.1 Landscape Attributes (Patch Size, Connectivity and Context) using ArcGIS 10 (Software implementation as ArcGIS toolbox): a Technical Manual. V1.0. Unpublished Queensland Herbarium report

Kolb A (2008) Habitat fragmentation reduces plant fitness by disturbing pollination and modifying response to herbivory. Biol Conserv 141:2540–2549

Krause B, Gage SH, Joo W (2011) Measuring and interpreting the temporal variability in the soundscape at four places in Sequoia National Park. Landscape Ecol 26:1247–1256

Kuehne LM, Padgham BL, Olden JD (2013) The soundscapes of lakes across an urbanization gradient. PLoS One 8(2):e55661

Laiolo P (2010) The emerging significance of bioacoustics in animal species conservation. Biol Conserv 143:1635–1645

Lam TY, Fletcher C, Ramage BS, Doll HM, Joann CL Nur-Zati AM, Butod E, Kassim AR, Harrison RD, Potts MD (2014) Using habitat characteristics to predict faunal diversity in tropical production forests. Biotropica 46:50–57

Lampila P, Monkkonen M, Desrochers A (2005) Demographic responses by birds to forest fragmentation. Conserv Biol 19:1537–1546

Lancaster ML, Taylor AC, Cooper SJB, Carthew SM (2011) Limited ecological connectivity of an arboreal marsupial across a forest/plantation landscape despite apparent resilience to fragmentation. Mol Ecol 20:2258–2271

Larsen FW, Bladt J, Balmford A, Rahbek C (2012) Birds as biodiversity surrogates: will supplementing birds with other taxa improve effectiveness? J Appl Ecol 49:349–356

Lines WJ (1991) Taming the great south land: a history of the conquest of nature in Australia, William J. Lines. North Sydney: Allen & Unwin

MacArthur RH, Wilson EO (1967) The theory of island biogeography. Princeton University Press, Princeton

Major RE, Christie FJ, Gowing G (2001) Influence of remnant and landscape attributes on Australian woodland bird communities. Biol Conserv 102:47–66

Malt J, Lank D (2007) Temporal dynamics of edge effects on nest predation risk for the marbled murrelet. Biol Conserv 140:160–173

Malt JM, Lank DB (2009) Marbled murrelet nest predation risk in managed forest landscapes: dynamic fragmentation effects at multiple scales. Ecol Appl 19:1274–1287

Matsinos YG, Mazaris AD, Papadimitriou KD, Mniestris A, Hatzigiannidis G, Maioglou D, Pantis JD (2008) Spatio-temporal variability in human and natural sounds in a rural landscape. Landscape Ecol 23:945–959

Mazaris AD, Kallimanis AS, Chatzigianidis G, Papadimitriou K, Pantis JD (2009) Spatiotemporal analysis of an acoustic environment: interactions between landscape features and sounds. Landscape Ecol 24:817–831

Mörtberg UM (2001) Resident bird species in urban forest remnants; landscape and habitat perspectives. Landscape Ecol 16:193–203

Murphy GEP, Romanuk TN (2014) A meta-analysis of declines in local species richness from human disturbances. Ecol Evol 4:91–103

Norton TW (1996) Conserving biological diversity in Australia's temperate eucalypt forests. For Ecol Manag 85:21–33

Oliver I, Holmes A, Dangerfield JM, Gillings M, Pik AJ, Britton DR, Holley M, Montgomery ME, Raison M, Logan V, Pressey RL, Beattie AJ (2004) Land systems as surrogates for biodiversity in conservation planning. Ecol Appl 4(2):485–503

Parkes D, Lyon P (2006) Towards a national approach to vegetation condition assessment that meets government investors' needs: A policy perspective. Ecol Manage Restor 7:S3-S5

Parkes D, Newell G, Cheal D (2003) Assessing the quality of native vegetation: the 'habitat hectares' approach. Ecol Manag Restor 4:S29–S38

Parkes D, Newel G, Cheal D et al (2004) The development and raison d'etre of habitat hectares: a response to McCarthy. Ecol Manag Restor 5(1):28–29

Pearman PB (2002) The scale of community structure: habitat variation and avian guilds in tropical forest understory. Ecol Monogr 72:19–39

Pearson DL, Cassola F (1992) Worldwide species richness of tiger beetles (Coleoptera, Cicindelidae)-indicator taxon for biodiversity and conservation studies. Conserv Biol 6(3):376–391

Pekin BK, Jung J, Villanueva-Rivera LJ, Pijanowski BC, Ahumada JA (2012) Modeling acoustic diversity using soundscape recordings and LIDAR-derived metrics of vertical forest structure in a neotropical rainforest. Landscape Ecol 27:1513–1522

Pert PL, Butler JRA, Bruce C, Metcalfe D (2012) A composite threat indicator approach to monitor vegetation condition in the Wet Tropics, Queensland, Australia. Ecol Indic 18:191–199

Pijanowski BC, Farina A, Gage SH, Dumyahn SL, Krause BL (2011a) What is soundscape ecology? An introduction and overview of an emerging new science. Landscape Ecol 26:1213–1232

Pijanowski BC, Villanueva-Rivera LJ, Dumyahn S, Farina A, Krause B, Napoletano BM, Gage SH, Pieretti N (2011b) Soundscape ecology: the science of sound in the landscape. Bioscience 61(3):203–216

Proppe DS, Sturdy CB, St Clair CC (2013) Anthropogenic noise decreases urban songbird diversity and may contribute to homogenization. Global Change Biol 19: 1075–1084

Qi J, Gage SH, Joo W, Napoletano BN, Biswas S (2008) Soundscape characteristics of an environment: a new ecological indicator of ecosystem health. In: Ji W (ed) Wetland and water resource modeling and assessment. CRC Press, New York, pp 201–211

Rempel RS, Hobson KA, Holborn G, Van Wilgenburg SL, Elliott J (2005) Bioacoustic monitoring of forest songbirds: interpreter variability and effects of configuration and digital processing methods in the laboratory. J Field Ornithol 76:1–11

Ricketts TH, Daily GC, Ehrlich PR (2002) Does butterfly diversity predict moth diversity? Testing a popular indicator taxon at local scales. Biol Conserv 103(3):361–370

Rodriguez JP, Pearson DL, Barrera R (1998) A test for the adequacy of bioindicator taxa: are tiger beetles (Coleoptera: Cicindelidae) appropriate indicators for monitoring the degradation of tropical forests in Venezuela? Biol Conserv 83(1):69–76

Saetersdal M, Gjerde I, Blom HH, Ihlen PG, Myrseth EW, Pommeresche R et al (2004) Vascular plants as a surrogate species group in complementary site selection for bryophytes, macrolichens, spiders, carabids, staphylinids, snails, and wood living polypore fungi in a northern forest. Biol Conserv 115(1):21–31

Sattler PS, Williams RD (1999) The conservation status of Queenslands bioregional ecosystems. Environmental Protection Agency, Brisbane

Sauberer N, Zulka KP, Abensperg-Traun M, Berg HM, Bieringer G, Milasowszky N, Mosera D, Plutzara C, Pollheimere M, Storcha C, Tröstla R, Zechmeistera H, Grabherr G (2004) Surrogate taxa for biodiversity in agricultural landscapes of eastern Austria. Biol Conserv 117(2):181–190

Schuster R, Arcese P (2013) Using bird species community occurrence to prioritize forests for old growth restoration. Ecography 36:499–507

Seddon JA, Briggs SV, Doyle SJ (2003) Relationships between bird species and characteristics of woodland remnants in central New South Wales. Pac Conserv Biol 9:95–119

Shanley CS, Pyare S, Smith WP (2013) Response of an ecological indicator to landscape composition and structure: Implications for functional units of temperate rainforest ecosystems. Ecol Indic 24:68–74

Skroblin A, Legge S (2012) Influence of fine-scale habitat requirements and riparian degradation on the distribution of the purple-crowned fairy-wren (Malurus coronatus coronatus) in northern Australia. Austral Ecol 37:874–884

Smith AC, Fahrig L, Francis CM (2011) Landscape size affects the relative importance of habitat amount, habitat fragmentation, and matrix quality on forest birds. Ecography 34:103–113

SPSS for Windows V 19.0 (2012) [Computer Software]. Chicago: SPSS Inc

Suarez-Rubio M, Thomlinson JR (2009) Landscape and patch-level factors influence bird communities in an urbanized tropical island. Biol Conserv 142:1311–1321

Sueur J, Pavoine S, Hamerlynck O, Duvail S (2008) Rapid acoustic survey for biodiversity appraisal. PLoS One 3:e4065

Sullivan TP, Sullivan DS, Lindgren PMF, Ransome DB (2012) If we build habitat, will they come? Woody debris structures and conservation of forest mammals. J Mammal 93:1456–1468

Tang CQ, He L-Y, Gao Z, Zhao X-F, Sun W-B, Ohsawa M (2011) Habitat fragmentation, degradation, and population status of endangered Michelia coriacea in Southeastern Yunnan, China. Mountain Res Dev 31:343–350

Thomas JA, Bourn NAD, Clarke RT, Stewart KE, Simcox DJ, Pearman GS, Curtis R, Goodger B (2001) The quality and isolation of habitat patches both determine where butterflies persist in fragmented landscapes. Proc R Soc Biol Sci Ser B 268:1791–1796

Tierney GL, Faber-Langendoen D, Mitchell BR, Shriver WG, Gibbs JP (2009) Monitoring and evaluating the ecological integrity of forest ecosystems. Front Ecol Environ 7(6):308–316

Wehenkel C, Corral-Rivas JJ, Castellanos-Bocaz HA, Pinedo-Alvarez A (2009) Is there a positive relationship between naturalness and genetic diversity in forest tree communities? Investigacion Agraria-Sistemas Y Recursos Forestales 18(1):20–27

Welch PD (1967) The use of fast fourier transform for the estimation of power spectra: a method based on time averaging over short, modified periodograms. Trans Audio Electro 15:70–73

Wildlife Acoustics (2013) Available from http://www.wildlifeacoustics.com (accessed April 2013)

Wimmer J, Towsey M, Roe P, Williamson I (2013a) Sampling environmental acoustic recordings to determine bird species richness. Ecol Appl 23:1419–1428

Wimmer J, Towsey M, Planitz B, Williamson I, Roe P (2013b) Analysing environmental acoustic data through collaboration and automation. Futur Gener Comp Syst 29:560–568

Winter S, Fischer HS, Fischer A (2010) Relative quantitative reference approach for naturalness assessments of forests. For Ecol Manag 259(8):1624–1632

Yapp G, Walker J, Thackway R (2010) Linking vegetation type and condition to ecosystem goods and services. Ecol Complex 7(3):292–301

Zhang J, Kissling WD, He FL (2013) Local forest structure, climate and human disturbance determine regional distribution of boreal bird species richness in Alberta, Canada. J Biogeography 40:1131–1142

Zharikov Y, Lank DB, Cooke F (2007) Influence of landscape pattern on breeding distribution and success in a threatened Alcid, the marbled murrelet: model transferability and management implications. J Appl Ecol 44:748–759
Acknowledgments
The authors gratefully acknowledge Paul Roe, Michael Towsey and Jason Wimmer for technological assistance, expertise and fruitful discussion, Tom Tarrant for expert analysis of bird calls, Peter Grace for his enthusiasm in supporting bioacoustics research, and the Institute for Future Environments, QUT for funding support. We would also like to thank Teresa Eyre and Annie Kelly from the Queensland DEHP for assistance with BioCondition and access to spatial data, and Peter Young for expert advice and assistance on locating our benchmark site. We would also like to acknowledge David Williams and his colleagues, DPI, in Tatura, Victoria for early work on attempting to relate acoustics to vegetation condition. The research was never published due to limited acoustic replication as the technology was not available at that time.
About this article
Cite this article
Tucker, D., Gage, S.H., Williamson, I. et al. Linking ecological condition and the soundscape in fragmented Australian forests. Landscape Ecol 29, 745–758 (2014). https://doi.org/10.1007/s10980-014-0015-1
Received:

Accepted:

Published:

Issue Date:
Keywords
Ecological condition

Soundscape

Acoustic monitoring

Landscape

Fragmentation

Patch size

Connectivity

Bird species richness