Abstract
Spatial plans shape land-use changes, which in turn are main drivers of anthropogenic ecosystem alterations, therefore influencing the ecosystem services (ES) delivered by a given territory. However, integration of the ES concept in policies and plans is reported as poor in literature. The main goal of this research is to gain insight on the views and perceptions of Portuguese regional spatial planners regarding the ES concept and its integration in spatial plans. For that we designed and administered a questionnaire survey aimed at practitioners and decision-makers from Portuguese regional spatial planning authorities. The survey focused on issues such as the level of awareness and knowledge of the ES concept among planners, the perceived level of current ES integration in regional spatial plans and corresponding strategic environmental assessments, the main factors that either facilitate or obstruct that integration, or the level of importance given to ES integration in the planning process. Findings show that planners know the ES concept, they consider it as important to be integrated in spatial planning and, interestingly, that it is already rather integrated in existing plans. They believe that planning teams and authorities have skilled human resources for ES integration. However, they revealed a low knowledge on the main initiatives intended to push ecosystem services into the political agenda, like for example the Millennium Ecosystem Assessment. The questionnaire used can be easily transferred into other spatial planning contexts to draw, e.g. a broader European picture on ES integration in spatial planning.
This is a preview of subscription content, log in to check access.
Access options
Buy single article
Instant access to the full article PDF.
US$ 39.95
Price includes VAT for USA
Subscribe to journal
Immediate online access to all issues from 2019. Subscription will auto renew annually.
US$ 99
This is the net price. Taxes to be calculated in checkout.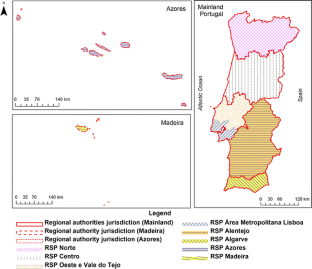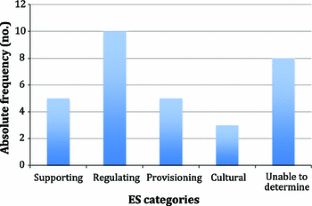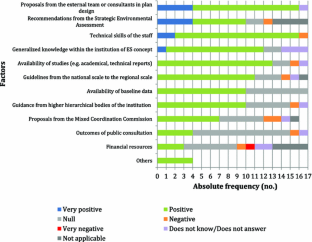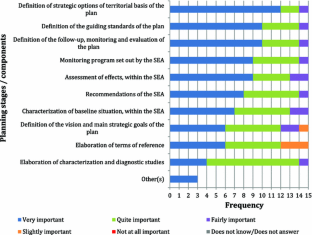 Notes
1.

According to the European Common Classification of Territorial Units for Statistics.

2.

Regional spatial plans can be conceived by third party organizations, other than the regional spatial planning authorities (for example private companies, universities or consortiums). However the authorities are responsible for accompanying plan elaboration and they are the ultimate legal responsible for the plans.

3.

Sub-global assessment of the Millennium Ecosystem Assessment for Portugal (Pereira et al. 2009).
References
Adger WN, Brown K, Fairbrass J, Jordan A, Paavola J, Rosendo S, Seyfang G (2003) Governance for sustainability: towards a 'thick' analysis of environmental decision making. Environ Plan A 35(6):1095–1110

Atkinson R, Flint J (2001) Accessing hidden and hard-to-reach populations: snowball research strategies. Social research update, vol 33. University of Surrey

Bennet K, Ranganathan J, West P, Irwin F, Perrings C, Timmer D (2008) Introduction. In: Mlot C (ed) Ecosystem services: a guide for decision makers. World Resources Institute, pp 80

Bhattacherjee A (2012) Social science research: principles, methods, and practices. University of South Florida, Tampa

Biernacki P, Waldorf D (1981) Snowball sampling: problems and techniques of chain referral sampling. Soc Methods Res 10(2):141–163

Birkmann J (2003) Measuring sustainable spatial planning in Germany: indicator-based monitoring at the regional level. Built Environ 29:296–305

Boyd J, Banzhaf S (2007) What are ecosystem services? The need for standardized environmental accounting units. Ecol Econ 63(2–3):616–626

Boynton PM, Greenhalgh T (2004) Selecting, designing, and developing your questionnaire. Br Med J 328(13):1312–1315

Burkhard B, Petrosillo I, Costanza R (2010) Ecosystem services—bridging ecology, economy and social sciences. Ecol Complex 7(3):257–259

Cherp A, Watt A, Vinichenko V (2007) SEA and strategy formation theories: from three Ps to five Ps. Environ Impact Assess Rev 27(7):624–644

Costanza R, d'Arge R, de Groot R, Farber S, Grasso M, Hannon B, Naeem S, Limburg K, Paruelo J, O'Neill, RV, Raskin R, Sutton P, van den Belt M (1997) The value of the world's ecosystem services and natural capital. Nature 387(6630):253–260

Cowling RM, Egoh B, Knight AT, O'Farrell P, Reyers B, Rouget M, Roux D (2008) An operational model for mainstreaming ecosystem services for implementation. Proc Natl Acad Sci 105(28):9483–9488

Daily GC (1997) What are ecosystem services. In: Daily GC (ed) Nature's services: societal dependence on natural ecosystems. Island Press, Washington, DC

de Groot RS, Alkemade R, Braat L, Hein L, Willemen L (2010) Challenges in integrating the concept of ecosystem services and values in landscape planning, management and decision making. Ecol Complex 7(3):260–272

Elo S, Kyngäs H (2008) The qualitative content analysis process. J Adv Nurs 62(1):107–115

Faludi A (2000) The performance of spatial planning. Plan Pract Res 15(4):299–318

Ferrão J (2011) O Ordenamento do Território como Política Pública. Fundação Calouste Gulbenkian, Lisboa

Fisher B, Turner RK, Morling P (2009) Defining and classifying ecosystem services for decision making. Ecol Econ 68(3):643–653

Geneletti D (2011) Reasons and options for integrating ecosystem services in strategic environmental assessment of spatial planning. Int J Biodivers Sci Ecosyst Serv Manage 7(3):143–149

Glaves P, Egan D, Smith S, Heaphy D, Rowcroft P, Fessey M (2010) Valuing ecosystem services in the east of England, phase two: regional pilot technical report. Sustainability East, Cambridge

Gómez-Baggethun E, de Groot R, Lomas PL, Montes C (2010) The history of ecosystem services in economic theory and practice: from early notions to markets and payment schemes. Ecol Econ 69(6):1209–1218

GSEOTC (2005) Orientações Gerais para a Elaboração dos Planos Regionais de Ordenamento do Território. Gabinete do Secretário de Estado do Ordenamento do Território e das Cidades, Lisboa

Haase D, Nuissl H (2010) Assessing the impacts of land use change on transforming regions. J Land Use Sci 5(2):67–72

Hauck J, Görg C, Varjopuro R, Ratamäki O, Jax K (2013) Benefits and limitations of the ecosystem services concept in environmental policy and decision making: some stakeholder perspectives. Environ Sci Policy 25:13–21

Hobbs J, Ghanime L, Paris R, Levine T, Wang S, Dalal-Clayton B (2010) Strategic environmental assessment and ecosystem services. OECD, Paris

Honrado JP, Vieira C, Soares C, Monteiro MB, Marcos B, Pereira HM, Partidário M, do R (2013) Can we infer about ecosystem services from EIA and SEA practice? A framework for analysis and examples from Portugal. Environ Impact Assess Rev 40:14–24

Hsieh HF, Shannon SE (2005) Three approaches to qualitative content analysis. Qual Health Res 15(9):1277–1288

Kelley K, Clark B, Brown V, Sitzia J (2003) Good practice in the conduct and reporting of survey research. Int J Qual Health Care 15(3):261–266

Koschke L, Fürst C, Frank S, Makeschin F (2012) A multi-criteria approach for an integrated land-cover-based assessment of ecosystem services provision to support landscape planning. Ecol Ind 21:54–66

Lamarque P, Quétier F, Lavorel S (2011) The diversity of the ecosystem services concept and its implications for their assessment and management. CR Biol 334(5–6):441–449

Lietz P (2010) Research into questionnaire design. Int J Market Res 52(2):249–272

MA (2003) Ecosystems and human well-being: a framework for assessment. Island Press, Washington DC.

MA (2005) Ecosystems and human well-being: synthesis. Island Press, Washington, DC

MAOTDR (2006) Programa Nacional da Política de Ordenamento do Território – Programa de Acção. Ministério do Ambiente, do Ordenamento do Território e do Desenvolvimento Regional

Mascarenhas A, Ramos TB, Haase D, Santos R (2012a) Ecosystem services in regional spatial plans and SEA. In: 32nd Annual meeting of the international association for impact assessment. IAIA, Porto

Mascarenhas A, Ramos TB, Nunes L (2012b) Developing an integrated approach for the strategic monitoring of regional spatial plans. Land Use Policy 29(3):641–651

Morphet J (2011) Effective practice in spatial planning. Routledge, New York

Müller F, de Groot RS, Willemen L (2010) Ecosystem services at the landscape scale: the need for integrative approaches. Landscape Online 23:11

Nadin V (2007) The emergence of the spatial planning approach in England. Plann Pract Res 22(1):43–62

Nadin V, Stead D (2008) European spatial planning systems, social models and learning. disP Plan Rev 44(172):35–47

Neuendorf KA (2002) The content analysis guidebook. Sage Publications, Thousand Oaks

Noy C (2008) Sampling knowledge: the hermeneutics of snowball sampling in qualitative research. Int J Soc Res Methodol 11(4):327–344

Partidário MR, Gomes RC (2013) Ecosystem services inclusive strategic environmental assessment. Environ Impact Assess Rev 40:36–46

Perdicoúlis A (2011) Building competences for spatial planners. Routledge, New York

Pereira HM, Domingos T, Vicente L, Proença V (eds) (2009) Ecossistemas e Bem-Estar Humano - Avaliação para Portugal do Millenium Ecosystem Assessment. Escolar Editora

Portugal BCSD (2013) Integrar a Biodiversidade e os Serviços dos Ecossistemas na Estratégia Corporativa. Conselho Empresarial para o Desenvolvimento Sustentável, Lisboa

Primmer E, Furman E (2013) Operationalising ecosystem service approaches for governance: do measuring, mapping and valuing integrate sector-specific knowledge systems? Ecosyst Serv. doi:10.1016/j.ecoser.2012.07.008

Rea L, Parker R (1997) Designing and conducting survey research: a comprehensive guide. Jossey-Bass Publishers, San Francisco

Reyers B, O'Farrell PJ, Cowling RM, Egoh BN, Le Maitre DC, Vlok JHJ (2009) Ecosystem services, land-cover change, and stakeholders: finding a sustainable foothold for a semiarid biodiversity hotspot. Ecol Soc 14(1):38

Rockstrom J, Steffen W, Noone K, Persson Å, Chapin FS, Lambin EF, Lenton TM, Scheffer M, Folke C, Schellnhuber HJ, Nykvist B, de Wit CA, Hughes T, Van Der Leeuw, H (2009) Planetary boundaries: exploring the safe operating space for humanity. Ecol Soc 14(2):32

Rodríguez JP, Beard JTD, Bennett EM, Cumming GS, Cork S, Agard J, Dobson AP, Peterson GD (2006) Trade-offs across space, time, and ecosystem services. Ecol Soc 11(1):28

Rosenström U (2006) Exploring the policy use of sustainable development indicators: interviews with Finnish politicians. J Transdiscipl Environ Stud 5(1–2):1–13

Seppelt R, Dormann CF, Eppink FV, Lautenbach S, Schmidt S (2011) A quantitative review of ecosystem service studies: approaches, shortcomings and the road ahead. J Appl Ecol 48(3):630–636

Slootweg R, van Beukering P (2008) Valuation of ecosystem services and strategic environmental assessment—lessons from influential cases. Netherlands Commission for Environmental Assessment, Utrecht

TEEB (2010) The economics of ecosystems and biodiversity. Mainstreaming the economics of nature: a synthesis of the approach, conclusions and recommendations of TEEB.

von Haaren C, Albert C (2011) Integrating ecosystem services and environmental planning: limitations and synergies. Int J Biodivers Sci Ecosyst Serv Manag 7(3):150–167

Weber RP (1990) Basic content analysis. Sage Publications, Thousand Oaks
Acknowledgments
We thank all the planners who dedicated their time to fill-in the questionnaire and helped making this research possible. We also thank two anonymous reviewers whose comments helped improving the article. This work was financially supported by Fundação para a Ciência e Tecnologia, through grant SFRH/BD/79353/2011 (to André Mascarenhas).
Electronic supplementary material
Below is the link to the electronic supplementary material.
About this article
Cite this article
Mascarenhas, A., Ramos, T.B., Haase, D. et al. Integration of ecosystem services in spatial planning: a survey on regional planners' views. Landscape Ecol 29, 1287–1300 (2014). https://doi.org/10.1007/s10980-014-0012-4
Received:

Accepted:

Published:

Issue Date:
Keywords
Ecosystem services

Spatial planning

Strategic environmental assessment

Governance

Stakeholder survey