Abstract
Forests provide key ecosystem services (ES) and the extent to which the ES are realized varies spatially, with forest composition and cultural context, and in breadth, depending on the dominant tree species inhabiting an area. We address the question of how climate change may impact ES within the temperate and diverse forests of the eastern United States. We quantify the vulnerability to changes in forest habitat by 2100, based on the overall pressures of community change from an aggregation of current and potential future habitats for 134 tree species at each of 149 US Department of Defense installations. To do so, we derive an index, Forest-Related Index of Climate Vulnerability, composed of several indicators of vulnerability for each site. Further, a risk matrix (likelihood × consequences) provides a visual cue to compare vulnerabilities among species (example from Pennsylvania) or among sites [example for Acer saccharum (sugar maple) in Vermont vs. Kentucky]. Potential changes in specific ES can then be qualitatively examined. For example in Pennsylvania, the loss of the provisioning services (wood products) of Prunus serotina (black cherry) and Fraxinus americana (white ash) habitat projected for the future will not likely be compensated for by concomitant increases in Juniperus virginiana (redcedar) and Pinus echinata (shortleaf pine) habitat. Taken together, this approach provides a conceptual framework that allows for consideration of how potential changes in tree species habitats, as impacted by climate change, can be combined to explore relative changes in important ES that forests provide.
Access options
Buy single article
Instant access to the full article PDF.
US$ 39.95
Tax calculation will be finalised during checkout.
Subscribe to journal
Immediate online access to all issues from 2019. Subscription will auto renew annually.
US$ 79
Tax calculation will be finalised during checkout.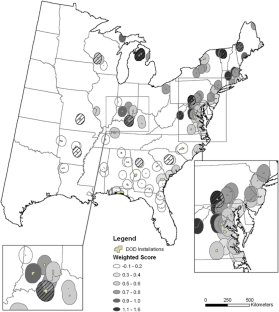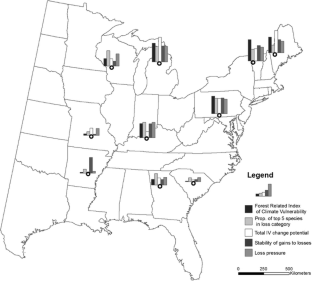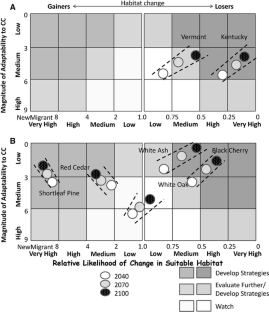 References
Allen C, Macalady A, Chenchounic H, Bachelet D, McDowell N, Vennetier M, Kitzberger T, Rigling A, Breshears D, Hoggi E, Gonzalezk P, Fensham R, Zhangm Z, Castron J, Demidavao N, Lim J, Allard G, Running S, Semerci A, Cobb N (2010) A global overview of drought and heat-induced tree mortality reveals emerging climate change risks for forests. For Ecol Manage 259:660–684

Anderegg WRL, Kane JM, Anderegg LDL (2013) Consequences of widespread tree mortality triggered by drought and temperature stress. Nat Clim Change 3:30–36

Bastian O (2013) The role of biodiversity in supporting ecosystem services in Natura 2000 sites. Ecol Ind 24:12–22

Bonan GB (2008) Forests and climate change: forcings, feedbacks, and the climate benefits of forests. Science 320:1444–1449

Brantley ST, Ford CR, Vose JM (2013) Future species composition will affect forest water use after loss of eastern hemlock from southern Appalachian forests. Ecol Appl 23:777–790

Breshears DD, Lopez-Hoffman L, Graumlich LJ (2010) When ecosystem services crash: preparing for big, fast, patchy climate change. Ambio 40:256–263

Ciccarese L, Mattsson A, Pettenella D (2012) Ecosystem services from forest restoration: thinking ahead. New For 43:543–560

Civantos E, Thuiller W, Maiorano L, Guisan A, Araujo MB (2012) Potential impacts of climate change on ecosystem services in Europe: the case of pest control by vertebrates. Bioscience 62:658–666

Cutler DR, Edwards TC, Beard KH, Cutler A, Hess KT, Gibson J, Lawler JJ (2007) Random forests for classification in ecology. Ecology 88:2783–2792

Deal RL, Raymond C, Peterson DL, Glick C (2010) Ecosystem services and climate change: understanding the differences and identifying opportunities for forest carbon. In: USDA Forest Service Proceedings RMRS-P-61, p 9–25

Diaz S, Lavorel S, de Bello F, Quetier F, Grigulis K, Robson M (2007) Incorporating plant functional diversity effects in ecosystem service assessments. Proc Natl Acad Sci USA 104:20684–20689

Duchesne L, Houle D, Côté M, Logan T (2009) Modelling the effect of climate on maple syrup production in Québec, Canada. For Ecol Manage 258:2683–2689

Embrey S, Remais JV, Hess J (2012) Climate change and ecosystem disruption: the health impacts of the North American rocky mountain pine beetle infestation. Am J Public Health 102:818–827

Farrell M, Chabot B (2012) Assessing the growth potential and economic impact of the US maple syrup industry. J Agric Food Syst Community Dev 2:11–27

Fry J, Xian G, Jin S, Dewitz J, Homer C, Yang L, Barnes C, Herold N, Wickham J (2011) Completion of the 2006 national land cover database for the conterminous United States. Photogramm Eng Remote Sens 77:858–864

Groffman PM, Rustad LE, Templer PH, Campbell JL, Christenson LM, Lany NK, Socci AM, Vadeboncoeur MA, Schaberg PG, Wilson GF, Driscoll CT, Fahey TJ, Fisk MC, Goodale CL, Green MB, Hamburg SP, Johnson CE, Mitchell MJ, Morse JL, Pardo LH, Rodenhouse NL (2012) Long-term integrated studies show complex and surprising effects of climate change in the northern hardwood forest. Bioscience 62:1056–1066

He H, Mladenoff D, Gustafson E (2002) Study of landscape change under forest harvesting and climate warming-induced fire disturbance. For Ecol Manage 155:257–270

Hooper DU, Chapin FS, Ewel JJ, Hector A, Inchausti P, Lavorel S, Lawton JH, Lodge DM, Loreau M, Naeem S, Schmid B, Setala H, Symstad AJ, Vandermeer J, Wardle DA (2005) Effects of biodiversity on ecosystem functioning: a consensus of current knowledge. Ecol Monogr 75:3–35

Iverson LR, Schwartz MW, Prasad A (2004) How fast and far might tree species migrate under climate change in the eastern United States? Glob Ecol Biogeogr 13:209–219

Iverson LR, Prasad AM, Matthews SN, Peters MP (2008) Estimating potential habitat for 134 eastern US tree species under six climate scenarios. For Ecol Manage 254:390–406

Iverson LR, Prasad AM, Matthews SN, Peters MP (2011) Lessons learned while integrating habitat, dispersal, disturbance, and life-history traits into species habitat models under climate change. Ecosystems 14:1005–1020

Iverson LR, Matthews SN, Prasad AM, Peters MP, Yohe G (2012) Development of risk matrices for evaluating climatic change responses of forested habitats. Clim Change 114:231–243

Kerr JT, Kharouba HM, Currie DJ (2007) The macroecological contribution to global change solutions. Science 316:1581–1584

Kremen C (2005) Managing ecosystem services: What do we need to know about their ecology? Ecol Lett 8:468–479

Lavorel S, Grigulis K (2012) How fundamental plant functional trait relationships scale-up to trade-offs and synergies in ecosystem services. J Ecol 100:128–140

Liu Y, Stanturf J, Goodrick S (2010) Trends in global wildfire potential in a changing climate. For Ecol Manage 259:685–697

Liu YY, van Dijk AIJM, McCabe MF, Evans JP, de Jeu RAM (2013) Global vegetation biomass change (19882008) and attribution to environmental and human drivers. Glob Ecol Biogeogr 22:692–705

Long RP, Horsley SB, Hallett RA, Bailey SW (2009) Sugar maple growth in relation to nutrition and stress in the northeastern United States. Ecol Appl 19:1454–1466

MacDonald GM, Kremenetski KV, Beilman DW (2008) Climate change and the northern Russian treeline zone. Philos Trans R Soc B 363:2285–2299

Matthews SN, Iverson LR, Prasad AM, Peters MP, Rodewald PG (2011) Modifying climate change habitat models using tree species-specific assessments of model uncertainty and life history-factors. For Ecol Manage 262:1460–1472

MEA-Millennium Ecosystem Assessment (2005) Ecosystems and human well-being: synthesis. Island Press, Washington, DC

Millar C, Stephenson NL (2007) Climate change and forests of the future: managing in the face of uncertainty. Ecol Appl 17:2145–2151

Nowak DJ, Crane DE, Stevens JC, Hoehn RE, Walton JT (2008) A ground-based method of assessing urban forest structure and ecosystem services. Arboric Urban For 34:347–358

Paradis A, Elkinton J, Hayhoe K, Buonaccorsi J (2007) Role of winter temperature and climate change on the survival and future range expansion of the hemlock woolly adelgid (Adelges tsugae) in eastern North America. Mitig Adapt Strateg Glob Change 3:541–554

Pautasso M, Döring T, Garbelotto M, Pellis L, Jeger M (2012) Impacts of climate change on plant diseases—opinions and trends. Eur J Plant Pathol 133:295–313

Perrings C, Naeem S, Ahrestani F, Bunker DE, Burkill P, Canziani G, Elmqvist T, Ferrati R, Fuhrman J, Jaksic F, Kawabata Z, Kinzig A, Mace GM, Milano F (2010) Ecosystem services for 2020. Science 330:323–324

Post E, Forchhammer MC, Bret-Harte MS, Callaghan TV, Christensen TR, Elberling B, Fox AD, Gilg O, Hik DS, Hoye TT, Ims RA, Jeppesen E, Klein DR, Madsen J, McGuire AD, Rysgaard S, Schindler DE, Stirling I, Tamstorf MP, Tyler NJC, van der Wal R, Welker J, Wookey PA, Schmidt NM, Aastrup P (2009) Ecological dynamics across the arctic associated with recent climate change. Science 325:1355–1358

Prasad AM, Iverson LR, Liaw A (2006) Newer classification and regression tree techniques: bagging and random forests for ecological prediction. Ecosystems 9:181–199

Prasad AM, Gardiner JD, Iverson LR, Matthews SN, Peters M (2013) Exploring tree species colonization potentials using a spatially explicit simulation model: implications for four oaks under climate change. Glob Change Biol 19:2196–2208

Quijas S, Jackson LE, Maass M, Schmid B, Raffaelli D, Balvanera P (2012) Plant diversity and generation of ecosystem services at the landscape scale: expert knowledge assessment. J Appl Ecol 49:929–940

Seppelt R, Dormann CF, Eppink FV, Lautenbach S, Schmidt S (2011) A quantitative review of ecosystem service studies: approaches, shortcomings and the road ahead. J Appl Ecol 48:630–636

Smith N, Deal R, Kline J, Blahna D, Spies TA, Bennett K (2011) Ecosystem services as a framework for forest stewardship: Deschutes National Forest overview. Gen. Tech. Rep. PNW-GTR-852. US Department of Agriculture, Forest Service, Pacific Northwest Research Station, Portland, OR, USA

Soja AJ, Tchebakova NM, French NHF, Flannigan MD, Shugart HH, Stocks BJ, Sukhinin AI, Parfenova EI, Chapin FS, Stackhouse PW (2007) Climate-induced boreal forest change: predictions versus current observations. Glob Planet Change 56:274–296

Swanston C, Janowiak M, Iverson L, Parker L, Mladenoff D, Brandt L, Butler P, St Pierre M, Prasad A, Matthews S, Peters M, Higgins D, Dorland A (2011) Ecosystem vulnerability assessment and synthesis: a report from the climate change response framework project in northern Wisconsin. US Department of Agriculture, Forest Service, Northern Research Station, Newtown Square, PA, USA

Turner MG, Donato DC, Romme WH (2013) Consequences of spatial heterogeneity for ecosystem services in changing forest landscapes: priorities for future research. Landscape Ecol 28:1081–1097

US Department of Defense (2010) Quadrennial defense review report. Washington DC. http://www.defense.gov/qdr/images/QDR_as_of_12Feb10_1000.pdf. Accessed September 2013

Verburg PH, Koomen E, Hilferink M, Perez-Soba M, Lesschen JP (2012) An assessment of the impact of climate adaptation measures to reduce flood risk on ecosystem services. Landscape Ecol 27:473–486

Wiens JA, Stralberg D, Jongsomjit D, Howell CA, Snyder MA (2009) Niches, models, and climate change: assessing the assumptions and uncertainties. Proc Natl Acad Sci USA 106:19729–19736

Williams J, Shuman B, Webb T, Bartlein P, Leduc P (2004) Late-quaternary vegetation dynamics in North America: scaling from taxa to biomes. Ecol Monogr 74:309–334

Williams JW, Jackson ST, Kutzbach JE (2007) Projected distributions of novel and disappearing climates by 2100 AD. Proc Natl Acad Sci USA 104:5738–5742

Woodward FI (1992) A review of the effects of climate on vegetation: ranges, competition, and composition. In: Peters RL, Lovejoy TE (eds) Global warming and biological diversity. Yale University Press, New Haven, pp 105–123

Woudenberg SW, Conkling BL, O'Connell BM, LaPoint EB, Turner JA, Waddell KL (2010) The forest inventory and analysis database: database description and user's manual version 4.0 for Phase 2 Gen. Tech. Rep. RMRS-GTR-245. US Department of Agriculture, Forest Service, Rocky Mountain Research Station, Fort Collins, CO, USA
Acknowledgments
Thanks to the Northern Research Station, the Northern Global Change Program, and the Northern Institute for Applied Climate Science of the US Forest Service for support for this work. Further, this work was supported by the US Army's Environmental Quality Technology Applied and Advanced Research Program (Elizabeth Ferguson, Technical Director). Additional support was provided by The National Science Foundation (DEB-Ecosystem Studies 0948780). We thank Mark Ford and Eric Britzke for providing valuable comment to an earlier draft and to the reviewers and editors responsible for improving the manuscript.
About this article
Cite this article
Matthews, S.N., Iverson, L.R., Peters, M.P. et al. Assessing and comparing risk to climate changes among forested locations: implications for ecosystem services. Landscape Ecol 29, 213–228 (2014). https://doi.org/10.1007/s10980-013-9965-y
Received:

Accepted:

Published:

Issue Date:
Keywords
Climate change

Ecosystem services

Trees

Eastern United States

Forest composition

Prediction