Abstract
This study develops a quantitative approach to evaluate the application of design concepts that link landscape ecology theory to landscape planning. Landscape ecology principles were used to develop spatial concepts for creating an armature of open space in areas subject to rapid urbanization. It focuses on the predicted urban expansion of Damascus, Oregon, as a case study. An alternative futures study was used to test three open space spatial concepts for patches, corridors and networks contrasted with compact and dispersed urban development patterns. Eight scenarios of land use and land cover, over 50 years, were defined based on different spatial design concepts to evaluate their effects on habitat quantity and quality and analyze the tradeoffs between urban development and conservation of three focal wildlife species: red-legged frog, western meadowlark, and Douglas squirrel. Open space spatial concepts highly influenced habitat quantity and quality differences among scenarios. Development patterns showed lower influence on those variables. Scenarios with no landscape ecological spatial concept provided the most land for urban development but reduced habitat quantity and quality. Greenway scenarios presented increases of habitats, but failed to provide sufficient habitats for western meadowlark. Park system scenarios also presented an increase on the amount of habitats, but high-quality habitats for western meadowlark and red-legged frog decreased. Network scenarios presented the best overall amount of habitats and increase of high-quality habitats for the three species, but constrained urban development options.
Access options
Buy single article
Instant access to the full article PDF.
US$ 39.95
Tax calculation will be finalised during checkout.
Subscribe to journal
Immediate online access to all issues from 2019. Subscription will auto renew annually.
US$ 79
Tax calculation will be finalised during checkout.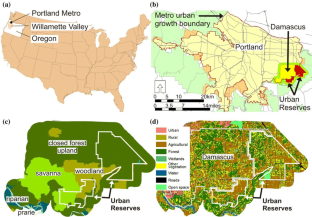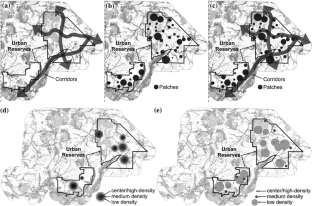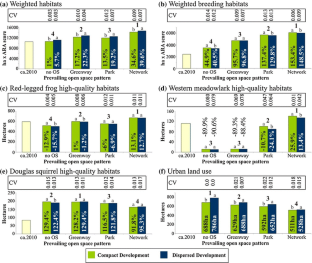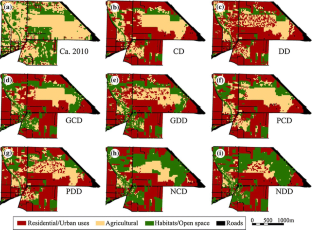 References
Ahern J (1999) Spatial concepts, planning strategies and future scenarios: a framework method for integrating landscape ecology and landscape planning. In: Klopatek J, Gardner R (eds) Landscape ecological analysis: issues and applications. Springer, New York, pp 175–201

Ahern J (2002) Greenways as strategic landscape planning: theory and application. PhD dissertation, Wageningen University, Wageningen

Ahern J (2005) Integration of landscape ecology and landscape architecture: an evolutionary and reciprocal process. In: Wiens J, Moss MR (eds) Issues and perspectives in landscape ecology. Cambridge University Press, Cambridge, pp 311–319

Arendt R, Brabec EA, Dodson HL, Reid C, Yaro RD (1994) Rural by design: maintaining small town character. Planners Press, American Planning Association, Chicago

Baker JP, Hulse DW, Gregory SV, White D, Van Sickle J, Berger PA, Dole D, Schumaker NH (2004) Alternative futures for the Willamette River Basin, Oregon. Ecol Appl 14:313–324

Bengston DN, Fletcher JO, Nelson KC (2004) Public policies for managing urban growth and protecting open space: policy instruments and lessons learned in the United States. Landscape Urban Plan 69:271–286

Beyard MD, Pawlukiewicz M, Urban Land Institute (2001) Ten principles for reinventing America's suburban strips. Urban Land Institute, Washington, D.C

Bolte J (2009) ENVISION—software for alternative futuring applications—a guide to application development. Oregon State University, Corvallis

Bolte JP, Hulse DW, Gregory SV, Smith C (2007) Modeling biocomplexity—actors, landscapes and alternative futures. Environ Model Softw 22:570–579

Calthorpe P (2010) Urbanism in the age of climate change. Island Press, Washington, DC

Calthorpe Associates, Cooper Roberts Simonsen Architects, Bear West, Fehr and Peers Associates, Strategic Economics (2002) Wasatch front transit oriented development guidelines. Envision Utah, Salt Lake. http://www.envisionutah.org/Wasatch%20Front%20Transit%20Oriented%20Development%20Guidelines_2002.pdf

Calthorpe P, Fulton WB (2001) The Regional City: planning for the end of sprawl. Island Press, Washington, DC

Chelgren ND, Rosenberg DK, Heppell SS, Gitelman AI (2006) Carryover aquatic effects on survival of metamorphic frogs during pond emigration. Ecol Appl 16:250–261

City of Damascus (2010) Envision Damascus: comprehensive Plan. Damascus, Oregon

Cook EA (1991) Urban landscape networks: an ecological framework. Landscape Res 16:7–15

COSEWIC (2004). COSEWIC assessment and update status report on the red-legged Frog Rana aurora in Canada. Committee on the Status of Endangered Wildlife in Canada, Ottawa. www.sararegistry.gc.ca/status/status_e.cfm

Davidson C, Shaffer HB, Jennings MR (2001) Declines of the California red-legged frog: climate, UV-B, habitat, and pesticides hypotheses. Ecol Appl 11:464–479

Davis SK, Brigham RM, Shaffer TL, James PC (2006) Mixed-grass prairie passerines exhibit weak and variable responses to patch size. Auk 123:807–821

Dramstad WE, Olson JD, Forman RTT (1996) Landscape ecology principles in landscape architecture and land-use planning. Harvard University Graduate School of Design, Cambridge

Duncan S (2004) Squirrels cannot live by truffles alone: a closer look at a northwest keystone complex. Sci Find 60:2–5

Dunham-Jones E, Williamson J (2009) Retrofitting suburbia: urban design solutions for redesigning suburbs. Wiley, Hoboken

Forman RTT (1995) Land mosaics: the ecology of landscapes and regions. Cambridge University Press, Cambridge

Forman RTT (2008) Urban regions: ecology and planning beyond the city. Cambridge University Press, Cambridge

Girling CL, Kellett R (2005) Skinny streets and green neighborhoods: design for environment and community. Island Press, Washington, DC

Haire SL, Bock CE, Cade BS, Bennett BC (2000) The role of landscape and habitat characteristics in limiting abundance of grassland nesting songbirds in an urban open space. Landscape Urban Plan 48:65–82

Hilty JA, Lidicker WZ, Merenlender AM (2006) Corridor ecology: the science and practice of linking landscapes for biodiversity conservation. Island Press, Washington, DC

Hodgson JA, Moilanen A, Wintle BA, Thomas CD (2011) Habitat area, quality and connectivity: striking the balance for efficient conservation. J Appl Ecol 48:148–152

Hulse D, Eilers J, Freemark K, Hummon C, White D (2000) Planning alternative future landscapes in Oregon: evaluating effects on water quality and biodiversity. Landscape J 19:1–19

Hulse D, Gregory S, Baker J (2002) Willamette River Basin planning atlas: trajectories of environmental and ecological change. Oregon State University Press, Corvallis

Hulse DW, Branscomb A, Payne SG (2004) Envisioning alternatives: using citizen guidance to map future land and water use. Ecol Appl 14:325–341

Hulse D, Branscomb A, Enright C, Bolte J (2009) Anticipating floodplain trajectories: a comparison of two alternative futures approaches. Landscape Ecol 24:1067–1090

Jones ZF, Bock CE (2002) Conservation of grassland birds in an urbanizing landscape: a historical perspective. The Condor 104:643–651

Kaplan R, Austin ME (2004) Out in the country: sprawl and the quest for nature nearby. Landscape Urban Plan 69:235–243

Kaplan R, Austin ME, Kaplan S (2004) Open space communities: resident perceptions, nature benefits, and problems with terminology. J Am Plan Assoc 70:300–312

Kiesecker JM, Blaustein AR (1998) Effects of introduced bullfrogs and smallmouth bass on microhabitat use, growth, and survival of native red-legged frogs (Rana aurora). Conserv Biol 12:776–787

Lannoo MJ (2005) Amphibian declines: the conservation status of United States species. University of California Press, Berkeley

LeClerc JE, Cristol DA (2005) Are golf courses providing habitat for birds of conservation concern in Virginia? Wildl Soc Bull 33:463–470

Leitão AB, Ahern J (2002) Applying landscape ecological concepts and metrics in sustainable landscape planning. Landscape Urban Plan 59:65–93

Lynch K (1972) The openness of open space. In: Kepes G (ed) Arts of the environment. George Braziller, New York, pp 108–124

Marcus CC, Francis C (1998) People places: design guidelines for urban open space. Van Nostrand Reinhold, New York

Metro (2011) RLIS discovery. Metro RLIS Discovery. http://rlisdiscovery.oregonmetro.gov/. Accessed 10 Nov 2011

Morrison G (1993) Western meadowlark. Horticulture 71:57

Nassauer JI (2012) Landscape as medium and method for synthesis in urban ecological design. Landscape Urban Plan 106:221–229

Nassauer JI, Corry RC (2004) Using normative scenarios in landscape ecology. Landscape Ecol 19:343–356

Ndubisi F (2002) Managing change in the landscape: a synthesis of approaches for ecological planning. Landscape J 21:138–155

O'Neil TA (2001) Matrixes for wildlife–habitat relationships in Oregon and Washington. Northwest Habitat Institute, Corvallis

Oregon Department of Fish and Wildlife (2006) The Oregon conservation strategy. Oregon Department of Fish and Wildlife, Salem

Pickett STA, Cadenasso ML, Grove JM, Nilon CH, Pouyat RV, Zipperer WC, Costanza R (2001) Urban ecological systems: linking terrestrial ecological, physical, and socioeconomic components of metropolitan areas. Annu Rev Ecol Syst 32:127–157

Ransome DB, Sullivan TP (2004) Effects of food and den-site supplementation on populations of Glaucomys sabrinus and Tamiasciurus douglasii. J Mammal 85:206–215

Schumaker N, Ernst T, Haggerty P, Baker J, White D (2002) Terrestrial wildlife—populations. In: Hulse D, Gregory S, Baker J (eds) Willamette River Basin planning atlas: trajectories of environmental and ecological change. Oregon State University Press, Corvallis, pp 126–127

Schumaker NH, Ernst T, White D, Baker J, Haggerty P (2004) Projecting wildlife responses to alternative future landscapes in Oregon's Willamette Basin. Ecol Appl 14:381–400

Swart RJ, Raskin P, Robinson J (2004) The problem of the future: sustainability science and scenario analysis. Global Environ Change 14:137–146

Thompson JR, Wiek A, Swanson FJ, Carpenter SR, Fresco N, Hollingsworth T, Spies TA, Foster DR (2012) Scenario studies as a synthetic and integrative research activity for long-term ecological research. Bioscience 62:367–376

Tzoulas K, Korpela K, Venn S, Yli-Pelkonen V, Kazmierczak A, Niemela J, James P (2007) Promoting ecosystem and human health in urban areas using green infrastructure: a literature review. Landscape Urban Plan 81:167–178

Wu J (2008) Making the case for landscape ecology: an effective approach to urban sustainability. Landscape J 27:41–50
Acknowledgments
This study is part of a doctoral research funded by the CAPES Foundation (Ministry of Education of Brazil), and supported by the Fulbright Program. Additional support came from the University of Oregon and Universidade Federal do Espirito Santo. The author thanks David Hulse for his guidance and revisions, John Bolte for assistance with modeling, Bart Johnson, Rob Ribe, and Mark Gillem for comments and suggestions, and Chris Enright and Allan Branscomb for assistance with GIS mapping and analysis. The author is also thankful to the thorough reviews from the Journal Editor and Reviewers.
Electronic supplementary material
Below is the link to the electronic supplementary material.
About this article
Cite this article
Penteado, H.M. Assessing the effects of applying landscape ecological spatial concepts on future habitat quantity and quality in an urbanizing landscape. Landscape Ecol 28, 1909–1921 (2013). https://doi.org/10.1007/s10980-013-9940-7
Received:

Accepted:

Published:

Issue Date:
Keywords
Spatial concept

Urban open space scenarios

Compact versus dispersed development

Habitat quantity and quality

Landscape planning

Portland Metro